Presidents Letter November 2010
Our society has changed drastically in the last 50 years. As a child our neighborhoods and community were part of the family, part of our life. As people began working outside of the communities and mothers went to work, time for community and neighbors soon disappeared.  Superstores and ease of travel have broken the small town businesses and another community link.  In the past our community celebrated together and grieved together.  We had 4th of July picnics, Memorial Day Parades and Veteran's Day Programs. We knew the men and women serving our country, celebrated their return and grieved together at loss of life in the name of freedom.
In our Luckey Centennial History Book, page 46, we find an article about the Lloyd C. Spahn family. They had three sons who served in Vietnam. Their son Rudy was injured in service. The town of Luckey celebrated his return. "Mayor Helm proclaimed "Rudy Spahn Day" and the population of Luckey turned out to welcome Rudy home. Store windows on both sides of Main Street were whitewashed with messages of welcome, the Brownies and Cub Scouts sang a song they had written themselves, flags flew from porches in town and the Eastwood high School Pep Band played." At one time in downtown Luckey there was a large sign depicting our veterans. It disappeared many years ago.
November 11th is Veterans Day. There will be no parade. I see no list of men & women injured in service, serving or served displayed for public view.  The state of Ohio following the 911 attack passed legislation requiring schools to take time out of their busy schedules to learn about Veterans Day to ensure the price of freedom and our soldiers are not forgotten. Can you imagine fifty years ago that they would have to pass legislation requiring students to learn about, honor and respect service men?
The only thing constant in the universe is change. Some say change is good. I fear the loss of neighborhood and community ties has weakened our country and reduced an individual's richness of life experience. When my brother came home from his tour in Vietnam our house was wrapped in white paper (the kind they used to roll out to cover folding tables during community dinners.)  Displayed for all to see in big red letters was a huge welcome home with a crudely drawn U.S. S. Davis, the destroyer on which he served. The whole neighborhood rejoiced in his return. I love the sign on 582 just west of town displaying "home of a soldier".  I believe these signs should be given to every parent or spouse when their loved one enlists. What a wonderful way to allow the community to share.
In my search of hundreds of photos that we have now collected, I have very few of soldiers. I have very few of Veterans Day, Memorial Day or of 4th of July Celebrations. Search your photo albums. See what you can find me. These are events and celebrations that I would like to preserve.
Our part of the Town hall project is complete and the contractor has been paid. The only thing that remains to be done is the city needs to paint the outside and Dave Derr has volunteered to touch up the inside. We are not certain when this will happen. People are now busy getting things put away for winter and raking the leaves. Soon it will be too cold to paint.
Our scan and share picture day on Thurs. afternoon Nov. 4th was a success. I scanned several pictures and received two collections on loan to scan. Art Helm was able to go through many of our photo albums and identified many people. Give a big thanks to Art!
On Friday December 3rd we will be having our annual holiday bake sale at the Luckey bank. Cookies always seem to go great during the holidays. I will set up the tables at noon and would like to have all of the goodies for sale delivered by 1. We will begin packing up at 5. If there are items that you would like returned should we not sell them, please be there at 5 to pick them up.
Our next meeting is Thursday Nov. 18th at 6:30 in the Luckey Library. Hope to see you there.
Over and out,
Sally
Photo below: Memorial Day display 1948, men & women in the service from the Luckey area, photo property of Shirley Davis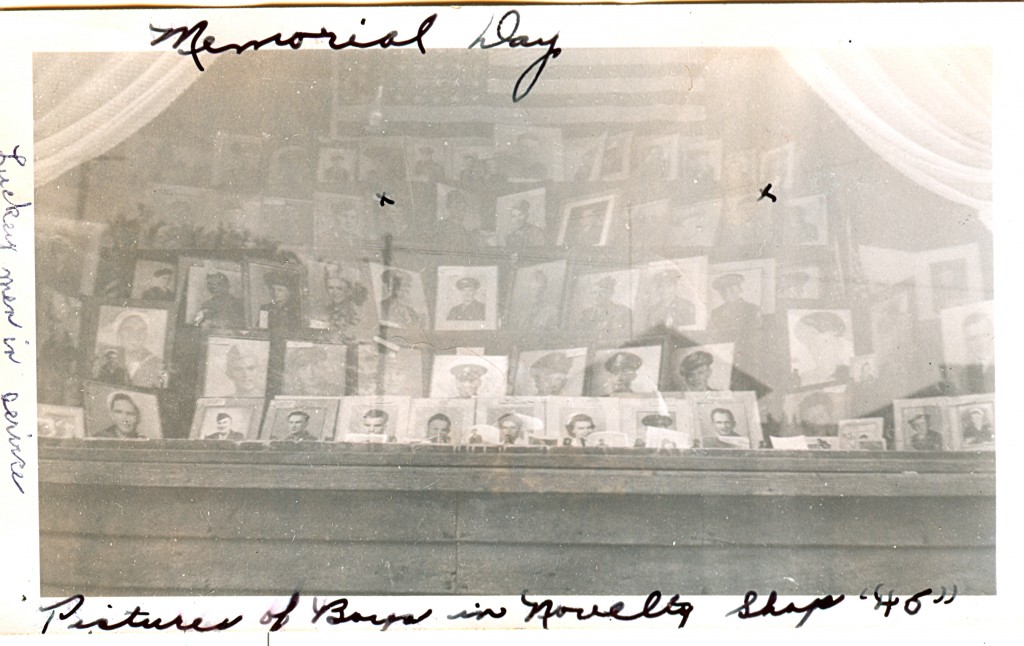 Memorial Parade, photo from B Meyer collection
Left to right; Lawrence Meyer, Martin Rolfed, Harm Landwehr,  and Ed Sundermeir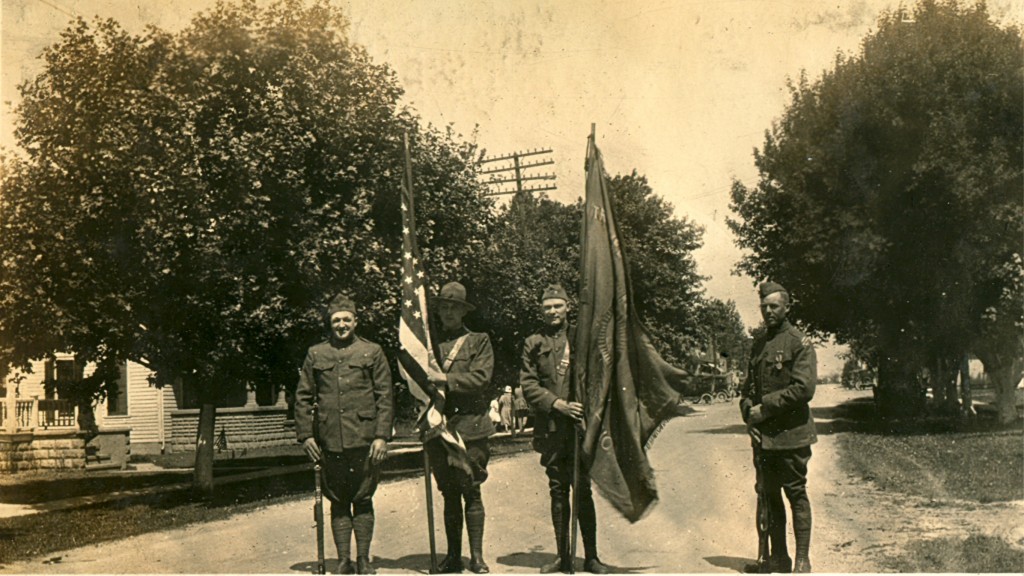 next 3 photos: Celebration at the Zion Lutheran Church  photos from B. Meyers collection