Presidents Letter – Dec 2011
Our winter projects are keeping me quite busy. We have found some new photos for our collections, found another family history, had our holiday bake sale and are busy with our cemetery projects.
Irma Meyer loaned the family history we have added to our collection. It is the "Historical Sketch of the Swartz Family". The Swartz girls married into the Snyder, Puse, Bench and Miller families. The Swartz family came to America in 1831 from their homeland in Germany. They settled in Stony Ridge and were one of the first pioneer families of the area. If you wish to study the historical sketch contact Sally.
Our holiday bake sale at the bank was a great success. Thank you all for your support. We had a good selection of cookies. A special thanks goes out to Ruth Rothenbuhler and Betty Meyer for helping at the bank. We made $190.
Our cemetery projects are moving right along. One of our cemetery projects is to compile an updated list of people buried in the Troy Township Cemetery. The township keeps two records. One record is a map of who has purchased the lots. The second record is a ledger of people buried in the cemetery, listed as they are buried. The only organized list of burials was done in 1987 through 1989 by the Wood Co. Genealogical society and published in "Cemeteries in Troy Township Wood County, Ohio". Using this publication, I have entered all 3586 people listed in this booklet into the database of people buried in the cemetery. Now that I have completed entering the information from this publication, I will need to update the list. I have requested permission to use the ledger owned by the township to update the list. I will also be reading the stones. The final result will be a complete listing that can be accessed by name, date, military involvement and location. By having the information in a database (in the computer) it can easily by updated and changed.
Our second cemetery project is to identify and locate burial sites in the Troy Township Cemetery of Local Historical Figures. Members and nonmembers can nominate figures. Nominees should be important as early settlers, forefathers of local town organization, important military figures, or of importance in the social, political, religious or educational areas. Nominations need to be in writing and include as much information as possible about the nominee and a description of why the person should be accepted. The information needs to be submitted to the membership for discussion and voting. The members will discuss and vote to determine the final selection.
Irma Meyer also loaned two new photos we have added to our collections. The first photo is of the Henry Schuermann & Kate Bockbrader family taken around 1906. The second photo is of the Snyder Reunion taken in 1910. These old family photos are valuable, as there exists many of their ancestors in our area.
The next contribution came from Doug Gallier. Doug grew up on Rte 20 between Pemberville and Bradner Rd. (some of Sue Dipman's old stomping ground). He graduated from Eastwood in 1967. Doug writes; "The Picture came from a collection of pictures my mother (Nedra 'Sander' Gallier) found while cleaning out her mother's home after grandma's death. My maternal grandparents were Oscar and Frieda Sander. Oscar Sander was born and raised very near to the Ben Stone cabin. Grandpa, prior to his death in 1969, constantly told me stories of his friend Ben Stone. They seemed to have spent a great deal of time together early in Ben's time near Luckey. Unfortunately there were not that many stories about Ben but were told over and over by my grandpa; he obviously looked up in some ways to the skills of Ben Stone and his friendship with Ben. As I stated, my mother found this picture among her parent's belongings. My grandpa never spoke of another black person so I have to believe this photo is of Ben Stone. Hopefully the photo will find a place within your society's collection."
Below the photo the second photo is already in our collection and is of Ben Stone as a young boy. The first photo is the one submitted by Doug. I am not an expert but it sure looks like the same person to me. What a great find to add to our collections.  Doug, Thank you for your contribution.
Next meeting Dec 15th at 6:30 in the library.
January meeting is 19th, same time, same place.
Check your calendars – how does Jan. 26th look for a tea?
Over and out,
Sally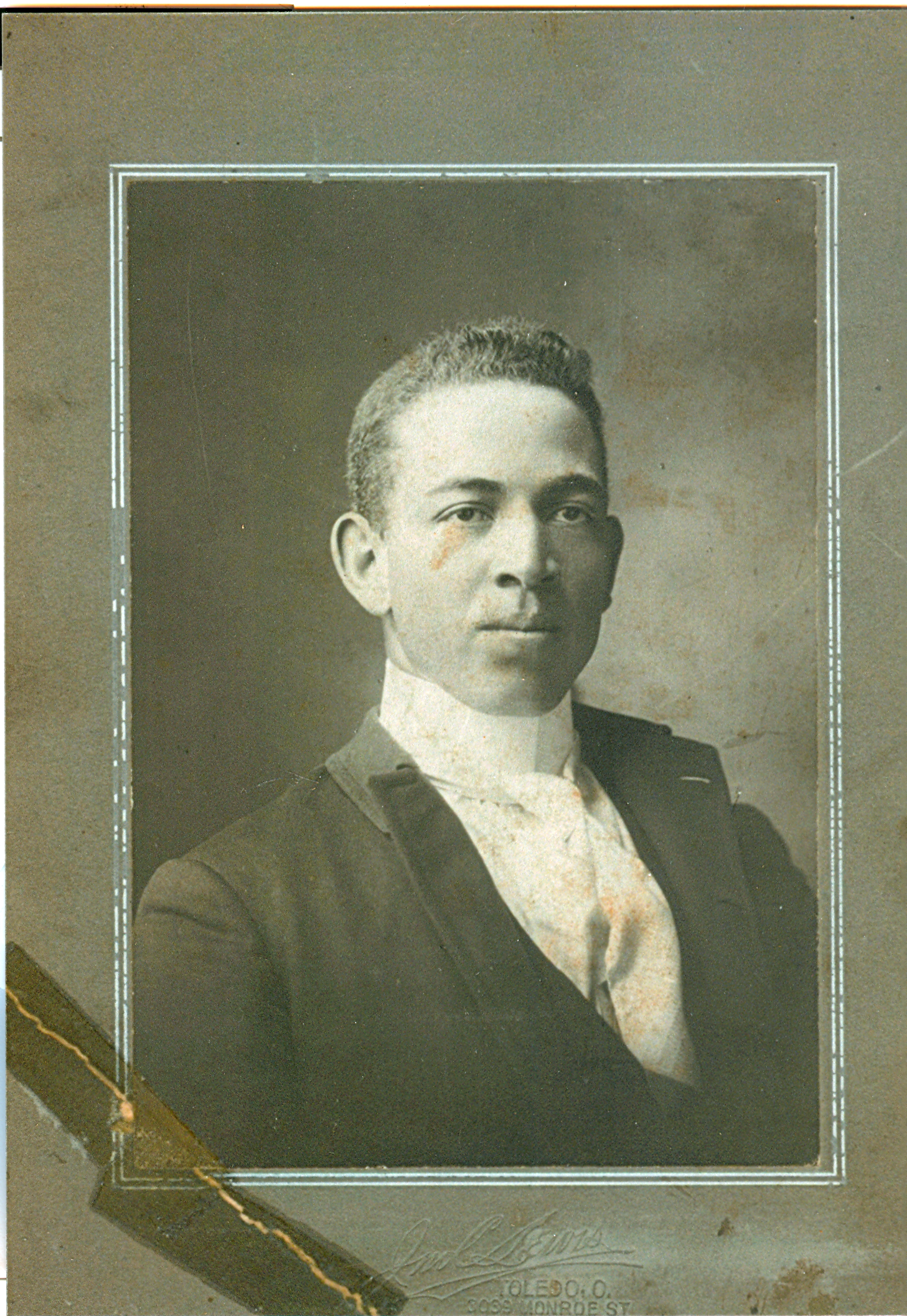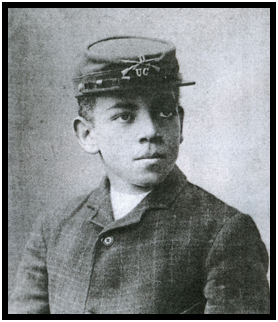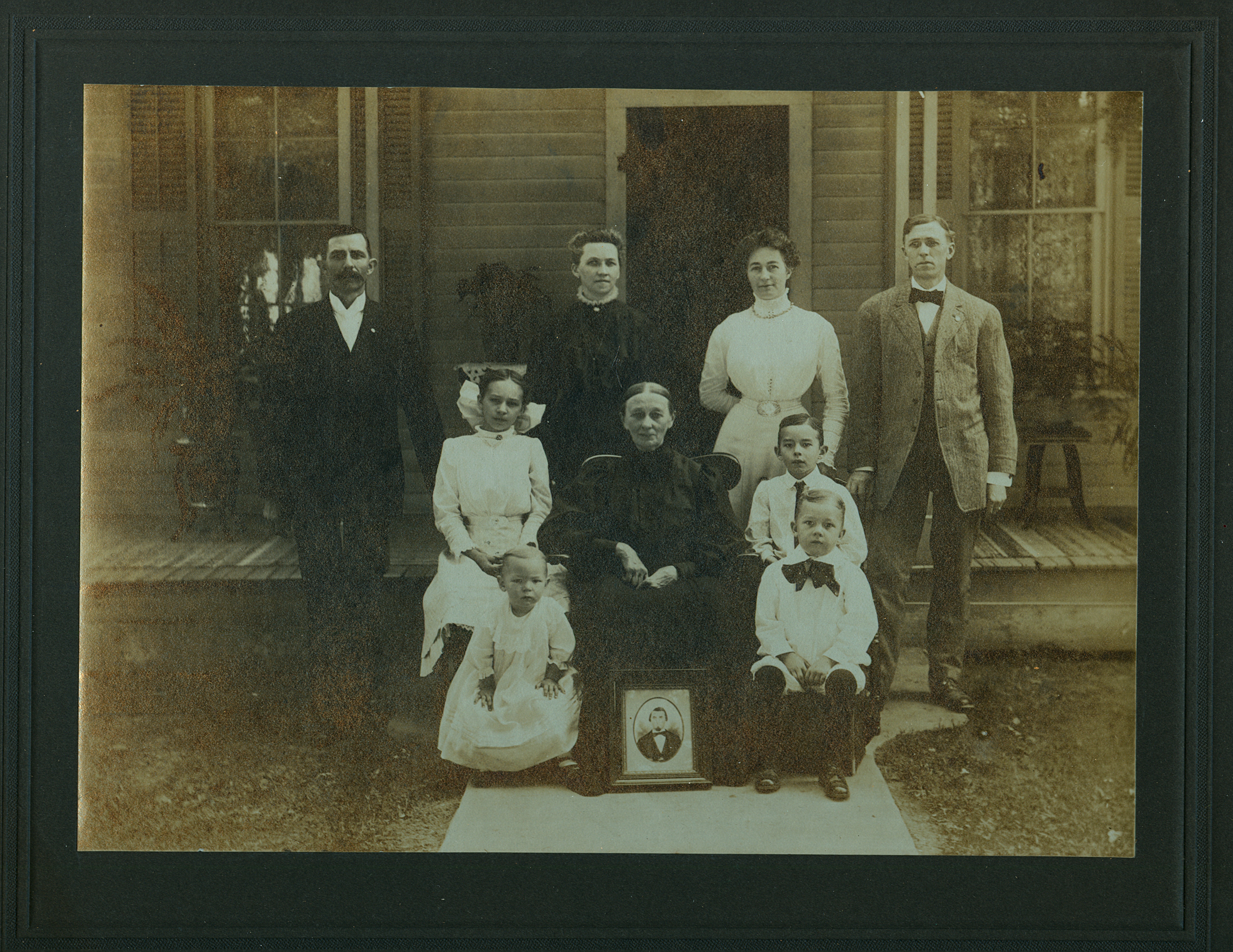 Background information for Schuermann /Bockbrader family photo 
John Henry Schuermann (death 1870) married Florentina Maria Katherina Bockbrader (Kate) on January 10, 1867 at the Salem Lutheran Church outside of Pemberville, OH.  Kate was born August 22, 1840 in Osnabrck, Hanover Germany, came to America in 1844 at the age of 4 and died December 14, 1918.
In the photo Kate  is pictured with her children and a photo of her late husband. Their children are as follows;
Fred J. Sherman (1868 – 1961) married on Oct. 24, 1891, Katharine Kutler who passed in 1917 and later married Amelia Stotz.
Anna Maria Louise (1870-1961) who married Fred Henry Schroder(1870–1948). Also pictured are Anna and Fred's four children (Kates grandchildren) as follows;
Agnes M. Schroder born Oct. 6, 1897 (eventually married Charles S.  Harkness), died May 10 1984.
Elmer F. Schroder born Sep 9, 1901 (eventually married Dorothy Lincoln Swan), died 10 Oct 1983.
Stanley Sherman Schroder born Dec 3, 1904 (eventually married Kathryn M. Burman), died 20 Jul. 1990.
Lewis Henry Schroder born Jun. 19, 1907, died 14 Dec 1987.