President's Letter  September 2011
Not much news to pass on this month. Helen Grover passed away this week. Main street is supposed to get paved this week and we can't drive on it for a while. People are getting ready as the fall festival is quickly approaching. The weather in NW Ohio has been crazy. First the record breaking snows this winter, then the record breaking heat and the torential rain storms this summer. It has rained so much this summer that we have had to mow at least once a week all summer. By August it is usually so dry that we only have to mow once the whole month.  Who knows what is in store for the fall festival. We usually have good weather – I don't know if our luck will hold this year.
There has been a request for a list of our current members. Members for the 2010 – 2011 are as follows; Sally Predmore, Allan Jacobs, Ruth Rothenbuhler, Dave Derr, Betty Meyer, Donna & Harley Jacobs, Dick & Dave Otte, Betty Blevins, Shirly Davis, Lloyd Fahle, Irma Meyer, Fred Witzler, Suzann Dipman, Gloria Wohltman, Leigh Snyder, Karen Snyder, Pat Toepfer, Norma Christen, and Donald Simmons. Friends of the Society who receive a monthly letter but are not members are as follows; Keith Neiderkohr, Evyln Wilkins, Lavad Graening, Nola Dean Haas, Robert Rothenbuhler, Art Helm, Willard Brinker, Sue Mueller, Glen & Lois Reamsnyder, Lois Mandell, Earl Rife, Wilma Snyder, Kathy Strobl, Ima Gene Krift, Ardith Phillips, Dee & Robert Aspacher, Harold Isbell and Grace Stinchcomb.
SEPTEMBER AND OCTOBER ARE BUSY LHS MONTHS.
Nomination of officers need to occur at the Sept. meeting and election of officers at the October meeting. As our secretary is unable to attend regular meetings we need a new secretary. I would like to give up the presidency and volunteer to run for secretary. Our current vice president is Shilrly Davis and our treasurer is Ruth Rothenbuhler. We are looking for someone to be President and run the meetings or someone to be our secretary. Yearly dues should be paid in October. They are $20.
On Thurs. September 8th we had an afternoon tea. There were 6 in attendance. If you haven't been to one of our teas, we don't drink tea. We put on a pot of coffee, snack on sweets, look at old photos and talk about the good old days. It is a good time. All are welcome.
The Luckey Fall Festival is September 23rd, 24th and 25th. The Society has reserved and paid for 2 units inside the large tent. There will be no calendar to sell this year. The "Whatsit" Booth will be free. We will have a display of photos and information that we have collected. We will have chairs for people to rest and enjoy chatting. I will set up the chairs and display Friday morning. I am looking for a volunteer to oversee the display etc. on Saturday morning and until about 3 in the afternoon. I will be there Friday and after 3 on Saturday with my Gator if anyone needs a ride from their car to the tent. We also will have parking passes.
Keep looking for old photos or people who might have old photos to share. We have had very few new ones lately.
Upcoming events
Monthly meeting Sept.,15th, 2011
Fall Festival  Sept. 23, 24 & 25
October monthly meeting Oct. 20th, 2011
over and out,    Sally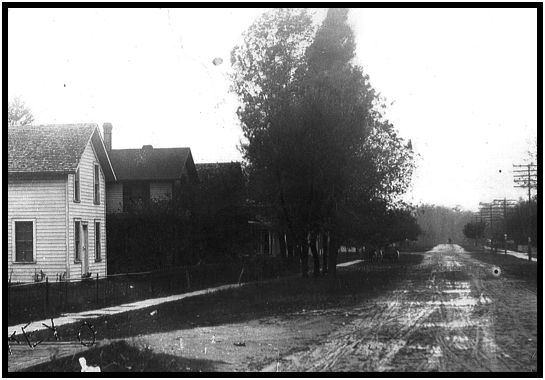 Notes from Harley & Donna Jacobs; The house on the left is the same house as the second house in the lower picture. We are looking at 219, 217 and 215 Main St. Harold Stebel, Al Ballard and Roger Phillips lived there in 1945.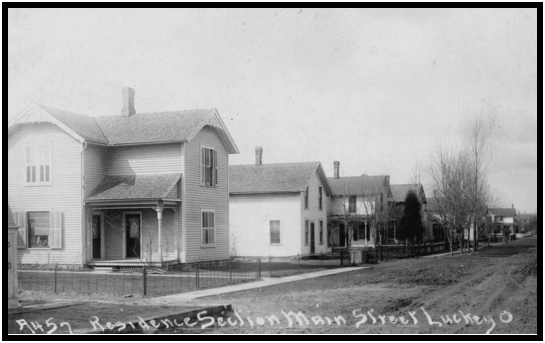 Notes from Harley & Donna Jacobs; The house on the left owned then by Al Rige was moved across lots back onto the south side of Eddy St.  The third house from the left was owned by Mrs. David Snyder and Harley Jacobs in the 1950's through 1960's. 
The photos above are from post cards. The top photo was loaned to us by Lloyd Fahle and the bottom was loaned to us by Irma Meyer. Both photos were taken looking west on Main Street. The bottom photo shows one more house in the foreground than the top. If you look carefully in the top photo, you can see Krotzer Ave cutting diagonally across muddy Main Street. The top photo was taken in 1919. The trees are smaller in the bottom photo so we can assume that it must have been taken before the top photo.