Presidents Letter, November 2011                                                                                 

    Winter will soon be upon us. Time to stay inside and work on all of those projects you have been putting off.  A few new photos have come in. Keep looking and asking for people to share their old photos with us. I now have my old scanner at the office. This means that I am able to scan during office hours.
JUST FOR FUN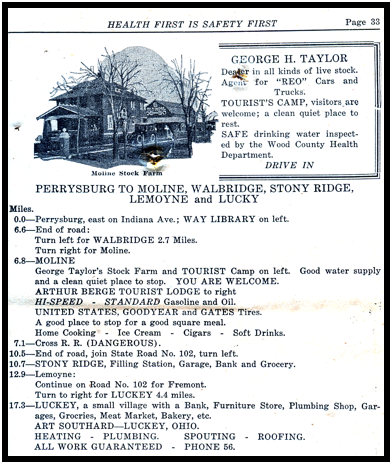 We have reserved the lobby of the Luckey bank for a holiday bake sale on Friday Dec. 2nd. We will set up at 12:00 and close between 4:30 and 5.  Would someone like to volunteer to distribute some fliers around town? Remember we can sell nothing that needs refrigerated.
I purchased a copy of the book "Searching for Emmit Lawrence" and shared it at our October gatherings. Four people requested that I order copies for them. One of the copies is hardback and will be put in the Luckey Library. If you did not get a chance to enjoy it, you may borrow my copy or provided you have a library card, you may borrow the copy from the library.  If you find or have any books on the history of the area, please share them with us.
There will be no December tea due to the holidays. Our meeting will be held on the third Thursday as usual (December 15th).
I have been busy typing the Troy Township Cemetery information into a spreadsheet. When I am finished with the information given in the book "CEMETERIES IN TROY TOWNSHIP WOOD COUNTY, OHIO, September 1989", it will be easy to add more current and additional information. The computer can also be used to access information. I would like someone to proof read the hundreds of dates and names that I have typed. Eventually we will need to collect and add burials that have occurred after the collection in 1989.
Our second cemetery related project is to identify Historical Figures of the Troy Township Cemetery. I would like to form a committee to create criteria for the selection.  I already have several people in mind.  Research will be necessary for us to do our selections.
Gladys Stinchcomb (nee Jacobs) shared some pictures from her own collection with us. One of the photos (shown below) is of the last 8th grade class at Luckey before the merger.  Gladys helped me identify the students, hopefully I recorded them correctly.
Next meeting Thurs. Nov. 17th at 6:30 in the Luckey Library.
Dues of $20 were due in October.
Over and out      Sally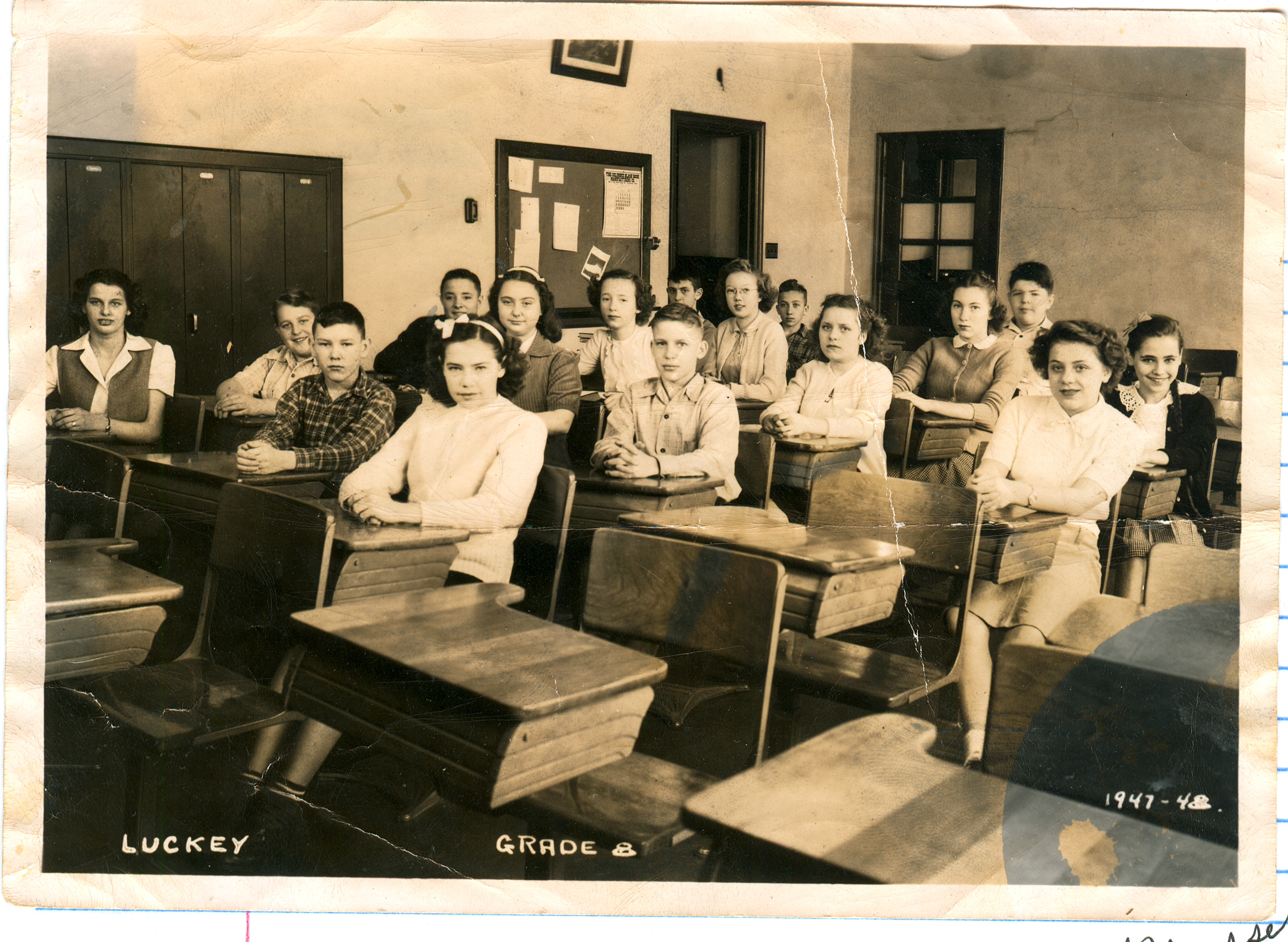 Grace Jacobs (Stinchcomb)                   9. Mae Oestrich
Ted Barber                                          10. Lloyd Musser
Elouise Dierker                                   11. Arla Christian
Royce Ruch                                        12. Maxine Leaking
Marilyn Miller                                     13. Janice Hacker
Walter Jordan                                      14. Roger Ernsthausen
Janine    Wilson                                   15. James Grubbs
Pat Musser (Ford)                                16. Robert Aspacher
Mae Oestrich