Presidents Newsletter – March 2012
Thank you, to those persons submitting nominees for the Notable Figures of Troy Township Cemetery. I am enjoying reading the information that you have gathered and have sent to me. I will be sharing information as I have space.  I have been working on a pamphlet, designed by Dave Derr and Fred Witzler. The committee thought it appropriate to make pamphlets available at the cemetery sharing information about our historical persons. The inside of the pamphlet will be a map of the cemetery with the location of each of our Notable Persons. I have the map done on the computer. We will be able to add Notable Persons to the map without having to draw the map again. I am also collecting the information being submitted for nominees so that the information will be available for future reference and viewing.
This week I had the pleasure of speaking with Ardith Phillips out in Aurora, Colorado. It seems she sent me a package of old photos a few months back. It is a lucky thing that she inquired about the package's arrival, as the package was lost in the mail. Thank goodness, the photos were not originals. She is again working on getting copies and mailing them out again for us. She also would like to add some information about Brownie and Bee's featured in our letter last month. She said that Brownie and Bee's were known for their turkey burgers. She thought that they were the first in the area to have such a burger and there was a sign along the road advertising their turkey burger. Gee, Brownie and Bee should have sold their idea of using turkey for a burger. They probably would have been rich and Brownie and Bee's would have been an historic landmark like the home of Kentucky Fried Chicken and the home of McDonalds.
Ruth Rothenbuhler nominated Peter Ruch (1827 – 1913) as a Notable Figure of Troy Township Cemetery and enclosed with her nomination some interesting information. Ruth came across the information written about Peter and his family in a small "Swartz Family" folder in the Pemberville library. It is believed Attorney Arthur Andrew Swartz, who grew up in the Luckey area, may have compiled the information. Ruth also included in her collection copies of two of Peter's obituaries. In my own research I am finding more and more that obituaries can contain a goldmine of biographical and family information. Peter Ruch was the Luckey area veterinarian over hundred years ago.
There is little information available concerning our ancestors life in the old country. The information that Ruth found gives you an idea why people risked everything to come to America. Before you begin reading. It will be helpful if you know "Emmental" is. The Emmental is a region in west central Switzerland forming part of the canton of Bern. It is hilly landscape comprising the basins of the Emme and Lifis rivers. Today the region is mostly devoted to farming, particularly dairy farming. Its notable cities are Burgdorf and Langnaau. .
THE RUCH FAMILY [photocopy from Ruth]
Background:
The place: the vicinity of Langnau in the Emme River Valley, Canton Bern Switzerland. The year: 1620. Anabaptists were being hunted out like foxes by those of the orthodox Reformed faith that they might be "persuaded" to abandon their heretical beliefs. Many were beaten and exiled; some were drowned. Among these heretics were people by the name of Proost, Rebor, Baumgartner, and Ruch. These unique facts from the Mennonite Encyclopedia are testimony to what was probably a very old Emmental family.
The Lisette Ruch biography [A short biography, apparently published by the Swiss Blue Cross, a temperance group, gives us some very picturesque insights into the lives of our Ruch ancestors of the early 1800's.]
Lisette, a sister of Peter Ruch, became a famous nurse, and was involved in the first Blue Cross work in Switzerland. The biography gives only a few glimpses of her home and family. Following are selected quotes of a translation by Rev. John Wulff of Dunbridge, Ohio, made about 1942 for Mrs. Ida Fuller:
High upon the sunny hillside, in the beautiful Emmental, stood a little hut, which had neither road nor even a decent path leading to it. The name "Am Geissgrat" (goat ridge) indicated that it was no easy matter to get to the remote dwelling…In the Geissgrat hut lived a large family, although the house had only a sooty kitchen and two Gaden or built-on sheds. The father of the house was called "Geissgrat Isaak" and was a shepherd, herding the cattle for the farmers in the valley during the summer months on the green pastures of the Alps…(The people in the hut) lived an unassuming life in poverty and were unconscious of what was going on in the boisterous world about them.
            Lisette was the second oldest child, born in 1826. After giving birth to three other children the mother died (Peter was born in 1827)… As long as the quiet kind mother was with the family, the children did not feel the burden of poverty so much. But that changed when a stepmother came into the home who did not realize what sacred responsibilities she had taken upon herself. She was burdened with anxious cares, for it was not an easy matter to balance the family budget with the meager wages that the father received…Their diet consisted of goats' milk, potatoes, turnips, and home made bread… When more children were born to the family it became extremely difficult to find provisions for them all…and the stepmother had neither love nor kind words for them.
The biography tells us that the family soon moved into the valley and the children were given opportunity to attend school; Lisette could only a few times a week. She was confirmed about 1840 in the village and immediately had to leave home to find work, since the family could not support her. She first found a home in the town of Burgdorf, probably a few miles away, then held various jobs in Bern. In later years Isaak became sick, and Lisette sent money home to help support the family. One of her brothers once had a serious accident and happened to be brought to her at the hospital, where he died. We know nothing more of Isaak's family. Lisette died in Bern at the "Inselspital" on July 30, 1910.
Today in the Emmental [perhaps about 1940)
A handful of tiny villages are scattered through the broad rolling hills up the valley from Burgdorf-some on the banks of the shallow and rocky Emme River, others above rich grain fields on the partly-forested hillsides.  Dozens of small brown cottages, owned by peasant farmers, still dot the landscape, and a few shepherds still keep a watchful eye on sheep, goats and cattle in the higher pasturelands. Midway between Burgdorf and Langnau on the north bank of the river is the village of Lutzelfluh: a dozen low, wide-roofed homes large flower and vegetable gardens, and a stone church dating from 1707. The old hillside-hut of Isaac Ruch must have been near this village. Today, several Ruchs are buried in the cemetery behind the church and others live in Burgdorf and neighboring villages. Phone directories indicate that the family is thinly scattered throughout the area.
Peter Ruch:
Little is known of the early life of Peter (pronounced 'pate-er') Ruch, born in the Geissgrat hut in 1827. He evidently left home at an early age; eventually found his way to Zurich, where he studied veterinary medicine. Then returning to Canton Bern, he met a young girl from the town of Batterkinden whom he would later marry.
Batterkinden: [home of Peter Ruch's wife]
Below Burgdorf the Emme Valley fans out into a wide expanse of gently rolling land. Somewhat larger farms produce wheat, sugar beets and many dairy products. Streams meander slowly to the north and west through fields, pastures, and occasional patches of forest toward the Aar Valley and Conton Solothurn. The distant ridge of the Jura Mountains is blue on the western horizon. Here, eight miles north of Bern, where the main road to Solothurn passes within a few hundred yards of the quiet Emme River, is Batterkinden.
"The Town of Bad Children" [Batter = Bad and Kinden = Children] received its name from an old legend of the Alemanni Tribes who roamed the area and established settlements there over fifteen hundred years ago. Batterkinden was one of these. It is known that on the sandy hill east of the main intersection, where the small Reformed Church now stands amid the evergreens, a house of worship stood in the year 1275, only decades after the crusades. The present stone church was built in 1664. Here, in the vicinity of this village of winding streets, beautiful gardens, and large, low "Emmental" houses, lived the Kassermann family.
Our Batterkinden Ancestors:
Though many of the church records have been destroyed by fire, one old record book, barely readable, shows the baptism and confirmation of many members of the Kasserman family in the late 1600's and early 1700's. Sometime in the mid-1700's a Stephan Kasermann was born who had a son Jakob, born on January 28, 1798. Jakob was baptized on November 11, 1798 and confirmed about 1812. He was married to Miss Anna Maria Lanz, and a daughter, Anna Maria, was born to the couple on September 17, 1843, possibly at nearby Kirberg, where she was baptized on October 8 of that year. This daughter, Anna Maria Kasermann, married Peter Ruch in 1861, possibly in the Batterkinden church.
For about eight years the couple lived at Batterkinden'; there three children were born: Elizabeth in 1863, Maria on June 18, 1865, (baptized in Batterkinden July 9) and Ida in 1868. Occasional visits were made to Bern, where the "Bear Pits" especially impressed the children.
To OHIO
Peter left for America alone in 1869. He came to Troy Township, Wood County, Ohio, where he cleared land and built a small home for his family. He then sent word that they should join him. A number of emigrants from the Emmental came to the Pemberville-Luckey area during these years.
Anna Maria (Peter's wife) and daughters sailed from LoHavre about 1870. Ida recalls hearing from her mother that the crossing was slow and crowded, and that Anna Maria had to "stand her ground" and guard their provisions when a food shortage developed. From New York, the family went to Toledo by boat, where Peter was waiting for them, having walked all the way from the Luckey area. Night came as the family walked "home", and they were fortunate to be taken in at a farmhouse for the night and brought to their destination the next day in the farm wagon.
For many years the Ruch family lived on their Webster Township farm, a half of a mile south and one and a half miles west of Lucky on Devil's Hole Road. There other children were born. In 1894, Anna Maria died, and Peter moved into the town of Luckey. He was in good health until shortly before his death, occasionally walking into Perrysburg and back for needed supplies. He died in 1913 and is buried with his wife in Troy Township Cemetery.
Peter and Anna had the following children; Elizabeth born 1861 in Batterkinden, Switz., Maria born 1865 in Batterkinden Switz., Ida born 1868 in Batterkinden Swtiz., Annie (Anna) born 1870 in Webster township, Wood Co. OH, Adam born 1875 in Webster township, Wood Co. OH, Minnie born 1878 in Webster township, Wood Co. OH, Eliza born in Webster township, Wood Co. OH, Carrie born in Webster township, Wood Co. OH, and Tillie born in Webster township, Wood Co. OH,. (Elisabeth married Frank Caris and lived at Luckey. Adam married Louise Hotmer and was living in Luckey at the time of his death in 1955. Annie married William Kurfess. Eliza married John Metzger and then at his death Fred Kurfess, they also remained at Luckey. Ida married Tom Fuller and lived at Dunbridge until her death in 1962. Minnie married Simon Foster and moved to a farm near Pemberville. Carrie married Frank Nichter and lived first at Detroit and then at Toledo. Tillie married Ben Chapman and also moved to Toledo where they now reside. Maria married Frederick Gottlieb Swartz about 1889. The couple purchased sixty acres of land north of Stony Ridge, farmed there and also in Montgomery Township north of Wayne for a time. Five children were born to them: William, Arthur, Myrtle, (died in 1902 two years after birth), Norman, and Gladys. Frederick Gottlieb Swartz died in 1921 at the age of 63. Maria died in 1949 after living for many years in the town of Pemberville. They are buried in Troy Township Cemetery, Luckey.
Obituary Sentinel Tribune January 2, 1914
VETERINARIAN DIED AT LUCKEY
Peter Ruch Passed Away at His Daughter's Home—Came From Switzerland in Year 1873
Luckey, Jan. 1.—Peter Ruch who has been staying with his daughter Mrs. Frank Caris, one mile south of here since June, passed away Wednesday evening, Dec. 31, 1913, at 5 o'claock after ailing one week from infirmaities incident to his advanced age of 86 years, six months and 10 days.
He was born in Berne, Switzerland, June 21, 1827 and came to this country in 1873 with his wife who was Miss Mary Kasarman, and with their five daughters. One son was buried there. They came here and settled on a farm one mile west of Luckey, where the other five children were born and where the mother died 20 years ago January 7. About 16 years ago he removed to Luckey where he followed his profession of veterinary surgeon until a short time ago. He was very active and able to come to town two weeks prior to his death.
One son died in infancy and Mrs. Fred Kurfess died here two years ago last October. The surviving children are as follows: Mrs. Frank Caris of Luckey, Mrs. Fred Swartz of Moline, Mrs. T. Fuller of Dunbridge; Mrs. W. L. Kurfess of near Luckey, Adam Ruch of Walbridge; Mrs. Simon Foster of Permberville; Mrs. Frank Nichter of Detroit, and Miss Matilda Ruch of Flower hospital, Toledo. Thirty-six grandchildren and six great grandchildren also survive. His wife by a second marriage was away visiting relatives at the time of his death.
He was a devout member of Zion Lutheran church and attended services two weeks ago where the funeral of the oldest member of the congregation will be held Saturday morning at 10:30 with his pastor Rev M. L. Frederick officiating. Burial will be in the family lot in the Luckey cemetery.
Obituary The Wood County Democrat January 9, 1914
DEATH CAME SUDDENLY TO PETER RUCH
He is Mourned by a Large Family—
   Luckey, Jan.7.—Within a few hours of the end of the old year, the reaper came at 5:15 and claimed one of our oldest residents, Peter Ruch, at the advanced age of 86 years, six months and 10 days, following one week's illness with pneumonia, at the home of his daughter, Mrs. Frank Caris. He came from Berne, Switzerland, in 1873 and settled on the farm now owned by John Sander where his family was raised and his first wife died. Sixteen years ago he became a resident of this town, when he was united in marriage to his second wife, who with the following eight children, survive; three have preceded him: Mrs. Frank Caris of Luckey; Mrs. Fred Swartz of Moline; Mrs. Thomas Fuller of Dunbridge; Mrs. Wm Kurfess of Lime City; Adam Ruch of Walbridge; Mrs. Simon Foster of Pemberville; Mrs. Frank Nichter of Detroit, and Miss Matilda Ruch of Toledo. Funeral services were held Saturday at eleven o'clock at Zion Lutheran church, Rev. M. L. Frederick officiating; internment in the Luckey cemetery.
Mrs. Peter Ruch, who was in Fostoria, visiting her daughter, Mrs. J. Kehn and son Henry Berning, at the time of her husband's death, desires to thank W. H. Schwan for his kindness at the time of his funeral as she did not know of his illness until she was notified of his death.
I have spent some time rereading "Troy Township, Wood Co., OH, by J. H. Beers & Co., 1897" and our "Luckey Centennial Book 1881 – 1981". A large number of important area people are noted in these texts. I am trying to compile a list of nominees and their qualifications and am hoping that some of you are doing the same.
Those of you not in the area – this winter weather did quite extensive damage to the old Ben Stone cabin. As a result it was burned this February.
Our next meeting March 15th at 6:30 in the Luckey Library
Our April meeting should not conflict with spring breaks and celebrations as it falls on April 19th.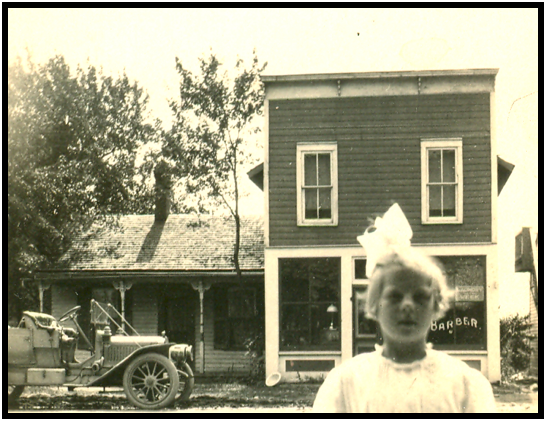 The Photo above is property of LHS. 
The photo shows little Thelma Goetz in the foreground. The building behind Thelma is Peter Ruch's veterinary building. Peter built the home addition (to the left) on to the business building. The photo was taken around 1914 near the time of Peter's death. (Thelma was born 22 Dec 1907 and she looks about 7 years old here.) Thelma is facing her father's pharmacy (where the free store is now located – next to Color Wheel). Anyway, the building you see was located where the east end of the bank is now located.
Enjoy Spring                   Over and out               Sally