President's Letter – Aug 2013
At our June and July meetings we shared comments concerning our Notable Persons of Troy Township Cemetery pamphlet. Ruth Rothenbuhler worked on proofreading the pamphlet and submitted possible errors and additions.  Please let me know if you find any. We have two additions to our death in the line of duty persons. The list now includes the following;
Richard Elder Birth 1845, Death 1862, (Fell @ Pittsburg Landing, Co. E, 72nd O.V. I.)
PVT Frederick William Jacobs Birth 1896, Death 1918 (Nat. Army Co. K 325 Inf.)
PFC Donald C. Brueggimeier Birth 1916, Death 14 Aug 1944 (fell in France WWII)
PVT Homer Garrett Puse   Birth 5 Oct 1925, Death 7 Jan 1945  (317th Inf. Regt. died at Luxembourg)
Herman E. Swartz Birth 1923, Death 26 Jan 1945 (WWII at Luzon)
PFC Leroy Franklin Minnix Birth 3 Jun 1946, Death 12 Oct 1965 (Vietnam)
 PFC John R. Barr a native of Swanton, OH, Birth 13 Nov 1984, Death 13 Oct 2008  (Iraq War)
Other persons whom we thought should be included in our list of Notable Persons are as follows:
Vincent C. Kahle  (26 Jun 1918 – 12 Mar 1993)
Robert Johann (18 Sep 1915 – 18 Jun 1974)
Dorthea (Dotty) Johann (11 Oct 1918 – 2 Jan 2001)
Albert Webb (24 Aug 1890 – 8 Aug 1974)
Ron Webb (2 Dec 1935 – 5 Feb 2012)
Doc (Harvey A.) Stuchell (26 Jul 1888 – 22 Jan 1967)
Boyd Broka  (7 Jan 1923 – 14 Dec 1998)
Henry Myers (4 Sep 1884 – 11 Sep 1954)
Dr. A. A. (August Alexander) Babione (4 May 1872 – 13 Feb 1948)
Anna Babione (31 Oct 1876 – 15 Feb 1966)
Gordon Huss (1 Sep 1895 – 11 Jul 1987)
I have written and printed 58 biographies concerning the individuals in our list of notable persons. I am not at this time writing biographies concerning the military men on our list. There will be two copies of the book of Biographies of Notable Persons in Troy Township Cemetery. One copy will be with me and the other copy will be in the Luckey Library. I am also planning on posting the biographies on our website. I will have the new pamphlet available for the Luckey Fall Festival as well as the book of biographies.
I have little to no information on Henry Myers and am also in need of more information on Albert and Ron Webb. I will not be including them in this year's pamphlet. Please be on the look out for information on each of them.  I am including with this months newsletter biographies concerning Vincent C. Kahle, and Anna Babione. These are two of our newest nominees.
I will bringing the biography books to the meeting on Thursday (Aug. 15th), hope you all will be able to attend. I would like someone to volunteer to proof read the biographies that I have written.
Over and out,
Sally
 Anna Babione 1876 – 1966
  Anna was born in Toledo on Halloween night, October 31, 1876. Her parents, named Bollini, had come to America from Switzerland. The family moved to Lemoyne when she was 4½ years old. Mr. Bollini operated a general store. He was also a locksmith. At the age of 5 Anna entered the Enock Kramer School. At the age of 8, her mother bought her an organ. Music lessons followed and soon she had learned to play it. Many of her schoolmates sang songs while she played evenings. Among them were Mrs. Charles Sandwisch of Stony Ridge, Florence Kopp of Luckey and Julius Truman, F. F. D. Perrysburg.
After the two-room brick school was completed at Lemoyne Anna attended that for four years. She received her teacher's certificate just before she was 16 and started her teaching career at the Walker School located west of Luckey on what is now Route 582.
It was during her first year of teaching that her mother passed away.
Besides the Walker School Anna also taught at Stony Ridge, the brick school near Luckey, The Frog Pond School in Lake Township, The Pratt School and The Lemoyne School.
Anna took time to attend college at Fayette, Ohio and Angola, Ind. to better prepare herself for teaching. It was Anna's ambition to save enough money to attend Oberlin College. The cost then was about $1,000 for 4 years. Other events however, changed her plans.
One day Augustus Babione stopped with his brother at the Bollini home in Lemoyne to see about teaching in the Lemoyne School. As they left Anna and the older brother exchanged snowballs but Augustus did not seem to want to join in the fun. Finally Anna threw a snowball at him as he left. That was her first encounter with her future husband. They became better acquainted as also Augustus taught school in Lemoyne. One day when Augustus came to see Anna he found she had taken the train to Toledo. Florence Kopp said she would be glad to entertain him until train time later in the day when Anna would return. Years later the Kopp's and Babione's discovered that their wedding days were the same year and day. [see photo]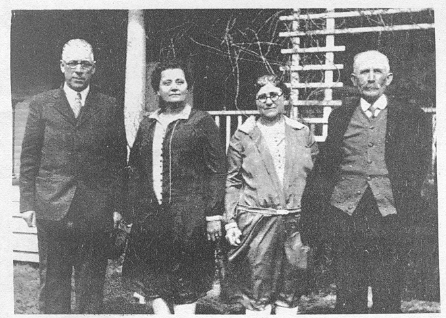 PHOTO ABOVE; L. TO RT. Dr. Babione, Anna Babione, Mrs. Kopp, Mr. Adam Kopp The couples were married the same year, the same day and often celebrated their wedding anniversaries together. 
Augustus Babione wanted to study medicine and he entered the University of Maryland in Baltimore. Near the end of his last year his funds gave out. Unless about $200 due on his tuition, was paid before graduation, he would not get his degree. Without a degree he could not practice medicine. Anna wanted to help but, no, he would not think of borrowing money from his sweetheart. However, he might consider help from his wife.
Mr. Bollini, Anna's father took Anna to Bowling Green where they obtained a marriage license. Then with the money, about $800 she had saved to attend Oberlin, she went to Baltimore. The Wood County, Ohio marriage license was no good in Maryland so it was necessary to buy another one, it was on April 28, 1903 that they were happily married. With the tuition paid and the M. D. Degree obtained, housekeeping was started in Toledo where Mr. Babione started practicing medicine. About 8 months later there was an opening in Luckey and they moved to what was later Rev. Johannson's home in March of 1904. Then followed the years of raising a family. Three sons were born, Robert, Marion and Francis. Many pleasant trips were made to the lake in the summer. In 1934 the community was shocked by the death of Marion, their second son at the age 0f 34. Taking an active interest in her husband's work and in civic activities, Mrs. Babione carried on. She taught Sunday School and organized the Truth Seekers Club in 1927 at the Zion Methodist Church, and did Red Cross work in World War II. Mr. Babione's health began to fail and he passed away in Feb. of 1948. Since that time Mrs. Babione has devoted most of her time to the church and in helping others. Mrs. Babione was teacher, counselor, wife, mother, friend and neighbor in the Luckey area for over half a century.
The Babiones lived in the large home at the top of the Krotzer hill in the home built by Cyrenius Goodell. Her husband had passed away shortly before she offered to sell the property for the amount of $10,500 to her church for use as their parsonage. Mrs. Babione lived in the house until she found another, the home she found was much smaller just west on Krotzer Ave. Mrs. Babione died at the age of 89 in the home of her son Francis in State College, PA. on the 15th of Feb, 1966. Anna B. Babione was the co-author or "John George Babione, Jr. & Mary Ann Reinig & Their Descendants: 1793 – 1997"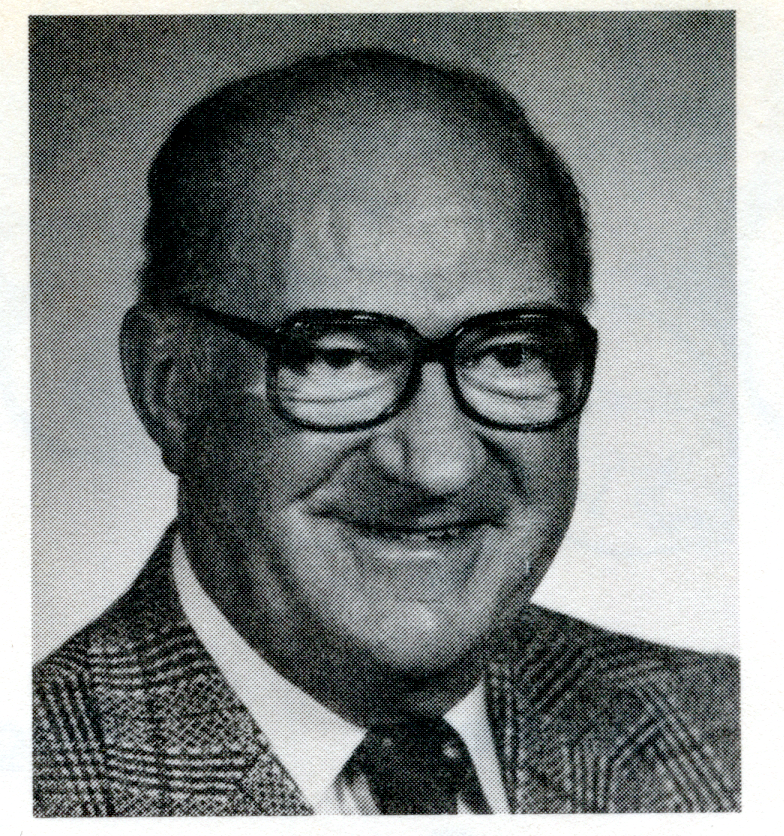 Vincent C. Kahle (1918 – 1993) photo above
   Vincent C. Kahle was born June 26, 1918, in Kalida to Joseph and Wilhelminia (Smith) Kahle. He was one of eight children, Vincent being the youngest. He had six brothers; Frank J. (1902 – 1958); Cyrillus F. (1904 – 1947); Frank A. "Harry"  (1906 – 1993); Joseph H., Jr. (1908 – 1989); Arnold C. (1913 – 1947); and Robert V. "Victor" (1915 – 1947). Vincent had one sister, Mary F. (Kahle) Ley (1911 – 2004). He married Lauretta Miller in Perrysburg on June 24, 1950. Lauretta was born Jun. 3, 1919 in Luckey, OH being the daughter of Ernest and Mabel (Rolf) Miller. Vincent and Lauretta had no children.
Vincent enlisted in the military Mar. 5, 1942 at Camp Perry Lacarne and served as US Warrant Officer, stationed in England from 1941 to 1945. At the time of his enlistment he had attended two years of college was 67" tall and weighed 168 pounds.
He began his career with the former City Loan in Bowling Green. While president of the Ohio Grain and Feed Association in 1964, Kahle toured Russia and Europe with the People to People Goodwill Mission. From 1967 to 1983, he was on the board of directors of Elevator Mutual Insurance Co., Lima; and from 1979 to 1983, he was a board of trustees member at Owen's Technical College. Kahle also served on the board of directors of Mennel Milling Co., of Fostoria, and was a former director of Farmers Savings Bank, Northwood. Kahle was a member of St. Wendelin Catholic Church, Fostoria; Fostoria Country Club, where he was a past director; Knights of Columbus in Fostoria and formerly in Genoa; and the Kiwanis Club in Fostoria and formerly Woodville. Kahle also was a member of the The Links of Lake Berndatte Country Club in Wesley Chapel, Florida; the University Club in Fostoria; and the American Legion Post in Woodville.
Vincent Kahle died Friday March 12, 1993 at Fostoria community Hospital He and his wife Lauretta are buried in Troy Township Cemetery.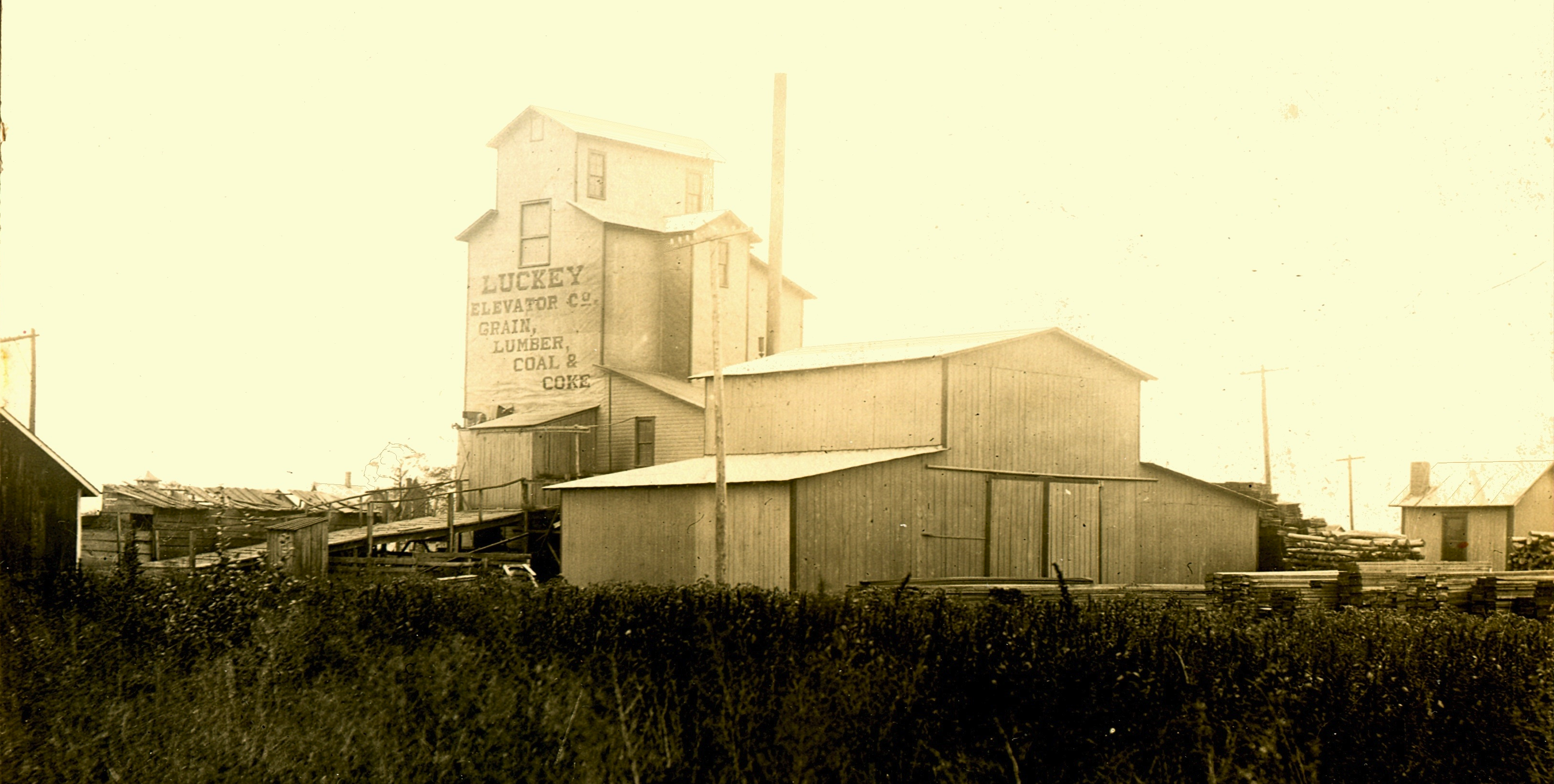 Photo above; Luckey elevator in the early years.
Luckey Farmers 
   From the end of World War I to the stock market crash in 1929 the United States prospered greatly. But it was a time of economic hardship for area farmers. Farming improvements and government regulations had caused a large wheat surplus, which drove prices down drastically, and many farmers found themselves in deep debt.
   During this bleak period, farmers were discovering the advantages of pooling their resources to not only purchase necessary supplies but also give them more clout in the market place. In 1904 the first farmer-owned cooperative was formed in Ohio and in 1919 a concerned group of farmers formed the Luckey Farmer's Exchange in Luckey, OH. Mr. W. H. Slaybaugh was the first manager. Little is known about the first few years of the cooperative as records are sketchy. However, a fair assumption would be that the co-op was under fire like many other farmers who tried to work together in a co-operative manner. They were accused of forming monopolies.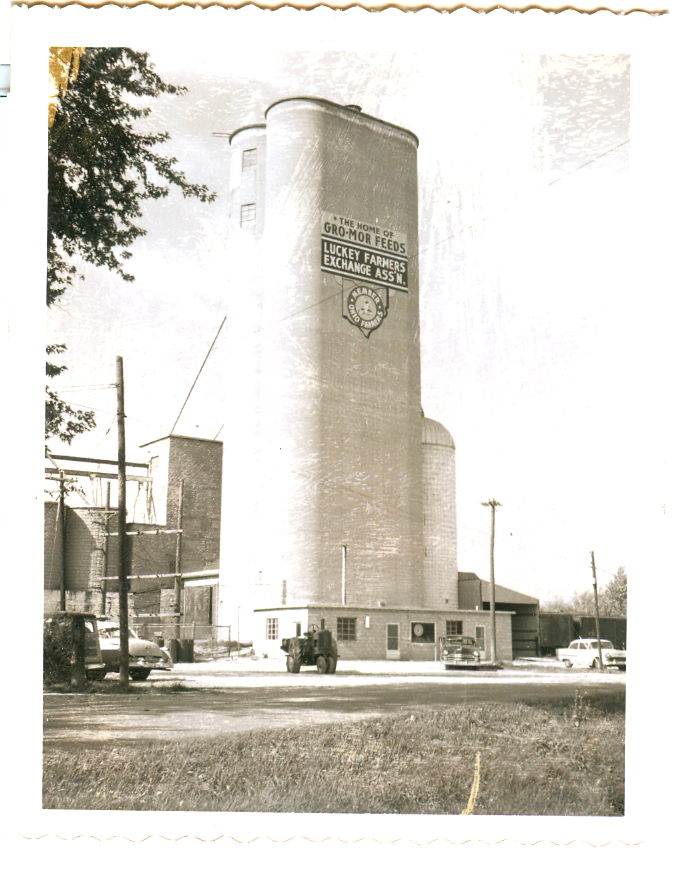 Photo above (photo property of LHS); Lemoyne Branch of Luckey Farmers, 1950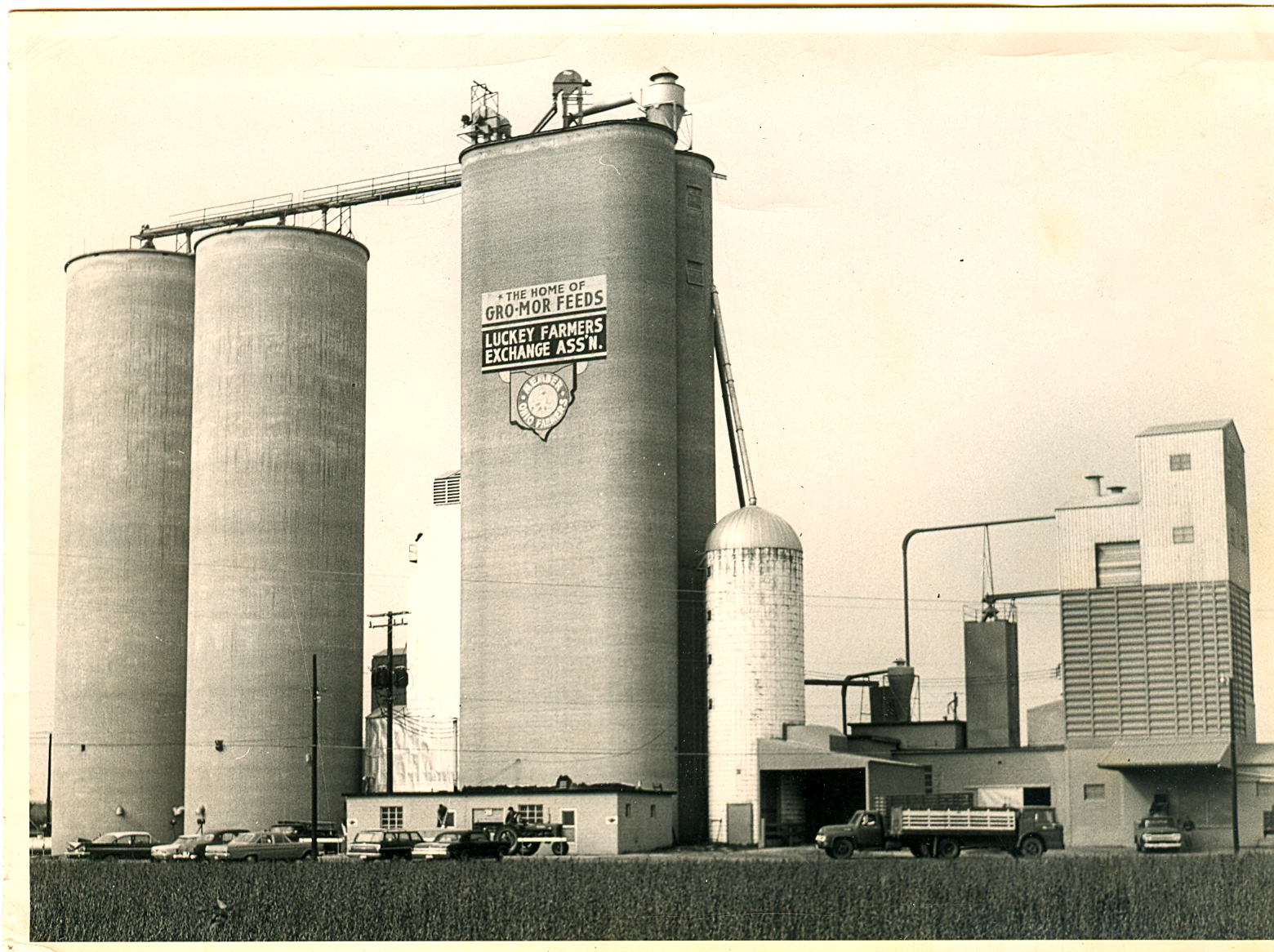 Photo above (photo property of LHS); Lemoyne Branch of Luckey Farmers, 1973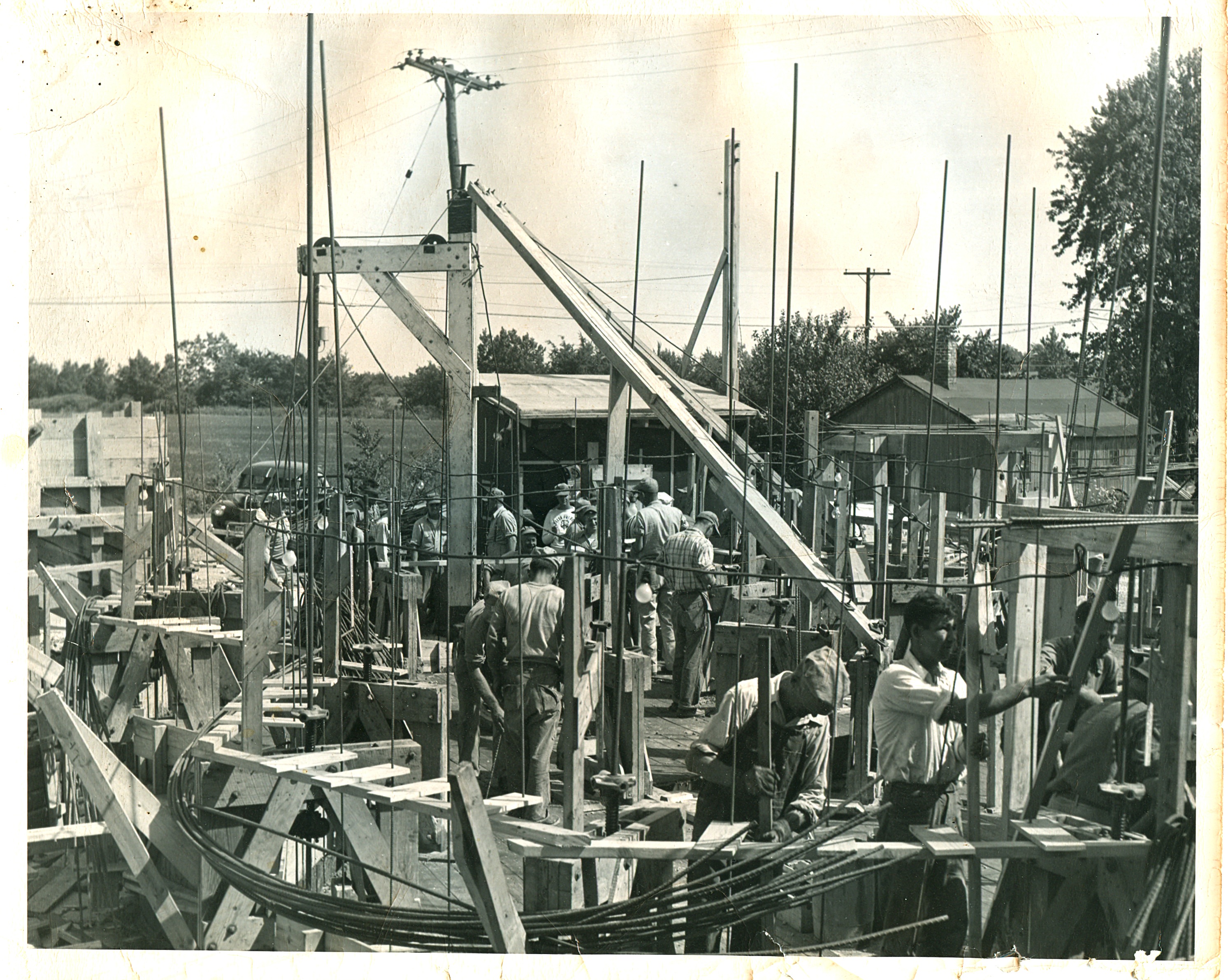 Photos above and below (photo property of LHS); Building the new Elevator in Lemoyne 1949/1950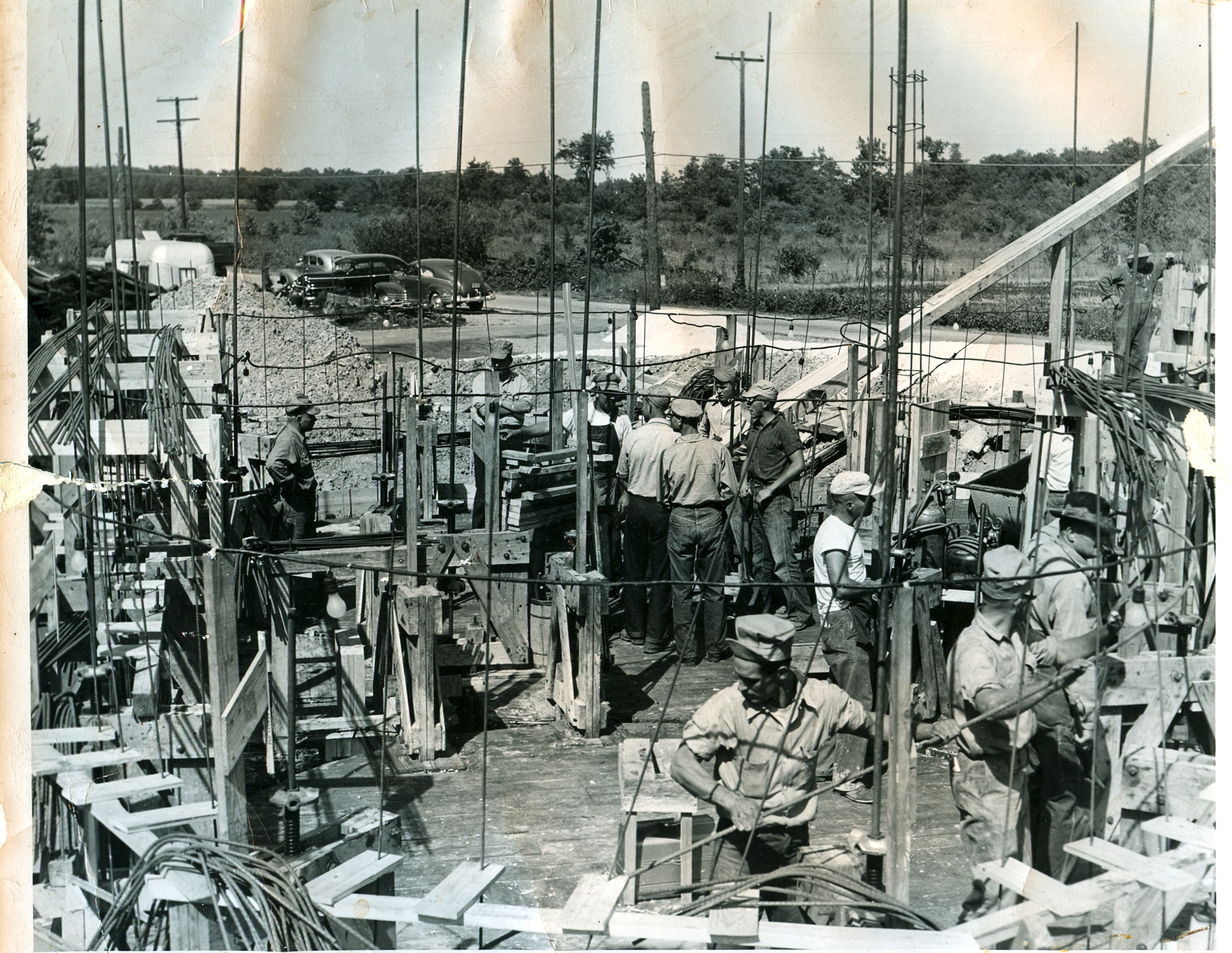 Lemoyne area farmers were also struggling financially with their local co-operative and in 1927, Luckey Farmers absorbed the business and re-opened the Lemoyne facility. Around 1927 the Bruns' Mill located on the Portage River burned and again Luckey Farmers saw an opportunity to further serve the local farmers. The association built a new facility near the Pennsylvania Railroad tracks increased their operations to three elevators.
   During the late twenties the Capper-Volstead Act was passed authorizing the right of farmers to formally organize and act together without fear of antitrust action against them, and on July 15, 1929, W. H. Hill was appointed as manager of the Luckey Farmers Exchange. Early in 1931 Henry W. Myers a Luckey resident, was hired as the association's manager and he was faced with handling repercussions of the national "New Deal" policies. The thirties were the worst years of the depression for farmers and those at Luckey Farmers were no exception. The association showed very little profit during these years.
   Walter Swartz assumed the managers duties in 1933 and under his direction many improvement and rebuilding projects were completed at the facilities. As the meager business progressed the association felt a need to try hiring a sales representative to call on the patrons. The sales representative proved valuable and more representatives were hired and also advised customers in agronomy matters.
   In 1939 Swartz resigned as manager to go into business for himself and William F. Schnitker was appointed as the new manager. Throughout the war years the association prospered and even paid substantial dividends to the stockholders. The wartime economy was a contradictory one for farmer elevators. However, Luckey Farmers survived the regulations, price controls and shortages. During the forties many additions and remodeling projects began. Business with member owners rose drastically. Upon Schnitker's resignation in 1948 Charles Sawyer was appointed as the new manager. Then in October 1949, Vincent Kahle assumed the responsibilities as general manager, a post held until April of 1981. Under Kahle's management Luckey Farmers flourished.
   After a fire destroyed the Lemoyne branch in 1949 a new elevator was constructed and opened there in 1950. Since that them the growth of the Exchange seemed imminent. During the sixties Luckey Farmers Exchange and the Sugar Ridge Grain Assoc. Merged to form Luckey Farmers, Inc. With the addition of the Sugar Ridge and Dunbridge facilities the elevator complex grew to five elevators. All Facilities were continually updated and modernized to provide the best service possible to all patrons.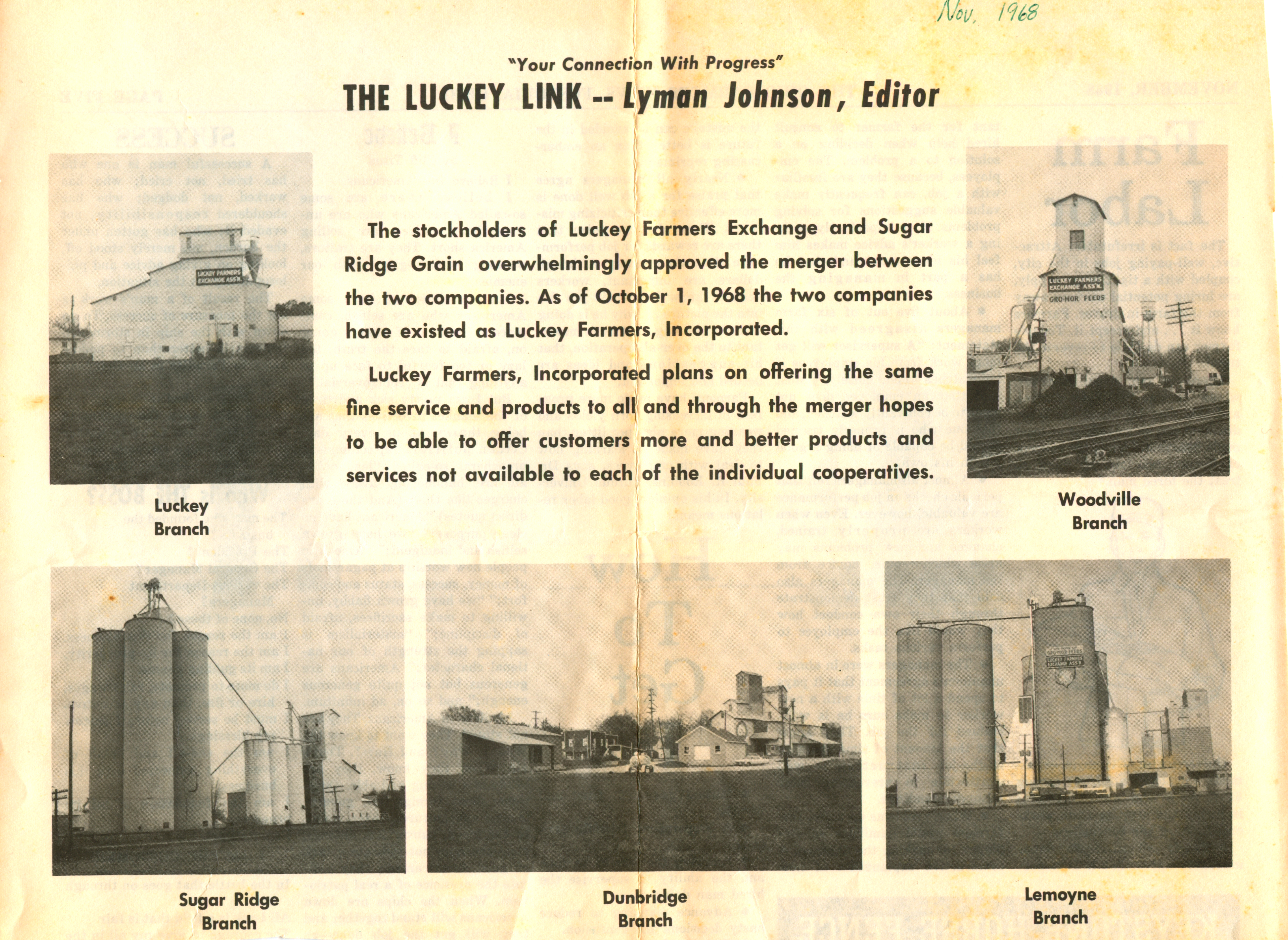 The 1970's saw the prosperity and growth of Luckey Farmers continue. In 1972 the cooperative purchased the Ottawa Co. Co-Op facilities located in Curtice, Graytown, and Oak Harbor. Then, in 1977, the Oak Harbor Cooperative Co. merged with Luckey Farmers adding yet another branch in Oak Harbor.
   From its meager beginning in 1919 Luckey Farmers, Inc. Emerged as one of the most productive and successful farmer owned cooperatives in Ohio. In 1978 a new general office was constructed in Woodville, OH allowing more central location among the branch operations. This move allowed the facilities in Luckey, OH to be more productive and serve as the head quarters for the agronomy aspect of the business.
   As of 2013 Luckey farmers functions in ten locations. No longer do they have offices or an elevator in Luckey, OH. They have facilities in the following towns; Berkey, Bradner, Curtice, Graytown, Lemoyne, Lindsey, Oak Harbor, Perrysburg, Sugar Ridge and Woodville (General office). They serve approximately 2000 members with grain, marketing, plant food, seed feed, general farm supplies and petroleum products. Current facilities consist of 7 grain locations, 8 agronomy facilities, a feed manufacturing plant, seed processing facility, 3 Cardtrol Petroleum stations, and 4 fuel delivery trucks to serve home, farm and light industry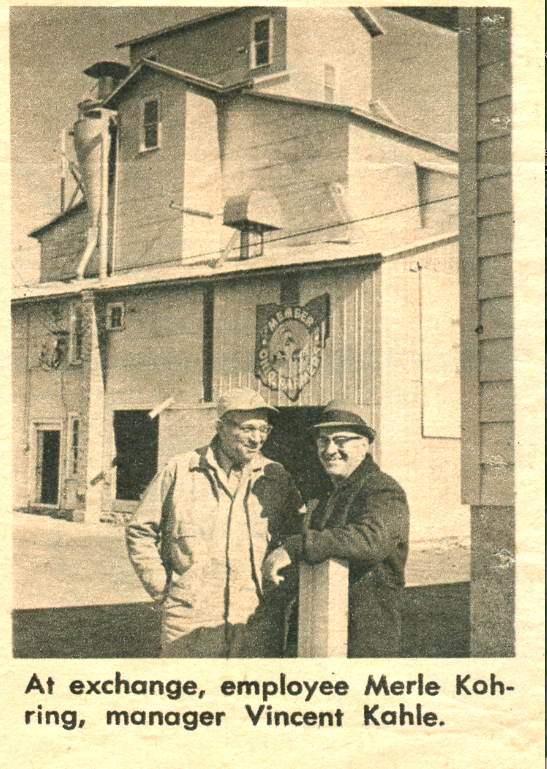 Photo above; Luckey Farmers, Inc. 1968 
Sources;
"Luckey Centennial Book",
Judy Keller (public relations agent for Luckey Farmer)
www.Luckeyfarmers.com