President's Letter –Sep. 2013
At the August meeting Sally shared the "Biography Collection of Notable Persons of Troy Township Cemetery". We have two copies of the book. One copy will be in the Luckey Library for public use and the other copy will remain with Sally. Both copies will be available at the Fall Festival along with copies of the Troy Township Notable Persons pamphlet.
Our list of Notable Persons who died while in the line of duty has grown. The list now includes the following:
PVT Richard Elder Birth 1845, Death 1862, (Fell @ Pittsburg Landing, Co. E, 72nd O.V. I.)
PVT Frederick William Jacobs Birth 1896, Death 1918 (Nat. Army Co. K 325 Inf.)
PFC Donald C. Brueggimeier Birth 1916, Death 14 Aug 1944 (fell in France WWII)
PVT Homer Garrett Puse   Birth 5 Oct 1925, Death 7 Jan 1945  (317th Inf. Regt. died at Luxembourg)
PFC Herman E. Swartz Birth 1923, Death 26 Jan 1945 (WWII at Luzon)
PFC Dale William Ruswinkle (14 Aug 1937- 11 Aug 1962) Soul Korea
PFC Leroy Franklin Minnix Birth 3 Jun 1946, Death 12 Oct 1965 (Vietnam)
 PFC John R. Barr a native of Swanton, OH, Birth 13 Nov 1984, Death 13 Oct 2008  (Iraq War)
     Enjoy  of a few more biographies of our Notable Persons of Troy Township Cemetery
Robert (1915 -1974) & Dottie (1918 – 2001) Johann
   Robert A. Johann was born on Sep. 19, 1915 in Custar, OH to Charles Joseph Johann and wife Loretta E. Wilhelm. He married Dorothea "Dottie" Cunningham on March 8, 1946 in Bowling Green, OH. Dorthea Mae was born Oct. 11, 1918 to Eugene and Emma Cunningham. She was married and widowed twice, first to Frank Kohn and then Robert. Dottie and Robert had one child, Bobbi Ann (Johann) Pratt, of Scottsdale AZ.
L. to R. Dottie Johann, Thurse Meyers, Bob Johann, Reynold Meyers, Ernie Miller , Lillian Rife, Norman Rife, Ralph Eilert, Bill Rife, Velma Rife, Bill Welling, Sr.
1943 or 1944
The first building built with cement blocks from the Luckey Block and Tile Company was the home of Robert and Dottie Johann at 406 Oak Street, along the T & O C railroad tracks. The year was 1946 and at that time, the Johanns owned and operated Luckey Bar, located across from our current maintenance building north of the commercial block in downtown Luckey. Their bar was later Eileen's and eventually torn down. In 1952 the Johanns decided to go into the flower business so they built their first greenhouse and remodeled their home to accommodate the shop. The flower shop was well received in Luckey and the business grew quickly. A plot of land was purchased on Layman Road to grow plants in the field and they operated a fruit stand on Route 20, in addition to handling weddings, funerals, proms and all other occasions where flowers were required.  They built two more greenhouses, making three in all. In 1966 they became interested in the growing of exotic plants and started their orchid business. Eventually they converted all of their greenhouses to grow all exotic plants. After Bob's death in 1974, Dottie continued to run the business. Their business was associated with two wire services, were a member of the orchid society and several other floral organizations.
Mr. Johann died at the early age of 58 on Jun. 18, 1974. At the time of his death he was living at 406 Oak St., Luckey, OH. A World War II veteran, Mr. Johann was past commander of the American Legion Post in Luckey and a member of the Ohio State Highway Patrol Auxiliary, American Orchid Society and Michigan State Florist Assoc. He was also a Boy Scout troop leader and worked as a maintenance mechanic at the Ohio Highway patrol Post in Walbridge, OH.
Dottie died Jan. 2, 2001 in Scottsdale AR while living with her daughter, Bobbie Ann Pratt.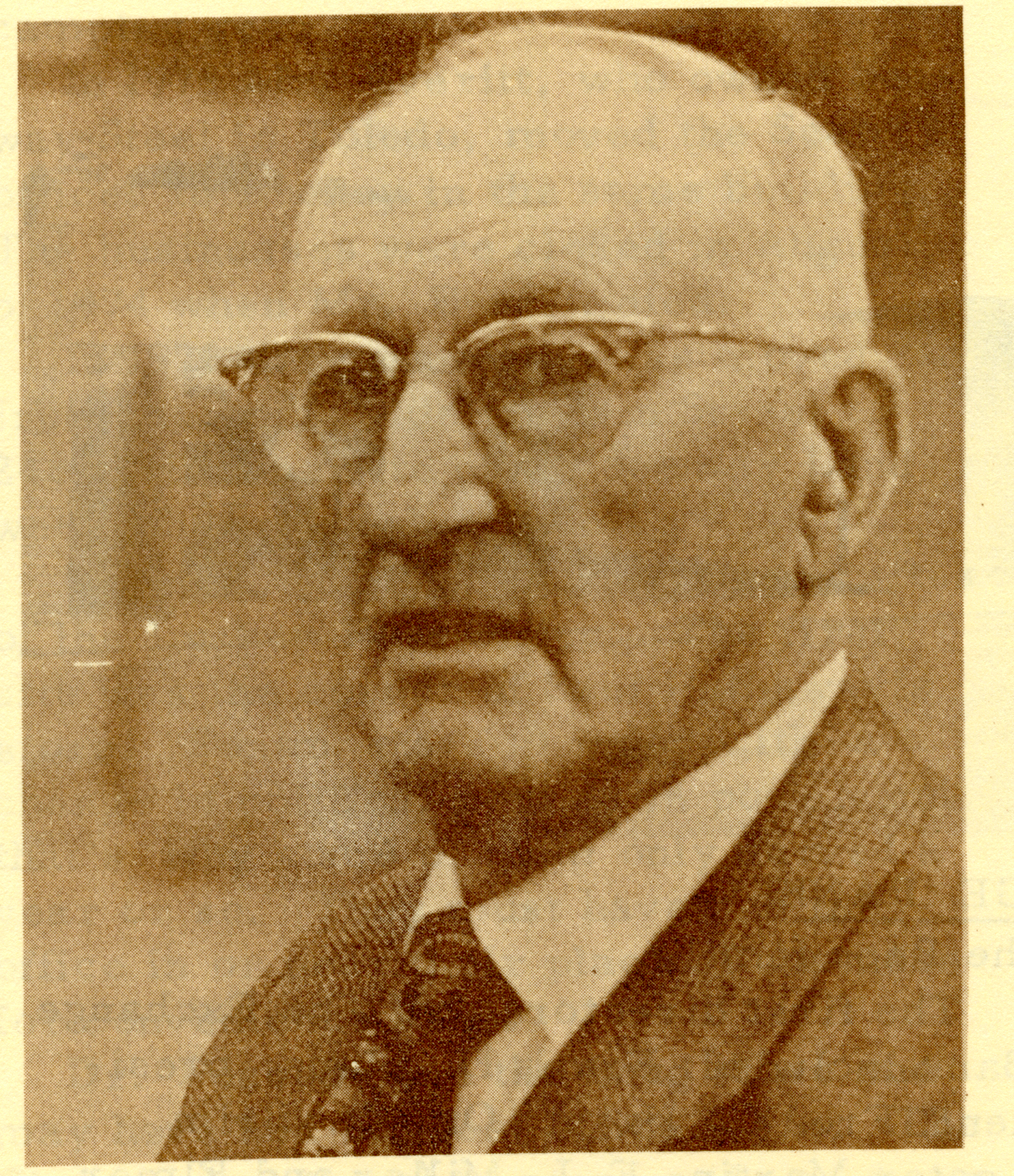 Gordon Vincent Huss (1895 – 1997)
     Gordon Huss was born Sept. 1, 1895, in Jerusalem Township to Mr. And Mrs. Herman Huss (Della Brough). He married Bertha Davis (born Jul. 31, 1887) on April 9, 1919 in Millbury. He died July 11, 1987. Bertha lived to be over 100 years old and passed away on Aug 17, 1997. Gordon and his wife Bertha had two children. Joanne Rae Huss was born Aug. 30, 1926 in Toledo, OH. On Aug. 26, 1950 Joanne married Peter L. Moran. At the writing of this text, Mrs. Moran was still living. Their second child was Roland Irwin Huss born May 12, 1929 in Luckey, OH. At the writing of this text, Mr. Rolland Huss was still living.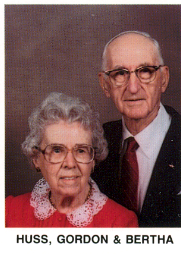 Bertha and Gordon lived briefly in Genoa, OH when they were first married and then came to Wood Co. where Gordon ran a meat market in Luckey. The couple lived above the meat market until they built a home on Adams Boulevard in Luckey in 1931. Gordon was also a retired farmer. Gordon held the position of bank president of the Luckey Exchange bank for 41 years. He began his bank service in 1937 and retired Feb. 1, 1977. He was an emeritus member of the bank's board of directors. Gordon also served on the Wood County Planning Commission for many years.
Huss, formerly of Adams Street, Luckey was a member and past church council president of Grace Lutheran Church, Luckey.
He was a member of the Wood County Planning Commission, 65-year member of Pemberville Masonic Lodge 516 and a member of Ancient and Accepted Scottish Right, Toledo, OH.
Huss also was a 50-year member of the Bowling Green Crystal Chapter, 50-year member of BG Lodge Council and 50-year member of Eastern Star.
Hope you all plan on spending some time visiting us at the Fall Festival. We will be in the big tent as usual with plenty of chairs for resting and time for chatting. The fall festival is late this year, Sep 27th, 28th and 29th.
Our next Historical Society meeting is Thursday September 19th at 6:30 in the Luckey Library. September is also the month that Historical Society dues are due. The fee is $20 per person or household.
Over and out
Sally