President's Letter – Nov. 2013
Leaves are raked. Summer furniture is hid away and we are ready for the cold north wind to blow. Seasons just seem to fly by quickly here in NW OH. We had snow on Monday and Sunday we expect low 70's with a chance of tornadoes. Weather is totally crazy. I have friends in Australia and they say the weather is just as crazy over there.
I am going to cancel the Historical Society Meeting for December. We will see each other in January. I have been working on the compiling a database of persons buried in Troy Township Cemetery. Linda Brinker from Troy Township has given me the lists of persons buried in the years 1985 to 2012. The information from Linda includes the Plot and Grave number along with the date of burial.  I have that information all typed into the computer and am waiting on photos of the maps located in the Troy Township office. The maps will help me located where the plot and graves are in the cemetery.
At our last meeting several people were selected as Troy Township Notable Persons. Carl F. Samson was nominated by Dick Otte. Carl Samson owned the plumbing shop that Dick now owns. Sally nominated Aldon and Wilma Blecke owners of Toonerville Campground on Devils Hole Road. Dick is working on collecting information on Mr. Samson and I am collecting information on the Bleckes. If you have any photos or know one who may have photos pertaining to any of these Notable Persons, please try to get copies for me or originals to scan. Also if you have any stories or information about any of our Notable Persons, please share them.
Our next Historical Society meeting is Thursday November 21st at 6:30 in the Luckey Library. September was the month that Historical Society dues were due. The fee is $20 per person or household. If you have forgotten please send to Ruth Rothenbuhler, our treasurer, or myself.  Remember, no December meeting.
I have collected the following information on Carl Frederick Samson one of our recently nominated Notable Persons of Troy Township Cemetery:
Carl was born to Henry John Samson and Anna Marie Elizabeth "Lizzie" (Dierker) Samson on December 17th, 1902. On July 16th, 1927 he was married to Mildred A. Brockseker. The marriage took place at the Salem Lutheran Church on Bradner Rd. outside of Luckey. Mildred was born Oct. 2nd, 1900 and passed on April 25th, 1976. Carl passed Oct. 10th, 1970. To Carl and Mildred was born one son, Richard Samson in 1934 or 1935. They experienced the thing every parent dreads, that of burying their child as son Richard died in 1965.
Carl's father was born in Troy Township but his mother was born in Hanover, Germany. Carl was one of nine children born to Henry and Elizabeth, all born in Troy Township. Carl's siblings were as follows; Anna Samson B 1888, Caroline E. Samson B 1889, Edward Samson B 1891, Frederick Samson B 1892, Edith A. Samson B 1896, Elvena L. Samson B 1898, (Carl F. Samson B 1902), Arnold W. Samson B 1906, Walter H. Samson B 1908.

My interest in Aldon and Wilma Blecke are the result of hearing mention of Toonerville Campground and then reading the following two blurbs in our LHS news collection;
Campground Busy –"Toledo Blade  Aug 4, 1973"
   Aldon and Wilma Blecke of Luckey, own and operate the campground just west of town. Generally almost full on weekends, it was jammed over the July 4th holiday.
   One of Luckey's newest businesses, which sell campers, also is profiting by the vacation boom. Mr. and Mrs. Robert Everitt are the owners of Evco Sales and Service. "We can hardly keep up with the business," Mrs. Everitt said.
Toonerville Junction "Toledo Blade Aug. 15, 1980"
   A carnival during the Labor Day weekend to raise funds for the Jerry Lewis Telethon is one of the sumnmer time-activity highlights at Toonerville Junction Campground, located on Devil Hole Road, less than a mile southeast of Luckey, OH.
Regularly scheduled activities include bingo twice per weekend, shuffleboard, basketball, movies, round and square dancing, a playground for youngsters, and tennis.
   The 30-acre campground has a swimming pool and a fishing pond, which has catfish, bluegill, carp and sunfish. Most of the 350 sites are located in shady areas. All sites have water and electricity and 150 also have sewer hookups. There are areas for tenters in the woods.
   The rates are $5.50 per night for a family of four with hookups to water and electricity; $6.50 for a full hookup. There is an additional charge of 50 cents per person above the family of four, except for infants.
The campground is owned by Aldon and Wilma Blecke and has been open for 11 years. It is located about 10 miles southeast of Toledo.   For more information about the Toonerville Junction Campground, call 419-833-5311.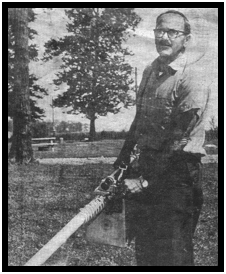 Above photo appeared in a local newspaper. This is Aldon spraying for the mosquitos at the campground. 
My husband and I moved to Luckey in 1978 and the campground was still in operation at that time. I so wish that I would have known about it. My husband and I and my family growing up always enjoyed camping. This campground sounds like it was so much fun. I am also guessing that the community shared in the fun. I am wondering what happened to cause it to close. Did people lose interest? Was insurance too high? Was it too much work for Aldon and Wilma? What kind of shape is the campground in today?
I have collected the following information on Aldon H. Blecke and his wife Wilma M. Webb:
Aldon was born on July 12, 1919 to John and Adelia (Meyer) Blecke in Pemberville, OH.  John was born in Luckey, OH and his wife, Adelia C. Meyer was born in Lemoyne. Adelia Meyer's parents were Henry Myers born in Germany and Anna Marie Landwehr born in Wood Co.. John and Adelia had three children; Doris W. Blecke who married Robert H. Hansen; Levada Blecke who married Carlton Graening and Aldon, for whom we write who married Wilma. Aldon and Wilma were married July 19th, 1939. Wilma was the brother of Ronald Webb and daughter of Albert Webb, both Troy Township Notable Persons. Aldon and Wilma had three children: Duane, Kenneth and Arlyn.
Aldon was a distributor for Standard Oil, Sinclair Oil Co. and also worked for John Stevens Oil Co., Genoa, OH. Aldon was also a milk hauler for Jamison Dairy, Village Farm Dairy, Riverside Dairy and Sealtest Dairy. In later years he and his wife Wilma owned and operated Toonerville Junction Campground, Pemberville, OH. He was a WWII war Army veteran and served with the 3rd Armored Division, 22nd Tank Battalion as a tank driver under General Patton. His memberships included: Zion United Methodist Church, Luckey, OH, First Baptist Church of Citrus Springs, FL, Troy-Webster American Legion Post #240, Luckey, OH. In his spare time he enjoyed woodworking, music, fishing and helping others.
Wilma was a bookkeeper for Stevens Oil Company, Genoa, OH, for many years and was also co-owner and operator with her husband of Toonerville Junction Campground, retiring in 1980. Wilma was a member of Zion United Methodist Church, Luckey, OH, and enjoyed reading, crocheting and doing crafts of all kinds.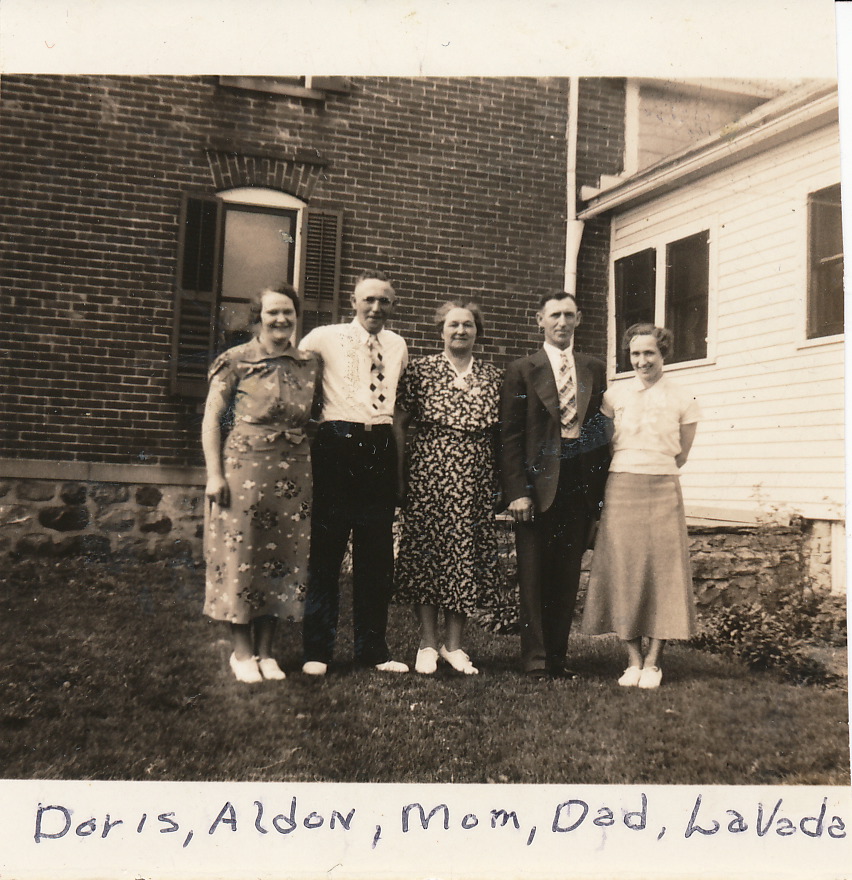 I am looking for more photos. I know a have a photo of Aldon and Wilma in the Zion Methodist directory. Right now the computer where that photo is stored is in the basement hiding in the event we get a tornado this afternoon. Hopefully you all can help me find some good photos of the campground.
Over and out for now,
Sally
Next Historical Society meeting Thursday November 21st at 6:30 in the Luckey Library. No December meeting.