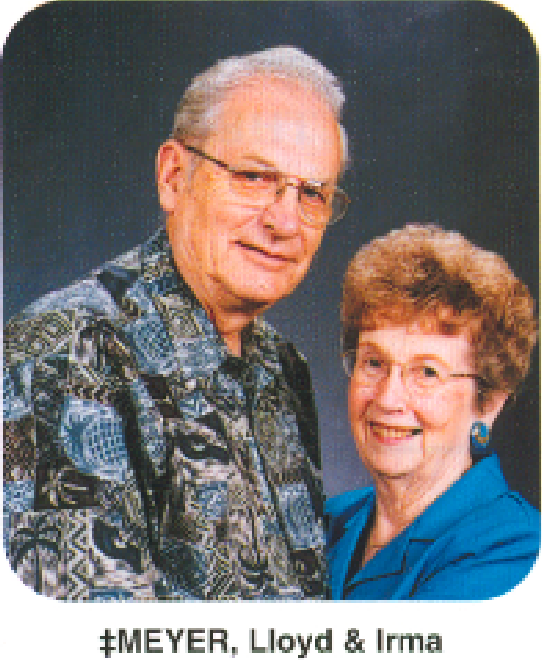 Irma & Lloyd of Luckey, OH
 Lloyd John Meyer was born the 26th of April, 1927 and left this world on the 31st of July 2010. Irma was born the 10th of November 1926. Lloyd and Irma were married the 5th of November 1949 in New Rochester, OH and moved to Luckey in 1952.  Irma and Lloyd both came from family farms. Lloyd's father was a farmer in Webster Township, Wood County, OH.  Irma's father was a farmer on Holcomb Road in Center Township also of Wood County. Lloyd was one of only 3 children born to George and Dora. Irma was one of 8 children born to Samuel H. and Dora Hana Snyder.
THE SNYDER FAMILY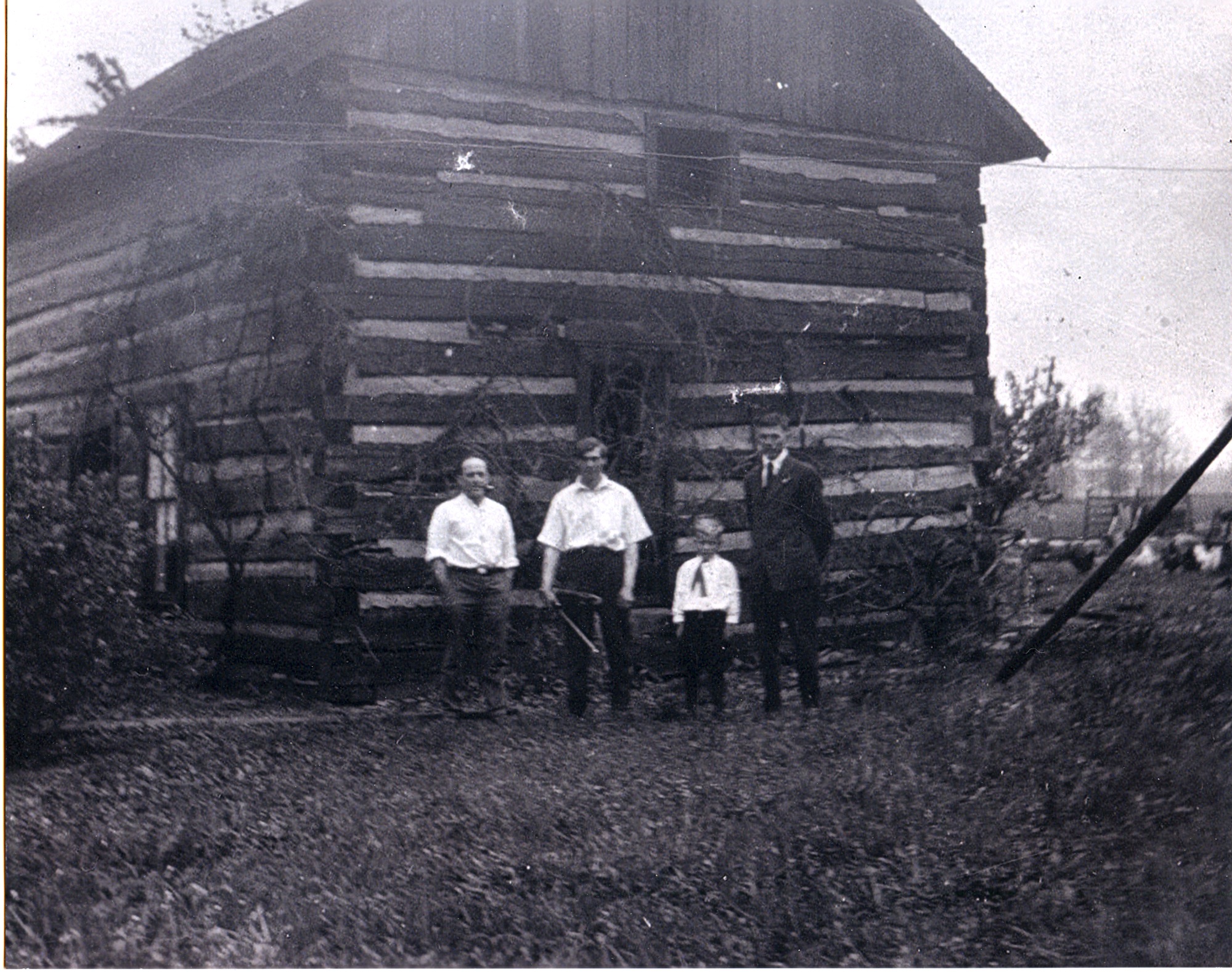 ABOVE: L TO R, Virgil Falk, Deloy Snyder, Wilbur Snyder (standing), "Papa" Samuel Snyder. Building, Log Cabin on Jacob Snyder farm on Holcomb Rd. Prairie Depot, OH [we known Deloy was born in 1897 and Samuel in 1888, we can estimate that the photo was taken around 1905]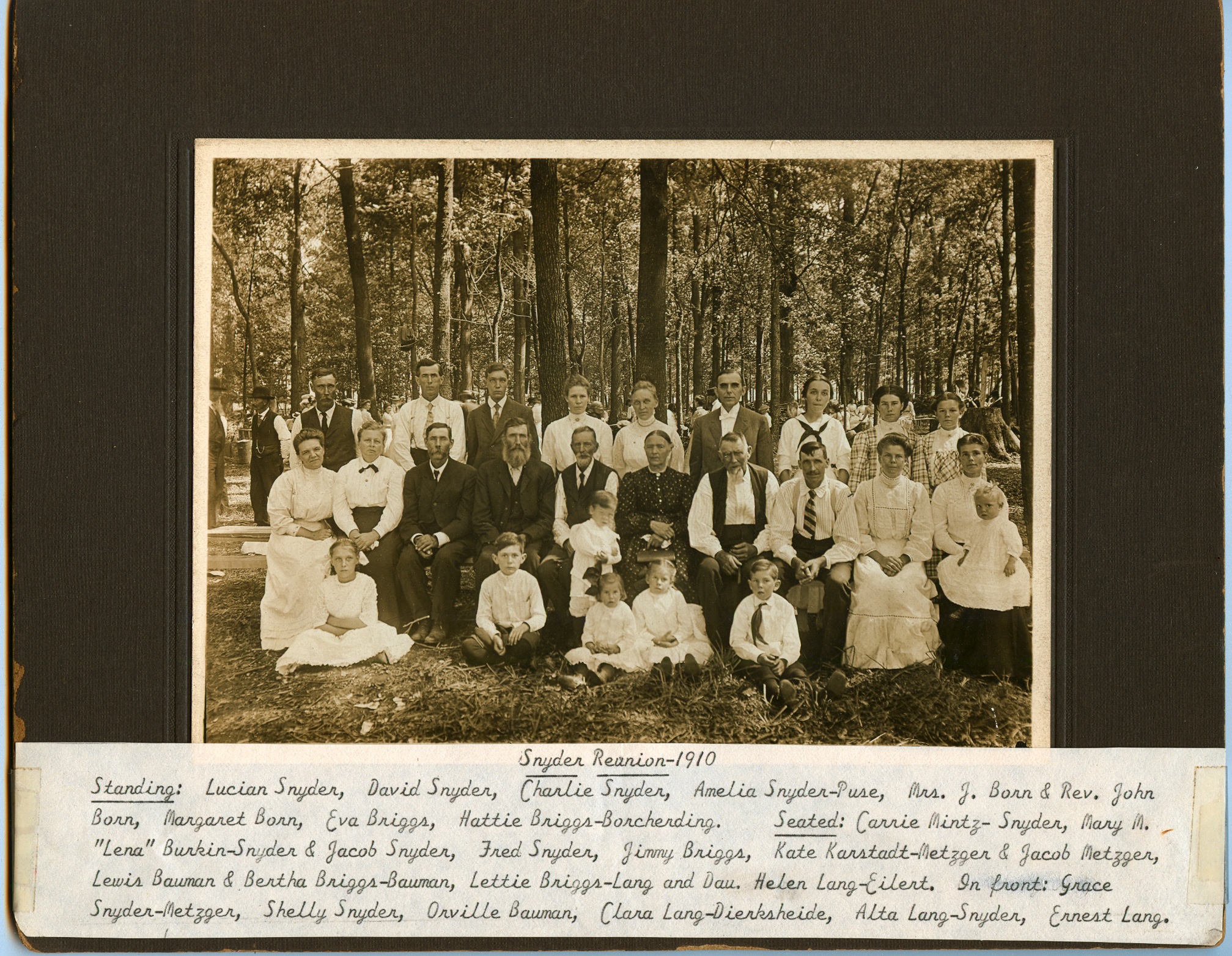 The Snyder Family
Irma's father came to us from Germany. He was of direct lineage of Daniel Snyder born the 11th of November 1818 who came to the United States with his parents.  The excerpt below is from "Beers 1895" in regards to the Snyder family.
JACOB J. SNYDER, to whom success has come as the reward of well-directed efforts, is one of the leading farmers of Wood County. His father, Daniel Snyder, was born in Germany, November 11, 1818, and when a young man came to the United States with his parents. He was married in Liverpool, Medina Co., Ohio, to Miss Eppley, by whom he had one child, Christina, now the wife of August Ehnes, of Toledo, Ohio. In Medina county, Daniel Snyder married, for his second wife, Eva B. Swartz, who was born in Wurtemberg, Germany, in June, 1820, a daughter of Frederick Swartz, who came to the United States in 1830, and settled in Liverpool Township, Medina county, where he died of typhoid fever three years later. About 1850, Daniel Snyder removed to Troy Township, Wood County, where he now owns a desirable farm of 100 acres, which he has developed almost entirely from the wilderness. He has made his own way in life entirely unaided, and is an industrious, energetic man, of sterling worth. Politically he is a Democrat, and religiously a devout Lutheran. His wife died April 24, 1892, and lies buried at Luckey, Ohio. Their children are: Catherine, wife of Jacob Metzger, of Perrysburg township; Frederick, of Perrysburg township; Daniel, of Lake township; John, of Cleveland; Elizabeth, wife of James Briggs, of Troy township; Jacob J., of Montgomery township; and Lucian, of Troy township. Two children, Julia and Mary, died in infancy in Medina County.
Jacob J. Snyder was born in Troy township, April 8, 1858, and acquired a fair English education in the district schools. He was reared on his father's farm, and early became familiar with all the labors connected with its development. On April 23, 1885, in Stony Ridge, Ohio, he was joined in wedlock with Mary Magdalena Burkin, who was born in Baden, Germany, January 18, 1862, a daughter of Jacob and Catherine (Joseph) Burkin, who came to the United States in 1866, making the voyage in four weeks on the sailing vessel "Kimball." They located first in Erie County, Ohio, and removed to Webster Township, Wood County, when Mrs. Snyder was twelve years of age. The mother died in Sandusky, Ohio, August 3, 1895, and the father is still living in Webster Township. They had thirteen children, of whom three sons and six daughters reached adult age.
Mr. and Mrs. [Jacob] Snyder have two children-Amelia, born March 9, 1886, and Samuel H., born July 18, 1888. [DeLoy their third child is born after this publication in 1897.] In October, 1884, Mr. Snyder purchased forty-two acres of land in Section 6, Montgomery Township, and has since made that farm his home. It was in poor condition, but with characteristic energy he began its development and improvement, and his earnest labors, perseverance and capable management have converted it into a good property, and have brought to him a comfortable competence. He votes with the Democratic Party, but has never sought or desired office. Both he and his wife are members of the Lutheran Church at New Rochester, and are people whose many excellencies of character have gained for them the high regard of all with whom they have been brought in contact.
Jacob and Daniel Snyder also appear in the Beer publication of 1895 in the section involving the community.. That information is included below;
St. John's Lutheran Church was founded by Rev. E. Cronewett, of Woodville, Ohio. Among the early members were John F. and Joshua G. Swartz, Ludwig Metzger, George Miller, George Lederer, Daniel Snyder, C. Hazel, C. Meyers, Adam Snyder, Jacob Kurfess, and Samuel Gossert. For the first few years services were held very irregularly as the society had no church building. In 1872, the present house of worship was erected at an approximate cost of $2, 500, and the parsonage, which was built about 1880, cost $800. The pastors of the charge have been Revs. Buerkle, Sheips and George Wolf, until 1887, when, in July of that year, the present incumbent, Rev. John Born, assumed the pastorate. The present membership is about 150, which is in a thriving condition. The Sabbath-school has an attendance of about seventy.
Men of 1839.-In 1839, the number of male inhabitants, aged twenty-one years and over, was thirty-nine, namely: Robert Barr, James Anderson, Joseph Ralston, Samuel Snyder, Daniel Snyder, Jacob Snyder, Jonathan Fay, Jacob Staufer, Theron Pike, John Walker, Abraham Walker, Daniel Jolly, Alfred Thurstin, Jacob Smith, Adam Phillips, David Hixon, Lee Moore, Jacob Hartman, John Brown, Peter Klopfenstein, Joseph Arbuckle, Peter Richards, Henry Shively, Mark Lowell, William Munn, Henry Lundy, Thomas Reigle, George Winklepleck, Matthias Shoup, George W. Underwood, Joseph Russel, John Tracy, Daniel Crom, John Carter, William Zimmerman, John Muir.
The Snyder Family In America
I. Daniel Snyder B 11 Nov 1818  BP Germany  Daniell immigrated as a young man to the US with his parents who were also born in Germany. Daniel Snyder and his wife Eva had moved from Medina County to Troy Township of Wood County by 1839. Daniel purchased 100 acres of wilderness which he developed almost entirely unaided into a productive farm. Daniel, according to Beers 1895, was "industrious energetic man of sterling worth." He was a democrat and devote Lutheran. He is listed as being a member of St. Johns Lutheran Church of Woodville, OH. ]
+ (wife 1) of Daniel – "Miss Eppley"
Children of Daniel and "Miss Epply"
II. Christina Snyder
+ August Ehnes of Toledo OH
+ +(wife 2) of Daniel – Eva Barbara Swartz  B June 1820  BP Wurtemberg Germany  imm 1830 D 24 Apr 1892  bur TTC [ daughter of Frederick Swartz who immigrated to Liverpool Medina OH, Frederick died of Typhoid Fever soon after coming to the U.S. about 1833]
Children of Daniel and Eva
II. Sarah Catherine Snyder B 1842
+ Jacob Metzger B 1839 BP Germany lived in Perrysburg, Wood, OH
Children of Catherine and Jacob
III. Anna Metzger B 1868
III. William Metzger  B 1 Sep 1875
III. Bertha Metzger  B 1882
+ Albert Swartz B 1881
II. Christianne Snyder B 1844
+ Daniel Wymer
II. Frederick Snyder B 1845 of Perrysburg twp.
II. Daniel Snyder B 1847 D 1899 DP Blanchard Hancock OH lived in Lake twp
II. John Snyder B 1852 of Cleveland
II. Elizabeth Barbara Eva Snyder B 22 Feb 1855 D 13 May 1909 bur TTC
+ James Briggs B 24 Dec 1841 BP Lisburn Co., Ireland lived in Troy twp. mar 1877 Lucas OH D 1932
III. Lettie Charlotte Briggs  B 12 Dec 1878  BP Wood, OH
III. Robert Briggs  B Nov 1879 BP OH
III. Bertha Briggs  B Aug 1883  BP OH
III. William J. Briggs  B May 1886   BP OH
III. Charles H. Briggs  B 1 Jul 1896  BP OH
II. John Jacob Snyder B 1858 D 1912 FAMILY BELOW
II. Lucian Snyder of Troy twp B 1859 D 1920
+ Carrie (Caroline) Mintz   B Jul 1864 BP Germany mar abt 1886
Children of Lucian and Carrie
III. Charles Snyder  B Nov 1894
III. Grace Snyder  B 20 Mar 1900  BP Troy Wood OH
+ John L. Metzger  B 14 Jan 18908  BP Wood OH  D 29 May 1966 DP Fremont, OH
II. Julia Snyder died in infancy prior to 1850
II. Mary died in infancy prior to 1850
II. John Jacob Snyder B 8 Apr 1858  PB Troy Wood OH [ Jacob purchased 42 acres of land in Montgomery Twp. in Oct 1884, Jacob was a democrat who never sought or desired office. He was a member of the Lutheran Church at New Rochester.]
+  Mary Magdalena Burkin BP Baden Germany  B 18 Jan 1862 D 3 Aug 1895  DP Sandusky OH [daughter of Jacob and Catherine (Joseph) Burkin, imm to U. S. 1860, the voyage took 4 weeks on the ship "Kimball", imm was first to Erie Co. OH then to Webster Wood OH in 1874]  mar 23 Apr 1885 in Stony Ridge, OH
Children of Jacob and Mary Magdalena
III. Amelia  Snyder  B 9 Mar 1886
III. Samuel Henry Snyder  B 18 Jul 1888 D 4 Jul 1930
+ Dora Hana Clare Brockbrader  B 29 Mar 1890  D 3 Mar 1976
Children of Samuel and Dora
IV. Alfred DeLoy Snyder  B 23 Nov 1915  BP Center twp, Wood, OH (DeLoy was also the name of Samuel's brother)  D 16 Apr 1921
IV. Wilbur August Snyder  B 23 Dec 1916  D 28 Apr 1976
IV. Otto D. W. Snyder  B 1919
IV. Lavern A. M. Snyder  B 1921
IV. Doris M. Snyder  B 1923
IV. Ada A. M. Snyder  B 1924
IV. Irma Snyder  B 10 Nov 1926
IV. Lewis S. Snyder B 1929 [not clear on census]
III. De Loy E. Snyder  B 1897
The Bockbrader Family
Irma's mother was a Bockbrader. The Bockbreder (now Bockbrader) family came to the United States in 1844. Little in known about the family in Europe but it is believed that the Bockbreder family began in France, moved to Switzerland and then moved to Germany in the 1700's. When the family moved to the United States, they settled in the Pemberville, Ohio area. Johann Friedrich Bockbrader left his siblings and parents in Germany and immigrated to the United States in 1844. With him to the new world he brought his wife, clara Maria (Mary) Neuhuser also of Buer Germany. See Bockbrader Family Tree
 Lloyd's obit
Lloyd J. Meyer, age 83 of Luckey, OH passed awayt peacefully surrounded by his loving family on Saturday, July 31, 2010 at Heritage Corner Health care, Bowling Green, OH. He was born on April 26, 1927 in Luckey OH to George and Dora (Hoelter) Meyer. Lloyd was a graduate of Webster Township School classs of 1945 and had proudly served in the United States Army during WWII. He married Irma Snyder on November 5, 1949 in New Rochester, OH and she survives. Lloyd retired from Libby Owens Ford, Toledo, OH as a senior systems analysist and had previously been abn electrician employed by L. J. Meyer & Son Luckey, OH. His memberships include: Zion Lutheran Church, Luckey, OH where he had served as both President of council and on council, Church Dartball team, charter member of the former AAL through Zion Lutheran Church, Troy Webster American Legion Post #240 of Luckey, OH where he 2was also the Finance Officer, /clerk/ Treasurer for the Village of Luckey for 25 years, Co-Fpounder/Trustee opf the Luckey Library, Luckey Historical Society and the Wood County Genealogy Society. Lloy is survived by his wife: Irma of Luckey, OH, son: Timothey (Kathy) Meyer of Luckey, OH, daughter: Barbara (Don) Enright of Tontogany, OH, grandchildren: Stacia Reynolds, Steven (Eileen) Meyer, Stephanie (Luke) Speck, Michael (Michelle) Enright, Michele (James) Myerholtz and 9 great grandchildren. He was preceded in death by his parents: George and Dora Meyer, sister: Lois (Leonard) Sander and brother: Lester (Ruth) Meyer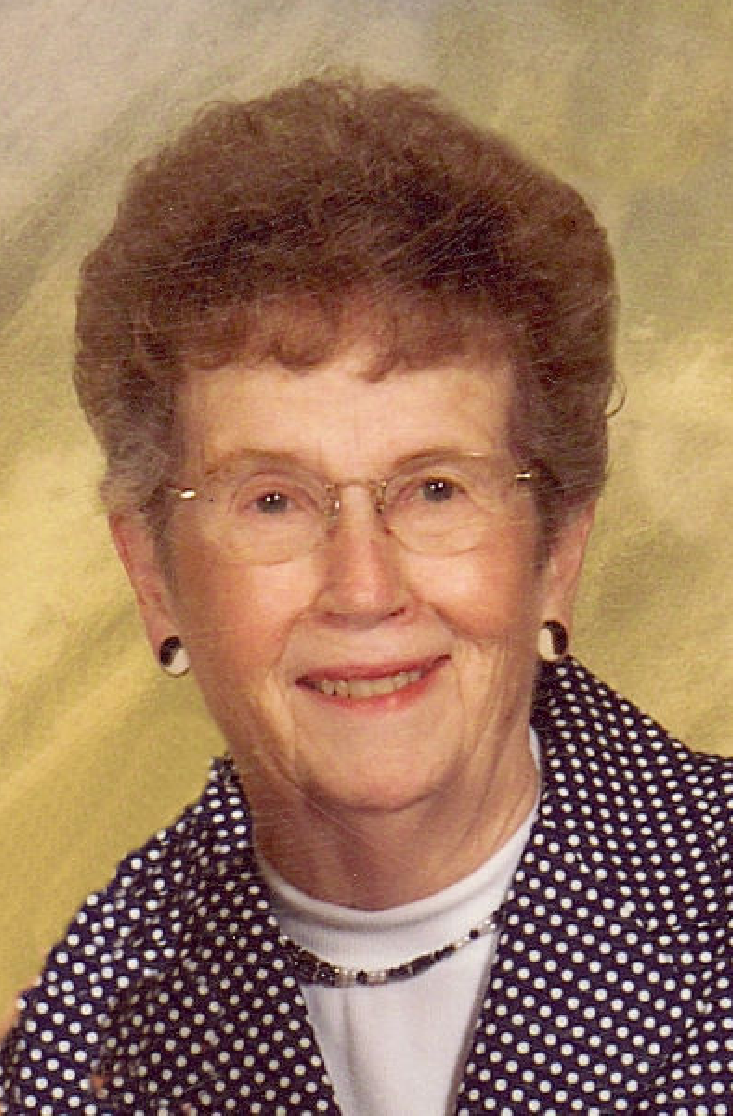 Irma's Obituary
Posted: Saturday, October 25, 2014 2:22 am
Provided to Sentinel-Tribune
Irma C. Meyer, age 87, of Luckey, OH passed away on Friday, October 24, 2014 at Wood Haven Health Care, Bowling Green, OH surrounded by her loving family. She was born on November 10, 1926 in Bowling Green, OH to Samuel and Dora (Bockbrader) Snyder. On November 5, 1949 she married Lloyd Meyer in New Rochester, OH and he preceded her in death on July 31, 2010. Irma was a wonderful homemaker and also worked at the former Bobbie Ann's Florist, Luckey, OH as a floral arranger. Her memberships included: Zion Lutheran Church, Luckey, church women's group, choir, bible study group, quilting group and taught Sunday school, Troy -Webster American Legion Auxiliary Post #240, Wood County Historical Society, Wood County Genealogy Society, Venture Club and a volunteer at the Luckey Branch Library.
Irma is survived by her daughter: Barbara (Don) Enright of Tontogany, daughter-in-law: Kathy Meyer of Luckey, grandchildren: Stacia Meyer-Reynolds, Steven (Eileen) Meyer, Stephanie (Luke) Speck, Michael (Michelle) Enright, Michele (James) Myerholtz, 13 great grandchildren, sister: LaVerne Patten of North Baltimore, brother: Louis (Jean) Snyder of Perrysburg, and sister-in-law: Margaret Snyder of Oregon. She was preceded in death by her parents: Samuel Snyder and Dora Snyder-Libbe, father-in-law: William Libbe, husband: Lloyd Meyer, son: Timothy Meyer, brothers: Alfred, Wilbur (Dorcas) and Otto Snyder, sisters: Doris (Robert) Atkin and Ada Wittenmyer and brother-in-law: Harold Patten.
Family and friends will be received on Monday October 27, 2014 from 4-8 PM at Marsh Funeral Home, 110 Main Street, Luckey, OH.  Funeral services will be conducted on Tuesday, October 28, 2014 at 11 AM from Zion Lutheran Church, Luckey, OH with additional visitation from 10 AM until time of services. Officiating will be Pastor Randy Winsand. A bereavement luncheon will be served at the church immediately following the funeral services. Interment will be in Troy Twp. Cemetery, Luckey. Memorial contributions may be directed to: Zion Lutheran Church, Luckey, OH or Hospice of Northwest Ohio. Those wishing to express a word of encouragement, share a memory or photo may do so at: www.marshfuneralhomes.com