LHS President's Letter December 2014
Not much happening here in Luckey. Last year at this time we already had 10 inches of snow. We have not had enough to shovel yet.
Hope you all are enjoying the holidays. There will be no December LHS meeting (this month). We will meet in January, same time, same place providing the weather cooperates.
I had a request for information about Samuel Hauri, have had much fun looking for added information. Anyone know of any more of his paintings besides the Fahle homestead? Enjoy.                                                                                      Over and out…………….     Sally
THE HAURI FAMILY OF LUCKEY, OH
Rudolph Hauri, Sr. was born in Switzerland in 1833. It is not know if his wife Elizabeth, born in Switzerland Dec 30th, 1840 died before, during or after Rudolph immigrated to the United States with his three sons. No records have been found to show of her arrival in the U. S.  The father and three sons arrived in 1866, the year that young Samuel was born. Upon arrival in the U. S. Rudolph was for a time a resident of Perrysburg, OH (1870 Census) until he purchased a farm in Luckey, OH (1880 Census). His farm was located northeast of the intersection of Krotzer Ave. and the TNOC RR which ran through Luckey.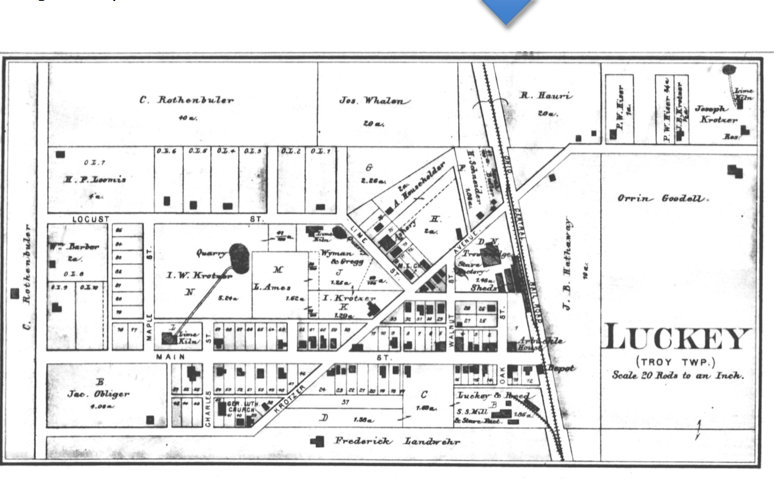 The widower, Rudolph, Sr. farmed with the help of his two sons; Rudoph Jr. born in 1859 in Switzerland and Michael born in 1863 in Switzerland. During these early years his son Samuel, born in March of 1866, lived in an orphanage in Flat Rock, OH. It is not known when Rudolph Sr. died.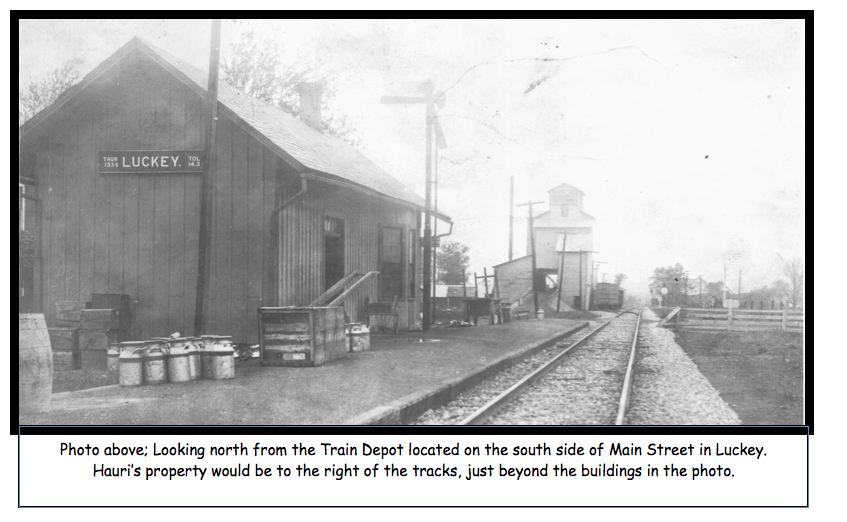 Rudolph Jr. married Anna Luise Wilhelmine ("Minnie") Groweg while living in Luckey. Some time after the 1910 Census we find that Rudolf moved from Luckey to Midland MI. Rudolph, Jr. and wife Minnie had at least 10 children; Samuel born 1884, May born 1887, Ida born 1890, Franklin born 1892, Charles born 1896, Mabel born 1897, Sylvester born in 1890, Lavina born in 1902, Laura born in 1906 and Lydia born in 1906. All of their children were born while they were living in Troy Township. Rudolph died in 1929 and wife Minnie died in 1946 while residing in Midland MI.
Michal (Melchior) born Jan 1863 married Emmaline Maria Hiser ("Emma"). Michal and Emma had 3 known children; Glenn R. born 1893, Nina Maria born 1895 and Paul H. born 1904. During the time their children were born Michal and Emma lived in Freedom Twp. Wood Co., OH. By the time of the 1920 Census, Michal, Emma, Mina and Paul have moved to Toledo where Michal is working using his black-smithing skills in a Mill
As we have already mentioned, the young Samuel was sent to an orphanage and did not spend his early years with his father and brothers on the farm in Luckey. However, at the age of 16, Samuel moved to Luckey for a time and then moved to Toledo to learn the watch-makers trade. He returned to Luckey in 1917 and set up a watch-making and repair business in the Goetz Drug Store. He lived in an apartment at the rear of Dr. Babion's office on the floor above the drug store. Samuel Hauri is best remembered as an artist. He painted many pictures that are still treasured in homes in the Luckey area. Samuel died in 1935 and is buried in the Troy Township Cemetery.
It should be noted that there are no records showing any marriage of Samuel Hauri (1866 – 1935) . There is also no wife buried next to him in the cemetery. The two Hauris buried next to him are his nephew Charles G. Hauri and Charle's wife Ethel M. Hauri (Rudolph and Minnie's son).
More notes; The information shared with you here about the Hauri family came from The Luckey Centennial Book, Cemetery Records, U.S. Census Records, and family trees posted on Ancestry.com. Photos are those belonging to or shared with LHS. Isn't it amazing how much information you can find!!!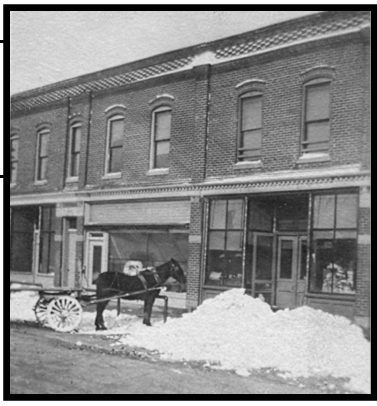 The photo above shows the Goetz Pharmacy with Dr. Babion's office on the second floor. The Pharmacy is the business on the right. Samuel Hauri lived in the back of the second floor. The building still stands today in 2014.