President's Letter February 2015
Those of you out of town may not have received the news regarding the Jacobs family. Thursday Feb. 5th, Harley Jacobs, Donna Jacobs, Diana (nee Jacobs) Johnston (Harley and Donna's daughter) and Kenneth Johnston (Harley and Donna's son in law) were in a deadly accident just north of Bowling Green on route 25.  They were hit head on by a sixteen year old driver in the wrong lane who hit them head on. Dianna and Kenneth were pronounced dead at the scene. Donna was life flighted to St. V's where she also died. At the present time Harley is in critical but stable condition in St. V's. Words cannot express the grief that I personally feel over the loss of our friends.
The information that I have included for you this month comes from a booklet produced by the Stony Ridge civic Organization titled "Voices of the Pike…" published in 1997. The history was compiled in celebration of 125 years of the village, 50 years of the Civic Club Assoc. and 25 years of the Stony Ridge Festival. It is a collection of Stony Ridge memories. How many times have we driven past the pumpkins anchored on top of the Railroad Crossbars. This fall the Crossbars were torn down and the pumpkins will be no more. Wish I had a photo of the pumpkins, I used to chuckle every time I saw them.
"Voices of the Pike…" published in 1997 ….A bit of Stony Ridge OH, history
Do You Remember When? By Wayne Shulte
Did you ever go to Nollenberger Equipment Co., and buy an International tractor or implement from Harold of Lyle Nollenberger's or Phil Haas?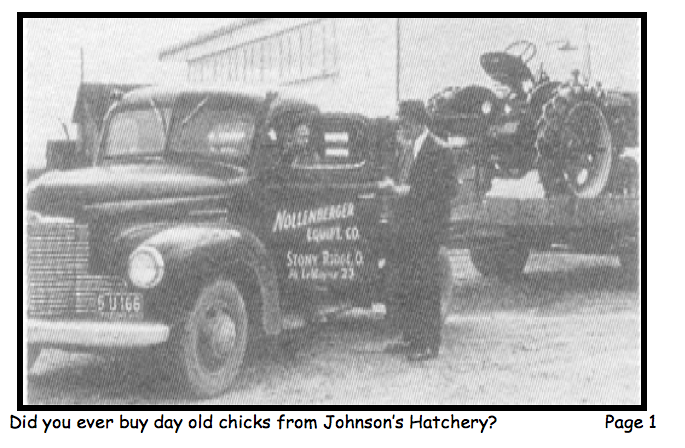 The Hatchery was located in the old Stony Ridge school house on the hill. That building is now an antique shop.
Do you remember when Stony Ridge had more than one Bar?? A few of the former bar owners that come to mind include, Snid Bringman, Shorty Hahn, Don Brown, Mike Vedra and Agnes Stricklen, Jack Smiczek, Joe Martin and the last Ann Lewis.
Did you ever eat Erma Hahn's fried chicken? Good wasn't it?
To build a new home or other building you called Fred and George Henning as your carpenters. Was your home built by these men? The lumber of course came from Art or Bob Hagg at our Stony Ridge Lumber Co.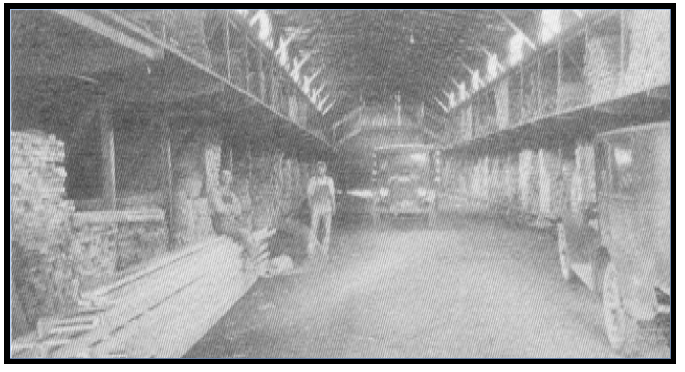 Do you remember the Elliot & Beasley grain elevator along the tracks back where the blue building was to the east of our park? Pete Snyder worked there for many years. There was a blacksmith shop in that area also, near where the big tree and the park's parking lot is today.  Another blacksmith shop was located on Rt. 20 and Main St. In the apartment building that is today owned by Natalie St. Arnaud.
The old bank was a small three-cornered building between the gas station and the railroad tracks. First known as the Stony Ridge Bank, and in 1921 known as The Farmers Savings Bank. "Cap Mentor" was a long time cashier, being joined in 1947 by Wayne Schulte. The present "new bank" was built in 1949 and now being a branch office of Mid-Am Bank of Bowling Green.
Do you remember Jack Herman at the SOHIO Gas Station? Did you ever ride in Jack's bus to North Troy School? Other bus drivers where Edson Hazel, don Johnson, Harry Robinson, that I remember.
Do you remember our Chrysler-Plymouth dealership and garage? Owners were Fred Leking and Henry Papenhagen. You probably remember Edson           Page 2 Hazel, Harold Businger, don Goodman, Rolland "Mike" Michel and Paul Rigg some of their mechanics. The garage was destroyed by fire in 1961 and today is a parking lot for out library.
Do you remember Mr. Ira Shook? He was sort of the town's Jack of all trades. If Stony Ridge had incorporated Ira probably would have been the Mayor. The Shook's lived in the large brick house, in which the Welch family now lives. Ira was our Postmaster for a time and also had a restaurant, gas station, sold coal and had the bus stop from his building just to mention a few of his activities. Oh yes, he was the town's Notary Public and could be spotted as usually wearing a black derby hat.
Do you remember when HF Nollenberger owned the local Grocery Store, located where our library is now? Roy and Levada Hurrelbrink also ran a grocery store on the east side of the tracks  which also had the Post Office in it. John and Gladys Bowen took over the store from the Nollenbergers and they were followed by others including Carleton Mottmiller, Vern Hancock, down to its final owner Paul W. Kinder and Bryan Dotson. Then came the fire and no more grocery store in Stony Ridge. Willard Brinker purchased the property, remodeled it and a branch of the Pemberville Library was started and remains today.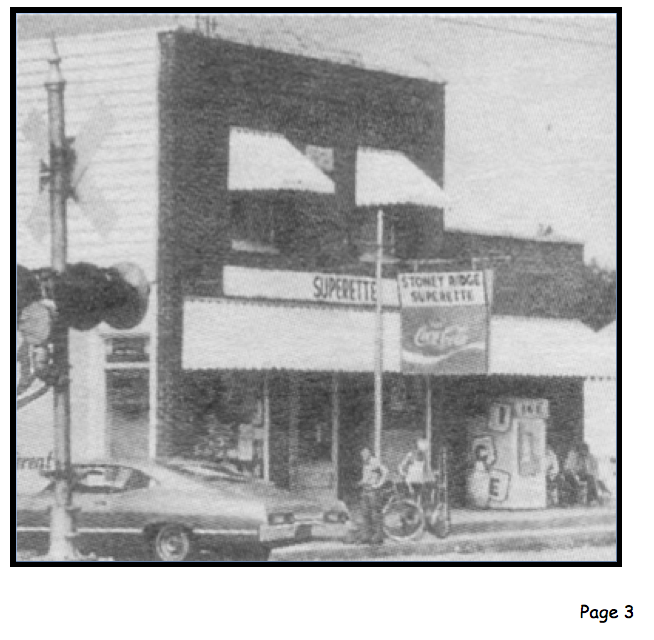 Do you remember when Stony Ridge had two Barber Shops? There was Clark Parker and Pee Wee Haas' side by side on Rt. 20. The Parker house still stands just west of the B. P. Station and was owned by the Mackling family until just recently when Dora sold it. Haircuts those days were 25 cents and 35 cents. You also could get a shave in those days for about the same price. Pee Wee had what is believed to be the first TV in the town. We all would peek thru to his living room to see this wonder of invention.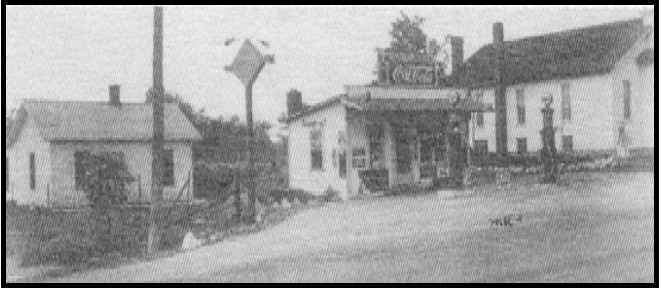 Do you remember Michelson's gas station and carry out which was located just west of the Methodist church on Rt. 20? Chris and Pearl Michelsen were the owners.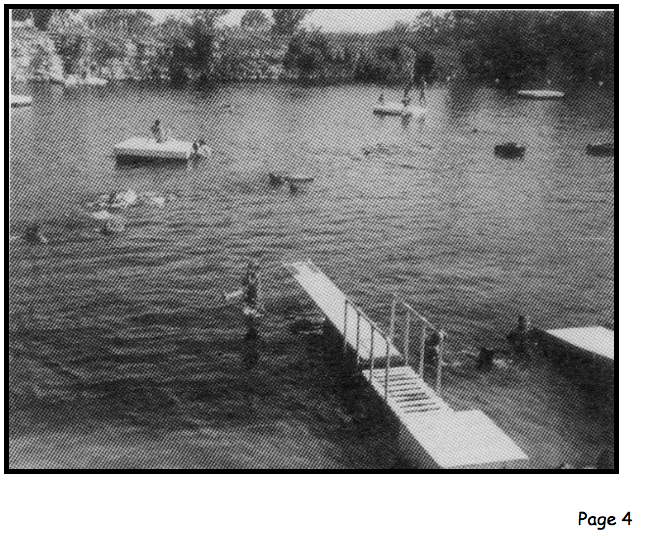 Do you remember the Quarry and the Gulf Station up on the "hill"? Of course, you knew "Porky" Hartman who owned the station and operated the quarry as a swimming spot. All the kids learned to swim at "Porkys"
Do you remember the Haas Baseball team? All the players were local fellows most all of them named Haas. Remember those Sunday afternoons when the neighboring towns would come to town to play the Haas'? – even teams from Toledo such as the Old Dutch Team featuring Tommy Williams and Red Snider. Of course, Tommy's father, Tom, would be along also and the games usually ended up in a brawl. Russ Sandwish usually got involved in those. You got all that entertainment for 25 cents. Hank Papenhagen was most loyal supporter as was Mrs. Price (wife of Dr. Wm. H. Price). Fritz, I believe was the batboy for the team when he was a youngster.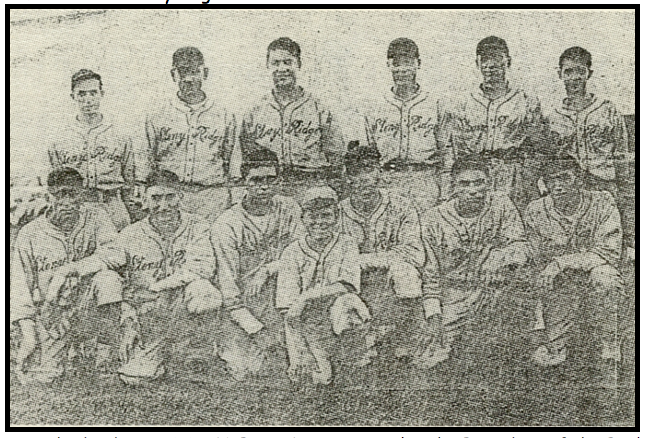 Yes we had a doctor, Wm. H. Price. Doctor was also the President of the Bank. His wife was his nurse and helper. Their office was located in the house at the corner of Rt. 20 and Bean St. In Dr.'s early days he made house calls with horse and buggy. Office calls in those days were $2.00 including your pills. Son Fritz later took over his father's office and remained in Stony Ridge for many years. Then built a new office on Ayers Rd. Where Dr. Swartz in now located.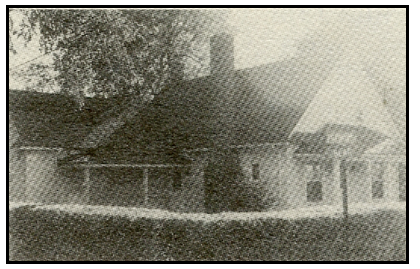 Page 5
Do you remember Dan Brown's garage? Owner was Dan Brown and in later years his son Bob assisted him. Bob died at a very young age, shortly after going on his own and building his own garage on East Broadway (where the Stone Co. now operates).
Do you remember the Rothschild Brothers? Amos and John. Farmers for miles around would buy and sell their livestock at the "yards" back behind the Quarry in Stony Ridge. Their office at one time was in an old streetcar. They also had a fresh meat market at this location. All meats were freshly butchered on site. This is now owned by Jim Jacobs. He has a trucking company and Landscaping business there.
We also had a second meat market just north of town on SR 163. Emanuel Peterson and son Art operated a small slaughterhouse and had a retail meat market. I can remember catching a calf, putting it in the back seat of the family car and hauling it to Peterson to sell.
Do you remember when many trains, including several fast passenger trains used the NYC RR thru town? There was a northbound and a southbound train around 1:30 or 2:00 pm daily. And then, around 1:30 or 2:00 am the same northbound and southbound train, besides all the freight and coal trains. And of course, the daily local that delivered livestock, coal, lumber into town and picked up livestock, grain and other freight. When those two night trains went thru, it was time for all boys to go home from their dates with their lady friends.
No we haven't forgotten the most historical building in Stony Ridge, namely the "Empire House" which is over 100 years old and has a long history of being a stage coach stop between Perrysburg and Woodville. Many lively happenings took place according to records. The past nearly 50 years or so the owners of this property have operated the building as                                                        Page 6
an antique store. In fact, Stony Ridge has several other places which deal in antiques. The owner and operator since 1960 had been Roger Hellabrand. Have you ever been this quaint building? Dan and Jane Wilson, former operators of an antique shop in town, have taken over a new antique auction house just north east of town, corner of Lemoyne Rd. and State Route 163.
Do you remember on of our last pioneers and his family in Stony Ridge? Myron Klink a very talented and best known as our town's historian. Myron was the oldest so he should have known better about our town, right, he did. Many of the family still reside in Stony Ridge.
Do you remember Roy and Levada Hurrelbrink? They operated the local Nationwide Grocery and post office many years. They had no children and lived where Maxine and Clarence Haas now live.
Space does not allow us to ramble on the olden times, names etc., but these are some of the old timers that called Stony Ridge home: Swartz, Franz, Nollenberger, Sandwisch, Snyder. Oh yes, remember 'Dutch" Snyder. You probably had Dutch make out your income taxes, or saw him at his office in the old Depot where he worked. Dutch also had an Insurance Agency just to keep him busy.
This year our town will be 125 years old since being surveyed and placed on the map of Wood County. Remember our Centennial celebration in 1972? And the celebration held in 1976 to celebrate our country's 200th birthday? That year we sponsored a stop for the "Wagon Train" at our park. We are also proud of the fact that we have kept the spirit of celebration going annually these past 25 years since the Centennial with our annual summer Festival.
Not to be forgotten is our two churches in Stony Ridge, the Methodist church and St. John Lutheran which both stand proudly on the hill at the east end of town.  Our locally attended Civic Association is this year celebrating its 50th year of incorporation. The Civic association boasts its major accomplishment as the village park which consists of 19 acres of land, all maintained by the club without tax dollars.
Stony Ridge, a Great Place to Grow Up
by Sandy Coy Grolle
   I moved to Stony Ridge when I was 8 weeks old, the year was 1950. My parents Bob and Lorraine coy bought the old Baker home on the corner of Stony Ridge Road and Five Points. My mother and father built a brick home across the road after my brother, Bill and I were married. I guess that says something about the village of Stony Ridge. I remember life in Stony Ridge fondly. I met my best friend for many years Carol Jones Kurfis there. My mother told me that one day Carol came walking across the field to play with me at the age of three. We crossed that field many times to see each other during the years.
Page 7
Carol Jones Kurfis and I enjoyed playing in the snow, riding bikes and swimming at Rockland Lake. We really thought it was neat when the Lutheran Church and the Methodist Church would have bible school together. Since Carol went to the Methodist Church and I went to the Lutheran Church.
We enjoyed going to Bowens store for candy. I met many friends in Stony Ridge that I still keep in touch with during the Christmas Holidays or when they would come home to visit their parents still living in Stony Ridge.
Halloween was so much fun living in town. Terri Wegman Hansen would always come over that night. Mom would make us supper and out the door we would go with our homemade costumes on. The town was very generous! We always had a full bag of candy. I loved Mrs. Jones popcorn balls and hated to get apples. At the Farmers Saving Bank there would be a Halloween Party and contest; We never missed a year!!! We loved it!!! When we got home Dad would always have to check out all our goodies. Now, I know where I got my sweet tooth. The boys in town would always take my pumpkin and put it on top of the railroad signs. It would stay there until it rotted off. The tradition lives on, I am glad to say. While driving through Stony Ridge during the month of October I see someone's pumpkin on the railroad sign.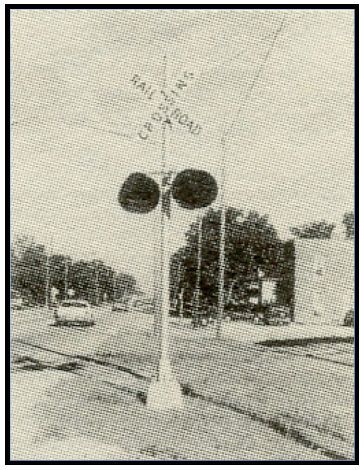 Hope to see you at our monthly meeting; Thurs. Feb 19th at 6:30, Luckey Library.
Those of you interested in joining us, the Friends of the Library will meet at 2:30 on that same Thurs., also in the library.
Over and out,                               Sally