Harley G. [1926-2015] and Donna J. (Kirkman) Jacobs [1929-2015]
       Harley Jacobs was born the 4th of December 1926 to George and Mary Elizabeth (Ford) Jacobs.
Harley was very proud of his royal heritage. He was the Great great great great great grandson of the King of Prussia, Frederick William (1688-1740) and the Great great great great great great grandson of the King of Great Britain and Ireland, King George I (1669 – 1727). Also in his lineage we find other royalty such as Queen Louisa Ulrika of Sweden, Frederick Prince of Wales, Anne Prince of Orange, and Queen Louise of Denmark and Norway.
The generations leading back to his royal heritage are as follows;
I. King of Prussia Frederick William I 1688-1740
Wife; Sophia Dorthea 1687-1757 (daughter of King George I of Great Britain and
Ireland)
II. Princess of Prussia, Freiderike Luise 1714-1784
III. Christian Frederick Charles Alexander 1736-1806
IV. Johann Clauser (adopted name) I 1784-1828
V. Johann Clauser II 1815-1890 [imm. from Switz. to Wood County, OH in 1852 along
with his wife and children]
VI. Elizabeth Clauser 1842-1921
Husband; Samuel Jacobs 1831-1909
VII. George Jacobs 1878-1952
Wife; Mary Elizabeth Ford 1887-1964
VIII. Harley Jacobs 1926-2015
Wife; Donna Kirkman 1929-2015
Harley was also proud of his American Heritage, his Grandparents and Great grandparents being some of the earliest settlers to Wood County, OH.
John and Magdalena Jakob were brother and sister who voyaged from Switzerland to Luckey OH. Along with John came his wife, Anna Barbara Willi and four small children. Along with Magdalena came her husband Johann Lahmann and 7 small children. They left siblings and family back in their homeland.
Magdalena Jakob (in America Martha or Margaret Jacobs), her husband, Johann Lahmann, Johann Jakob (in America John Jacobs), and his wife, Anna Barbara Willi were early residence of Luckey, OH.
In the early days when people were few and transportation difficult, people married within the community. As a result if your ancestors are from Luckey, you are probably related. The Jacobs had large families. Although Johannes Jakob (later Jacobs) and Anna Barbara (Willi) Jacobs only had four children. Samuel, their son, and Harley's grandfather, had thirteen children, twelve of whom reached adulthood.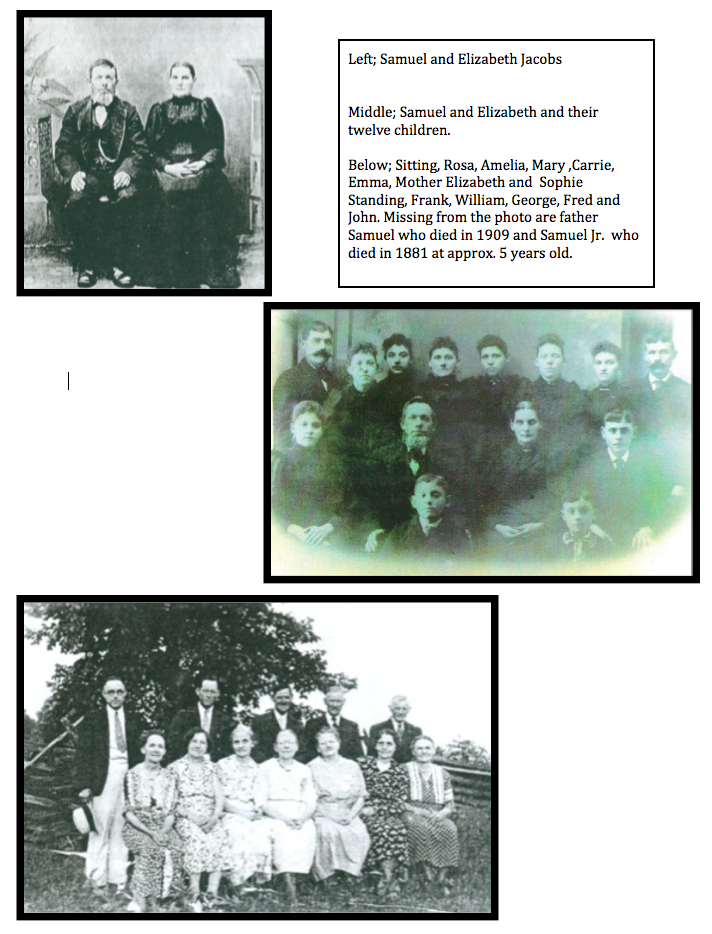 The Samuel Jacobs reunions for little Harley would look something like this; (both great grandpa Samuel and great grandma Elizabeth had passed by the time Harley was born.) 72 1st cousins – just on the Jacobs side of the family.
Uncle John Jacobs 1861and his wife
Aunt Mary (Meyer) Jacob 1863 and their children
       Cousin Mary May Elizabeth "Lizzie" Jacobs 1890
       Cousin Herman John Jacobs 1892
       Cousin Norman Jacobs 1894
       Cousin Samuel Jacobs 1895
Uncle Fred William Jacobs 1862 and his wife
Aunt Mary (Friedle) Jacobs 1869 and their children
       Cousin Eunice Jacobs
       Cousin Frieda Jacobs
       Cousin Lawrence Jacobs 1889
       Cousin Stella Jacobs 1890
       Cousin Clarence W. Jacobs 1892
       Cousin Elsa Amelia Jacobs 1894
       Cousin Fredrich William Jacobs 1896
       Cousin Dewey "Davey" George Jacobs 1898
       Cousin Harry Jacobs 1900
       Cousin Arthur Jacobs 1902
       Cousin Irvin "Rosey" Theodore Jacobs 1904
       Cousin Dorothy Jacobs 1910
Aunt Sophia (Jacobs) 1868 and her husband
Uncle Fred R. Rothenbuhler 1858
       Cousin Edward Rothenbuhler 1884
       Cousin Matilda Rothenbuhler 1886
       Cousin Rose Rothenbuhler 1888
       Cousin Lorance Rothenbuhler 1891
       Cousin Doris "Dora" Rothenbuhler 1894
       Cousin Cora Rothenbuhler 1897
       Cousin Charles Rothenbuhler 1898
       Cousin Oscar Rothenbhuler 1902
       Cousin Hazel Rothenbuhler 1905
Aunt Elizabeth (Jacobs) Fahle 1867 (18th Feb) D 6 Aug 1950 bur TTC and her husband
Uncle John Fahle 1862 (23rd Apr) and their children
       Cousin Fredrick John Fahle 1885 (7th Dec) [married Sadie V. Hagerty B 24 Jul 1887 Webster Wood OH, child Grace Fahle B 30 May 1910]
Aunt Emma Rosena (Jacobs) Schmitz 1868 (Dec 6th) D 15 Apr 1942 bur TTC and her husband
Uncle Frank Schmitz B 4 Jul 1862 BP Bern Switzerland D 29 Mar 1944 bur TTC [Frank was the son of John and Anna Barbara Schmidt of Switzerland. He married Emma Rosena Jacobs on 7 Jan 1886 in Wood Co. Frank immigrated in 1873 reaching New York on Dec 10. Parents Anna Barbara Snyder Schmitz 1819 – 1898
       Cousin Jacob W. Schmitz
       Cousin Katherine I Schmitz
       Cousin William J. Schmitz
Aunt Carolyn "Carrie" Jacobs 1870 and her husband
Uncle John W. Layman 1865 and their children
       Cousin Minnie R. Layman 1889
       Cousin Henry W. Layman 1891
       Cousin Anna A. Layman 1894
       Cousin Gotlieb Frederick Layman 1897
       Cousin Matilda S. Layman 1898
       Cousin Oscar J. Layman 1901
       Cousin Herman Layman 1903
       Cousin Helen E. Layman 1908
       Cousin Leo E. Layman 1910
       Cousin Ernest Layman 1913
Uncle Frank Jacobs 1871
Aunt Mary Ann (Jacobs) Rothenbuhler 1872 (Jul 21st) her    husband
Uncle John Rothenbuhler 1868 and their children
       Cousin Albert Christian Rothenbuhler 1891 and his twin
       Cousin Elmer Samuel Rothenbuhler 1891
       Cousin Minnie Catherine Rothenbuhler 1893
       Cousin Herbert Frederick Rothenbuhler 1897
       Cousin Clarence William Rothenbuhler 1900 (Dec 2nd)
       Cousin Amelia Rosa "Babe" Rothenbuhler 1902
       Cousin Carl Harold Rothenbuhler 1904
       Cousin William Theodore Rothenbuhler 1906
       Cousin Ethel Luella Rothenbuhler 1908
       Cousin Violet Delores Rothenbhuler 1911
       Cousin Delores Mariam Rothenbuhler 1915
Aunt Amelia (Jacobs) Layman 1874 and her husband
Uncle Charles L. Layman 1874
       Cousin Florence H. E. Layman 1895
       Cousin Lewis Louis C. Layman 1898
       Cousin William Layman 1900
       Cousin Walter Layman 1902
       Cousin Robert A. Layman 1904
       Cousin Lester H. Layman 1906
Aunt Rosa (Jacobs) Garling Helm 1880 and her husband
Uncle Frederick Garling 1872 and their children
       Cousin Lucille "Lucy" Garling 1899
       Cousin Martha Amelia Garling 1901
       Cousin Minnie Garling 1903
       Cousin William "Bill" Garling 1905
       Cousin Grace Elsie Garling 1908
       Cousin Elsie Rose Garling 1911
       Cousin Raymond Garling 1913
       Cousin Dorthy E. Garling 1914
Uncle Johann Fredrich Helm (second husband of Rose)
       Cousin Opal Ruth Helm 1922
Uncle William S. Jacobs 1883 and his wife
Aunt Hazel Mae (Carr) Jacobs 1891 and their children
       Cousin Mildred Mary Elisabeth Jacobs 1908
       Cousin Louella Mae Jacobs 1910
       Cousin Lavern G. Jacobs 1913
       Cousin Marie E. Jacobs 1915
       Cousin Victor William Jacobs 1919
       Cousin Paul W. Jacobs. 1923
       Cousin Kathryn Jean "Katie" Jacobs 1925
His Dad George Jacobs 1878
His Mom Mary Elizabeth "Bess" (Ford) Jacobs 1887 (Jan 27)
       Sister Edith Elizabeth Jacobs 1908 (Dec 25th)
       Brother Elmer Dale Jacobs 1910 (July 8th)
       Brother Walter Wayne Jacobs 1912 (Feb 6th)
       Sister Lois Jacobs 1925
       Sister Ruth Jacobs 8 Jul 1922
       Sister Alice Mae Jacobs 1920
       Sister Elsie M. Jacobs 1918
       Sister Florence Jacobs 1916
       Sister Myrtle Irene Jacobs 1913
      Harley and Donna were very active in the Evangelical Church of Luckey, now the Zion United Methodist Church. His great great grandmother Anna Barbara (Willi) Jacobs (wife of Johannes) has been given credit for starting the Evangelical Church. The story goes as follows; 
The Evangelical Church at Luckey, Ohio, was organized in the early part of the year 1860. It was organized as the Jacobs Class and kept that name until sometime later when it was named Salem Evangelical Church, under which name the present church edifice was built in 1893. Sometime later it appears the name was changed to Zion Evangelical Church, which is the name the church now bears.
Mrs. Carrie Snyder of Toledo, Ohio, who was 88 years old on June 28, 1941, gave the writer the following narrative of how the church had its origin: When Mrs. Snyder (Carrie Jacobs) was six years old, her older sister had been confirmed at the Switz Lutheran Church (several miles east of Luckey) and at the confirmation service, when the holy communion was given, the pastor declared that by that rite he forgave them their sins. This disturbed Carrie's mother (Mrs. John Jacobs) very much and on Sunday noon she spoke of it to the family, telling of how the pastor had declared he forgave the ones confirmed their sins, and of how contrary that is to God's Word.
She had heard of the wonderful meetings they had at the Isch's Class (where the Moline Evangelical Church now is) under the ministry of Rev. Rosenberger from Perrysburg. She decided to walk there that afternoon, a journey of ten miles. The Jacobs' home was at the present site of the home of Gottlob Schaefer. It took all afternoon to get there. When she arrived at the John Isch home she found Mrs. Isch milking. While milking, she was joyfully singing the hymns she had learned at the church. This fervent Christian joy made a deep impression on Mrs. Jacobs. She ate with the family and then walked to church with them. On the way Mrs. Isch explained how that the pastor would give an altar call at the close of his message and offered to go to the altar with Mrs. Jacobs if she wished to have her. This annoyed Mrs. Jacobs, for she thought to herself that she did not want to do anything like that, and for the moment wished she had not come. Satan was trying to keep her from surrendering herself. But she was under deep conviction of sin and when the invitation to accept Christ was given she went to the altar by herself and was converted.
For three days she stayed with the John Isch family before returning home. In the winter following, her husband, John Jacobs, was converted at Woodville. Occasionally they journeyed to the Isch Class to attend the service.
In the spring of 1859 Rev. Jacob Rosenberger, pastor of the Perrysburg Circuit came to hold meetings, first in the John Jacobs home, and then a little later at the school house, called the Smith School house. A revival meeting was held and there were a number of converts. They were "Samuel Jacobs and his wife Elizabeth, John Clauser, Anna Mary Jacobs, John Layman, Margaret Layman." And it seems that to this list should be added Mrs. Elizabeth Brandt. Mrs. Jacobs made the candles and her husband made the candleholders that were suspended from the ceiling. Prayer meetings were held in the houses. John Isch, a local preacher from the Isch Class, used to come on Sunday afternoons to hold preaching services at the schoolhouse.
Harley's service at the church was endless. For many years it was Harley who rang the bell each Sunday morning waking half of the town and calling them to worship. During his lifetime he served as Lay Leader, Chairman of the Board, Sunday School Teacher and was a long time member of the Dartball team.
Harley is probably most well known for his public service as Mayor of Luckey. He was Mayor of Luckey for 33 years, from 1967 to 1986 and again from 1991 to 2007. He was well known for his ability to procure moneys for Luckey in the form of grants. He helped organize town spending such as putting aside money to replace equipment so funds would be available when needed. He was known for his efforts to keep Luckey clean through legislation and personal contact with property owners. During his reign Basic Park was developed, the Lagoon Sewer system was created. The sewer system was a precursor to the new home addition. The sewer system was necessary before expansion of business or homes in the community could occur. Harley believed it was a privilege to serve on council and that every citizen should take part in local government. Harley especially enjoyed presiding over local parades and the Fall Festival. One way he strove to improve his village and his administration was becoming involved in government organizations such as the Toledo Metropolitan Area Council of Governments and Wood County Mayor's Association.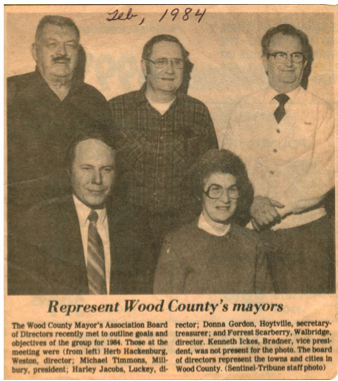 Harley's son Mark can be quoted is saying; "He didn't get mad very often. He would take a situation and sort it out. That's how I feel about it. He would listen to all sides, think about it a little bit, and make the right decision with people's different opinions…He's communicate well with people." Harley was not publicaly nor privately known to loose his temper.
 Harley was also well-know for his large-scale chicken barbecue at family reunions, fundraisers, The Luckey Fall Festival and church potlucks – often cooking upwards of 90 half-chickens or more at a time. Donna and Harley got their start with the tasty open-air barbecued chicken in 1950 on a chicken farm on Ohio 199 north of U.S. 6 owned by Gale and Betty Creighton. Also in the business were Leonard and Margie Eilert, his uncle and aunt, who were responsible for the much praised barbecue chicken recipe.
Harley's BBQ Chicken
20 chickens halves
(if buying whole chickens, 2½ lbs. Chickens)
1 quart of water
1 pound of water
½ cup salt
2 Tbl. pepper
1 pint of vinegar
3 Tble. Worcestershire sauce
½ cup Real Lemon (optional)
2 teas Tabasco sauce or Red Hot
Cut chickens in half if whole chickens were purchased. Clean and pat dry chickens. To prepare sauce, put butter and water in a medium large pan. Add other ingredients and bring to a boil. Simmer while you start your charcoal fire (one hour prior to desired cooking time). At least two hours prior to serving start chicken halves with fat side down. Baste with sauce, applied with a four-inch paintbrush. Keep turning and basting the chicken for about two hours or until well done. Store chickens in a foil lined thermos chest while waiting serving time.
"He was just a very dedicated family man, dedicated to his family and his faith and the well-being of his citizens. He was just a happy, calm, generous man. He and his wife, Donna, were just sweet people." Said current Luckey Mayor Belinda Brooks.
In his spare time he enjoyed: traveling, reading, playing cards and dominoes, family barbeques, working in his garden and attending Mud Hen's games.
Harley owned Jacobs Meat Market and Luckey Food Locker. "We used to have a thousand lockers" in that building. Harley recalled. "That was before the Amana freezers came on and people bought them for their own homes starting in the 1950's, eventually putting commercial lockers out of business." Donna stated. Eventually the Jacobs Market and Food Locker became the Luckey Library. Harley enjoyed telling others about how thick the cement was in the floors designed to keep the cold in the locker section of the building. "It can hold a lot of weight," whether meat or books."
 Harley and Donna married January 18th 1947 and celebrated their 68th anniversary in January. They were married in Luckey at the Zion Methodist Church. Their children described the couple as inseparable – both daughter Sue Glass and Mark Jacobs noting that "95% of the time they were together."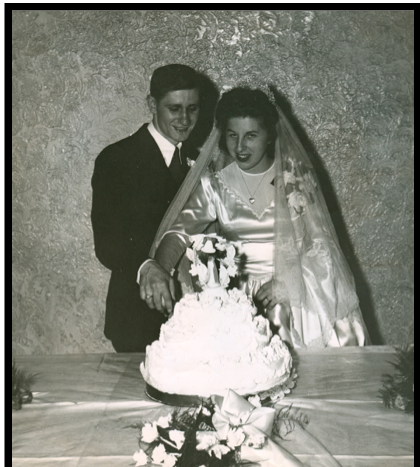 As a couple, Harley and Donna loved dancing – especially square dancing. "They had a whole network of people they square-danced with," daughter, Sue said. "Our kitchen was big enough that they could have four-square going on right in the house with their friends."
They additionally enjoyed concerts at the Toledo Zoo and the Music at the Park programs in Walbridge, and were also fans of the Toledo Mud Hens – in fact, Harley had the opportunity to throw out the first pitch at a Mud Hens game in past years. The couple further continued to have game nights to play cars and dominos, and other gatherings. " They did things almost every day, still," said Sue. " Right up to the very end."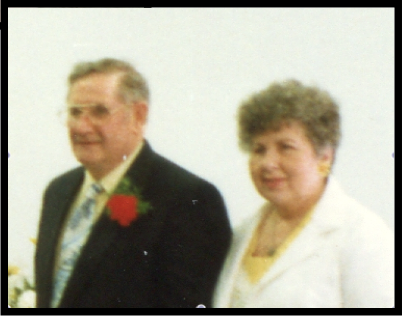 Donna and Harley were both instrumental in the formation and operation of the Luckey Library. Harley was the president only retiring in 2014 due to health reasons. Donna was the first and only secretary of the LALM until her death. Donna volunteered her time and talents and is responsible for the extensive obituary collection at the library. Donna clipped the obituaries, placed them in scrapbooks and catalogued them. It seems only appropriate that we include a history of the library as it was so important to Harley and Donna.
Luckey Area Library Movement
From Dream to Reality – Our History
Mission Statement
"The mission of the LALM is to maintain and perpetuate faithfully the Luckey Library as a service to our community. "
The dream began on June 20, 1988. Fourteen members met and formed the Luckey Area Library Movement, Inc. (LALM), a community support group, hoping to establish a town library.
In the Beginning
Harley & Donna Jacobs
Lowen & Betty Meyers
Irma & Lloyd Meyers
Jim & Beverly Jacobs
Dale & Jean Gross
Art & Isabelle Helm
Don & Jan Morrison
                                                                       Don Overmeyer
The first goal was to renovate an empty meat market in the small village of Luckey, Ohio population 870. "Bee for a Library" was the theme that drew townsfolk together. Yellow ribbons throughout Luckey indicated support. A $10,000 fund-raising campaign began to collect needed remodeling funds.
One of our first sizable donations was received from the Village Council, many local organizations followed with donations including; Modern Woodmen Life Ins. Co., Luckey Kiwanis, Zion United Methodist Church, Faith United Methodist Church, The Exchange Bank, Marsh Funeral Home, D-C Ranch, Jacobs Trucking, The Country Inn, Jacobs Market, Luckey Legion , the Lutheran Brotherhood and retired Luckey business entrepreneurs, Glen and Helen Grover. As community enthusiasm grew, individual donations increased. Area businessman, Wayne Schulte, the owner of the future library site, agreed to a two year lease at one dollar a month, with an option to buy. Renovation plans were made.
Slowly, but surely, the building began to take shape. Walls were removed, ceilings lowered, wallboard installed and painted by LALM volunteers. Book-shelving and other library supplies were purchased at various public auctions. Volunteers were many.
Citizen volunteers held numerous bake sales, dinners, and dances to create working capital. Many hundreds of hours of volunteer services were given to the renovation and startup projects. Community members also donated books, reference material, magazines, and time to organize a working library. When workers came in and saw boxes upon boxes of material, it was nearly overwhelming. However, each of the many donated books was classified, pockets inserted, cards and spine labels typed and affixed.
After reevaluating the progress of the LALM, the Pemberville Library Board agreed to give the Luckey facility a three-year trial period to demonstrate a need for a library in the village. Funds totaling $7,500 a year were allocated from the Pemberville Library Board. This money was used to lease books, purchase supplies and train volunteers.
On May 6, 1990, after struggling for two years, an Open House and Dedication were held for the new Luckey Library. Some 150 people attended the open house. The library was filled with flowers and plants sent from area businesses and schools.
Over the years the LALM has been responsible for the upkeep and maintenance of the library building. Our library building is still eased by the Pemberville Library Group, the materials, programs and librarians are their responsibility.
Of the fourteen original LALM members, only one is able to remain active in the group. These fourteen individuals orchestrated the creation of our library and through their efforts with help from family and community we are still able to maintain our building. However, the savings built up by generous donations and hard work is slowly dwindling. If we hope continue to maintain the Luckey Library we need to continue to build our savings or we will eventually find ourselves without funds to maintain our building. Any community support at this time would greatly be appreciated.
In 2014 the main library room was renovated. The walls were painted. The computers were placed in a more convenient location and placed on different desks.  The new librarian station was moved closer to the office and positioned to overlook the new computer area. A newly designated young adult section was created. Individuals, LALM and the Pemberville Library supplied the funds and materials for the renovation.
Some favorite pictures from the library history. Top left – Dale Gross, Top right – Lloyd Spahn, Harley Jacobs and Bev Jacobs,  Middle – back row Dale Gross, Gene Gross, Art Helm, Lowen Meyer, Jim Jacobs, bottom row unknown, Isabelle Helm, Betty Meyer and Bev Jacobs, Bottom left – Dale Gross, Beve Jacobs, unknown, Harley Jacobs, unknown Snyder?, unknown and the Stewart twins.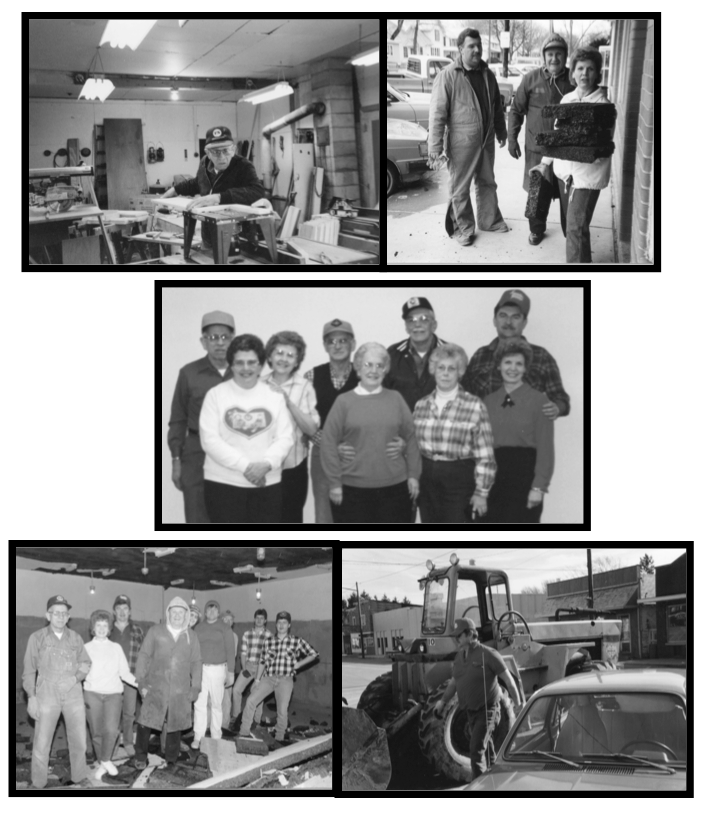 Donna's Obituary
Donna J. Jacobs, age 85 of Luckey, Oh passed away unexpectedly on Feb. 5, 2015 at St. Vincent-Mercy Medical Center due to injuries sustained from a an automobile accident in which her daughter Diane and son-in-law Kenneth also lost their lives. She was born on October 18, 1929 in Toledo, OH to Cloid and Ruth (Patton) Kirkman. Donna married Harley Jacobs on January 18, 1947 in Luckey, OH and he survives. She had been employed as a waitress and had also worked for Russell's Tuxedo Rental in Toledo, OH. Donna was very active in church and community organizations, some of them being: life long member of Zion United Methodist Church Luckey, OH and was a lay delegate, both Sunday school and Bible school teacher, council member, President of the missionary society, church women's group with whom she also helped cook for the Luckey Kiwanis group and was also a choir member. She was active in the Democratic Party, Wood county election board and had been active with both the Boys and Girl Scouts. Donna and Harley were instrumental in the organization of the Luckey Area Library. Donna is survived by her husband: Harley, daughter: Sue Glass of Curtice, OH, Son: Allan Jacobs and Mark(Marie) Jacobs both of Luckey, 12 grandchildren and numerous great great grandchildren. She was preceded in death by her parents, daughter, Diane Jacobs and her husband: Kenneth Johnston, sisters: Kay Margie and LaVern. Internment will be in Troy Township Cemetery, Luckey, OH.
Harley's Obituary
Harley G. Jacobs, age 88 of Luckey, OH passed away on Friday, February 20, 2015 at St. Vincent-Mercy Medical Center. He had been hospitalized after being involved in an automobile accident on February 5th in which his wife: Donna, daughter: Diane and son-in law: Ken were fatally injured. He was born on December 4th 1926 in Luckey, OH to George and Mary (Ford) Jacobs. Harley married Donna Kirkman on January 18th, 1947 in Luckey, OH and she preceded him in death on February 5th, 2015. Harley's employments included: owner of Jacobs Market, Luckey, briefly worked at the C& O Railroad, Ohio State Patrol as a driver's license examiner from 1984 – 1991.
       Harley is survived by his daughter: Sue Glass of Curtice, OH, sons: Allan Jacobs and Mark (Marie) Jacobs both of Luckey, 121 grandchildren, 16 great grandchildren, numerous great great great grandchildren and sisters: Florence Hummell of Bowling Green and Ruth Riley of Columbus, He was preceded in death by his parents, daughter: Diane Jacobs and her husband: Kenneth Johnston, brothers: Elmer and Walter Jacobs, sisters: Edith Smith, Elsie Bachman, Myrtle Garn, Alice Mock and Lois Alexander.