Marion Goodell, a well-known agriculturist of Webster township, residing near Luckey, was born in Townsend township, Huron Co., Ohio, July 1, 1844. His grandparents, David and Electa (Melliman) Goodell, were natives of New York State. They had three children, among whom was Cyrenus Goodell, our subject's father who came from New York when a young man and settled upon a farm in Huron County. He married Miss Lucretia Studley, and reared a family of five children, a sixth dying is early infancy. The five surviving children include; Orrin a farmer in Troy township; Marion the subject of this sketch; Electa Jane married Henry Sternaman; John is a blacksmith at Dunbridge; and Albert. In 1857 our subject's father came to Wood county, and took up eighty acres of land in Troy township, adding to it afterward until he owned 320 acres, on which he erected a sawmill, the first in the township. He was one of the leading men of his locality, a Republican in politics, and a member of the M. E. Church. He died at Bowling Green, March 11, 1885, his wife surviving him until August 11, 1894.
Our subject shared the family fortunes in his youth, undergoing all the experiences of frontier life. When the war broke out he enlisted in Company K, 111th O. V. I. (Capt. D. W. H. Day commanding), and participated in thirty-two hard-fought battles, among them the engagements at Stone River, Resaca, Lost Mountain, Kenesaw Mountain, Knoxville. Chattanooga, Cedar Rapids, Stone Mountain, Alatoona, Fort Anderson. and Raleigh. In June, 1865, he was mustered out, and, returning to the old homestead, he remained there until he was twenty-five years old. He then bought eighty acres of land in Troy Township; but, in 1882, he sold this and moved to Michigan, where he engaged in the meat business. Returning to this county, he purchased his present property, an eighty-acre farm in Webster Township, upon which he has made many improvements. Beginning life poor, he has made his well-deserved success by industry and good management. On November 2, 1870, he married Miss Malinda Dennis, a daughter of Franklin and Sarah (Smith) Dennis, of Troy township, and they have six children: Albert, Richard, Jessie, Roscene, Kitty, and one whose name is not given.
In politics Mr. Goodell is a Republican, and in all local movement interested and helpful worker. He has been school director in his district, and he is a member of the G. A. R. Post, No. 690.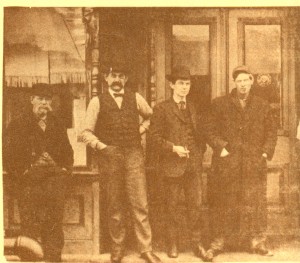 Photo in Front of Kroetz Bar, Marion is the man on the left
 "Wood county Ohio, Chicago: J. H. Beers & Co., 1897"
"Luckey Centennial Book"