Frank Conrad Hasel 20 Jan 1906 – 27 Apr 1996                
 Author, Businessman, Historian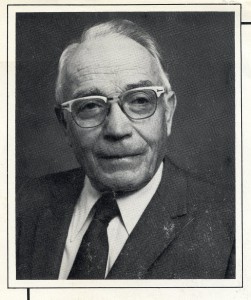 Frank Conrad Hasel was born Jan. 20, 1906 in Perrysburg, OH to Henry and Anna (Voland) Hasel. Soon after his birth his parents purchased land in Troy Township where Frank spent most of his childhood.
He married Hazel G. Trowbridge, born 1911, in Hendersonville N.C. on June 20, 1933. She died April 20, 1981. Hazel and Frank had two children; Thomas Carlile Hasel born in 1939 and died an early death in 1993, and daughter Katherine (Hasel) Hess born in 1935.
He was a 1933 graduate of the University of Michigan's forestry school receiving his bachelors degree and was a life-long member of Les Voyageurs of UM. After graduation Frank took a job with the United States Forestry department which took him on many adventures to beautiful places around the country.
Frank left the forestry department to return to OH where he remained the rest of his years. Frank farmed his father's property and created a nursery and landscape business. Hasel was the owner and operator of Hasel Nursery in Luckey for almost 50 years.  Frank and wife Hazel enjoyed collecting artifacts. With their interest in preservation of history, they were able to acquire the William Weddell Log House and with the help of his son, Tom, reconstructed it log by log. Then he and his wife continued the preservation by filling the cabin with period furnishings. For many years they shared the cabin with many children and adults interested in life in the black swamp. The Weddell homestead still remains on the Hazel property north of Luckey on Luckey Rd. Frank also collected Indian artifacts and upon his death his collection was placed in a museum.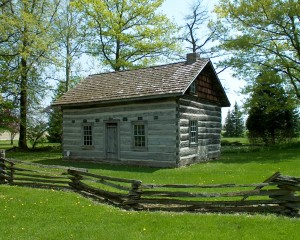 photograph property of Andrew Predmore
Mr. Hasel also authored the autobiographical book, "The Trail That Leads Back" detailing his life growing up in NW OH and his adventures around the country as a young adult working for the U.S. Forestry department. His book is rich in details of life in the area and daily activities growing up in N.W. OH. He was also a member of the Wood County Historical Society.
Mr. Hasel ends his book with a quote from a famous naturalist, John Muir. Knowing the accomplishments and life of John Muir (21 April 1838 – 24 December 1914) helps one understand why Frank Hasel would quote him in his autobiography. Like Muir, Frank Hasel was one with nature and valued trees. Much of Frank Hasel's life was spent nurturing and studying trees. Many of the nonnative species of trees that we find in our area were brought here by Frank Hasel. "John Muir was a Scottish-born American naturalist, author, and early advocate of preservation of wilderness in the United States. His letters, essays, and books telling of his adventures in nature, especially in the Sierra Nevada mountains of California, have been read by millions. His activism helped to preserve the Yosemite Valley, Sequoia National Park and other wilderness areas. The Sierra Club, which he founded, is now one of the most important conservation organizations in the United States." [Wikipedia "John Muir"]
" When a man plants a tree he plants himself. Every root is an anchor, over which he rests with grateful interest, and becomes sufficiently calm to feel the joy of living. He necessarily makes the acquaintance of the sun and sky. Favorite trees fill his mind, and while tending them like children, and accepting the benefits they bring, he becomes himself a benefactor. He sees through the brown common ground teeming with colored fruits, he wills he can raise by true enchantment. With slips and rootlets, his magic wands they appear at his bidding. These, and the seeds he plants, are his prayers, and, by them brought into right relations with God, he works grander miracles every day than ever were written. " by John Muir in Steep Trails from The Trail That Leads Back by Frank C. Hasel