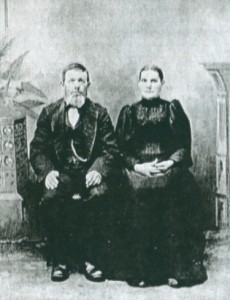 Samuel and Elizabeth Jacobs – family photo
   Samuel Jacobs (from Jakob) was one of four children who immigrated from Lauperswil Bern Switzerland to the United States in 1848. He came with his siblings, parents, his father's brother and his family. His father was forty nine years old when the family left Berne. It took 40 days by boat to sail to New York city. After leaving New York city the family went to Elmore, OH for a short period of time before moving to Luckey. Samuel purchased land on both sides of Lemoyne Rd. North of Luckey by the Toussaint Creek. On June 13, 1856, the 80 acres of unimproved land was purchased for $180.
  Samuel and Elizabeth joined the Salem Evangelical Lutheran Church on Dec. 8, 1850. In 1860, Anna Barbara (Willi) Jacobs, Samuel's mother, being in conflict with some of the beliefs of the Salem church and the long walk to particiate in activities, formed the Zion Evangelical Church (later Zion Methodist Church) in Luckey. Samuel and Elizabeth joined Anna and Jacob (husband of Anna, father of Samuel), left Salem Evangelical and joined in worship at the new Zion Evangelical church in Luckey.
John Clauser was the first class leader and the Rev. Jacob Rosenberger became the first pastor. For many years the Jacob Class was an appointment on the Perrysburg Circuit of the Evangelical Association. The charter members of the parish were:
Mr. and Mrs. John Jacob (Anna Barbara Willi)
Mr. and Mrs. John Clauser and John Clauser, Jr.
Mr. and Mrs. Christian Brandt
Mr. and Mrs. Samuel Jacob Anna Mary Jacob
Mr. and Mrs. Peter Burkholder
Mr. J. W. Rothenbuhehler
Samuel Jacobs was born on Jul 21, 1831 in Sauperswil Bern Switzerland immigrated to the United States in 1848 and died outside of Luckey, OH April 10, 1909. He married Elizabeth Clauser in Wood County, OH. Elizabeth was born in Fraubrunnen Switzerland in 1842. Elizabeth died December 5, 1921 also in Luckey, OH. Elizabeth immigrated to the US in 1852 from Fraubrunnen, Switzerland. Samuel and Elizabeth had 13 children. The children of Elizabeth and Samuel are as follows;
 1. John Jacob born July 1861, died 1953 and married Mary T. Myer.
 2. Fredrich William Jacob born Nov 1862, died 1946 and married Mary Friedle.
 3. Elizabeth Jacobs born Jan 1867, died 1950 and married John Fahle.
 4. Emma Rosena Jacobs born Dec 1868, died 1942 and married Frank Schmitz.
 5. Sophia Jacobs born May 1864, died 1953 and married Fred R. Rothenbuhler (son of John W.)
 6. Carrie (Carolyn) Jacobs born 1864, and married John W. Layman, Jr.
 7. Mary Jacobs born 1872, died July 1970 and married John Frederick Rothenbuhler (1868 – 1952)
 8. Amelia Jacobs born Sep. 1874, died 1964 and married Charles L. Layman.
 9. Samuel G. Jacobs, Jr., born 1876 and died 1881.
10. George Franklin Jacobs born 1878, died 1952 married Mary E. Ford 1887 – 1964
11. Rosa Jacobs born 1880, died 1960 and married Frederick Garling and Johann Fredrick Helm.
12. William Samuel Jacobs born Aug 1883, died 1963 and married Hazel Mae Carr.
13. Franklin Samuel Jacobs born Nov 1885, died 1957and married Lena Schudel.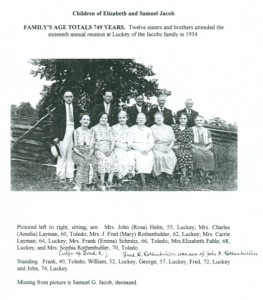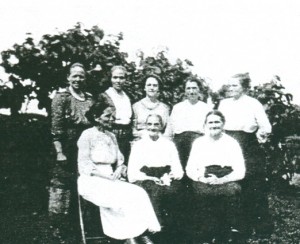 Elizabeth (Clauser) Jacobs & daughters, Jacobs family photo
Photo taken 21 Aug 1921
Standing L to R Carrie Layman, Mary (J. Fred) Rothenbuhler, Rose Helm, Amelia Layman, and Emma Schmidt
Sitting L to R Liz (Elizabeth) Fahle, mother Elizabeth (Clauser) Jacobs, and Sophie (Fred R.) Rothenbuhler.