Vincent C. Kahle was born June 26, 1918, in Kalida to Joseph and Wilhelminia (Smith) Kahle. He was one of eight children, Vincent being the youngest. He had six brothers; Frank J. (1902 – 1958); Cyrillus F. (1904 – 1947); Frank A. "Harry"  (1906 – 1993); Joseph H., Jr. (1908 – 1989); Arnold C. (1913 – 1947); and Robert V. "Victor" (1915 – 1947). Vincent had one sister, Mary F. (Kahle) Ley (1911 – 2004). He married Lauretta Miller in Perrysburg on June 24, 1950. Lauretta was born Jun. 3, 1919 in Luckey, OH being the daughter of Ernest and Mabel (Rolf) Miller. Vincent and Lauretta had no children.
Vincent enlisted in the military Mar. 5, 1942 at Camp Perry Lacarne and served as US Warrant Officer, stationed in England from 1941 to 1945. At the time of his enlistment he had attended two years of college was 67" tall and weighed 168 pounds.
He began his career with the former City Loan in Bowling Green. While president of the Ohio Grain and Feed Association in 1964, Kahle toured Russia and Europe with the People to People Goodwill Mission. From 1967 to 1983, he was on the board of directors of Elevator Mutual Insurance Co., Lima; and from 1979 to 1983, he was a board of trustees member at Owen's Technical College. Kahle also served on the board of directors of Mennel Milling Co., of Fostoria, and was a former director of Farmers Savings Bank, Northwood. Kahle was a member of St. Wendelin Catholic Church, Fostoria; Fostoria Country Club, where he was a past director; Knights of Columbus in Fostoria and formerly in Genoa; and the Kiwanis Club in Fostoria and formerly Woodville. Kahle also was a member of the The Links of Lake Berndatte Country Club in Wesley Chapel, Florida; the University Club in Fostoria; and the American Legion Post in Woodville.
Vincent Kahle died Friday March 12, 1993 at Fostoria community Hospital He and his wife Lauretta are buried in Troy Township Cemetery.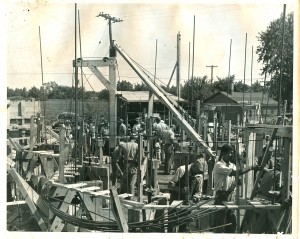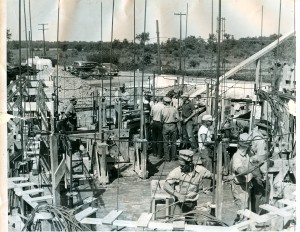 Above; Building of the grain elevator at LeMoyne photos property of LHS