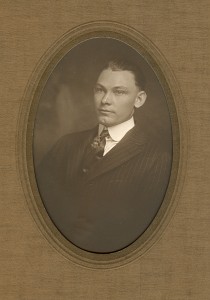 photo of J. Harm Landwehr, property of Betty Blevins
John Herman Landwehr (J. Harm or Harm as he was known by his friends) was born the 20th of October 1893. He was the son of Frederick George Herman Landwehr born 1863 and the grandson of John Herman (Johan Heinrich) Landwehr born 1828 in Germany.  He was born just west of Luckey on State Route 582 at the intersection that was formerly was known as Orville Miller Corners.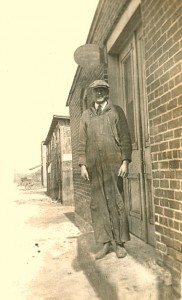 photo of J. Harm Landwehr, property of Betty Blevins
   Harm only attended six grades of education at the Zion Lutheran Parochial School, sometimes called the German School. Even though he only had six years of education, he was able to complete his studies at the Case School of Applied Sciences and became a licensed embalmer and undertaker.
photo lft; Harm & Lelia Landwehr's wedding photo, property of Sue Mueller       photo rt; Harm & Lelia @ their 50th wedding anniv., property of Ruth Rothenbuhler
    Harm served in the military during World War I. He served for two years in Austria and Italy during the war. After his tour of duty he married Lelia Martin (born May 16, 1895) on October 23, 1919. Lelia had 8 years of school in Bethlehem Parochial School, Pemberville. Both Harm and Lelia were very intelligent in Math and Spelling. Harm apprenticed and worked for W. H. Schwann Undertaker located in the Furniture Store that is now Otte & Son Plumbing (234 Main Street) in Luckey. Harm did not make much money working for Mr. Schwann. Harm and Lelia had two children, Betty Jane born May 1921 and Glenn Herman born January 1924. Mr. Schwann had no children of his own. He was very good to Harm's children Betty and Glenn. Betty and Glenn like their parents were very intelligent. Mr. Schwann paid for Betty to attend Bowling Green State University after she graduated from Luckey School. Mr. Schwann died of a heart attack after Betty's freshman year and she was no longer able to attend the University. Harm remodeled his house on Main Street in 1927 but it wasn't until 1940 when Mr. Schwann passed away that it became the Landwehr Funeral Home. Today the Landwehr home is part of the Marsh Funeral Home.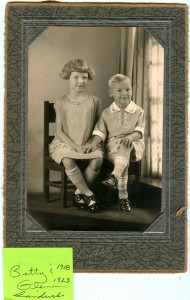 Above; daughter Betty of left and son Glenn of right, photo property of Sue Mueller    Harm was famous for excellent restoration embalming. On one occasion four local boys hit a train just east of Luckey after midnight. Their bodies were covered with gravel from being dragged along the track. Betty happened to be visiting her parents at the time. She and her father spent one whole night picking the gravel from two of the victims for a presentable funeral. The other two boys were sent to the Pemberville Mortuary where they had "closed" caskets. Another well remembered incident was when Harm restored Grampa Joseph. Grampa Joseph lived with the Loomis family on Main Street for many years. Harm and his family played cards with Grampa Joseph but the children had only seen him heavily bandaged. Grampa Joseph had cancer of the cheek.  He didn't seem to have pain but when the cancer traveled to his brain he passed away. Betty was visiting her parents again and helped Harm prepare Grampa Joseph for viewing. Harm was able to restore his nose, ear and cheek with paper tissues and plaster of Paris and facial tint. The family was so grateful as they hadn't seen his face in years.
A highlight of Harm's life was when he noticed a car with motor running in front of the Schwann Furniture Store windows. The driver was looking nervously toward the bank. Harm walked by the bank and saw it was being robbed so he walked to the corner (now the Post Office) and went through the back alley to the rear of the furniture store to where Ben Stone was sleeping. Ben was the night watchmen and honorary Marshall for Luckey. Ben called his private area in the back of Schwann's establishment, his Bunkhouse. It was made from empty vault boxes. Ben slept there days. He grabbed his shotgun and ran for the bank. As the robber came out of the bank he said, "Stop or I'll shoot". The robber shot Ben in the hip but Ben was still able to spray him with bullets and killed him. The dead boy's mother became friendly with Ben and bought him a robe for his hospital stay. She realized that her son was bad and was sorry that he hurt Ben. She was glad that he could not hurt anyone else. Betty was very close to Ben as he and her dad worked for Mr. Schwann. Ben called Betty one of his "Ain Gies" (the special way Ben pronounced "angels").
Lelia, Harm's wife, in her later years was known as the Luckey Historian. For many years she faithfully clipped newspaper articles, wedding announcements, obituaries and news articles pertaining to the people of Luckey and carefully displayed them in a series of scrapbooks. Upon her death, her daughter, Betty Blevins donated the scrapbooks to the Luckey Library. People researching their Luckey ancestors have found the scrapbooks very helpful and publicly give credit to Lelia Landwehr's Scrapbooks. Lelia took one of the few photographs that we have of Ben Stone. Lelia was a Pemberville native. "At age 16, she was voted the most popular girl in Pemberville, for which she received a ruby ring. She was very outgoing," said her daughter.
Harm and Lelia retired from the funeral business in 1963 and built a brick house two doors away from the funeral home. They lived there until late 1985, when they moved into the Lutheran Home in Toledo, OH.
   Harm and Lelia were both very active in the American Legion. Harm and Lelia went to live at the Lutheran Old Folks Home in Toledo Dec. of 1985. In 1990 they celebrated 71 years of marriage. Harm died 2 weeks later on Dec. 6, 1990 at age 97. Lelia followed on Dec. 24, 1997 at the age of 102.