John Landwehr (1828 – 1898)
    John Landwehr one of the pioneer agriculturists of Webster township, was born April 11, 1828, in Hanover, Germany. His parents, Caspar and Catherine Landwehr, were natives of the same province. They had four children-Fred, Annie, Katie, and John, our subject, who is now the only survivor. His mother died when he was a year old, and at the age of fourteen he was bound out for wages by his father. He received a fair education, however, by making good use of his opportunities. In 1854 John and his brother Fred (Johann Frederick) came to America in a sailing vessel, and landed in Baltimore. John had but two shillings in his pocket. He made his way to Portsmouth, Ohio, and secured employment in a foundry, where he worked six years. It was in Portsmouth where he met and married his wife. He was married November 19, 1858, to Miss Julia Alert, of Portsmouth, Scioto County, a native of Hanover, Germany, born November 9, 1839. She was one in a family of nine children, born to Christopher and Mary Alert. While living in Portsmouth John's first two children were born. John was able to save enough money to purchase land in Wood County. In 1861 he and his wife came to Wood County and bought eighty acres of undeveloped land
The eighty acres of land purchased by John was one unbroken stretch of woods and water. There were no roads, and it took two days to make a trip from his home to Woodville and return, a distance of eight miles. The Landwehr brothers were living in the area prior to the development of roads and before the swamp was drained. The building of roads and digging of ditches did not began in the fall of 1874 and continued to the fall of 1881.His first dwelling was, of course, a log cabin, but the well-earned prosperity of his later years has enabled him to build a comfortable residence and farm buildings of modern pattern. He has also added sixty acres more to his estate, making one of the finest farms in his vicinity.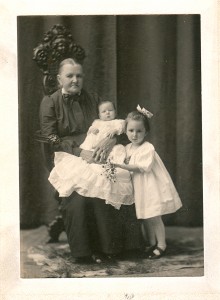 photo; Anna Marie Juliane "Julia" Ehlert [Alert], wife of Johann Heinrich "John" Landwehr, the children in the photo are unrelated
Mr. and Mrs. Landwehr have had five children: John; George; Louisa, the wife of Edward Howard; George, who died in infancy; and Annie, born January 28, 1871, the wife of Henry Myers, now the manager of his father-in-law's farm. Annie and Henry were married October 25, 1888, and have four children; George, born August 13, 1889; Delia, April 17, 1891 ; Lawrence, August 17, 1893; and Verna, August 26, 1895.
Frederick "George" married Coroline "Lena" Meyer and together they had five children, one of whom is also a notable person of Troy Township Cemetery. That being John Harmon "Harm" Landwehr 1893 – 1990.
Mr. Landwehr is one of the public-spirited men of his township, and has served as school director for twelve years, and trustee for three years, discharging every duty with faithfulness and discretion. In politics he is a Republican, and he is a leading member of the German Lutheran Church at Luckey.
Portions of the text taken from "Wood county Ohio, Chicago: J. H. Beers & Co., 1897"