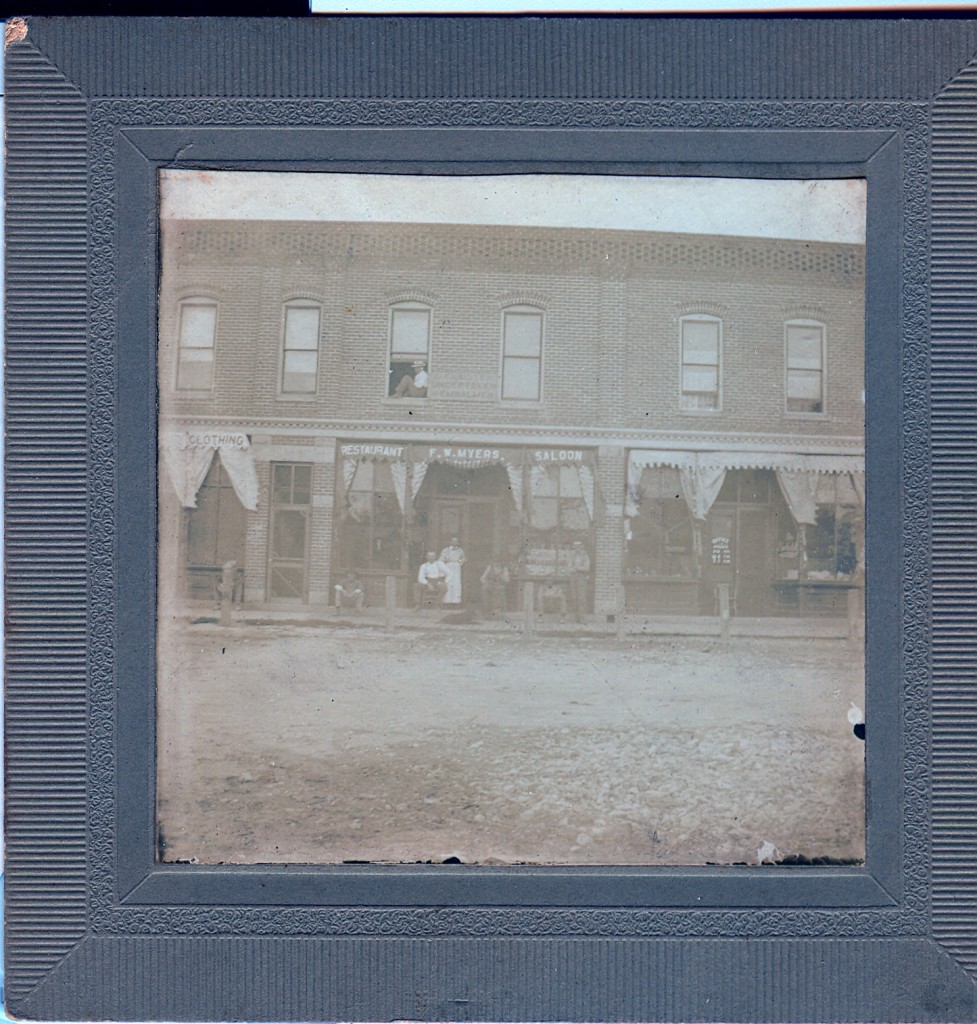 photo; Myers brothers store on Main St. Luckey
E. H. (Eberhart Heinrich) "Edgar" and J. A. (Johann Adam) "John" Myers
    E. H. (Eberhart Heinrich) and J. A. (Johann Adam) Myers of this biography were brothers. They were the children of John Casper Henry Strahsenmeyer born Aug 14, 1814 in Hanover Germany and Margaretha Dorothea Deitemeier born Sep. 15, 1814, born in Deitinhausen, Osnaburck, Hanover, Germany. Both of the parents were born, reared and married in 1840 in Germany. On coming to the new world they first located  in Buffalo, N. Y., but in 1852 removed to Sandusky county, where the father followed agricultural pursuits until his death, which occurred in 1857. His wife later married Frank Rolfes, with whom she came to Troy Township, Wood County, where she passed away in Aug. 13, 1894. To Margaretha and her first husband John Casper Henry Strahsenmeyer were born many children as follows;
Mary Elisabeth Mabel "Eliza" Myers 28 Nov 1842 in Buffalo, Erie Co., NY– D 5 Feb1928 in Harris twp Ottawa Co., OH
Johann Casper Heinrich Myers B 26 Sep 1844 in Buffalo, Erie Co., NY – D 1927 Washington twp. Sandusky, Co., OH, farmer near Elmore, OH
Anna Marie Elizabeth Myers B 29 Nov 1846 – 1916 (possibly Mrs. Schroder of Pemberville, OH)
Anna Wilhelmina Myers B 10 Mar 1849 in Buffalo, Erie Co., NY – D 1850 (possibly Mrs. L. Rolfes of Troy Township, OH)
*Eberhard "Edgar" Heinrich Myers B 23 Jul 1852 in Washington Twp., Sandusky Co., OH  Christened Aug 1852 in Woodville, Sandusky co., OH– D 30 Jan 1928  married Miss Anna Rolf, a daughter of John Rolf in 1873 adopted Bertha (E. H. brother in Myers Brother Store)
Anna Catharina Maria Myers B 14 Dec 1854 in Washington Twp. Sandusky Co., OH Christened in Woodville, OH
*John Adam Myers B 19 Sep 1856 in OH, christened in Woodville, OH, D 28 Sep 1934, Troy twp. Wood Co., OH, buried in TTC married Margaretha "Maggie" Rothenbuhler on 10 Aug 1876, B 7 Aug 1857 in Troy Township, Wood Co., OH D 13 Aug 1894 death in TT, burial in TTC
Frederick Wilhelm Myers B 19 Jun 1859 in Woodville, OH, christened in Woodville, OH – D 1935  (father of Henry W. Myers) also made his home in Luckey
Her second marriage was to Francis (Franz) Henry Rolf (B1812 – D1889). They were married on Mar 2, 1863 in Wood Co., OH. Together they one child, Maria Dorothea Rolf B 1867 D 1935.  Margaretha was buried in the Salem Lutheran church Cemetery, Bradner Rd., outside of Pemberville, OH.
E. H. (Eberhart Heinrich)"Edgar" Myers
    The district schools of Elmore, OH afforded E. H. his educational advantages, and at an early age he entered a grocery store at Elmore, Ohio, where he was employed for a time. For two years he also worked at the carpenter's trade in that place, and in 1861 came to Wood County. At Pemberville, he was first employed in the store of a Mr. Rosinger, later with A. Froney & Schroder, and then worked for Mr. Froney until coming to Luckey. In Troy Township, Mr. Myers led to the marriage altar Miss Anna Rolf, a daughter of John Rolf, their wedding was celebrated in 1873. They had no children of their own, but adopted daughter-Bertha. They were members of the Lutheran Church, and held an honorable place in the estimation of their fellow citizens. The political support of Mr. Myers was given to the Democratic Party, and for seven years he efficiently served as township clerk. Both in business circles and in private life he was honored and esteemed for his upright character.
    E. H. Myers was the senior member of the firm of Myers Brothers, his partner being J. A. Myers, established business in Luckey in 1883. Their first store was located on the corner of Main and Walnut Streets, The old Hathaway site. They carried a stock of general merchandise plus farm implements and hardware. This building was a two-story frame building with apartments on the second floor. The original building was 22 x 35 feet, when they carried a stock of general merchandise; but a year later they added to it a room 22 x 60 feet, in which they placed a stock of hardware and farming implements.
On July 12, 1893 fire broke out in a room over the Myers Brothers Store. This was an apartment that was occupied by the Charles Juergens family who fortunately were away at the time. The flames quickly spread to the neighboring buildings. These buildings were of frame (wooden) construction and when they started to burn the fire intensified rapidly. The Myers Brother's store was completely destroyed. The Myers Brothers suffered the greatest loss, losing $20,000 worth of stock with only $8,000 in insurance to cover the damages. The fall following the fire they erected a two-story brick block, which had a 44-foot frontage and was 60 feet deep. There they carried a full and complete line of hardware and general merchandise, and the upper story was used for a storeroom. Their stock was well selected, and their courteous, kindly treatment of customers gained them a liberal patronage.
E. H. also served the town of Luckey as the Town Clerk from 1886 until 1892 when E. F. Metzger was appointed.
J. A. (Johann Adam) "John" Myers
J. A. Myers was the younger brother and partner of E. H. Myers in the Myers Store. By trade J. A. was a carpenter. He married Margaretha "Maggie" Rothenbuhler on Aug. 10, 1876. She was born Aug. 7, 1857 died Oct. 6, 1941 and is buried in TTC with husband J. A. Myers. She was the daughter of Jacob Rothenbuhler (B 1825 in Berne Switzerland) and Anna Layman.
J. A. and Maggie had the following children all born in Troy Township, Luckey, OH:
Franz Heinrich Wilhelm "Williie" Myers B 18 Dec 1876
Heinrich Wilhelm "Henry" Myers B 2 March 1879
Eberhard Heinrich Myers B 28 Dec 1882 in Troy Twp. D 18 Mar 1894 in Troy Twp.
Dorthea also "Dora" Myers B 23 Aug 1883
Anna Myers B Jun 1887 – D 1973
Frederick J. Myers B Dec 1889 D 30 Mar 1963 in Luckey, OH
Martha D. Myers B Dec 1892
"Luckey Area Barn History"
                          from the ancestors of Ruth Rothenbuhler
    A century ago many of the area barns were built by John A. Myers of 230 Krotzer Ave. Luckey, OH. Lyle (Buss) Myers told me his Grandfather, Henry W. Myers helped his Great Grandfather John in building barns. One such barn John built is at 21893 Stony Ridge Rd. In Webster Township for Frank Freyer in 1902. (The barn now has "Rothenbuhler" on it and is shown in the photo on the previous page.)
   On Monday morning John would walk to the job site and possibly stay all week depending on the distance it was from Luckey. If the weather was warm he would sleep in the unfinished barn. On weekends he would walk back to Luckey to be with his family.
   Native lumber was used perhaps from that same farm. Preparation was started by cutting down the trees and taking the logs to the local sawmill. The lumber was then taken back to the farm and stacked for drying several months before the building work was started.
   John A. Myers, the builder is the same man who was the junior partner of the Myers Brothers store at Main and Walnut Street in Luckey, OH