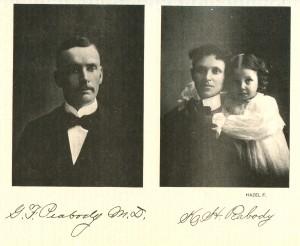 photos above from "Beers"
Dr. Guy F. Peabody, M.D., one of the leading physicians and surgeons of Wood County, and a registered pharmacist, has since January, 1892, engaged in practice at Luckey. He was the first physician to practice in Luckey. On his arrival he also bought a building and a stock of drugs, conducting business along that line until his place was destroyed by fire in July 1893, after which in company with L. H. Rolfes, he erected a two-story brick building. In this new store he carries a full and complete line of drugs, and he also engages in the practice of his profession.
The Doctor was born in Mulliken, Mich., February 12, 1867, and is a son of Sylvanus and Jane E. (Compton) Peabody, also natives of Michigan. At an early day the grandfather, William Peabody, Sr., entered a tract of government land in Eaton County, on a part which now stands the village of Mulliken. Later our subject's father settled on this land and in connection with his agricultural pursuits, he now engages in the real estate business. Our subject is the fourth in order of birth in the family of six children, the others being William, of Ionia County, Mich.; Elbert, of Eaton County, Mich.; Hiram a farmer of Mulliken, Eaton County; Fred chief clerk of and stockholder in the Valley City Milling Co., of Grand Rapids, Mich.; and Charles who is attending Medical College in Toledo, Ohio.
The elementary education of the Doctor was acquired in the common schools of his native county and he completed the literary course in Portland (Mich.) High School: was matriculate of the College of Medicine in 1888, after which he entered Toledo Medial College where he was graduated in the class of 1890. He began practice in Sunfield , Eaton County where he remained until coming to Luckey in 1892. Here he has secured a large and lucrative practice, he has been a very successful in his treatment, and has had four pox cases, in which he triumphed over that dread disease. He was registered a pharmacist by examination in 1893.
At Toledo, Ohio, February 2, 1892, Dr. Peabody was married to Miss Katie H. Dachsteiner, a native of Fort Wayne, Ind., and a daughter of John W. and Caroline (Kersting) Dachsteiner, who were born in Germany and now make their home in Toledo, where the father is a foreman of upholstering department of the Wabash car shops. To the Doctor and his wife was born a daughter, on Oct. 29, 1892 named Hazel F. Peabody.
Dr. Peabody uses his right of franchise in support of the men and measures of the Democratic party, was appointed postmaster at Luckey, July 1, 1893, but after two years he resigned in favor of the present incumbent. For two years he has served as health officer of Webster township. In his social relations he is connected with Freedom Lodge No. 723, I. O. O. F. He owns fifty-two acres of land, one half mile south of Luckey, which he rents. Dr. Peabody died March of 1963.
Mrs. Peabody was born December 23, 1866 at Fort Wayne, Ind., and was educated at Broadway High School and at the Davis Business College, in the same city. She is a member of the Lutheran Church at Luckey. Kate Peabody died April 1949.
                                        "Wood county Ohio, Chicago: J. H. Beers & Co., 1897"
                                        "Luckey Centennial Book "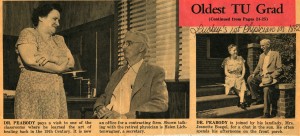 Toledo Blade article, date unknown