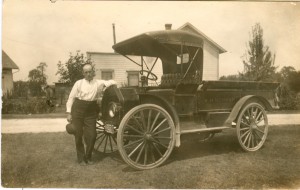 photo above; William Schwann with his company truck, property of Betty Blevins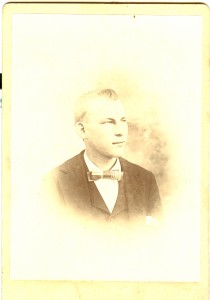 photo above; a young Bill Schwann, property of Betty Blevins
William was a native of Troy Township being the son of Fredrick (Apr 1849 – 1910) and Eliza Schwan (B 8 Dec 1855), himself born Aug. 27th, 1881.  The Schwan family appears in Troy Township in the 1900 Census. Frederick is age 51 and Eliza, his wife, is age 45. They had been married 21 years, at this time. William, age 19, their oldest, is still living at home. Their youngest daughter Mary, born 1889, is also living at home and is now 11 years old. Frederick is listed as a carpenter and young William is listed as the owner of Schwann Furniture Store. In 1910 daughter Anna has moved back home. She was married to an unknown Palker and has been divorced. Anna is working at this time as a telephone operator. The 1920 census shows Eliza and Anna living together in the family home. Eliza is widowed by this time and Anna is also listed as widowed. William is no longer living in the home and is married to Nettie.
In the late 1880's Nieman Brothers of Pemberville owned all or portions of funeral parlors and furniture stores in Pemberville, Woodville, Gibsonburg and Luckey. In 1900 William H. Schwan began his undertaking career as a young boy working for Henry Nieman. In 1903 Mr. Schwan acquired half ownership in the business and in 1906 he bought Mr. Nieman's interest.  J.H. Landwehr worked for Mr. Schwann as an apprentice and in 1924 he received his embalming license. In May of 1940 Mr. Schwan sold his business and funeral equipment to John Landwehr. It was J. H. Landwehr who was responsible for moving the business to the (2013) current location. [Later the business was sold to Earl Holcomb and eventually the business and establishment was sold to Dave and Fran Marsh and became Marsh Funeral home.] The Schwann Funeral Parlor was located in what is now Otte Plumbing – that location being the western end of the commercial block on the north side of Main St. in downtown Luckey.
William Schwann was a leader in the separation of the Zion Lutheran and Grace Lutheran Congregations. Zion Lutheran was the mother church, their services and school were spoken in German. Mr. Schwann believed the congregation needed to be modern and wanted the worship service to be in English. He was a driving force in the establishment of Grace Lutheran Church where English was the primary language. William and his wife Nettie M. Schwann had no children of their own but William was very generous in the support of others. William Schwann died April of 1940.
above left                                                                                 above right
Father; John Frederick Schwan 1848 – 1913                     Bill Schwann
Mother; Elizabeth Sanders Schwan 1856 – 1923
Son; William H. Schwan 1881 – 1940
Daughters; Anna Schwan born 1883
and Mary Schwan born 23 Jan 1889
          Photo taken circa 1891