Samuel Sternaman, a prominent agriculturist of Webster Township, was born March 31, 1830, in Erie County, N. Y., ten miles east of Buffalo. His father, Jacob Sternaman, a native of Pennsylvania, and a wagon maker by trade, married Miss Catherine Slaybaugh, of Adams County, Penn. in October, 1836, they moved from Erie county, N. Y., to Portage County, Ohio, then in October, 1844, to Wood county, locating upon a farm of forty acres in Troy Township, then moving to Webster township, in 1867. The father died in 1856, the mother on February 13, 1878. Eight children were born to them: William, deceased; Jonas, a farmer of Troy township; Peter and Benjamin, both deceased; Elizabeth, who married Hiram A. Kyes, of Freedom township; Susanna, the wife of James Booth; Samuel, the subject of this sketch; and one that died in infancy.
Our subject's early education was obtained in an old log schoolhouse in Troy Township, but his time was largely given to the farm work on the old homestead, where he remained until he was twenty-six years old. He then bought eighty acres of wild land in Webster Township, near Luckey, which he has transformed into a fine farm with modern improvements. He was the first to operate drilling machines for water wells in his township. The experiences of pioneer life are fresh in his recollection, and he has seen Indians, bears, wolves and turkeys roaming at will on land which is now dotted with farms and villages. In 1869 he was married to Miss Mary Brown, a native of Perry County, Ohio, born September 20, 1828, a daughter of Matthew and Mary (Queen) Brown, prominent residents of Bowling Green. No children were born of this union, but Mr. and Mrs. Sternaman have cared for and educated Zerna Myers, an adopted daughter, and Mary and Erastus Sternaman, the orphan children of Wm. Sternaman, our subject's brother. Mary married John E. Myers, of Pennsylvania, and has seven children: Zerna, Julia Ann, Clemson, Robert, Rosena, Lottie and Gertrude.
Mr. Sternaman is a Democrat in politics, as was his father before him, and he has taken an active part in the affairs of his locality, serving as supervisor for a number of terms. His progressive spirit and industry and honesty of purpose, make him a valuable official.
 "Wood county Ohio, Chicago: J. H. Beers & Co., 1897"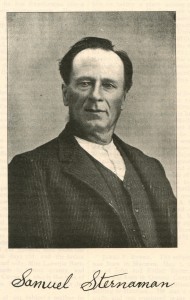 photo from "Beers"