Luckey Historical Society – Presidents Letter Oct. 2008
It has been one year since the first meeting of the Luckey Historical Society. We have gone from the dream of one to a dozen members. We have ByLaws and officers. We have collected well over one hundred photographs and as many documents and news paper clippings related to the history of Luckey. We have published two pamphlets "Ben Stone" and "Polio in Troy Township", the LHS 2009 calendar and the "Troy Township 1897" book. We have an office with display window and regular office hours. We have a Ben Stone House Project Manager and a Nonprofit Certification project manager. We have begun a collection of artifacts now in a beautiful display case in the office. We have a monthly news letter and a BANK ACCOUNT!! WOW AND DOUBLE WOW WOW!
It was recommended by the membership that we delete the residency requirement for officers. After one more reading we will vote on this change.
Luckey Fall Festival Report 2008;
* Cost of booth was $65.
* Workers – Lloyd Fahle, Sally Predmore, Doug Predmore * Publicity Report
We handed out many biography request forms for the new book, as well as Ben Stone and Polio pamphlets. Many people enjoyed looking through our picture books. We had 2 requests for copies of pictures, and got contact information for 3 volunteers for the Ben Stone House Project. Many people were excited to hear and see the work that we have been doing.
* Items for sale –
1. Luckey Historical Society 2008 calendars [cost $8.50 each, sold @$15.00] 2. "Troy Township 1897" [cost to print $1.25, sold @$10.00]
3. Sally's Gourmet Dog Treats [donated, sold for $1 each + recipe]
4. knitted hats donated by Donna Jacobs [sold for $5 and $8]
5. kerosene heater donated by Ruth Rothenbuehler [sold for $10]
6. misc. magazines, stuffed animals, figureenes etc.
* Sales Report
1. Calendars sold (18 at $15 each)
2. "Troy Township 1897" (8 sold at $10 each)
3. Misc. (1 hat, kerosine heater, dog cookies, etc.) 4. Ben Stone project donation
$ 270 $ 80 $ 62 $ 5
$ 417
* Donations;
$425 from Don Overmeyer to cover the cost of the calendars, less 4 calendars. $100 from Fall Festival Corp. (one time donation).
* Suggestions for next year;
1. Put the name of the subject at the bottom of the sketch of the calendar. 2. Have people sign up for at least an hour during meal time so I can go eat.
Ben Stone House Project;
Right now everything is on hold waiting for a reply from Penta County.
Luckey Ohio 1900 to 2000.
Many of you are familiar with the series of books that were published in the late 1800's for each county in Ohio. The books contain information about the history, the progress of each community, and biographical sketches of the people. In "Troy Township 1897, I have included a section on the Black Swamp and how it affected Troy Township as well as the information on the residence of Troy Township from "Wood County 1897." Our next writing project (which may take several years), is to write a new book "Luckey, OH 1900 to 2000". It would include the same type of information as the 1897 version. We need to be thinking how we can collect the information to write the biographies. I already have a form to be completed as we collect information to help us organize the information. Some of our members have already begun collecting information. I believe this is going to be a fun project. It gives us an excuse to go out and collect valuable information before it is no longer available. Feel free to add to the form. For example; Mrs. Eunice Miller would deliver fresh homemade cookies when I was home with my terminally ill daughter. She also gave me her pumpkin cookie recipe which I would like to include with her biography.
Next meeting; Thurs. Oct. 16th at 6:30 in the Luckey Library. (third Thurs. of month)
Office hours; Weds. from 1:00 to 3:00, the third Sat. of the month from 9-12:00 or by calling 419-833-5561 and ask for Sally
hope to see you there over and out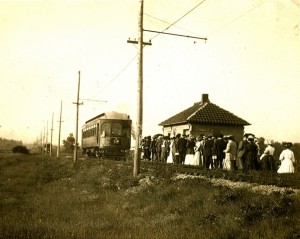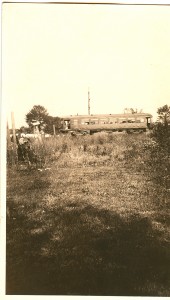 Interurban (electric trolley) station at the corner of Main and Park.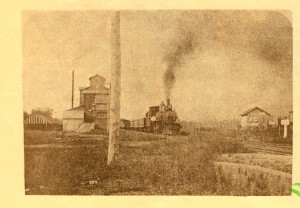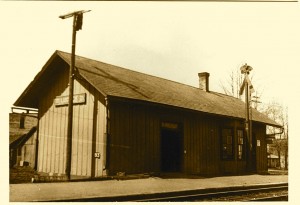 T&OC Train Station, Southeast corner of Main and Oak