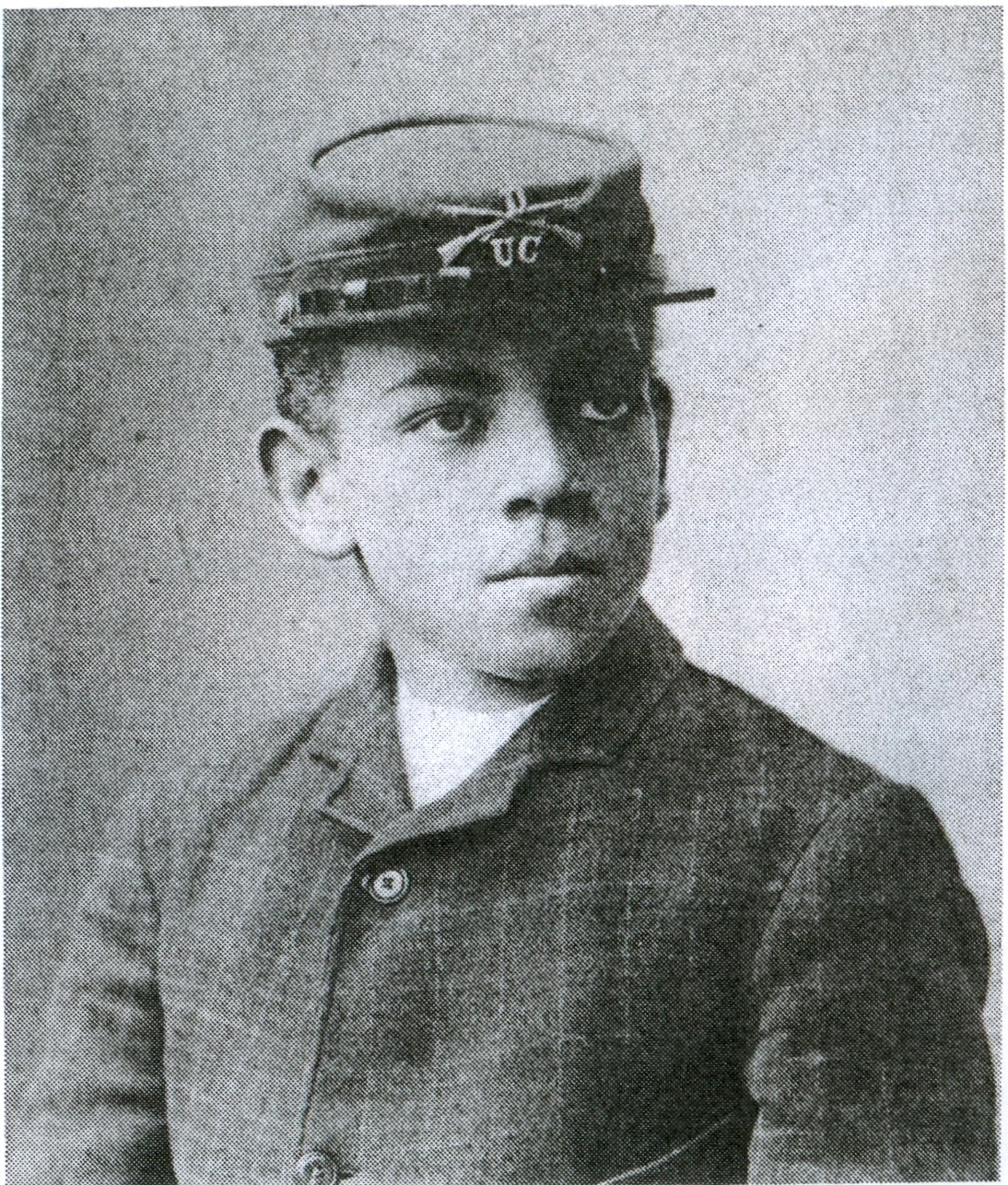 Above; Ben Stone, photo taken while he was in the orphanage in Toledo.
"Ben Stone – Shoot 'em Up Sheriff" by Renee Murawski Leader Intern         Pemberville Leader        THURSDAY, JULY 1, 1976
They could have made a movie about the life of Ben Stone.
The exploits of this fearless character who served as marshal of Luckey during the 1930's read like the screenplay of a classic Western: Two robbers come to town on a September afternoon in 1933. One holds up the bank and flees with the day's receipts.
An employee of a near by furniture store notices the getaway car and wakes the marshal from an afternoon nap. Stone, gun in hand, rushes to the scene and orders the criminal to stop. The robber reels and shoots Stone in the legs. Before he goes down, the marshal manages to fire twice from his pistol and pour two loads of buckshot into the bandit, who falls to the sidewalk dead.
In 1920 at the age of 51, he was hired as a combination night watchman, marshal and deputy sheriff of Luckey.
According to John Landwehr of Luckey, the furniture store employee who alerted Stone to the robbery, local businessmen felt safer once the marshal began patrolling the streets.
"He would go around at night with his gun and a flashlight. If that flashlight was on you, so was the gun," Landwehr said.
The marshal was never without a gun. Landwehr said that he remembers eating in a Toledo restaurant with Stone, who wouldn't even remove his gun for dinner.
But Stone was by no means trigger-happy. He rarely used the gun for anything that breathed. Stone seldom hunted and the bank robbery was the only time he ever fired a gun in the line of duty.
Landwehr said that Stone didn't want to kill the thief, Glenn Saunders of Columbus. But, when Saunders refused to give up his flight and fired three shots into the flesh of Stone's legs, the old marshal retaliated.
Stone was right on the mark that day. One slug even pierced the stolen bills, a meager $344.98, which Saunders had wadded in his pocket.
They say there was a stream of blood all the way from the bank to the furniture store that day.
The marshal reported later that his only regret was that he failed to bring in the driver of the getaway car, John Lora of Toledo.
Lora was later apprehended and convicted of bank robbery.
It was during this time that he lost his left eye. Stone was on the back of a truck which was carrying two vaults to a Toledo cemetery when one of the vaults struck a post. The vault was knocked off by the jolt and struck Stone in the eye.
To cast Clint Eastwood of John Wayne in the part of Stone would certainly distort the picture. This marshal was not a square-jawed ladies man with a ten-gallon hat and silver spurs, but a one-eyed, grizzly bearded oldtimer of mixed negro and white parentage who toted his pistol not in a holster, but tucked in the side of his bib-overalls.
This unconventional method of carrying his weapon didn't hamper Stone's shooting in the least. He was quick on the draw and could reportedly nip a foxcrow in the highest branch of a tree right between the eyes.
Stone got his prowess with the gun on a Luckey farm where he was raised since the age of eight by a settler who brought him and a brother from a Toledo orphanage. Upon his death, the settler left Stone 40 acres of the area's choicest farmland.
Stone, however, was not interested in farming and helped out at Schwan's Furiture Store and the town funeral home.
Curiously, one person who had no regrets about the shooting death was Saunders' mother. She and Stone corresponded after the gun fight and sent each other Christmas gifts each year.
"Ben was the biggest friend in the world to the mother of the man, he killed. She knew her son was bad and was relieved that he wouldn't be causing any more trouble," Landwehr said.
Stone's wounds healed quickly and within a few weeks he was back on the job. Everything was the same, with one small acception: Stone was now the proud owner of a gold deputy sheriff's badge, engraved with his name.
The badge, together with a check for $150, was given to him at a testimonial dinner, attended by 160 of the grateful townspeople.
Stone humbly accepted the gifts and the testimonial saying they really weren't necessary. Perhaps they weren't. Stone's actions had served as their own testimonial to the courage he showed that September day in 1933 and continued to show until his death from heart disease in August of 1943.
In keeping with his request, his body was cremated and the ashes taken to Webster Township cemetery.
Yes, they could have made a movie about Ben Stone. But, he probably would have preferred his gold sheriff's star to being a star of the big screen.
Even When Robbers Threatened Ben Stuck To His Guns                                      by Dean Buckenmeyer  Farmland News, Archbold, OH  Tues. Oct. 19, 1999 
Old-timers still talk of the orphan boy who grew up to become a Wood County fold hero in the 1930s.It seems only yesterday that the simple, adroit Ben Stone foiled a robbery attempt at the bank in Luckey. Ben was serving as the town marshal then. He became an instant hero after the robbery and the ensuing gun battle. Townsmen had believed he would buckle under pressure.
For every proven man, there once was a little boy. Christened Ben Franklin Stone at his birth on March 16th, 1874, he was an underprivileged child by today's standards. Born of mixed Irish and Black parents, he was soon to become an orphan. Little else is known about his early childhood.
When he was ten, Ben and his brother Tom were taken from an orphanage on La Grange Street in Toledo and placed in the care of William Dunipace of Luckey. "My Uncle Billy took them for chore boys," said 76 year-old Neil Wight of Luckey. "Bill was a bachelor. He needed help around the house and the farm."
"Life on a farm didn't agree at all with Tom though, and he returned to Toledo. I don't know much else about him. But Bill treated Ben just like a son. The two lived and worked together until Bill died 22 years later."
"At 32, Ben inherited 80 acres of Bill Dunipace's estate. So in 1906, he embarked on what was to be a short farming career."
Sold 40 acres
Ben soon wearied of farm work and sold half of his land to a neighbor. The other half he maintained, along with a house he had moved onto the land. His humble abode was made of hand-hewn timbers and rough-sawn lumber.
"He worked that land for ten years before he quit farming on his own," Neil explained. "Then he sold the remaining 40 acre to my dad in 1916. After that he worked for us and other neighbors to make his living.
"He was a darn good worker. But he didn't like to work when he didn't have to. He usually worked just a few days at a time,,, to make a little extra cash." Soon Ben bought a motorcycle and spent much of his idle time traveling Wood County roads. Many townsmen tell what a daredevil on wheels he was, often riding along at top speeds.
Kept Motorcycle In House
That cycle was surely his pride and joy. He even stored it in his house, away from the elements. One neighbor told of an ingenious scheme Ben had for getting the motorcycle into his house.
"The floor of Ben's house was about two and a half feet off the ground, so he built a 15 foot ramp to the kitchen door," the neighbor said. "Ben tied a string to the door and he pulled it shut as he rode down the ramp when he left the house."
"He had a latch on it that wouldn't let the wind blow the door open. "But if it were bumped, the door would fly open. So Ben comes up the driveway and up the ramp bumps the door with the front wheel of his motorcycle, knocks the door open and slides right into the kitchen and shuts it off!"
Since his childhood days with Bill Dunipace, Ben became a living legend as a marksman. There are countless stories, some started by Ben himself, which tell how he could shoot a squirrel between the eyes.
Although he did some hunting, he spent more time trueing his aim on practice targets. Neil Wight's brother Alex, now deceased, had reported seeing Ben hit the same nail head on his door four times.
Started As Watchman
In 1925, at age 51, Ben gave u p his leisurely life to take on a job with W. H. Schwan in Luckey.
"After his furniture store was robbed, Schwan decided to hire a night watchman," recalled John H. Landwehr. "I worked for Mr. Schwan for 25 years. When that robbery occurred, he lost 12 rugs and I lost a new pair of tires.
"There was a rash of robberies then and, to protect himself, Schwan hired Ben Stone to watch his business. Soon after, George Welling, who owned the grocery store next door, also hired him. It wasn't long before Stone was working for the whole business district."
It isn't known exactly why Schwan sought Ben for the job. It may have been because of his local fame as a marksman. The town surely needed someone with authority.
But Ben was also known for his honesty.
"You could have had him watch anything," said Neil Wight. "The only thing he ever robbed was my cookie jar."
Once he began serving the whole town as night watchman, he was appointed town marshal of Luckey. With that position he gained additional power. He was authorized by the county sheriff to carry a gun.
Always Carried Shotgun
"Nothing in town was stolen after he started working," John Landwehr said. "He'd go around checking the buildings sure as clockwork. If he found anyone out at night, he'd shine his flashlight on him. Anyone wo got caught who knew Ben also know his shotgun was aimed at him, too!
"He always carried his shotgun at night and a .45 pistol was tucked into his overalls pocket. Ben figured that if anyone managed to get his shotgun away from him, he'd still have a gun. There were times when he carried two pistols besides his shotgun. Those who knew him insist that Ben wasn't trigger happy. He had never fired a gun in the line of duty.
Ben always lived a simple life," John said. "He never wore anything but old coveralls and an old floppy hat. That's the way you'd always see him. He didn't care about the comforts of life either.
He slept in a bunk among the crates in the back of the furniture store. He was always happy as long as he had a place to eat and sleep."
"Since he worked at night, Ben slept part of the day." John said. "He went with me to deliver to Toledo quite often after he got up. We always picked up anyone who needed a ride, but Ben always sat in back.
"He was always alert, never missing a thing.
"But you'd never think so by looking at him.
"Schwan also worked as the town undertaker, so we always took the vaults over to the cemetery.
"One day Ben rode along as we took two steel vaults to the cemetery for a couple funerals.
"As Schwan drove into the cemetery, one of the vaults hit an entrance post, knocking Ben backwards off the truck.
"Then the vault slid off onto him and knocked his left eye out.
But even that never seemed to dampen his spirit."
Although Ben was given a glass eye after the accident, he seldom wore it.
When asked why, he'd always answer, "I can see just as well without it."
Ben got along with everybody, friends would say.
Townsmen were always testing his good nature by making jokes about him.
But Ben would manage to turn those jokes around to his benefit and laugh right along with the instigator.
"People admired Ben for his with," John said, "but few felt he could hold up in his job in the face of adversity.
"He was too much of a happy go lucky type of fella."
Foiled Robbery
He was to face the supreme test eight years after taking on the job as town watchman… on the day a pair of men attempted to rob the Luckey Exchange Bank.
It was a calm Thursday morning on September 28th, 1933, when John Landwehr was washing the front windows of Schwan's Furniture Store.
It was business as usual in Luckey when John sensed something foul in the air.
"I saw a man walk past the store wearing a hunting coat and he had his hand stuck in one pocket," he said.
"I wouldn't have thought much about it, except another man parked a car in an abnormal way … against the curb lines across the street.
"I just got a glimpse of the man in the car.
"He was holding a paper and looking over the top of it toward the man in the hunting coat.
"If the man had parked in the normal way, I wouldn't have thought about it.
"But it raised suspicions in me and I went to warn Marshal Stone.
"Since Ben worked at night, he was in bed sleeping when I went to tell him what I saw.
"He started out the front door with his shotgun and pistol, but I yelled for him to leave through the back door."
At that moment an alarm, touched off at the bank, sounded a warning at the telephone office, grocery store, drug store and Schwan's Furniture Store.
Ben made his way down an alley, past the bank and was waiting for the bank robber to leave.
John was still at the furniture store when the robber exited the bank and Marsha Stone ordered the man to put his hands up.
"I was talking to the sheriff on the phone when I heard a gun shot and saw Ben falter," John said.  "I cried, 'Ben why don't you shoot?"  "Then I heard two more blasts.
Ben had hit the man with two rounds of buckshot before he hit the ground."
"Then a bystander yelled 'He's gonna shoot again,' and Ben fired three more slugs with his .45."
When it was over, Ben had killed one of the robbers, Glenn Sounders, a barber from Columbus Grove. The other man fled west out of town in the getaway car without the $344.98 taken in the holdup attempt.
Wounded By a Thief
Marshal Stone had been shot three times through the fleshy part of his legs. "That's the scaredest I've ever felt," John said. "I was in the army during World War II and I never felt that scared.
"I took Ben in a 1924 Cadillac ambulance to Mercy Hospital in Toledo. I hit one railroad crossing going so fast that the guy with me said he thought we'd never hit ground again."
According to newspaper accounts, Mr. Schwann had walked past the getaway car and obtained the license number. Saunder's accomplice, John Lora, 33 was later arrested at his home in Toledo. Both the getaway car and the license plate had been stolen.
Lora was identified as the driver of the getaway car in a police lineup by Harold Trout and Victor Myers, both of whom were in Luckey at the time of the robbery.
John Lora confessed to police of his part in the holdup and to an earlier bank robbery in Wharton, Ohio. He also implicated his brother, Edward Lora, Saunders and his wife, Irene, in a July bank robbery that netted them $2,300, newspaper accounts stated.
In December of 1933, Lora escaped from the Wood County Jail, where he was being held for trial. He was recaptured in Toledo two weeks later. John Lora was later found guilty of the Luckey robbery and sentenced to life in the Ohio Penitentiary.
As for Ben Stone… he recovered in a matter of weeks. Townsmen were ecstatic over his undaunting courage in foiling the robbery
Honored  By The Town
To show their appreciation, townsmen gave Ben $150 at a businessman's luncheon almost two months later. He was also presented a new badge. The badge had a gold leaf in the center with the letters "Ben Stone engraved in stone. But nothing pleased Ben more than a letter he received in the mail. It was from the slain man's mother.
"She thanked Ben for killing her son," John said. "She told him that she and her husband had no ill feelings toward him. 'We never could control him,' she told Ben.
"They knew he was bad. At least they knew where their son was."
"She and Ben wrote back and forth from then on. They even exchanged gifts at Christmas time." he said.
Ben Stone died of a heart attack on August 27th, 1943, at the age of 69. His body was cremated and buried in the Webster Township Cemetery.
                                         Ben Stone's Heritage                                                .
Ben  Stone was christened Benjamin Washington Stone on March 16th, 1874.
Ben's family was not wealthy, they would be considered disadvantaged by today's standards. However, Ben came from a long line of strong individuals many of whom helped mold and make America what it is today.
One of Ben Stones great grandfathers was the first governor of Maryland. This governor's name was William Stone. William was born in 1603, came to America in 1628 died in 1680. He came to America from England. In England William belonged to a wellknown merchant family. William chose to come to America and settled in Virginia in 1628. William was very successful in America as a merchant and planter. He was well liked and respected in his community and was appointed justice of the peace and then sheriff in Accomack County, Virginia. William and his wife, Verlinda were protestant. Because of their beliefs and their support for England they were no longer welcome in Virginia. They moved to Maryland in 1648.  Lord Baltimore appointed William Stone governor of Maryland. William and his wife, Verlinda, faught for freedom of religion in Maryland. William and Verlinda had seven children. During their lives they purchased over 800 acres of land in what is now "Prince George's County".William and Virlinda had many ancestors of great importance in early American history. His great-great-grandsons made major contributions to the foundation of Maryland as an American state: Thomas Stone (1743-1787) signed the Declaration of Independence, Michael Jenifer Stonerepresented Maryland in the First United States Congress, John Hoskins Stone was Governor of Maryland from 1794 to 1797, and William Murray Stone was the Episcopal Bishop of Baltimore.
Thomas Stone (1743 – 1787), signer or the Declaration of Independence, was Ben Stone's great uncle.
During the time when Ben was born, it was very common for parents who could not take care of their children to give up their children to orphanages. Ben's mother died when he was only seven. Both Ben and his brother, Thomas, were sent to an orphanage in Toledo, Ohio on LaGrange Street. Later in Thomas's life he also was challenged to take care of his children as a single father when his wife died in 1924. Thomas also put his two boys in an orphanage.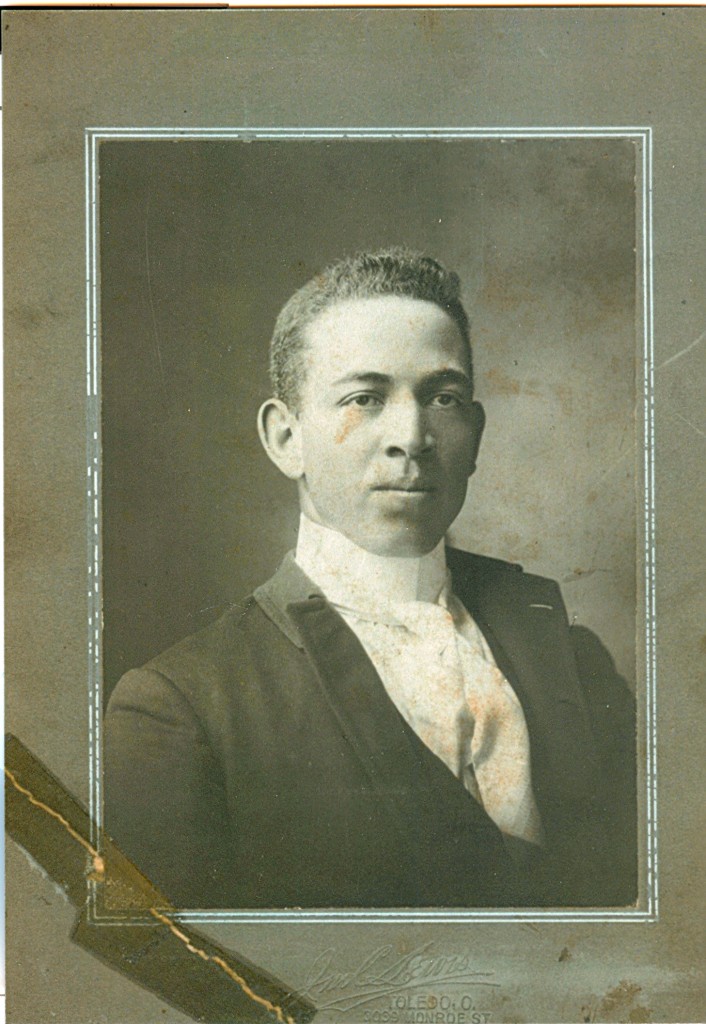 So, Ben's early childhood was not an easy one. Ben's luck turned when at age ten, a man from a small rural town, Luckey, OH, selected he and his brother to come live with him on his farm. The farmer's name was William Dunipace. William or Bill, took the boys in to help him with the chores. He had a large farm, no wife and no children to help. William treated the boys like they were his own. The boys called William Denipace, "dad. ".Eventually, Thomas or Tom, returned to Toledo because he did not like farming. Ben on the other hand stayed and helped with the farm. All those years Ben worked side by side with Bill. Ben was a good worker. He learned to read and write and loved to practice shooting his gun. Both Bill and Ben were good marksmen.  The buildings and even Ben's home had holes in it from shooting practice.
One day, Ben's dad was away from the farm. Ben was having some target practice with his rifle while his dad was gone. Running out of interesting things to shoot at, Ben found a knot in a board on the siding of the summer kitchen. After going inside he discovered that several bullets had gone through and there were some pots and pans hanging on the wall with holes in them. So Ben waited until he saw dad coming and met him with rifle in hand. Ben asked his dad if he could hit the knot on the summer kitchen and handed the rifle to his dad. Dad took several shots of his own at the knot. Several days later when the holes in the pots and pans were discovered, Ben was off the hook.
Bill lived for 22 years with William Denipace before his  death in 1906. In his will William Denipace left Ben 80 acres of farm land. Like his dad (adopted dad) before him, Ben was unmarried, had no children. Ben rather quickly became tired of farming all of that land by himself and for what reason? Ben was a simple man and did not desire worldly treasures. He enjoyed a simple life. Only two years after inheriting the large farm, Ben sold half of it to a neighbor, leaving him with 40 acres. Ben had a small home moved onto his remaining 40 acres. The home was simple. It was made of hand-hewn timber and rough-sawn lumber, had two fire places and plastered walls. Although it was very small, it was all that Ben needed. Ben was able to care for and work the remaining 40 acres for ten years. After selling the remaining 40 acres, Ben worked for his neighbors to make a living. He only worked when he needed the money, usually only a few days at a time. With all of this time on his hands Ben found a new hobby. He bought a motorcycle. He loved driving the roads of Wood County around his home. Many town's people remember what a daredevil he was as he would drive as fast as his motor cycle would go.
Correspondence with Greg Stone (Ben Stone's Grandnephew, Thomas Stone's Grandson.
Sally Predmore writes (Sun, 18 Jan 2009)
Subject: more on Tom and Ben
Below is the text from "The Scotch and Scotch Ridge" by Charlotte Dunipace Shaw regarding Ben and Tom. The first that I wondered about Tom was last spring. I was interviewing an elderly man, former resident of Luckey, now living in Michigan. I asked him if he knew Tom and he said he was "no good" and quickly changed the subject.  I also received a tape of an interview with Ben's neighbors recorded in the 70's. When the interviewer asks about Tom, he also says that Tom was "no good". Sorry to have to share with you the unpleasant news.
"The Scotch and Scotch Ridge" by Charlotte Dunipace Shaw, Closson Press, Pgs. 61 – 63
When Great Great Uncle Billy became elderly, in the 1870's he went to an orphanage in Toledo to find a boy to take back to his farm to live and help with chores. By then he owned three hundred acres and had two teams of horses so there was plenty to do. He brought home a mulatto lad by the name of Tom Stone. But Tom didn't like the country, so Great Great Uncle Billy took the boy back and brought home his brother, Ben. Tom later returned and stole money and a gun from Uncle Billy and Ben. He was caught by Pemberville's Marshall and jailed there. He escaped, was recaptured and taken to Bowling Green to jail. There he was tried, found guilty and sentenced. The money and gun were recovered. That is the last we hear of Tom Stone.
Ben liked the country life and stayed. That was the beginning of a long relationship. It ended with Great Great Uncle Billy's death in 1906. He willed Ben the forty acres with the little house and his choice of one of the two teams of horses. Ben soon sold half the farm and it appears he ran through it in fairly short order. But he had a glorious good time doing it.
He bought a motorcycle. He bought both long guns and a handgun. He bought ammunition and lots of it. He would set bottles on every fencepost on both sides of a section of road, perhaps a mile. Then on his motorcycle, revolver in hand, he'd ride down the road alternately shooting a bottle on one side and next on the other, to the end of the stretch. Returning, he would repeat the process. He was such an excellent marksman that not a single bottle would remain.
Ben bought a gramophone with cylinders of Negro spirituals and folk music. Occasionally on a Friday afternoon he took the gramophone and a few cylinders over to the school in Scotch Ridge so the children could hear the magical music. No one else in Scotch Ridge had a gramophone.
When Minnie Weddell died at forty-six in 1911, it was a tragic blow to the family. She was a talented teacher. Calla lilies were placed on her grave every Memorial Day by an unknown donor for several years. Calla lilies were very expensive. Few people could afford a bouquet of them, certainly no thrifty Scots. When Jennie Bandeen Canfield knew she was dying of tuberculosis, in 1898, she expressed a wish to have calla lilies on her coffin. Her husband, Silas, could afford only one. The weather was so bitterly cold the florist put a glass jar of hot water in the box with the lily so it wouldn't freeze on the eight-mile trip home from Bowling Green by horse and buggy.
The calla lilies on Minnie Weddell's grave raised considerable curiosity. Aunt Audre remembered the idle speculation. The Weddells, including Minnie, had always been kind and friendly to Ben. He was in his late thirties when Minnie died, still single. People wondered if there had been some romantic interest on Ben's part. It was said that Minnie had been helpful and encouraging to him after Great Great Uncle Billy died. At any rate, the calla lilies stopped after a few years, and Ben's financial resources dwindled at the same time.
Ben spent the latter years of his life in the employ of Schwann's mortuary and furniture store in Luckey, Ohio. There he was night watchman, a deputy sheriff and the village marshal. He had a room at the back of the store. He lost the sight on one eye when a vault he was helping to unload, slid off a truck. The ladies of the Scotch Ridge church sent him a cash gift while he was recovering at Flower Hospital. I remember the Sunday morning his letter of appreciation was read aloud at church.
In 1933, Ben foiled a bank robbery in Luckey by killing the robber after he shot at Ben and injured him. For his courage, he received a gold Marshall's badge and $150 at a testimonial dinner.
Ben was a gentle, kindly man. Perhaps because of him, racial prejudice didn't have a chance to flourish at Scotch Ridge. When Great Great Uncle Billy brought home the young mulatto lad, he couldn't have known what he was contributing to the East Settlement, Scotch Ridge and Luckey.
over and out
Sally
Greg Stone writes;
Yeah I knew Tom wasn't the best. I remember asking my father about Tom and all he said was that " he wasn't someone you could be proud of" and changed the subject.Tom was my fathers father. I found out shortly after starting research on my family that Tom had a drinking problem and would take it out on my grandmother quite often. I did find out though where the black came in at.Bens grandfather Samuel Stone of Virginia married a black woman named Theodsia Nunn also of Virginia..Thank you for remembering me and please send me more information as you get it, good or bad. I will tell you though my other cousin,Elizabeth's sister, works in the public library in Toledo and she is doing research for me on Tom and Ben and a few others. If I find anything new on Ben I will pass it on to you.Have a good day.                                                Greg
Ben Stone  Article. Centennial History Book 1881 –  1981.
Retyped 2007, S. Predmore
Luckey's Bank Robbery
It was Thursday afternoon, September 28, 1933, and John Landwehr was washing the windows of the Schwan Furniture Store. He noticed a man walk toward the bank wearing a hunting coat and another man sitting in a car parked near the bank. Mr. Landwehr's sister, Alma, noted that the car was parked along the curb as another car had been parked in a previous robbery attempt.
They went to the back of the store and woke Marshall Ben Stone who was sleeping there. Ben was night marshal and was not on duty at the time. Ben put a six-shooter in each pocket and picked up a double-barreled shotgun loaded with buckshot.
He went out the back door of Schwan's, down the alley and through Williamson's Garage. Then he went down the sidewalk past the bank and waited in the stairway beside the barbershop.
Meanwhile, the bandit had entered the bank and pointed a pistol at Harvey Helm, cashier, Martin Brinker, a farmer, and an out of town insurance agent named George W. Graham. He demanded the money in the drawer.
As Mr. Helm passed him $344.98, he touched an alarm button that sounded in the telephone office, grocery store, drug store and furniture store.
When John Landwehr heard the alarm, he realized the bank was really being robbed and he called Sheriff Bruce Pratt's office in Bowling Green. The Sheriff was already on his way having been informed of suspicious people in Luckey.
At that moment the first shots were fired! Mr. Landwehr dropped the phone and ran outside. "I was never so scared I my life," he said.
The bandit had taken the money, put it in his side pocket, herded the three men into a back room and warned them not to make any noise. As the robber emerged from the bank Ben Stone ordered him to throw up his hands.
In Ben Stone's own words, "He grumbled something and I began to think I'd made a mistake, that he might be some hunter. So I let my gun barrel waver a little. Right then I heard two cracks and something nipped my legs. That was when I let him have the right barrel and he went down in a heap."
Someone shouted that he was going to fire again and Ben fired the other load of buckshot and then fired 3 shots from his automatic pistol.
"The other fellow, who was in the car behind me, tore out as soon as I shot. I'm pretty sorry I didn't get him, too," said Ben Stone.
Stone Injured in Shootout
The money, pierced by a pistol slug, was found on the dead bandit. Mr. Landwehr said, "We had a hard time getting Ben off his feet after he was shot He walked around and talked about chasing the other bandit. Finally, he went into the store and sat down. When he saw the blood on his legs, where one bullet had pierced the calf of one leg and both thighs were shot through, he laughed and said, 'guess they nicked me. I think I'll finish my nap. Those bandits broke right into the middle of it. '"
Instead, he was taken to mercy Hospital. In the emergency room the doctor prepared to give him a hypo and asked if he was ready. "Just so it don't hurt no more than a .32 caliber slug," Ben said. "I can take it." Then he walked up to his room under his own steam.
John Lora of Toledo was captured and tried as an accomplice to the robbery. He was identified as the man in the car by Harold Trout and Vic Myers.
The trial took place in Bowling Green and was a one day affair. The jury was out only forty five minutes. Henry Bockbrader of Pemberville served on the jury.
On November 4, 1933 a testimonial diner was held for Marshal Stone at Grace Lutheran Church. Thee were 160 people present. Ben was presented with a new deputy sheriff badge. It had a gold leaf in the center and "Ben Stone" engraved in gold. He also received a check for $150 from his many friends.
Stone the Orphan
How did a simple man, born of Irish and Negro parentage, become a folk hero of Luckey? Ben was orphaned soon after his birth and put I the orphanage ob La Grange Street in Toledo. When he was ten he and his brother Tom were taken from the orphanage by William Dunipace of Luckey. Mr. Dunipace was a bachelor and needed help around the house and the farm. Tom didn't like farm life and returned to Toledo.
Ben was treated like a son by Mr. Dunipace and the two of them lived and worked together for twenty-two years, until Mr. Dunipace died. At age 32 Ben inherited eighty acres from the Dunipace estate and, in 1906, he began to do his own farming. Ben wearied of the farm work and sold forty acres. He moved a house onto the other forty and maintained them until 1916 when he sold the rest of the land.
Stone the Marksman and Engineer
Ben was known as a marksman with a gun. On occasion he would ride his motorcycle down a country road and unerringly plink off prearranged bottles on the top of wooden fence posts with his pistol.
Ben had an ingenious way of getting his motorcycle into his house. The floor of Ben's cabin was about two feet off the ground, so he build a fifteen foot ramp to the kitchen door. He tied a string to the door and he pulled I shut as he rode down the ramp when he left the house. He had a latch on it that prevented the wind from blowing the door open. But, if it were bumped, the door would fly open. So Ben rode up the drive way and up the ramp, bumped the door with the front wheel of his motorcycle, knocking it open and slid right into the kitchen.
Stone the Man
Ben In 1925 Ben took a job with W. H. Schwan as a night watchman and soon he was hired by other businessmen and the entire business section was his beat. He was renowned for his honesty and his marksmanship. He never fired his gun in the line of duty until the robbery in 1933.
Ben lost his left eye in an accident, but never liked to wear his glass eye. " I can see just as well without it," he said.
In August 1943 Ben Stone died of a heart disease In keeping with his request, his body was cremated and the ashes scattered in Webster Township Cemetery.
Ben Stone, Early Luckey Marshal, Quiet In Heroic Way The Daily Sentinel Tribune—Bowling Green, OH, Friday, August 7, 1970, Sec. F-12
Retyped 2007, S. Predmore
'Marshal Ben Stone was a merry old gent,
Until robbers decided to frequent his lair;
Their idle time proved to be ill-spent,
For one of their number never left there.'
By GENE WELTY
Sentinel-Tribune Staff Writer
Many things were written about Ben Stone, but I guess no one ever composed a poem about the man who became legend almost overnight in the little town of Luckey. Admittedly, this poem is a feeble attempt to capture in four lines what the townspeople of Luckey thought back in September 1933.
Ben, you see, was a big man, 59 years old at the time with grizzled hair and whiskers to match, they say. At least, that's how some of the old-timers remember him.
Ben also was, as he admitted, "night watchman, marshal, deputy sheriff" among other things at Luckey. He also was a dead shot with either a handgun or a long piece and his feats with a gun have been topped only officially by Daniel Boone, Annie Oakley, Sergeant York and Davey Crockett.
Ben also was the child of mixed Negro and white parentage and to the drugstore cowboys the brunt of all their jokes.
A stranger being led on a tour of the village might have heard this type of banter back in 1933:
"Ben's got the softest heart in the world. Ain't that so, Ben?'
Ben would answer as to "how that might be so."
"Wouldn't hurt a fly would you, Ben?"
Ben guessed that "maybe he wouldn't"
Then someone would ask Ben where his badge was and from the guffaws, this would signal the real come-on for Ben, because everyone (except the stranger) knew Ben's scruples about the badge that declared his ownership of the marshal's job.
Ben never wore the badge often the story goes, but once in a while, with great reluctance, he would carefully affix it to the lapel of his coat to direct traffic at a village function.
Inside, Ben had always had second thoughts about the badge, or rather he felt it was the symbol of a challenge he hadn't been able to meet in life.
Ben believed that badges are for men who have proven their mettle. Not that Ben had doubted his courage; he, plugging along in a small town, kept doing his job as methodically as the clock chimes used to spell off the time, once every 15 minutes. Ben just never had a chance to prove himself.
The fact that he would on occasion ride his motorcycle down a country road and unerringly plink off pre-arranged bottles on the top of wooden fence posts with his sidearm was cause enough to gain respect for his marksmanship.
Yet, Ben had only one good eye, the left one smashed one day when a pine rough box (coffin) was dragged off a vehicle with Ben holding onto it. The box fell on him and took half of his sight but never his sense of humor..
Nothing big ever happened in Luckey, unless it was someone coming up with a new angle for a joke to play on Ben.
Then on Thursday, Sept. 28, 1933, the beginning of his career as a man among his peers, happened in the twinkling of an eye and the belch of a sawed-off shotgun.
Ben, who wouldn't hurt a fly, had to kill a man.
Thursday was the day two men decided that the "hicks" in Luckey were ripe for the plucking. They didn't reckon with Ben Stone.
For when Glenn Saunders, 34, Columbus Gove, backed out of the Exchange Bank, money in pocket and gun in hand, he heard an authoritative command: "Stick 'em up."
That command was Ben Ston'es and though it might have sounded a little Hollywoodish, Ben wasn't playing any part. Saunders growled something under his breath, whirled and started firing.
Three of the lead hornets stung Marshal Stone in the fatty part of the legs, like darts piercing their way into soft wood. Ben didn't go down.
Not according to Gordon Huss, current president of the Exchange Bank, who was driving a milk truck at the time of the robbery.
Mr. Huss said he did not see the first volley of shots fired, which included the blast from Marshal Stone's shotgun that took Sounders squarely in the midsection.
"By the time I got to the bank," Mr. Huss recalled, "I saw Ben hobbling toward the prone figure of the bank robber. At that instant, the robber made a desperate move for his gun which had fallen to the sidewalk."
Ben, according to Mr. Huss, coolly plied his handgun into play and fired several shots into Saunders who died where he had fallen
In the meantime, the getaway car sped off down the street, but not before being recognized by several of the townspeople. Prior to that, the bandits' auto had bumped the parked auto of Harold trout while trying to park.
Vic Myers was standing across the street at the time of the holdup and noted a man sitting in the getaway car. Mr. Myers and Mr. Trout later were able to pick the surviving bandit out of a police lineup. Mr. Myers said he recognized a boil on the side of the man's face as the key identifying mark.
The man, confronted with the eyewitnesses, admitted his name was John Lora, 33, Toledo, and readily admitted his part in the holdup and implicated his brother Edward Lora, 43, and 21-year old wife, Irene Lora in an earlier bank holdup in Warton which had netted them $2,300.
The bank holdup at Luckey netted the robbers only $433.98 and really was ill-fated from the start. When Harvey Helm, cashier at the bank, started to dole out the money to the robber, he touched an alarm button that sounded a warning in the telephone office, a grocery store, drug store and the Schwan Furniture Store. Even before that, Alma Landwehr, as employee of the Schwan Furniture Store, and her brother, J. H. Landwehr, noted the car in front of the bank. Miss Landwehr went to the rear of the store where Marshal Stone was napping to alert him.
In the meantime, Mr. Schwan walked past the bank and coolly recorded the auto's license number. (Later it was found out, the plates and the auto both were stolen, the auto in Chicago and the plates in Toledo).
Meanwhile, in Mercy Hospital, his gunshot wounds treated, the full impact of headlines Ben Stone was reading in the newspapers began to hit home and he began to laugh.
"That's good," he chuckled "They'll (the drugstore cowboys in Luckey) get a kick out of that."
Ben wasn't at all laughing at the people who had been making jokes about him for many years—he was laughing with them.
What really added to the story was the fact that Ben was half asleep that day when he poked the shotgun ahead of him on the streets of Luckey. He must have been a sight to see—dressed in his coveralls and house slippers, carrying that sawed-off shotgun that hadn't ever been fired before Thursday, the day of the holdup!
"Say, this is a good one," Ben chuckled again. "I'm an honorary member of the Scotch Ridge WCTU. Been so for 15 years, isn't that pretty funny?"
Whatever happened to this 59 year-old man who, one instant the town joke, became in the next the town hero?"
About two months after the shooting incident, Mr. Stone was honored at a testimonial dinner, Nov. 4, 1933, according to Mrs. J. H. Landwehr, Luckey, who had kept a scrapbook of many things over the years. Mrs. Landwehr's husband worked for Mr. Schwan at the time of the shooting and later became the community's mortician.
Speakers at the testimonial dinner included Judge Amos L. Conn and former Judge E. G. McClelland. Marshal Stone was presented an appreciation gift of $150 and a gold marshal's badge with his name engraved on the back, according to Mrs. Landwehr's scrapbook.
Ben died on Aug. 27, 1943, exactly nine years and 11 months after he became the town hero. Cause of death was heart disease.
As he had requested, his remains were cremated and scattered over a plot of earth in Webster Township Cemetery.
Ben would have smiled broadly at one particular bouquet of flowers, sent after his death. It was from the mother of the man he had killed during the bank robbery. She had previously written Ben many times forgiving him and also thanking him.
She had never been able to control the young man and said that when the boy was killed, she at least knew where he was.
Yes, Ben would have smiled broadly at those flowers…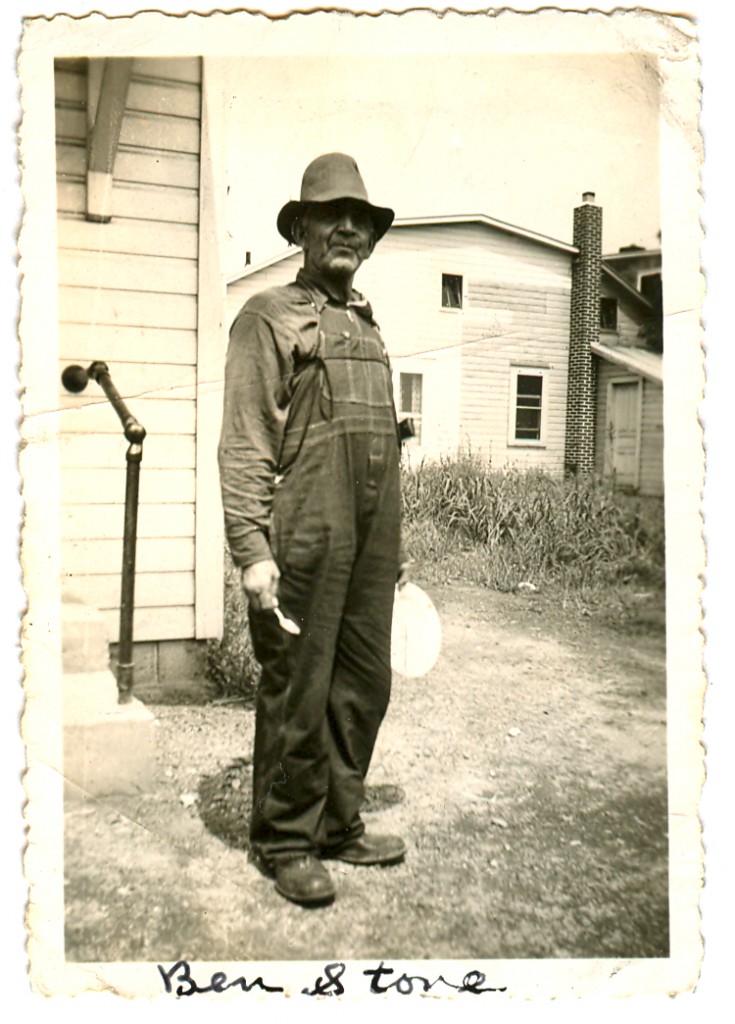 Ben Stone (photo by Mrs. J.H. Landwehr)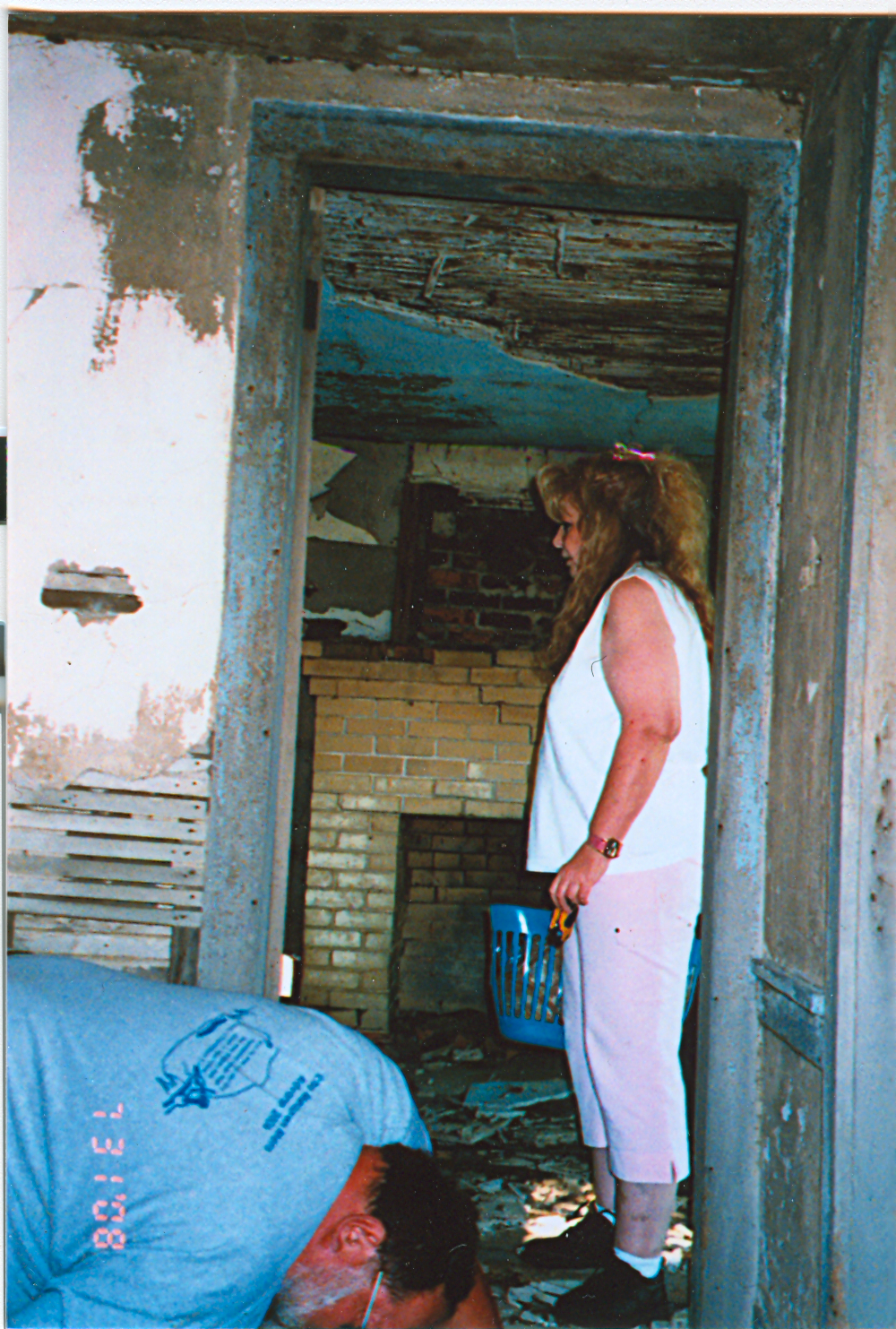 INSIDE – The inside view of the Ben Stone cabin shows one of the two fireplaces in the dwelling which appear to be a small home, but cozy- and very well built. Plaster on the ceilings, for instance seem to be in pretty fair shape, despite the longtime absence of some doors and window. The fireplace is in excellent shape and it doesn't take a lot of imagination to picture the master of the household warming his "backside" near the open flames. The female on the right is Ben Stone's grandniece from Toledo, OH.
HOME FOR AWHILE – This small cabin on Sugar Ridge Road, now owed by Neil and W. A Wight, was for awhile, home for Ben Stone. Surrounded by a grove of trees, the cabin remained a sanctuary for Ben to spend the waning years of his life. Framed in the outline of a water well pump which still works, the old dwelling still almost sings with a historical hum. The farm, willed to Ben by a man he cared for when the man was ill, contained 40 acres, but upon Ben's death, was split into two  20 acre parcels, one parcel owned by the Wights. At one time, the Wood county Historical Society expressed some interest in restoring the cabin, but apparently has given up the idea.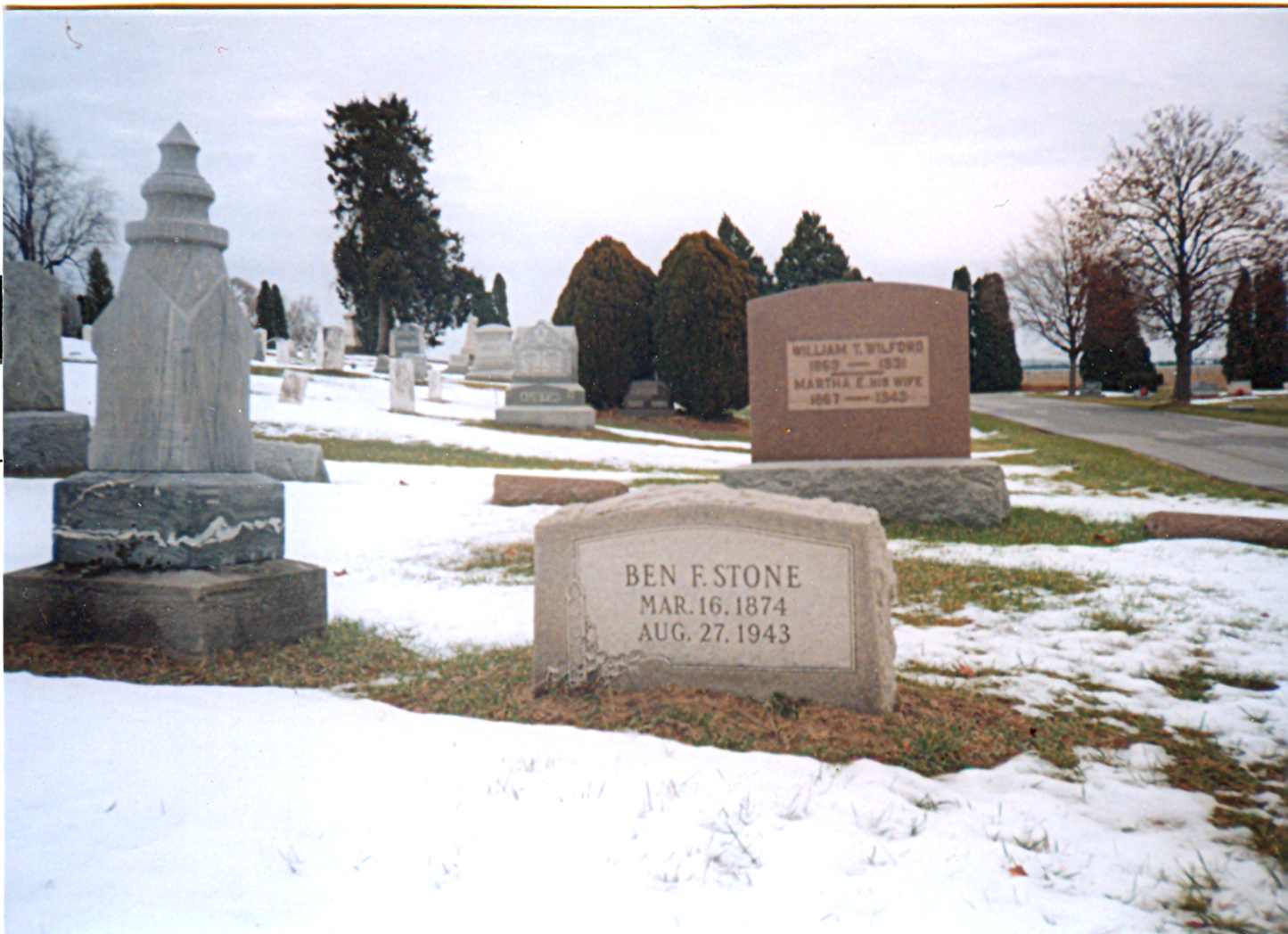 Ben's was cremated and his ashes where buried in the Scotch Ridge (Webster Twp.) Cemetery on McCutheonville Rd., Scotch Ridge, OH.