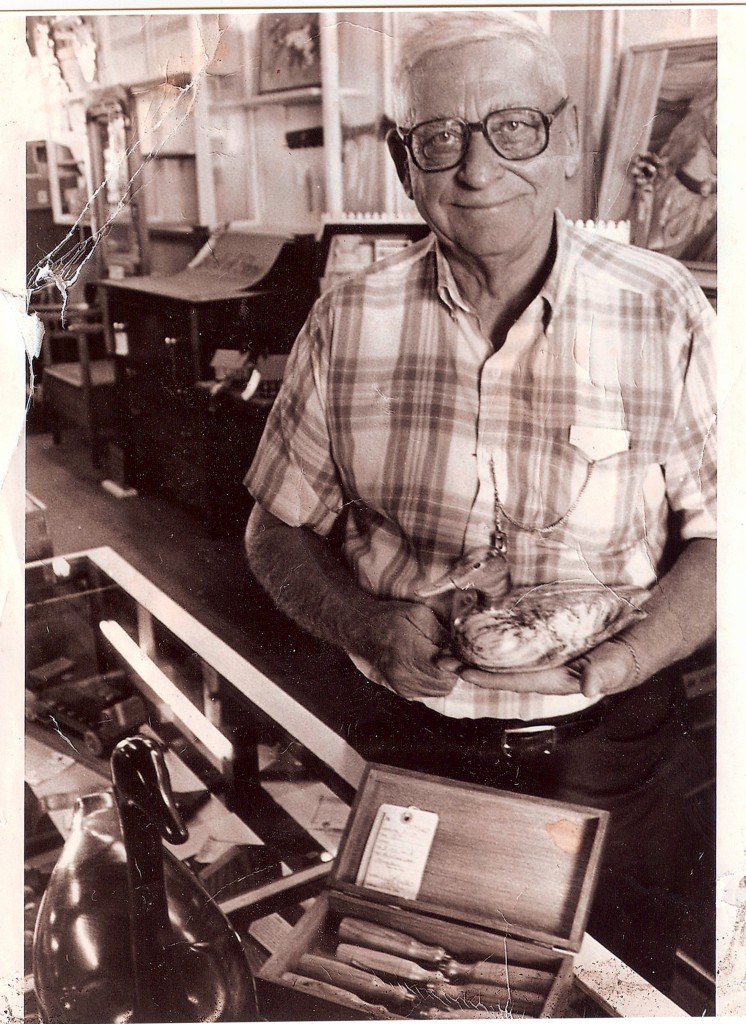 Lloyd Weddell (1916 – 1991)   Lloyd Weddell, Master Carver
   In the small town of Luckey we have many families with deep roots. Through many generations our small town has been blessed with many great leaders, business and social, scholars and many skilled artisans.  Artisans specializing in cultivating the soil, carpentry, masonry, music, sewing, and cooking have made Luckey a rich community in which to live.
Lloyd Weddell was a man with many forefathers woven into local history. The story of the Weddell family begins in Whitburg Parish, Scotland. The family immigrated to the United States in 1834. The young bachelor, William Weddell sailed on the "Cruikston Castle" and landed in Perrysburg, OH in that summer of 1834. The "Cruikston Castle" was one of at least three ships sailing from Scotland with passengers bound for pioneer living in Scotch Ridge, OH. Along with William traveled his sisters, Margaret and Janet (Mrs. Peter Shanks) and William's widowed mother, Catherine, Peter Shanks and his brother, James Shanks. Also in the summer of 1834, on the ship, the "Peace" the Dunipace family left Scotland and headed for Perrysburg and then on to Scotch Ridge. William Dunipace brought with him his children including his daughter Margaret Dunipace, born 1816. (Shaw)
William Weddell (birth date unknown) married Margaret Dunipace. Together they had three children, George born 1837, William born 1839, and Margaret (Maggie), born 1842. William (B unknown) was a carpenter and was working on the construction of the Wood County Courthouse when he fell off some scaffolding and died in 1843. This left Margaret to raise the children on her own. After the funeral Margaret left Perrysburg, where she had been living, she and her children walked to Scotch Ridge. There in Scotch Ridge, Margaret and her children moved in with William Dunipace, Margaret's unwed brother. Eventually, Margaret and William's other sister, Isabella, also moved in with " Uncle Billy". (Shaw 60) The rich stories of the Scotch families of Scotch Ridge are told in the book "The Scotch of Scotch Ridge" by Charlotte Dunipace Shaw, this includes stories of (Uncle Billy) William Dunipace and Margaret Dunipace Weddell. (Shaw)
William Weddell (B 1839) left his home with Uncle Billy on Scotch Ridge road for a time to serve in the Civil War. He served with Company K, 21st, Ohio Volunteer Infantry in 1861. He was medically discharged Jan. 8, 1862. Letters written to William (B1839) are now preserved in the BGSU Archives under the title "Weddell Family Papers". The letters are from area notables such as George Hathaway, the Shanks brothers (both killed at Chickamauga), George Weddell (William's older brother), John Dunipace and John D. Muir. The letters remind us of the hardships of war, the strong ties of the Scotch Ridge people and the many tragedies of war even in a small community.
After his discharge from the service, William Weddell (B 1839) married Isabelle Zimmerman (B July 22, 1846) on Dec. 29, 1864. William and Isabelle had four children as follows: Minnie born 1866, Sarah born 1870, William L. born 1871 and Isabelle born 1875.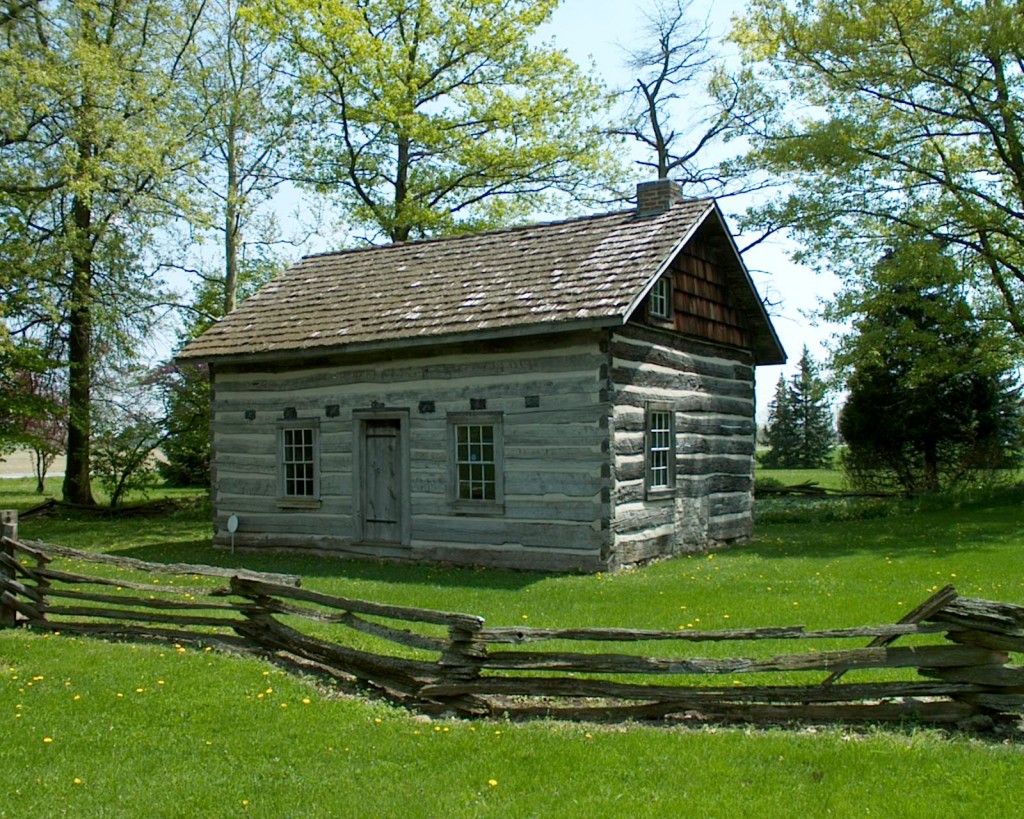 Photo; This was the home of William Weddell built in 1835. It originally sat on the NW corner of Sugar Ridge Rd. and Luckey Rds. It was moved and restored by Frank Hazel in 1958; it now sits farther north on Luckey Rd. on the Hazel Nursary site. Photo by Andrew Predmore
It is William L (B 1871) who fathered Lloyd for whom this article is written. William L (B 1871) married Cora Rife (B 1875) and had the following children; Robert W. born Mar. 24, 1908, George W. born May 8, 1909, Mary R. born 1912 and Lloyd A. born Mar. 28, 1916. Lloyd was raised for the most part on a farm between Pembervile and Luckey. His family moved from farm to farm before moving across from the farm belonging to the parents of Ardith E. Paul born in Woodville, OH on Feb. 15, 1920. Ardith eventually became the wife of Lloyd. They married on June 28, 1941 in Luckey, OH. Ardith and Lloyd were a good match. Ardith was a very small person with a big heart. She enjoyed working side by side with Lloyd but also had talents of her own including beautiful embroidery. Lloyd and Ardith's days growing up on the farm had a great influence on Lloyd's later life as Lloyd states in an interview for Farmland News as follows; "We were both raised around cows, pigs, ducks, chickens, geese and everything else they used to raise on a general farm," Lloyd says. "I always liked the ducks…but not the geese! Geese were a little too big and mean for me when I was a boy." "But I liked the ducks and that's probably why I wound up spending so much time as an adult carving wooden ducks." (Gauche) Lloyd's first memory of carving was around the age of five years old. His mother asked him to carve some items for her. "The first thing I can remember carving were little wooden spoons and stirring paddles," he says. (Gauche) His first carvings were done with the blades of broken pocketknives. In later years Lloyd discovered these small spoons had been saved by his mother for many years. He was surprised to find that the items had stood the test of time and still remained in good condition. Today the spoons are in the possession of his three surviving daughters.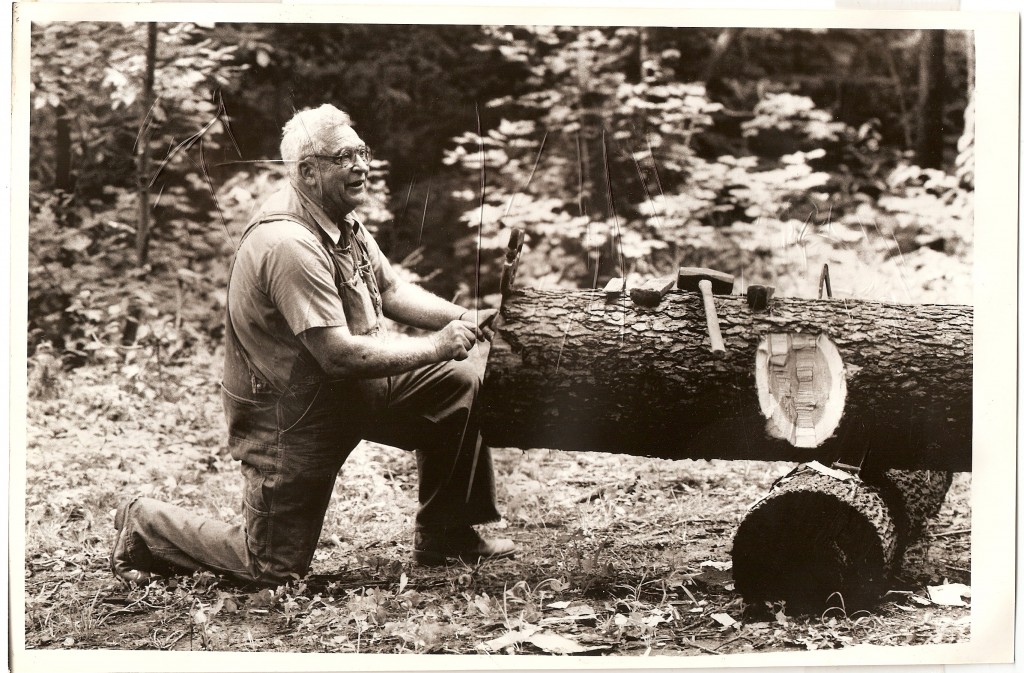 Lloyd's father was his first teacher. Although his father was a farmer by trade, his love was with woodworking. He built many barns and houses in the area and was often used as a mentor in solving what seemed impossible building problems. As a boy Lloyd spent many hours working by his father's side including the harvesting of timber. This meant finding the right tree in the woods and cutting it just right so it would fall in exactly the place desired. Lloyd also learned from his father how to do rough carpentry such as framing and how to use the necessary tools. Lloyd remarked about his father, "He was a very good teacher too. He expected whoever he was teaching to learn on the first lesson or he'd want to know why!" (Gauche)
Lloyd Weddell was a very talented and gifted man. He was raised in a household with strong moral values. All of his life Lloyd believed in keeping busy. He did not believe in sitting idol. He always had something to do. He was never one to sit and stare at a TV set. If he wasn't up moving, he was sitting down carving or planning the next project. One of Lloyd's greatest talents was his ability to create with wood. He believed that each piece held a secret beauty inside, he had the ability to see beyond the knots and cracks and release the beauty held within the wood.
His father taught him a little about the art of carving but Lloyd learned most of his carving skills on his own. "I've worked on wood all my life. I was always running around, looking for a shingle to carve on," he said. (Oberhouse) Some of the first items that Lloyd made were wooden spoons, rug hooks, and airplanes to swap in school and even a bass fiddle. "I learned to make Fiddles by tearing apart other ones and seeing how they were made." (Carle)  As Lloyd's talents grew in sophistication, so did his tools. Lloyd could not find the tools that he needed so taught himself the art of tool making. Lloyd had nearly 100 tools, which he hand crafted in order to carve his works of art. Later in life Lloyd also hand crafted made to order tools for craftsmen around the country.
It takes more than being able to design a tool and use it to be a great carver. One also has to be an expert of wood and have a keen eye with superb observation skills. When Lloyd was very young, his mother raised ducks. Some of his earliest animal carvings are of these baby ducks he was so familiar with. Lloyd worked to make his carvings as realistic as possible. This meant either studying the creature in nature or studying illustrations. Lloyd was quite an expert at identifying birds as a result of his studies. His carvings included details such as ruffled feathers, piercing eyes or a pouch under the bill. One of his finest carvings and one he considered one of his greatest success stories relate to a wooden rooster carving. Lloyd had the rooster weather vane perched on the barn roof at the Wolcott House in Maumee. An owl tried to snatch the rooster off of the barn roof and scratched the wooden rooster with his sharp talons. Lloyd also did realistic owl carvings that would watch over his vegetable garden. Lloyd loved to share the story of his successful owls that scared away any pesky rabbit that may think about snacking on his vegetables.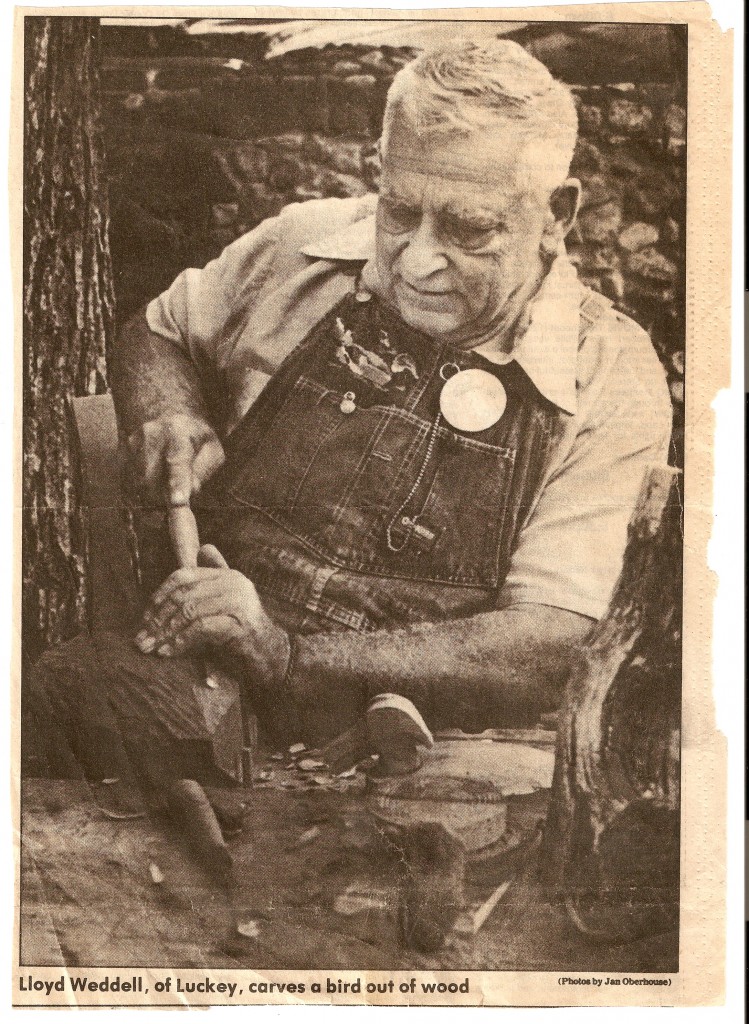 Lloyd knew and loved wood. If you had the pleasure of visiting his work shed, you would find wood pieces stacked in every corner. Lloyd was always on the look out for more wood. One day while waiting for Ardith to do her shopping in Pemberville, Lloyd wondered down to the edge of the river. Pretty soon he was delighted in a good find. Much to the surprise of passers by, he was able to identify and snag an old log, which had floated down the river. Not only could he tell what type of tree it was from, he could tell that it had traveled quite a distance as none of this type of tree grew in the area. Lloyd used more than just local woods. He used wood that he had found most anyplace including; old telephone poles, driftwood found on the beach, pieces from old barns, and many pieces from scrap piles. Lloyd rarely bought any wood, as most of what he used was scrap. People in the community would bring him pieces that they thought he may be able to bring alive with his talents. As was stated in The Daily Sentinel-Tribune Monday, June 23, 1986, "the most common woods he uses are walnut, cedar and chestnut, Weddell can rattle off the more exotic woods he's used just by looking at his carvings. At a glance, he recalls that this mallard is made from Chinese Elm, this snipe from Honduras Mahogany and this gull from Arizona Desert Ironwood."
In Mr. Weddell's work shed was not only wood waiting for his creative hands, but an array of finished and unfinished projects about the room. The floor as well as these various articles were covered with a carpet of fine wood dust. The smell of fresh sawn wood and various lacquers and wax filled the air. The shed wasn't fancy. Part of the floor was earthen and the wooden lath walls were not insulated. In the middle of the floor sat a huge wooden raised table. It was made of massive timbers well worn from years of use. It was simple and well worn as the man who created it. If the weather was good, Mr. Weddell could be seen wearing his bibbed overalls, sitting in his creaking chair, working outside of his shop under a large tree that shaded a good portion of his yard.
As with many gifted artistic people their talents are not limited to one medium. Lloyd as mentioned earlier built fiddles. Not only did he build them but also played the fiddle well. Lloyd was unable to read music but played his fiddle with a group from Fostoria for more than twenty years. He played for weddings and dances in the area since his early married life in the 1940's. Lloyd claimed to have played in most every dance hall in Wood County and all surrounding counties.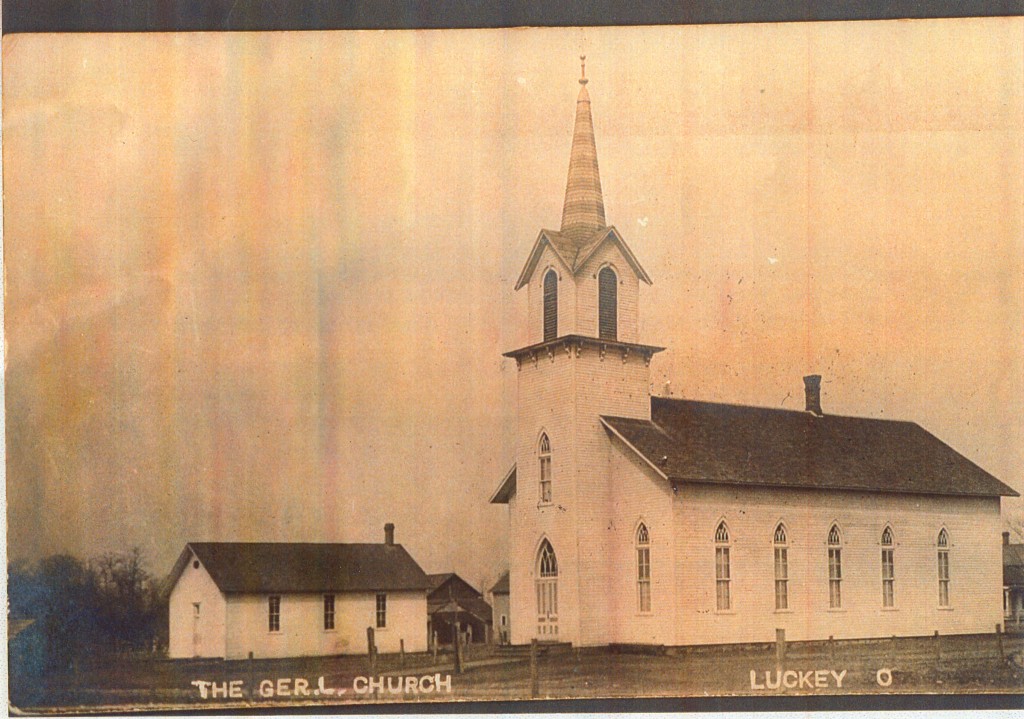 Above is the Zion Lutheran Church with the little German School to the left. This is the school that became Lloyd and Ardith's house.
   Lloyd was a frugal man. He didn't believe in throwing out even the smallest piece of wood. The practice of being frugal probably stems from his strong Scotch heritage. The Scottish that settled in the area were well known for their "waste not want not" way of lives. One of Lloyd's first wood recycling projects was his home that still sits on the northwest corner of the intersection of Krotzer and Lemoyne roads. Lloyd had many stories that he loved to tell when you visited, this being one of them.  Lloyd and Ardith purchased the small German school building that sat next to the Zion Lutheran Church here in Luckey. "However," Lloyd explains, "The property we bought about the same time was a mile away from the building. We decided it would be easier to move the building to the property than the other way around." (Gauche) Lloyd, with his father's help took the building apart and numbered each board as they went. They then moved the parts to the new location and put the building together again.
Lloyd also enjoyed sharing his collections with visitors to his home. Lloyd became interested in collecting ancient tools when at age eight he found a collection of arrowheads belonging to his father. Before his death Lloyd's collection included over 15,000 arrowheads, mortars, hatchet heads, cutting tools and weapons. Some of these tools were estimated to be 9000 years old. Lloyd's collection is now housed in a museum in St. Mary's, OH. Lloyd also shared his joy of collecting with local scouts. The young boys were often surprised to find that most of the wonderful specimens in Lloyd's collection were found in and around Luckey. Lloyd was able to find so many specimens as he was educated about Indian life in this area and knew where to look.
Lloyd was not always able to support his family working with the skills and material that he loved. During World War II he worked in a defense plant in Toledo. In his early married life he was a member of the Carpenters Union (1945 to 1960), worked construction and other odd jobs to support his family. In 1960 he went to work for Jim Foos Construction in Gibsonburg, OH. This construction company specialized in remodeling. Lloyd used skills from his father and his father's hand molding planes to reproduce the moldings in old homes being remodeled. While working for Jim Foos Lloyd was hired part time at the Wolcott House Museum in Maumee, OH. After Jim Foos's untimely death, Lloyd went to work at the Wolcott House as their full time restoration carpenter. Lloyd worked for the Wolcott House Museum from 1971 until 1981 when he retired. Besides minor restorations on all of the buildings, Lloyd rebuilt the train depot and restored the Gilbert-Flannegan House and the log cabin. Lloyd spent many hours working for Joe Schudele at Elmore's Schudele's Gardens. The summer home, down on the lower grounds is a result of Lloyd's carpentry and finish work. Another public work that Lloyd designed and built was the display cases at the Fort Meigs Museum.
Lloyd maintained his work ethic even in retirement and continued to do the work he loved. He continued to carve birds that were in ever increasing demand. His shorebirds and duck decoys were in very high demand. Master Carvers all over the United States were aware of his delicate sculptures; he was a leader in his craft. His realistic bird carvings are now found all over the United States. In his later years, Lloyd also became a Professor of Traditional Carpentry and Wood Carving. He was employed by the Rio Grande College's School of Continuing Education at Rio Grande, OH. Lloyd taught twice a year in the School of Homestead Living. He taught hand log hewing, traditional carpentry, and woodcarving. Lloyd as well as the college was a strong believer in preserving and passing along skills developed by our ancestors to future generations.
The people of Luckey went to Lloyd for help in repairing many items. Boys would bring their BB guns to Lloyd to have the stock replaced. Adults would bring clocks, trunks, furniture, doors, and so many more items to the master for repair. Lloyd was always willing to help. Lloyd and Ardith were both very loving people. Lloyd was very active in his church, the Zion Lutheran Church in Luckey. He taught Sunday School and sang in the church choir for twenty years. They were known to make newcomers especially welcome. Their genuine love of others did not stop at the church. They made newcomers and neighbors in the community welcome with their caring attitude and open arms.  As much time as Lloyd spent working for others in the community, he always had time to build furniture, remodel a room, build a grandfather clock or carve a commemorative duck for his daughters and six grand-children. He was a loving father to Janette (Bob) Willman of Bowling Green, OH, Phylllis (Jim) Clark of Woodville, OH, Marilyn (Keith) Welling of Gibsonburg, OH, and Diane Kay Weddell (still born baby).
Lloyd died at the age of 75 on Monday Sep. 16, 1991. His obituary stated; "Weddell was a carpenter and had worked for Wolcott House Museum, Maumee and Jim Foss construction, Gibsonburg. He was a member of the Ohio Duck collectors & Carvers Association, the Black Swamp Chapter of the Ohio Archeological Society and the government appointed Order of Kentucky Colonels. Weddell was affiliated with Bob Evans Farms for 15 years and was instructor for the School of Homestead Living, Rio Grande. He was a member of Zion Lutheran Church and its Brotherhood, taught Sunday school 15 years and was a member of the church choir 20 years. Weddell was also a fiddle player most of his life."
A TRIBUTE TO LLOYD WEDDELL
It was Lloyd Weddell's intention to witness to all of us, the faith he held in Jesus Christ, his Lord and Savior. His faith was handed down from his forefathers and he attempt to hand it down to the future generations. The following thoughts were taken from Lloyd's Funeral Service;
First – Love the Lord your God above all others. His love cannot be matched by us, but we give him all we can by doing his work and believing in him. [Mt 22:37]
Second – The church. It is here that we gather with fellow Christians and express our Love for one another. [John 15:12]
Third – Our home family – Love your wife, children, and grandchildren. If Jesus had not suffered on the cross the way he did, there would not be love for us to give. [Col 3: 18-21]
 Fourth – "The love of friends that stand by you throughout life; in sickness & health, in times of trouble and work." [Lloyd Weddell] This is what he believed and lived! To prove his faith, he carved a wooden cross that was given to each new member that joined Zion Lutheran Church, Luckey, Ohio.
Lloyd put love into each piece that he carved.
It was his way of being close to God.
Through this love of God he became:  MASTER CARVER
Works Cited
Carle, Julie, "Longtime wood carver wins 1st year at fair", The Daily Sentinel-Tribune, 16, Aug. 1989.
Centennial History Book Luckey, Ohio 1881-1981, 45, 57.
Dawson, Doug, "Luckey Collector Traces History Via His Specimens",The Daily Sentinel-Tribune, 24 Feb. 1966.
Fahle, Lloyd & Otte, Richard, personal interview, 25, Feb. 2009.
Gauche, Del, "Lloyd NEVER Goes Against The Grain!" Farmland News, vol. 29: No 42, 2 Aug. 1988.
Oberhouse, Jan, "Carver brings wood to life", The Daily Sentinel-Tribune, 23 June 1986, 15.
Pachasa, Rebecca, " Lloyd A. Weddell" pedigree, rootsweb, Entriies 239790,
          [http://worldconnect.rootsweb.ancestry.com].
Shaw, Charlotte Dunipace, The Scotch and Scotch Ridge, Apollo, PA, Closon Press, 1999, 20 – 60.
 "Weddell Family Papers – MS 484 MF", CENTER FOR ARCHIVAL COLLECTIONS, BGSU, 9 Mar 2009     
           [http://www.bgsu.edu/colleges/library/cac/ms/trans/page 53376.html].
Willman, Robert and Willman, Janette (daughter of Lloyd Weddell), personal interview with Shirley Davis, 3 March 2009.
All rights property of the Luckey Historical Society 2009
                                                     S. Predmore, author