The Herman Busdeker Family
I. Friederich Christion Bussdieker B 24 Jan 1828  D 23 Jan 1916
+ Anna Elisabeth Michel B 15 Mar 1831  D 23 Jan 1916  mar 1854 Imm. 26 Sep 1859 on the ship "Elna" from Bremerhaven to New York to Elmore, OH
Children of Friederich and Anna
II. Gustav Busdeker
II. Herman Heinrich (Harmon) Busdeker B 28 Jan 1855 [see below]
II. Johann Heinrich Busdeker 27 Apr 1857
II. Elna (named after the ship on which she was born) B 14 Aug 1859
II. Freidrich Busdeker B 24 Feb 1861
II. Johann Wilhelm Busdeker B 31 Dec 1863  D 23 Apr 1895
II. Charles August Busdeker B 23 May 1866
II. Anna Elise Busdeker B 27 Aug 1871  D 4 Oct 1873
II. Daughter Busdeker B 1872  D 1872
BELOW, the second Generation with spouse & more generations.
II. Herman Heinrich (Harmon) Busdeker  B 28 Jan 1855  D 16 Feb 1903 Bur TTC  Imm 26 Sep 1859 to Elmore , OH
+ Anna Marie Juliana Ebke (mar 11 Nov 1880)  B 24 Mar 1853  D 9 May 1921 Bur TTC
(daughter of Johann Heinrick Ebke and Maria Engel Hilker)
Children of Herman and Anna Marie
III. Anna E. Busdeker B Jul 1881 D 16 Mar 1905 Bur TTC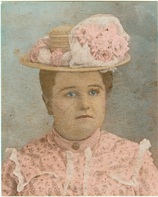 photo; Anna (Busdeker) Reamsnyder
+ Philip Edward Reamsnyder B 1870 D 10 Jan 1950
Children of Anna and Philip Edward
IV. Ervin Edward Reamsnyder B 4 Jun 1900  D 13 Oct 1968 Bur TTC
+ Ethel Fair B 30 Jun 1905  D 25 Feb 1973
Children of Ervin and Ethel
V. Glen Reamsnyder B 5 Jul 1924 BP Pemberville, OH D 6 Jan 2013 bur Williston, Ottawa Co., OH [Glenn attended Webster and Scotch Ridge Schools and graduated from Troy High School. He was an Honorably Discharged Veteran from the United States Army. Prior to his retirement he worked for Farm Crest Bakery and was the owner of the Circle Starr Western Store located on Rt. 2. Glenn was involved in sports, which he set many school records and went on to play semi pro baseball for the Walbridge Merchant Team in the Lakeshore League. In his spare time he trained and also judged horses. He had many horses himself, from rodeo, show and race horses. Glenn was also an avid bowler, bowling for over 50 years in the Lutheran Men's League, receiving many trophies for high average and high series. Glenn and his wife were instrumental in developing Maumee Bay State Park and later became Camp Volunteers. On of Glenn's greatest accomplishment was his family; you could often hear him say " this has been a good ride with his family, and not a bad apple in the bunch" Which made him very proud. Surviving are his loving wife of 65 years, Lois M. (Reed); sons Reed A. (Dianna), Dean E. (Karla), Glenn D. Jr. (Peggy), David J. (Gigi) .
+ Lois Reed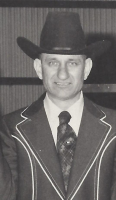 Photo from obituary, Glenn Reamsnyder
V. Gene Reamsnyder B 3 Aug 1930 D 20 Nov 2005  DP Oregon Lucas OH
V. Eilene Mae Reamsnyder (mar Carl Gross and Dewey Mickler)
B 4 Sep 1925  BP Luckey Troy OH D 5 Feb 2009 DP Oregon OH Bur TTC
V. Theodore James (Jim) Reamsnyder B 5 Mar 1929 BP Wood D 19 Jun 1977
QADP Oregon, OH
IV. Arthur O. Reamsnyder B 14 May 1902 D 14 Feb 1986 Bur TTC  DP Bowling Green, OH bur TTC
+ Grace E. Garling B 20 Jan 1908 BP Troy Wood OH  D 19 Jan 1985 mar of 24 Jun 1926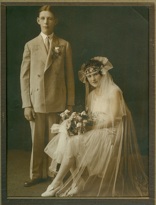 photo Art & Grace Reamsnyder, courtesy of Sue Dippman
Children of Arthur and Grace
V. Gloria Reamsnyder  B 19 Apr 1928  mar 24 Jun 1948
+ LeRoy W. Wohltman  B 11 May 1928  D 14 Sep 1988  bur TTC
V. Nancy Jean Reamsnyder B 6 Dec 1934 D 6 Dec 1934 bur TTC
V. Suzanne Reamsnyder B 27 Aug 1934
+ James Fred Dipman B 24 Apr 1965 D 20 Dec 1980 Bur TTC
(son of Fred Clarence Dipman and Laura Alvina Haack)
IV. Lester H. Reamsnyder B 1905 D 20 Jul 1957 Bur TTC
+ Leona M. Buck B 23 Jul 1908 marr 2 Dec 1926, Wood, OH
III. Augusta Busdeker B 1884 D 1979 Bur TTC
(Augusta never married and raised her sister Anna's children (Erwin, Arthur and Lester) after Anna's death
III. Harman F. Busdeker B 8 Sep 1889 D 28 Jan 1978 Bur TTC
+ Minnie Rose Layman (daughter of John W. Layman and Caroline Jacobs) B 22 Sep 1889  D 14 Jan 1981 Bur Westwood Cemetery mar 7 Oct 1915
Children of Harmon and Minnie
IV. Lillian Caroline Busdeker B 10 Apr 1916
IV. Raymond Herman Busdeker B 3 Mar 1918
IV. Willard John Busdeker B 15 Oct 1919
IV. Dorothy Augusta Busdeker B 23 Nov 1921
IV. Virgil Busdeker B 2 Aug 1926
IV. Donald Busdeker B 17 Dec 1926
IV. Richard Busdeker B 11 Mar 1929
IV. James Busdeker B 6 Jul 1933