Presidents Letter May 2010
Spring has sprung.
On May 7th we had a bake sale at the Luckey State Bank. Our members contributed graciously. We had a good selection of pies and cookies. Customer turn out was fair but those present couldn't resist our goodies. We brought in $250. That should bring our savings up enough that we can go ahead with the repair of the Town hall. We will discuss moving forward with the project at our next meeting. Thank you all for your help.
This weekend I bought a printer cartridge for the Predmore printer. I used the $100 from LHS and $80 from the family coffers. The cartridge lasts us around a year. So even though it sounds like bunches of money, we get MANY copies out of it. I will now be able to print copies of the completed Landwehr booklet.
I have the Zion Methodist History project completed. Church history in Luckey is an important part of the town history. I hope you all have a chance to at least read the book. I think that it is a great collection. The book is to be sold by the Zion Methodist Church in celebration of their 150th anniversary at the end of the month. If you are interested in a copy see Donna Jacobs. I would like to have a copy for the LHS to use as a reference book. Now that I have completed that project, I should have more time to work on the LHS picture book. I have already begun a collection of possible photos. I have also had time to go back and work on my sketches. I have been working on the Grace Lutheran sketch and it is about half completed.
Fred Witzler has been busy again working on our legal/business matters. Our IRS and State of Ohio filings for 2009 have been completed and filed. Our 501(c)(3) verification of filing has also been filed. Thank you Fred.
Keep your eyes and ears open for old pictures of Luckey. This is 2010 so anything prior to 1960 is an antique. Oh my, that means that most of us are antiques. Did you ever think that would happen? My mother warned me when I was young. She said that inside you would be the same, you will continue to think young. The difficult part is when your body gets old, your brain still thinks you are young and you can't do the things that you used to do or may want to do.  Anyway, some of those pictures that you may have in your own albums may be antiques now. I would like to scan anything prior to 1960 especially photos of downtown, neighborhood scenes, town celebrations, businesses, trains, trucks, churches, etc.
The downtown Gazebo is in disrepair. We were asked at the bake sale if we were going to work on its repair. My response was that it isn't an antique. Is the Gazebo on private property or is it the property of the city of Luckey?
The business people of Luckey are sponsoring a "Summer Fest" on May 22nd. Most activities for the fest will be downtown but individuals will have garage sales all over town.
Fun News Articles from the Past
Perrysburg Journal     February 4, 1887
LUCKEY ITEMS
   Weather cold and raw, roads rough and bad, everything quiet.
   The lime men are cleaning out their stone quaries preparatory to going to work again soon.
   C. C. Layman has been attending court in Fremont, for the week past.
   The M.E. Church society will have a social on Tuesday evening, February 1st, at Stowell Fox's for the purpose of raising money to paper the church building.
   The Evangelical Church Society will hold a series of meetings commencing Monday evening, Jan. 31st 1887, also the M. E. Church Society will commence theirs on Thursday evening February 3d.
   All the factories got in an immense pile of logs and bolts, enough to keek them busy all summer, in the last run of sleighing.
   The M. E. Sunday School is doing finely.
   The gas and oil excitement is still up, some of the farmers feel afraid to lease for fear that there is something wrong in the matter.
   Mrs. S. P. Hathaway is not improving any.
   Mr. Peter Layman has sold out his lime interests to John W. Rothenbuhler.
   The health of the community is good. 
The article above was found by Fred Witzler. The article from the Wood county Democrat Newspaper was found by Ruth Rothenbuhler. The articles were typed as they originally appeared (errors included).
Next meeting Thurs. May 20th, 2010 at 6:30 in the Luckey Library
Thursday the 27th is too close to Memorial Day for a tea. How about the first week of June? We will discuss dates at our meeting – bring your date books!
Over and out,
Sally
  1921
POCKET DIRECTORY
–OF–
LUCKEY, OHIO
Complements
of the
Principle Business Men
In looking over the towns of Ohio with a perspective eye, prominence must be given Luckey, Wood county, situated on the T. & O. C. Railroad and the T. F. & F. Traction Line—15 miles south of Toledo.
It has splendid streets, good water, electric lights, three churches, fine schools, lovely modern homes, principally owned by the residents, who take great pride in their up-keep. Luckey is one of the cleanest and prettiest little towns in Ohio.
The merchants are an up-to-date, progressive body of men, whose stores compare favorably with towns of five times its population.
Its population for 1920 is estimated at from 500 to 600 inhabitants.
A bright future is predicted for this progressive little village.
Wood County Democrat Newspaper
April 19, 1907 Luckey, OH
Myron Chamberlain has closed his school in the Hager district, where he has taught a number of terms. Mr. Chamberlain is one of the oldest teachers in Webster Township, having taught over thirty years. Taking into account that he has no hands and only one arm, it speaks well for Mr. Chamberlain.
Looking over the larder in our culinary department, we noticed a sack marked "John's Best." On further investigation we found it to be a sack of flour from the Luckey flouring mills and marked "Fahle & Son." From our experience with the flour it might be called an appetizer.
W. H. Schwan, our furniture man, has been kept busy this spring supplying the newly married people with the wherewith to keep house, and some of the goods went miles from town, showing that Mr. Schwan has a wide range popularity.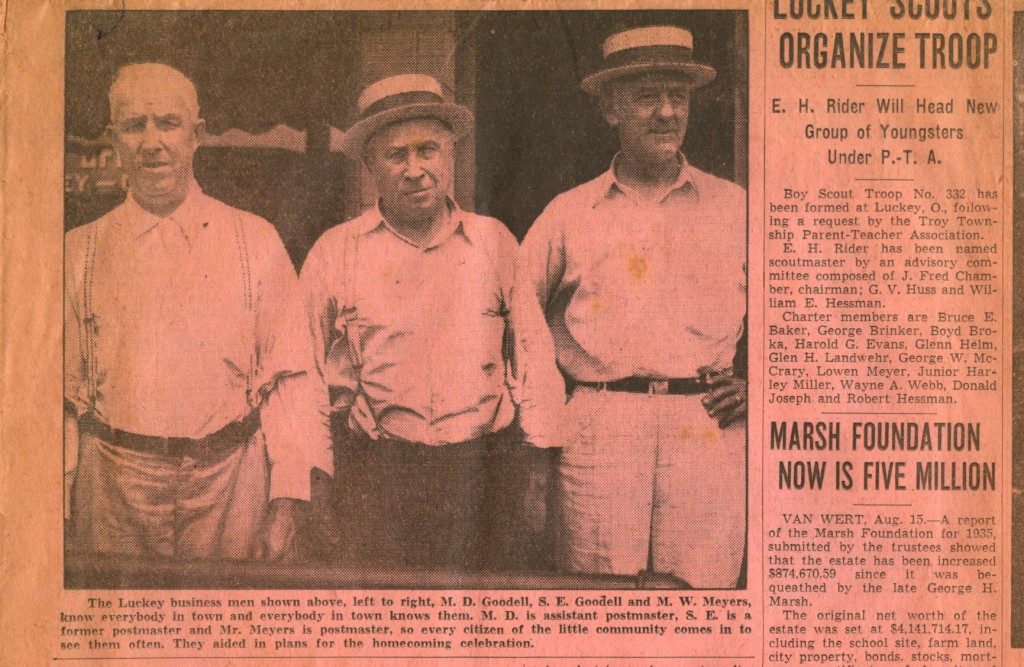 above;  Toledo Blade,  August 15, 1936