Presidents Letter – February 2012
There will be no Feburuary meeting. Another meeting has been scheduled for the library at our regular meeting time. We will plan on meeting in March as usual.
The Notable Figures of Troy Township Cemetery committee met this week (Feb. 9th) at the home of Dave Derr. The committee under the leadership of Dave were able to accomplish many things. First order of events was to rename who we were recognizing. It was decided that we should be recognizing "Notable Figures" instead of "Historical Figures" as all of the persons we wished to recognize could not be considered "historical".  After a search of the definition of "notable persons", Dave was able to present the committee with criterion of a notable person. A notable person has made a recognized contribution that is part of the enduring historical record in his or her specific field.
Categories of notable persons was also more clearly defined. The Categories of notable perosns iclude; 1. Early settlers (pre 1881) 2. Town fathers (pre 1881) 3. Military – all serving before the Civil War, killed in action and high ranking officers.  4. Business  5. Religous  6. Educational  7. Athletic – (including those individuals aquiring 'All State')  8. Municipal  9. Entertainers  10. Creative Professionals (broad category – includes artisins, artists, chemists, engineers, photographers, journalist, etc.) Dave and Fred, really did their homework.
Fred and Dave also came up with a  means for sharing our information with the public in the form of a trifold brochure. Sally will put some finishing touches on the design and will share it with members at our March meeting.
It will be important that persons submitting nominations make it clear what was the nominees recognized contrubution and helpful under what category they would qualify.  Once we have things a little more refined we should find some means of sharing the information with the public. Hopefully we can get the  Bowling Green Tribune to publish an article about our project.
Next meeting;  March 22  at 7:30 in the Luckey Library
Over and out,
Sally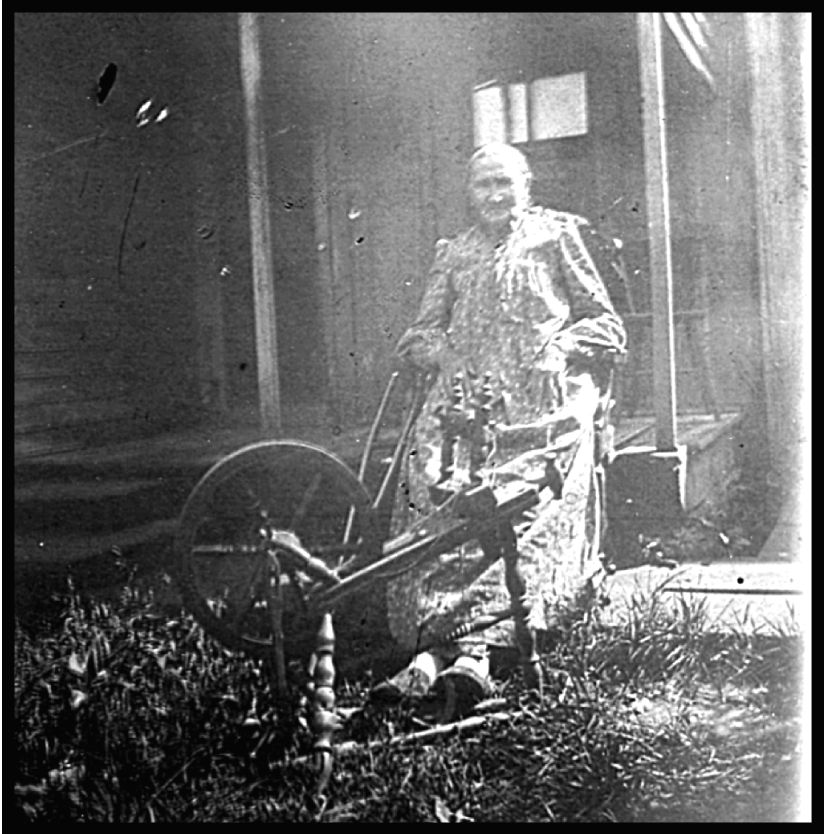 Above; I love this early photograph of one of our early settlers. As with many of the early settlers, her lineage is intertwined among the beginning families of the area. This photo is from a tintype. Picture is Charolotte Borcherding born 1791 in Germany and died 1857 in Woodville, OH. 
 BROWNIE AND BEA'S
   Harold Martin Sattler was born June of 1902 and Genevieve his wife was born April of 1904. They were married July of 1929. Harold (Brownie) and Genevieve (Bea) colored the lives of a small community and hundreds of travelers passing through Webster Township. Brownie and Bea owned and operated a small country restaurant sitting along old route 23 (now 199) just outside the town of Webster. In the beginning (1950) their business was not only a restaurant but also a gasoline station and convenience store. Brownie and Bea are both gone now, Brownie passed in 1993 and Bea in 2002, but warm and fond memories of the couple's contribution to the community are still recalled. Unlike most of the small restaurants nestled along old county roads, Brownie and Bea's survived well into the 1980's. In the 1950's these small restaurants dotted the countryside and were a necessary part of travel. As a child I recall stopping at such eateries on our vacations across country in our station wagon (all 6 of the kids tucked in our Ford station wagon.) Below are two newspaper articles written about Brownies and Bea's. Enjoy.
"BROWNIE & BEA'S TAKES YOU BACK"  by HANK HARVEY 
[Toledo Magazine, May 13, 1984]
Places like Brownie & Bea's once were seen along every major highway, back when gas was 30 cents a gallon. Almost all are gone, but this one has survived, mostly on friendship.
The angular building with the drive-through porch and the two gas pumps sits close to the highway, a throwback to the days of the rumble seat and Burma Shave signs.  Places like Brownie and Bea's, about a mile north of Scotch Ridge, O., on State Rt. 199, used to be seen along every major highway back when gas was 30 cents a gallon. Most are gone, but this tiny cafe and station has survived, mostly on friendship.  Harold (Brownie) Sattler, 81, and is wife Genevieve (Bea), 80, have been dishing our coffee, eggs and hamburgers here for 33 years, served with generous slices of humor and friendliness, and some good-natured cantankerousness. Times have been better, Brownie recalled one day recently as he served lunch to a few neighbors and farmers who make the place a regular stop. Only three men were there – Jerry Farmer, who runs a farm nearby; Ben Waggoner a businessman and another regular, Don Aring.  "Why have I stayed in business so long? Guess I didn't want these poor devils to starve to death," Brownie said while getting some cheese out of a refrigerator in the middle of the dining room.  Some hoots of derision followed the remarks, but they were softened with smiles that have grown familiar over the decades.  Bea poured coffee for the men, meanwhile asking about their children and crops and making small talk. U.S. 23 once ran past, but when I-75 was opened in the mid-60's, the state swapped designations with State Rt. 199, which formerly ran eight miles east. The rerouting gave U.S. 23 a direct interchange with both I-75 and I-280 since there was no interchange built where old U.S. 23 entered Perrysburg on Louisiana Avenue. "Our parking lot was always full and our two sons had to help out on weekends. We stayed open til late at night just to take care of all the business," he said.  U. S. 23 was the main route taken by autoworkers from Detroit on their way home on weekends to Kentucky and West Virginia. "They would come in and order deluxe sandwiches for themselves and ask if we had any used oil for their cars. These were the guys that built 'em too," he laughed. He brought out an old 1950's menu, featuring hamburgers for 30 cents, ham and eggs, 85 cents, and coffee for a dime. "I had planned to hang it up in the back room, but everybody would want to eat in there and order from it," he said.  When the highway was moved business nosedived. There's a sign, one of dozens which plaster the walls, saying:" "There's not much buying and selling in Heaven, because that's not where business has gone." Gas sales went from 6,000 gallons a month to about $600 worth every two weeks today. The station-restaurant cut back its hours, and today is open from 5:15 a.m. to 4 p.m. and until about 1 p.m. on Saturdays.  Today, Brownie and Bea dish out a few breakfasts, but business is mostly the lunch crowd; regulars who stop by, some just to see how things are going around the Webster Township neighborhood. The small cafe used to pick up some business from the former Webster High School, but it was converted into an elementary school, and the trade dropped off immediately.  There is not much through traffic on 199 and very few travelers bother to stop. "We manage. Jerry Farmer keeps our driveway plowed in the winter and we feel that everybody will help if we need it," Brownie said.  The dessert menu consists of the one pie Bea bakes each day. Today, it is pinapple cream, and it is soon gone.  Not much happens along 199. During the blizzard of 1978, 13 people took shelter there, including some neighbors who were without heat.  "We had plenty of propane but no electricity, but we were warm. There were people sleeping on the floor, on the chairs and on the tables," Brownie said.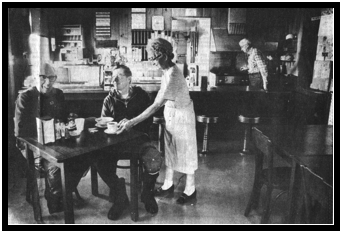 Above; Bea serves Don Aring (left) and Willard Brinker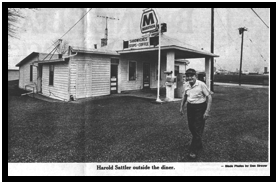 "Brownie and Bea's: a piece of history along Ohio 199" by Jan Oberhouse [The Daily Sentinel-Tribune" BG, OH 26 Jan 1987]
Genevieve Sattler used to have to bake six or seven pies every day to keep up with her customers. And her husband Harold, had to pump gas and help out in the kitchen until 10:30 p.m. But now Mrs. Sattler only makes one pie a day and her husband closes the pumps at 2 P.m. It may even take two weeks for customers to finish off a whole ham. But even though their business has dwindled since 1950, they are still a vital part of the neighborhood along Ohio 199 (Old Route 23) north of Scotch Ridge.  The Sattlers, better known as Brownie and Bea, operate the only gas station on Route 199 between Perrysburg and Fostoria.  The business has also been their home for the past 37 years.  At the station, they offer much more than gas. The couple provides several area farmers with a warm place to get a bite to eat at lunchtime. Some days only two or three may come in for lunch, but the Sattlers know that they will be back the next day.  According to Sattler, there are advantages to having the same "regulars" for lunch everyday. When the customer orders a hamburger, he doesn't have to ask for everything on it but onions—because Sattler knows.  "That's the idea when regular customers come in", he said.  The restaurant's most loyal customer, Don Aring stops for lunch almost every day. "He has to have his bowl of soup, a sandwich and a piece of pie with ice  pg. 3 cream, "Mrs. Sattler said.  Walking into the gas station-restaurant is like stepping into the past. The old Heinz soup kitchen still sits in the corner. A rounded glass cabinet holds a few pieces of candy and three red stools sit in front of the red counter. The gas stove in the corner fills the room with warmth. The gas stove in the corner fills the room with warmth. The walls are scattered with yellowed newspaper clippings of comics making fun of old age, marriage and work.  The wooden clock, from the late 1800s, clicks away time by the door, eve though "there's been at least 150 people that have asked for it," Sattler said. Outside, the old gas pumps stand next to the large white columns, which were customary features at gas stations in the past. The "EATY" sign beckons hungry travelers to stop for a home-cooked meal. A Marathon sign now hangs in place of the Texaco sign.  In the early 1950's, the Sattlers were the busiest ever. On weekends it would take both of them and their two boys to wait on customers. Hunting season brought in the biggest crowds.  "We would have 45 to 50 to feed. She'd have to make a couple kettles of soup." Sattler said of his wife. Gas was around 25 cents a gallon, hamburgers sold for 30 cents, ham and eggs for 85 cents, and rolls and coffee for 20 cents.  "We used to be open until 10 or 10:30 at night. That's when we didn't know any better and kept on working," Sattler said.  But a few years later, business changed when Ohio 23 was changed to Route 199, and much of the traffic which used to pass by Brownie and Bea's was routed east.  The first year of the change, Sattler said "It knocked my profit $1,300 that year." The store, which also sold groceries, was further hurt by the emergence of supermarkets, he added. The food delivery drivers no longer made stops at the gas station, except the ice cream man who still stops if Sattler hangs a milk carton out front. So the couple now goes to Luckey for their groceries. Mrs. Sattler still manages to make vegetable, bean or noodle soup for her customers, and of course, homemade pie.  "She snaps the lights on at 4:30 in the morning to make her pie. But we don't open up till 5:15," Sattler said. The couple has to open up that early because area Chrysler and Jeep workers stop in for coffee carryouts on their way to work.  Closing early in the day and on holidays and Sundays now gives the couple time to do other things. Mrs. Sattler, 82, now has time to make her homemade noodles and take occasional "kitty naps."  Sattler, 84, is often found sitting in the room off the dining room working on puzzles.  Some of the area farmers even bring tough puzzles in for him to solve for them.  "We have to slow up," he said.  But the next morning, the couple is up again, ready to serve their "regulars."
Above; Genevieve (Bea) serves Don Aring while her husband Harold (Brownie) checks the stove.