President's Letter – April 2012
I attended the March meeting of the Troy Township Trustees and requested that the cemetery records be made available so I could scan or record them. After a bit of discussion in regards to where and in what form the records were located, it was decided that they need some time to get the records in order. I was told that they would be made available to me but it would take them a while to get them presentable. I am still waiting for their call to let me know when and where I can start to work scanning the information. At the present time, all of the records are stored at the Troy Township Fire Hall. When I get finished we will have digital copies that can easily be stored anywhere.
At our March meeting it was decided that we could vote on our first round of "Notable Persons of Troy Township Cemetery" at our April meeting. We have had a number of individuals nominated. A list of those nominees follows.
Notable Person           Area of Notoriety         Special Notes  
Peter Ruch 1827 – 1914        early settler,veterinary     imm from Germany in 1873, Luckey's first veterinary surgeon, wife Anna Maria Kasserman, also imm from Germany
*Elmer Jacobs 1909- 1976    business,  municipal      owner-operator of Luckey Food Market & Jacobs Market for 45 years Helped organize & was First Assisstant Troy Township Fire Department. Anyone in need could always depend on Elmer to help them out.
Harvey Helm  1900 – 1993        business,  politics      insurance salesman, always willing to help those in need. Luckey mayor for a period of time.
Lloyd Weddell 1916 – 1991   creative professional      Master wood worker and carver, musician
Dallas Gardner  1926 – 2008   educational        Eastwood teacher, principal and superintendant, county superintendant, WWII navy veteran
Doyce "Frenchy" Filiere  1912- 1976       educational  athletics            teacher, basketball coach, basketball "icon", a member of Ohio High School Basketball coaches Hall of Fame, put Luckey on the map.
George H. Landwehr   1863 – 1949   early settler          early settler, wealthy farmer, father of Harm, Edna, Carrie, Alma and William
Peter Layman  1836 – 1916  early settler,  farmer        imm from Switzerland after 1863, wife Helen Geckle, had 8 children
Anna Barbara Jacobs  1810 – 1895   religious   leader       founder of Luckey Evangelical Church (now Zion Methodist)
Isaac Washington Krotzer  1842 – 1889   Military, Founding father        owned & plotted the land to become Luckey, Civil War soldier, enlisted   2 May 1864, discharged 4 Sep 1864, Corporal in OH infantry H Comp.  169 Reg.
*photograph of nominee, Elmer Jacobs on the below.
**Helen Rolfes was nominated, however, in her obituary included as part of her nomination, it states that she was buried at the Salem Lutheran Church Cemetery.  At this time we are only honoring Troy Township Cemetery residents. [note; since the publishing of this newsletter we have found the location of Helen's gravesite and she is a Troy Township Notable Person]
The resource titled "Troy Township, Wood County, Ohio Chicago: J. H. Beers & Co., 1897" lists 40 persons from Troy Township in their "Distinguished People of Troy Township 1897". However, as close as I can figure, only 21 of these 40 persons were buried in the Troy Township Cemetery. My first thought was to include the biography of each in our newsletter so you could read and study them. However after including only 7 of them, I realized that our newsletter would have to be about 15 pages long to include them all.  I believe that each one of the persons included in the list should be included in our list, however, I cannot make that decision. I would also like some help going over each biography and deciding which area(s) of notoriety for which they should belong. I am thinking maybe we could have an afternoon work time. We will discuss such a work time at our regular meeting.
See you at out next meeting Thurs. April 19th at 6:30 P.M. in the Luckey Library
Next month's meeting will be Thurs. May 17th – same time, same place.
over and out,     Sally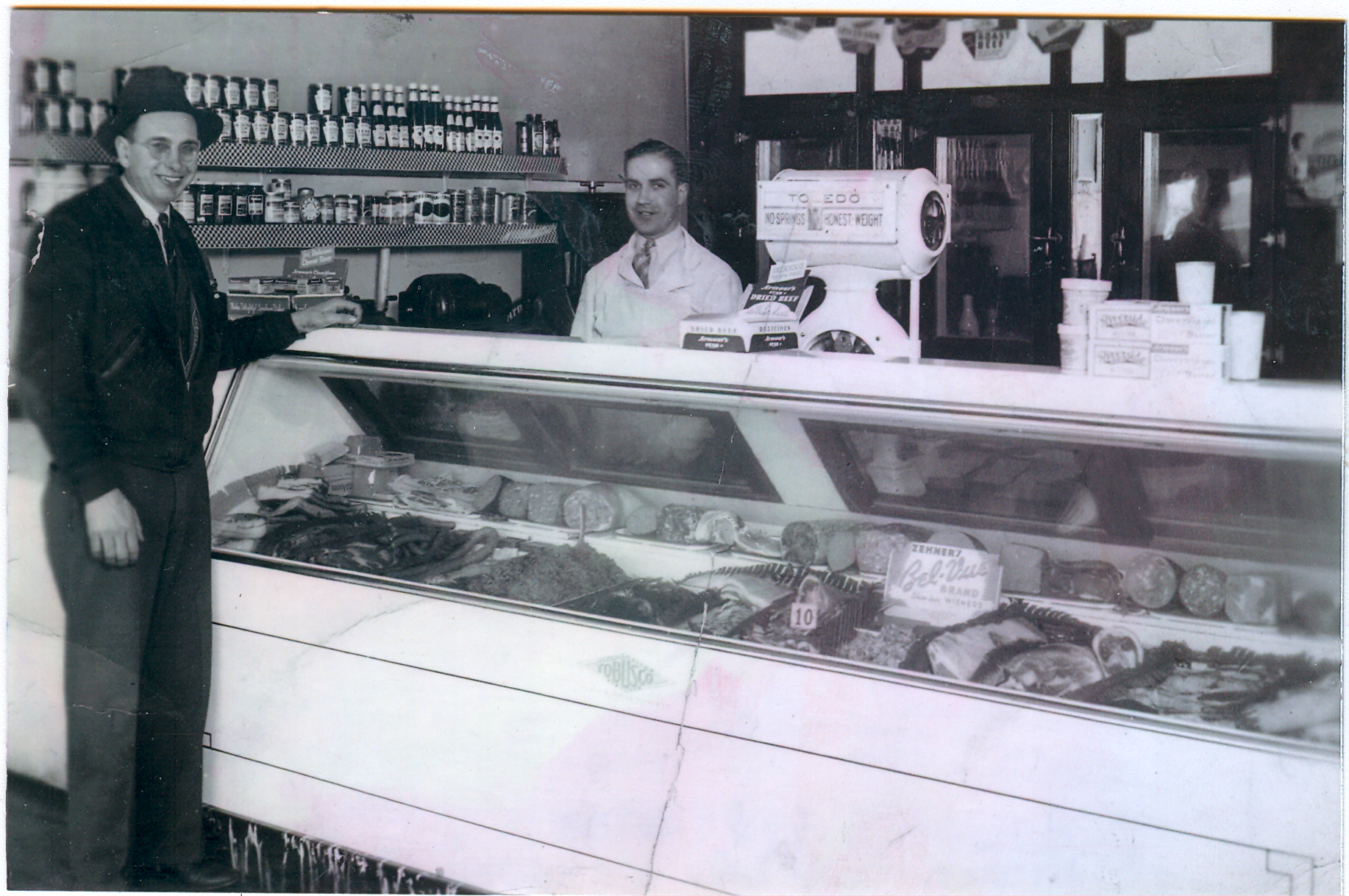 photo above; property of Donna and Harley Jacobs. In the photo is shown Elmer Jacobs behind his meat case in the Jacobs Market around 1932. Elmer was the meat cutter and in business with Gordon Huss. The fellow to the left is Clarence Michaels, farmer, who lived east of the railroad tracks on Middleton Pike.  Elmer lived above the store with his wife Bernice. Bernice operated a beauty parlor in their apartment. This market burned Jan 9th, 1940 along with a shoe store at 228 Main St. The market was rebuilt in 1941.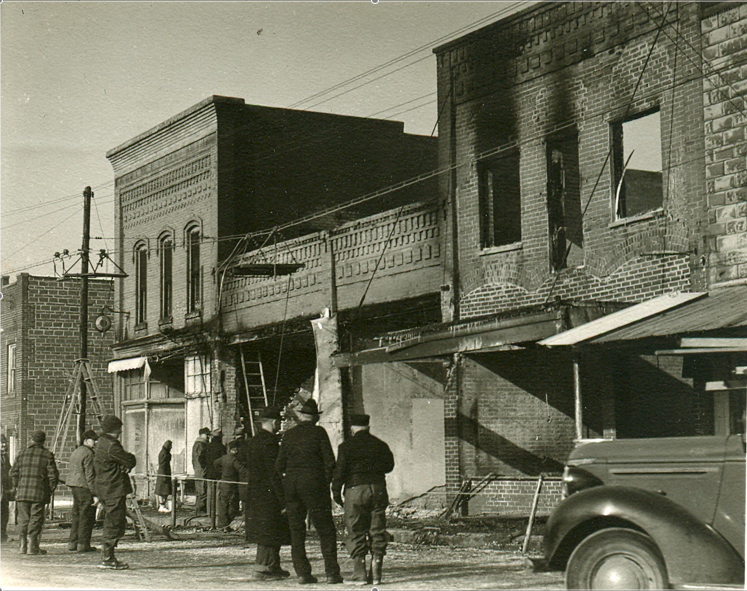 Photo above; This photo of the 1940 fire also appears in the Luckey Centennial book, however it is not labeled. I see three buildings in the photo – #1 to the left with the 3 windows above, #2 in the center only one story, and #3 to the right with the strong burn marks coming out of a window and door(?) on the second floor. Is #3 the Jacobs Market? Can we identify the buildings? Can we identify any of the people in the photo?