Presidents Letter – June 2012                                   

This weather has been crazy. I've often thought of moving north to avoid the hot humid weather of NW Ohio but I don't think it would do me much good. We have friends in Minnesota and the weather has been just as hot up there. I have been busy doing nothing. I injured my knee and have not been able to do much of anything outside and haven't been able to drive. I am learning the fine art of polishing my fingernails – my nails have never looked so good.
At our May meeting we had Lavada Graening and Keith Neiderkohr each share some Luckey history. Lavada shared family history along with beautiful old photographs. Keith shared with us the history of the youth athletic organization.
I have had all sorts of time to search on line for information regarding our Troy Township Notable Persons Nominees. Following is a list of nominees and their category(s) for nomination. If there are other areas you believe are important to the individual – let me know. I am also be including information on each nominee and hopefully we can vote on them at our June meeting.  If you have any additional information on any of the Nominees please bring to the meeting for sharing. We are still taking nominees if you have found some deserving Notable Person buried in TTC.
Hope to see you at the meeting – Thurs. June 21st, 2012.
Over and out
Sally
Frederick Wlecke  1815 – 8 Dec 1893    Troy Township Pioneer
Maria Carsedres Wlecke 1822 – 12 Jul 1855  Troy Township Pioneer
Frederick Wlecke  and his wife Maria Carsedres were married in the old country before immigrating to America. We find that their first child Maria was born in Hanover in 1849 and son Henry was born in 1854 in Ohio. We can then assume that Frederick and Maria emigrated from Hanover to Ohio some time between 1849 and 1854 and then making their way on to Troy Township, Wood County, Ohio. The Blecke family farm was located on Devil's Hole Rd. Both Frederick and his wife Maria were buried in Troy Township Cemetery. It is believed that Maria may have been the first person to be interred in that cemetery.
We know that at least two children were born to Frederick and Maria. Records show that the children used "Blecke" instead of the former "Wlecke". Maria Clara Blecke was born 24 Nov 1849 in Hanover Germany and came to America as did her parents. Henry Frederick Blecke was born 15 Oct 1854 here in Ohio. Both children married and bore children. Maria married Joseph F. Bihn (1839 – 1909) from Liverpool Township, Medina County and bore him thirteen children. Joseph owned a farm in Ottawa County until 1902 when he sold his farm and moved to Michigan. Maria Clara is buried in the Eisenhour Cemetery outside of Pemberville, OH. Henry Fredrick Blecke married Emma Cable born 1 Dec 1855 in Ohio and of German heritage. To them were born four children, all of whom lived in the Luckey area.
Pearl Vida (Stephens) Blecke 1822 – 12 Jul 1855                                                               Musician
The eldest son of Henry & Emma Blecke was Frederick "Fred" H. Blecke born 10 Apr 1884.  Fred married Pearl Vida Stephens born 1888. Fred owned his own farm on Dowling Rd. near the intersection of Dowling and Luckey Rds. Fred and Pearl had no children. Fred hired several local men as farm hands. Pearl was known for her beautiful music she created with her piano. Pearl learned to play at a very young age. Fred and Pearl are both buried in Troy Township Cemetery. Next to Pearl and Fred's tombstone in the Troy Township Cemetery is buried "Ada Stephens 1870 – 1924". Ada is the mother of Pearl. Ada's father is not buried in this location. Ada died at the young age of 54. Her husband John Stephens remarried, his second wife being Rhetta Harter. Both John and Rhetta are buried in Troy Township Cemetery in section A1. Ada owned a 40 acre farm in Webster township on Devils Hole Road. The Blecke farm was also located on Devils Hole road but farther east and in Troy Township OMIT. The Wlecke/Blecke farm was located on the south side of Devils Hole and surrounded the Toledo and Ohio Central Railroad. We can assume if dates are correct that prior to marriage, Fred and Pearl lived less than a mile from each other on their respective family farms on Devils hole road.
Harold Wachter 3 Sep 1930 – 28 Jun 2009                                                         Athletics, Government
Prior to 1972 Harold Wachter was in charge of the baseball program in Luckey. Through his hard work the first baseball diamond was constructed. Besides getting the field ready for game day, he scheduled the games for all 5 teams and coached them. Add to this that he purchased uniforms if he could find the money as well as all of the equipment. In his spare time he ordered everything needed for the concession stand. Harold Wachter basically did everything. The one thing that caused the most problems for Harold was finding money for equipment and uniforms.
Harold served on Town Council and was also an active member of the Kiwanis Club.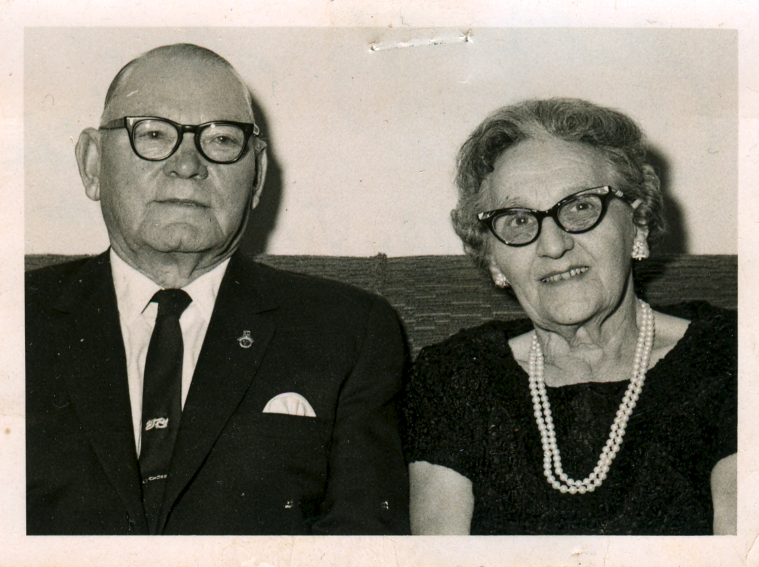 photo above property of Ruth Rothenbuhler;  John and Lelia Landwehr 50th anniv.
John Harmon "Harm" Landwehr 20 Oct 1893 – 6 Dec 1990                                                  Businessman
John Herman Landwehr (J. Harm or Harm as he was known by his friends) was born the 20th of October 1893. He was the son of Frederick George Landwehr born 1863 and the grandson of Johann Heinrich (John) Landwehr born 1828 in Germany.  He was born just west of Luckey on State Route 582 at the intersection that was formerly was known as Orville Miller Corners.
Harm only attended six grades of education at the Zion Lutheran Parochial School, sometimes called the German School. Even though he only had six years of elementary education, he was able to complete his studies at the Case School of Applied Sciences and became a licensed embalmer and undertaker.
Harm served in the military during World War I. He served for two years in Austria and Italy during the war. After his tour of duty he married Lelia Martin on October 23, 1919. Lelia had 8 years of school in Bethlehem Parochial School, Pemberville. Both Harm and Lelia were very intelligent in Math and Spelling. Harm apprenticed and worked for W. H. Schwann Undertaker located in the Furniture Store that is now Otte & Son Plumbing (234 Main Street) in Luckey. Harm and Lelia had two children, Betty Jane (Blevins) born May 1921 and Glenn born January 1924.
Lelia Louise (Martin) Landwehr 16 May 1895 – 24 Dec 1997                                              Village Historian
Lelia as stated above was the wife of Harm Landwehr. One of her passions was the history of the people of Luckey. Lelia collected and preserved hundreds of news articles and obituaries for the people of our area. When researching the families of the area, it is not uncommon to find credit given to the Lelia Landwehr Collection.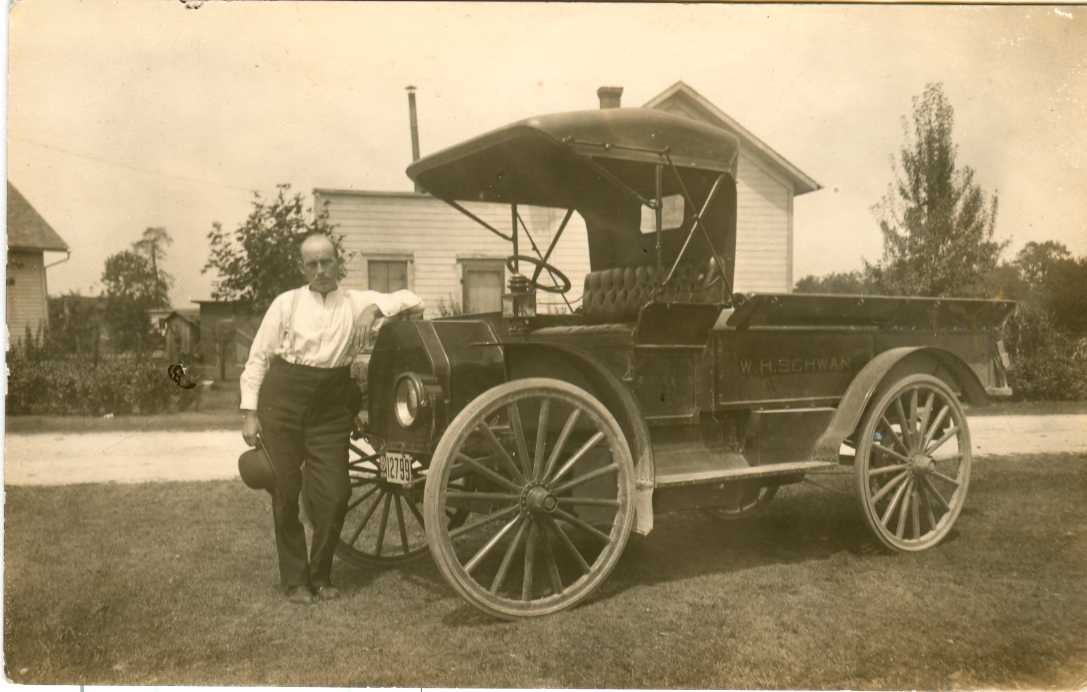 photo above; William Schwann with his company truck, photo property of Betty Blevins.
William Schwann 27 Aug 1881 – Apr 1940                                                                                                             Religious leader, Businessman
William was a native of Troy Township being the son of Fredrick (Apr 1849 – 1910) and Eliza Schwan (B 8 Dec 1855). William  Schwann was the owner and mortician of the Schwann Funeral Parlor located in what is now Otte Plumbing – that location being the western end of the commercial block on the north side of Main St., downtown Luckey. William Schwann was a leader in the separation of the Zion Lutheran and Grace Lutheran Congregations. Zion Lutheran was the mother church, their services and school were spoken in German. Mr. Schwann believed the congregation needed to be modern and wanted the worship service to be in English. He was a driving force in the establishment of Grace Lutheran Church where English was the primary language. William and his wife Nettie M. Schwann had no children of their own but William was very generous in the support of others.
Earl Lewis Rife (Red) 14 Nov 1919 – 20 Apr 2011                                           Statesman, Law Enforcement
         It is difficult to be brief when writing a biography for Earl Rife. His list of notable accomplishments is extensive. "Statesman, Law Enforcement" doesn't seem to do the man justice. A better "short list" would be as follows; Kentucky Col., WWII Army Air Force Veteran, Wood Co., Sherriff's Deputy and Sheriff, Director of Wood Co. Juvenille Det. Cntr and Clerk of Courts, and appointed as U. S. Marshal under Pres. Reagan.
Earl Lewis (Red) Rife was born on November 14, 1919 to Minnie and George Rife. He grew up in Luckey, Ohio graduating in 1937 from Troy Luckey High School where he was class president. Red married Palma Kiel on his birthday in 1940 at the Grace Lutheran Church in Luckey. Red, as he was better known, was drafted into the US Army Air Corp.   PG 2 and obtained the rank of Sergeant while in charge of the AA  base security squadron, Randolph Field, Texas. It was this background that led him to a career in law enforcement of over fifty years.
Red's oldest son was born at Randolph, Texas in May 1944. When orders came for Red to prepare to ship out during World War II, Palma returned home to Ohio with her son. After being honorably discharged on November 10, 1945, Red returned to Luckey where he worked for the Luckey Lumber Company. Harvey Helm informed Red of a position open with the Wood county Sheriff's department. Red accepted the job with the department under Sheriff Clarence Marsh.
The Wood County Sheriff's department at the time when Red joined the force, consisted of four deputies. The first 15 years of service for Wood County were as deputy, the last 12 years of service were as the elected county sheriff. In 29 years of service he was able to see the department grow from four to twenty nine personnel including road deputies, jail personnel and his wife Palma who was the matron. He was the first sheriff in Wood County to establish contracts with two townships in northern Wood County where dedicated officers were assigned and their salaries paid by the township. At the time, Wood County was the second county in the state of Ohio to implement this process.
After leaving the Sheriff's office, Red assisted in developing the Wood County Juvenile Detention Center and served as its first director for four years. He was then elected Wood County Clerk of Courts and held that office for four years. After the election of Ronald Reagan in 1981, the Honorable Delbert Latta who was the Dean of the Ohio Congressional Republican delegation nominated Red to the position of United States Marshall for the Northern District of Ohio. After a thorough vetting process by the FBI, Red's nomination was submitted by the President to the Senate where it was approved. The Northern District consists of 44 counties with offices in Cleveland, Akron and Toledo. Earl served until 1989. Even with his extensive law enforcement career, the Marshall's Service required additional training at the Federal Law enforcement Training Center at the Glynco, GA facility.
Red enjoyed travel throughout the US and Europe where he was able to visit the grave of a family member (Thompson) at a U. S. Cemetery in France. He held various offices with Buckeye sheriff's Association and attended many of the National Sheriff's Association Conferences at which he became a Kentucky Colonel and Tennessee Squire.
Of course church and family were very important, as he was always ready to help in many capacities. At Grace Lutheran Church he served as council president and on other committees over the years. He and Palma delivered wheeled meals for both Wood County Hospital and the Bowling Green Senior Center. He often helped Dr. Neville take patients to the Cleveland Clinic and other medical facilities when they needed transportation.
All holidays were special but Christmas and Mother's Day stood out as he always made sure flowers were at the Church and then taken to the cemetery as his mother Minnie died a few days before Mother's Day in 1944.
While he lived in Bowling Green, his roots were in Luckey. As a life long member of Luckey American Legion, he always had his special events there or at the church such as their milestone anniversaries.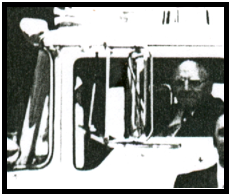 Phil Haas 15 Aug 1904 – 12 Apr 2000                                                Law enforcement, Fire Department
[Most of the following text is directly from a news article published in the Toledo Blade 14 Apr 2000 following his death.]
         Phillip H. Haas was a retired marshal and maintenance superintendent in Luckey and a former chief of the Troy Township fire Department. Mr. Haas was Luckey's only law enforcement officer from 1950 until his retirement in 1976.At the same time, he handled the village's maintenance needs alone, and he was proud that in 1948 he was one of the founding members of the Troy Township fire department, where he served as chief from 1950 to 1976.
"He always said that he would never retire from the fire department. I don't think he ever did. They just put him on an inactive list so that he could hang around the fire station because that was his true love," Mrs. Kopp said.
Originally of Stony Ridge, M. Haas was the last living member of a recreational baseball team in Stony Ridge known as the "All Haas Team" which his daughter said was made up exclusively of players named Haas.
"Nobody could beat them," she said. "They came from two families named Haas, who lived a couple of blocks apart in Stony Ridge, and they had a couple of guys who spelled their last names the same way, but they pronounced it differently. They played teams from Pemberville, Scotch Ridge, and other towns around here." The baseball team stopped playing in the middle 1930's, and Mrs. Kopp noted that her father had been the oldest baseball player on the All Haas Team, but she added that he outlived all of his baseball cronies.
Mr. Haas collected miniature steam engines that he liked to display at county fairs across northwest Ohio, and he was an usher for 10 to 15 years at St. Rose Parish in Perrysburg, his daughter said.
The operators of Nollenberger Truck Center, Inc., on U. S. 20, where Mr. Haas formerly repaired farm tractors, the residents of Luckey and Troy Township, and his granddaughter, Dr. Barbara Kopp Miller, learned to appreciate "The variety of things that he was good at because it seemed to me that he could do anything that he set his mind to," his granddaughter noted.
Mr. Haas liked deer hunting in Pennsylvania and Michigan, picking wild mushrooms in Michigan, and his role as law enforcement officer. "He scolded us all the time," she said. "He also loved razzing and teasing people, but he was never vindictive,"
As village marshal, Mr. Haas used his personal auto to patrol the village, his grandson, Brian Kopp, said but serious crime was almost nonexistent, so Mr. Haas spent a lot of is time correcting juveniles who were misbehaving. "I think he liked being the town marshal and the township fire chief because I believe he enjoyed being recognized around town" Mr. Kopp said. His wife Irene O. Ernsthausen preceded him in death, passing in 1995
Arthur A. Schwartz 20 Jul 1881 – 23 Jul 1964        Toledo Lawyer
I have information on the Schwartz family but cannot find a biography or anything specific on Arthur. I know his body lays to rest in the only mausoleum in Troy Township Cemetery. Does anyone have any more detailed information about his life and accomplishments?
John Fahle 23 Apr 1862 – 24 Feb 1925                                                    Founding Father, Businessman
         John Fahle was the owner and operator of a sawmill and grain mill located at the corner of Krotzer and LeMoyne Rds. He also ran a sugar press and had a steam process that made some of the best apple butter. Early 1920's the John Fahle Mill was purchased byu the Martin Co. and moved to the area north of the post office. The mill was a large, heavy three-story building and some considered it impossible to move. The move was successful and became the center section of the Luckey Lumber Company. The John Fahle residence was 516 Krotzer Ave. John Fahle pumped oil wells in the Luckey area. He was killed in an accident while pumping an oil well near Lemoyne.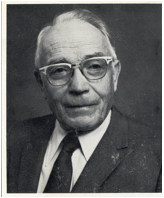 Frank Conrad Hazel 20 Jan 1906 – 27 Apr 1996                                          Author, Businessman, Historian
         Frank was born in Perrysburg, OH. Although he was born in Perrysburg, his parents soon purchased land in Troy Township where Frank spent most of his childhood. He earned a Bachelors degree in forestry from the University of Michigan. He authored the book "The Trail That Leads Back" detailing his life growing up in NW OH and his adventures around the country as a young adult working for the U.S. Forestry department. Frank left the forestry department to return to OH where he remained the rest of his years. Frank farmed his father's property and created a nursery and landscape business. Frank and wife Hazel G. Trowbridge 1911 – 1981, enjoyed collecting artifacts. They were responsible for restoring the Weddel homestead which still remains on the Hazel property north of Luckey on Luckey Rd. Frank also collected Indian artifacts and upon his death his collection was placed in a museum.
Peter Layman (last month nominee) information submitted by Ruth Rothenbuhler
Peter was born 21 July 1836. He was the oldest surviving son of Magdalena and Johann Lehmann. Peter was born in Lauperswyl, Switzerland before his parents came to America, arriving in 1849.  On 20 Dec 1863 Peter married Helen M. Geckle who had come to America from Wurtemburg Germany. Helen's parents sold their property in Lake township and moved to Devil's Hole Rd. in 1872. They were the second farm west of the Layman's, thus becoming their neighbors. Peter was involved in the building of the Luckey Zion Lutheran church. Peter and Helen's farm was located in Webster Township, purchased 8 May 1862 located on the southwest corner of Stony Ridge and Devil's Hole Rds.
 PHOTO PAGE
Photos were taken in the early 1900's along Main street looking north. In photos 1-3 we first see the east side of the Town Hall, then the back of the Carr property on Krotzer Ave. then the home with the distinctive windows. The Carr property is shown photos 6 and 7. The 4th and 5th photos show the back of the Carr property in the 4th and downtown in the 5th. The last photo on the page shows the Grace Lutheran church in the process of being built. The Carr property was used for the Grace parking lot. The home with the distinctive windows was moved to Locust St..and the church put in it's place.
#1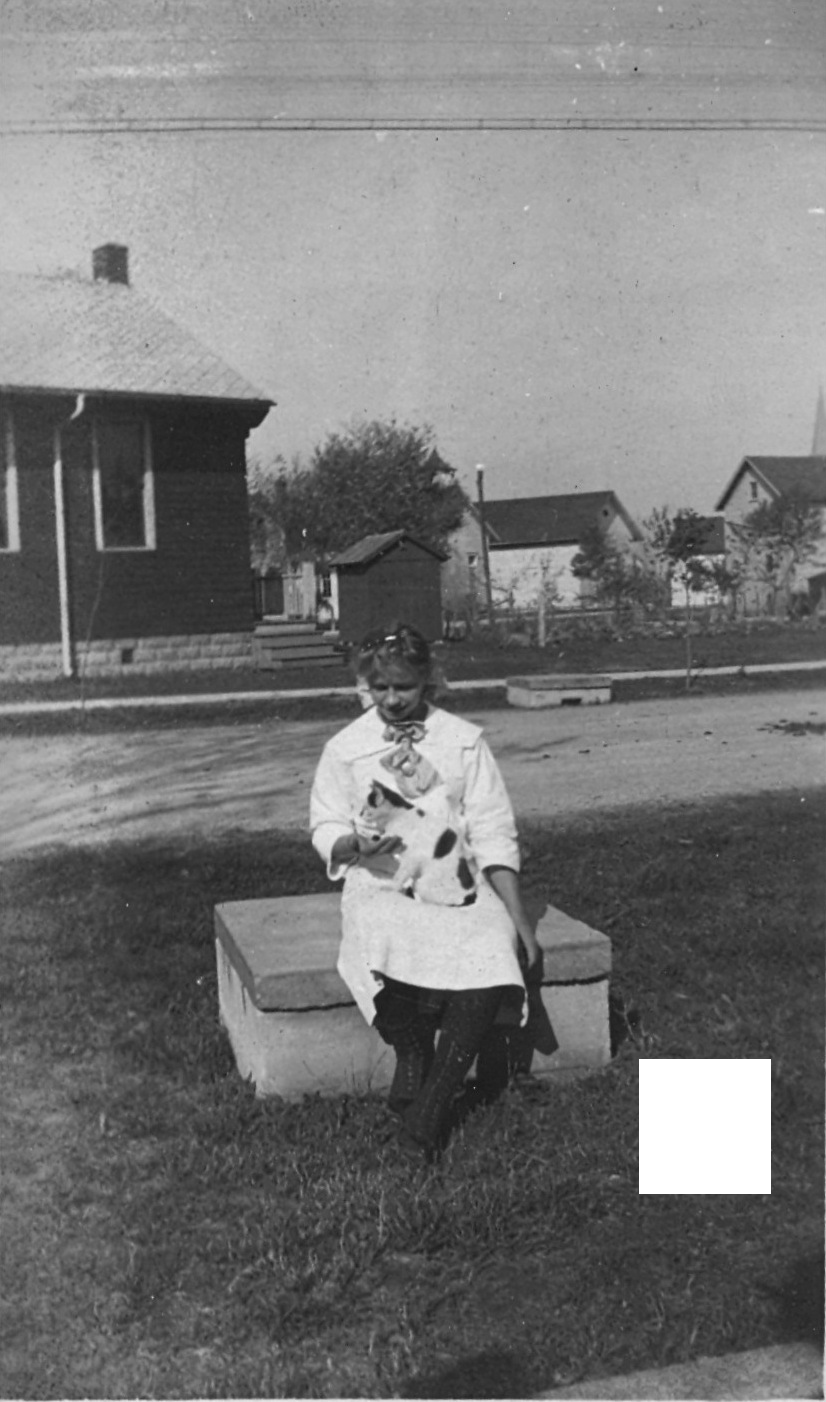 #2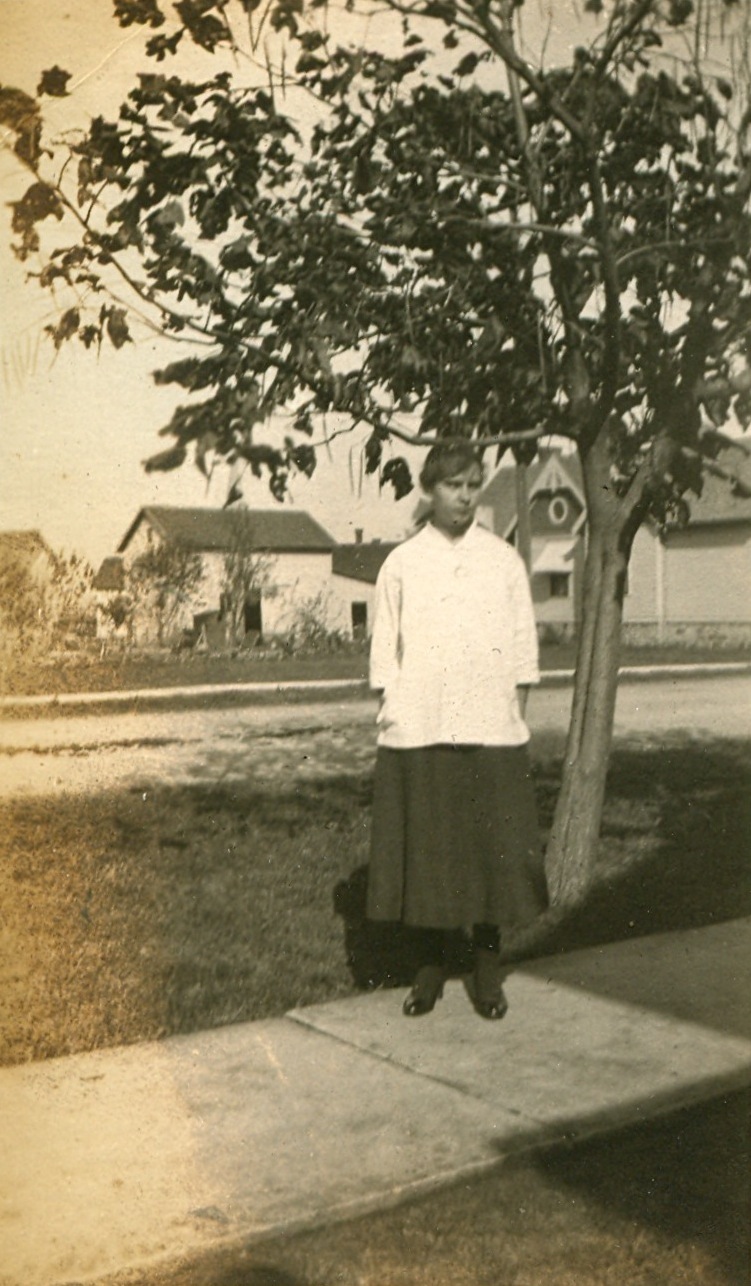 #3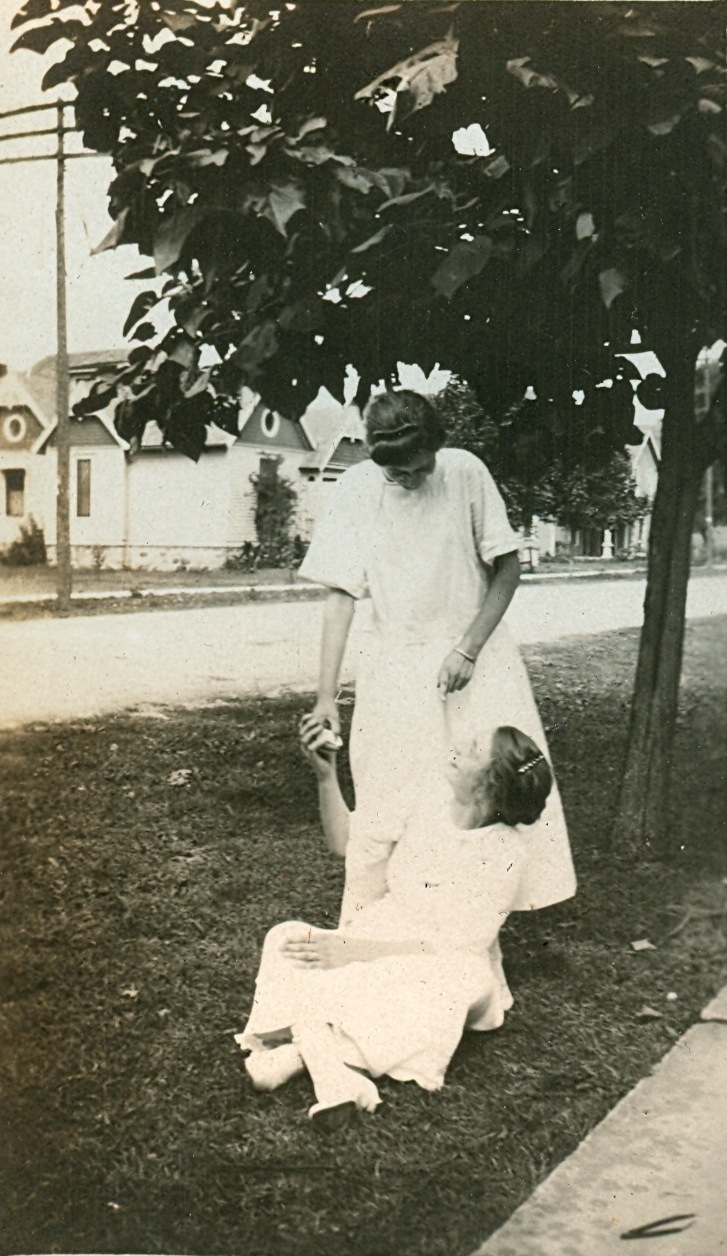 #4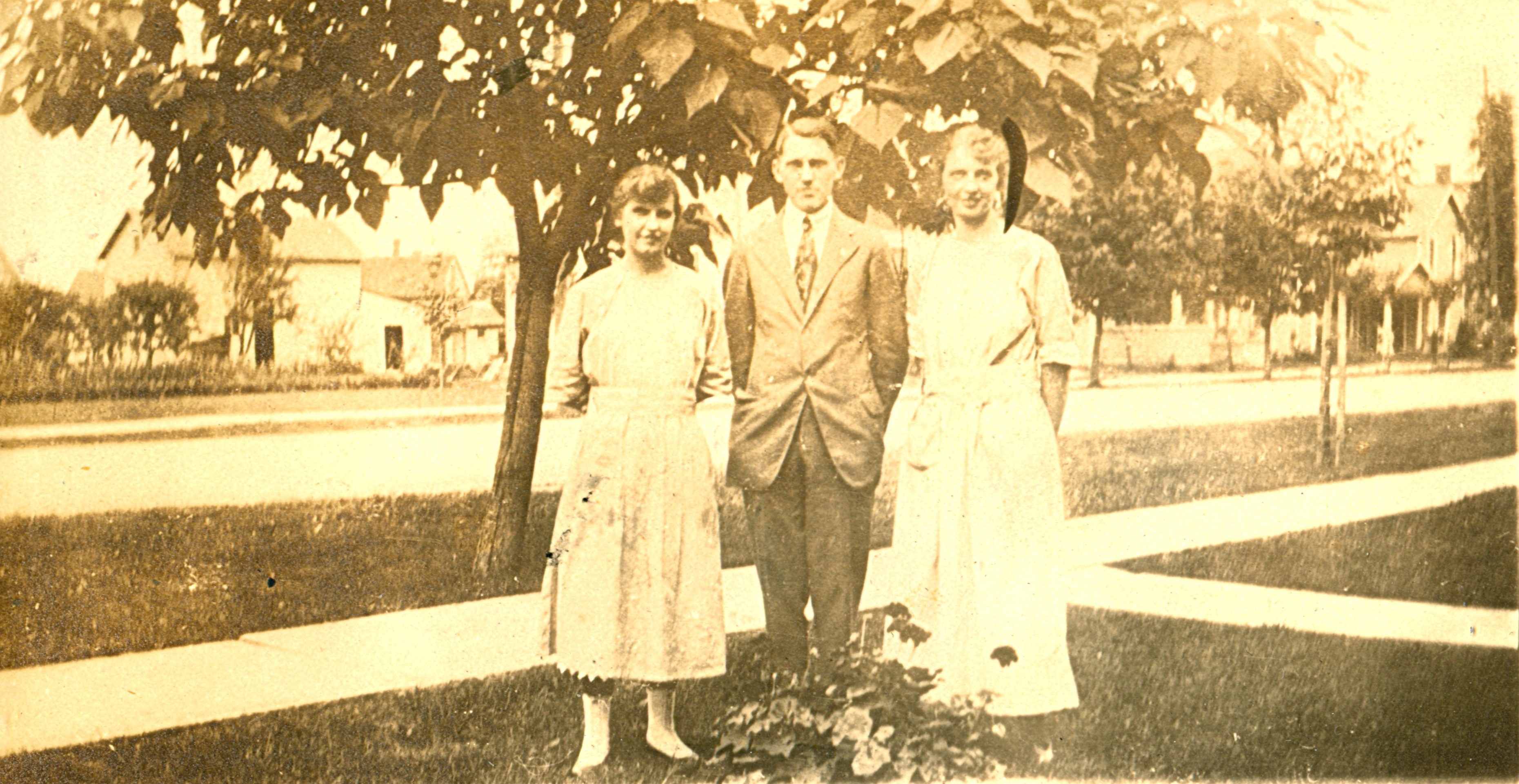 #5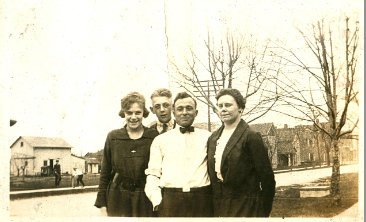 #6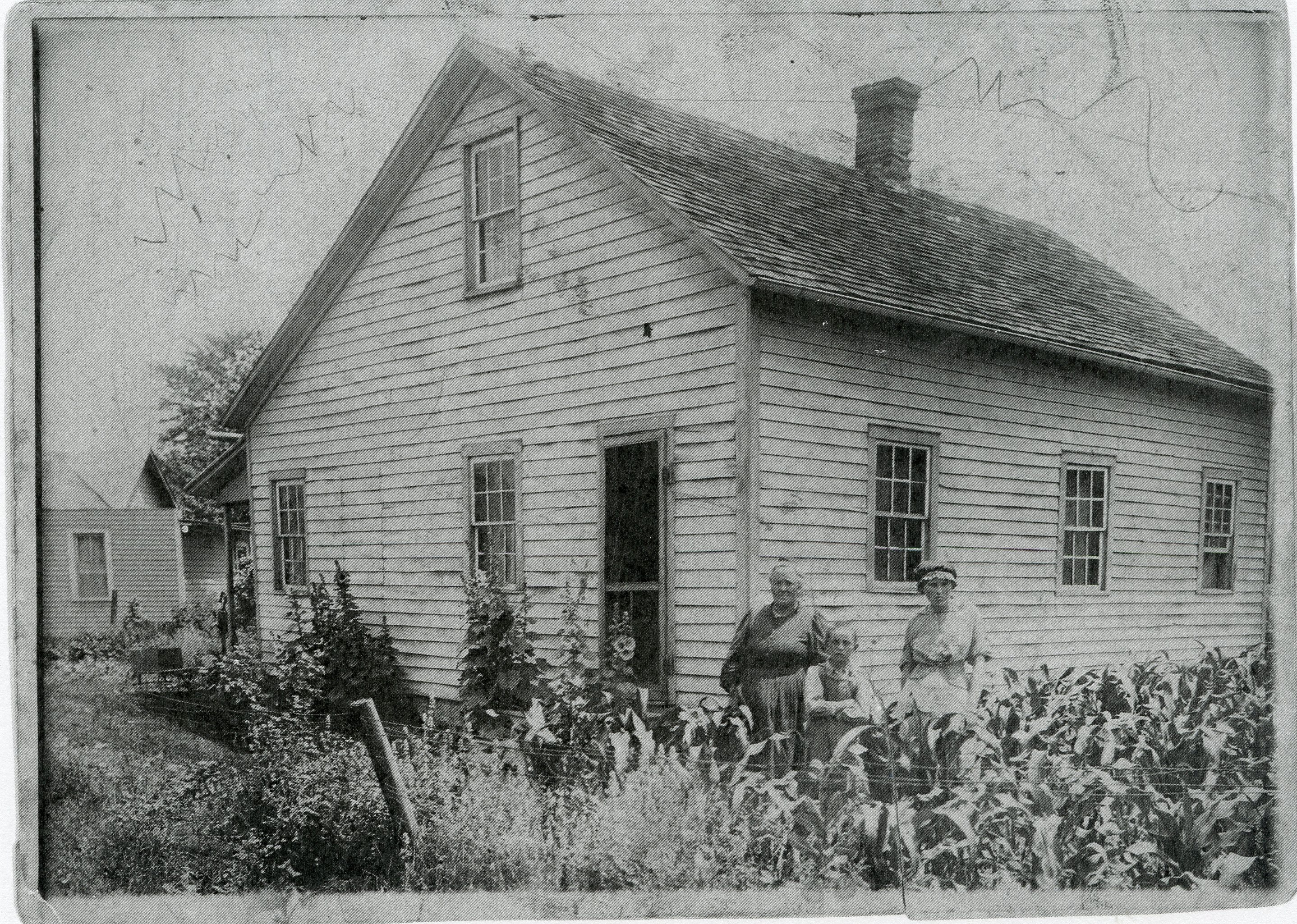 #7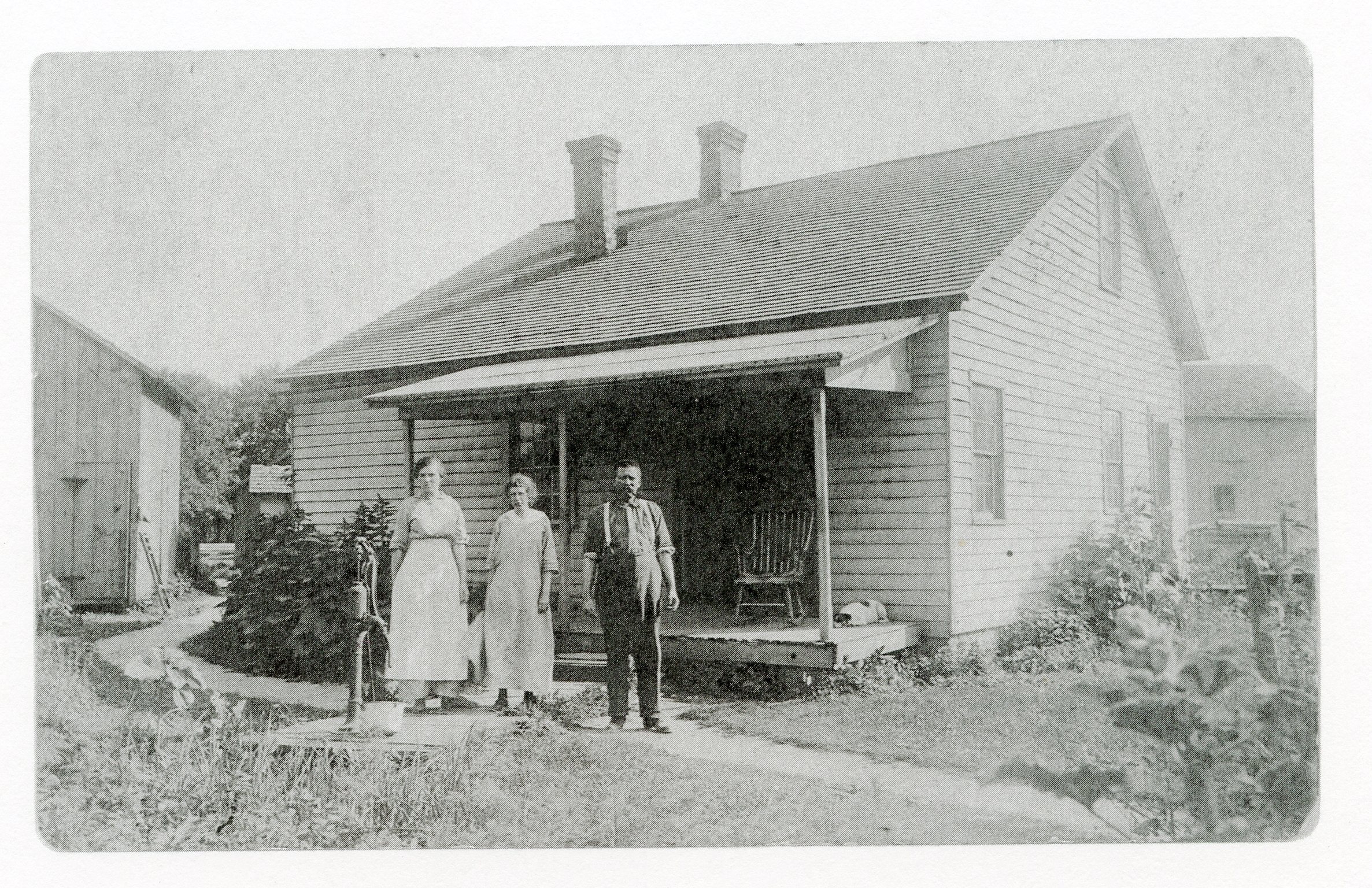 #8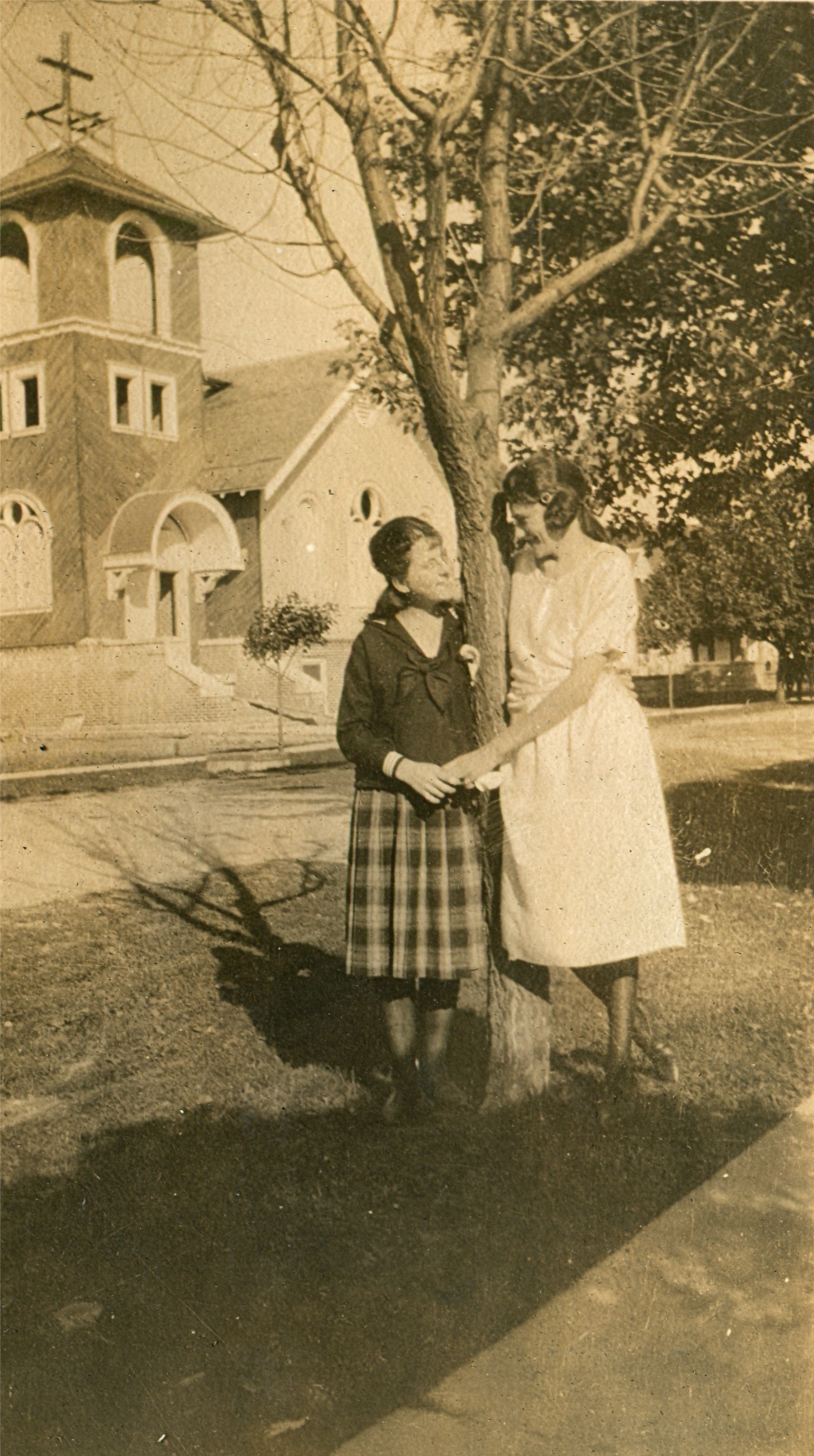 Photos #1, #2, #3, #4, #5, and #8 are from the LHS – BM collection
Photos # 6 and #7 are from Hanna Spahn. People in photo # 6 are as follows; L to R Mary Ann Hahn Carr, Evan Carr, Hannah Carr. People in photo #7 are as follows; L to R Hannah Carr Spahn, Ella Rhode & Charles Carr