Presidents Letter July 2012
There will be no July monthly meeting due to vacations.
This summer will certainly go down in the record books. I can remember only one summer being so hot, that being the summer of 1988. The one advantage we have so far this summer is that it isn't so dry – at least not yet. I spent most of the summer of '88 in the hospital with my daughter. I remember coming home and seeing that the leaves had turned brown on our maple trees and were falling on the ground. I wanted so bad to water my trees but the neighbors well had dried up and we were afraid of the same thing happening to ours…the things we remember. This summer we have had so many dangerous storms in the area; I just cross my fingers and hope no one gets hurt. I cancelled our meeting for this month as our vacation falls that same week. If heat continues we will be staying at home in the air conditioning. The heat does nasty things to ones body, especially if you aren't used to it. So, stay away from the fires, read a good book and stay out of the heat.  Growing up I had an elderly German doctor with a thick German accent. It didn't seem to matter what was wrong with you but part of his remedy was always "stay in das shade unt read de gut bouk".  I think his advice should well be taken this summer.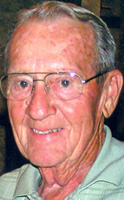 Dallas Gardner – education
            Although Dallas Gardner has already been nominated and elected as a Troy Township Notable Person, addition information was submitted and I would like to share it with you. This was a man of incredible accomplishments. I knew of Dallas Gardner as we both attended Zion Methodist Church. However, I have known his children better than I knew Dallas. To have such well-accomplished children says much about their parents. For those of you not familiar with the Gardners, son Randy is a local state representative, son Mike a teacher and coach, son Gary a teacher, principal and superintendent, daughter Connie (Rutherford) a teacher and guidance counselor, and I do not know daughters Pat, Sandy (Karmol), and Linda (Hammer).
Dallas Gardner was born to Jasper Owen Gardner (1896 – 1954) and Melba Geneive Orn (1905 – 1983). He was born in Nappanee, Indiana. Dallas spent almost three years on a Navy Destroyer as a torpedo man. He had tours in the Atlantic and South Pacific.
Just after getting out of the service in 1946 Dallas went to Ashland College. He earned degrees from Ashland and Ohio State Universities.  Dallas was married 9 Jul 1949 to Velma Brownson. They became the parents of seven children as follows; Mike, Randy, Gary, Pat, Sandy, Linda and Connie. His first teaching assignment was for Whetstone Schools in Bucyrus, OH. His assignment included teaching, coaching and driving bus. At the young age of 24 in his second year at Bucyrus, Dallas was appointed to the position of Superintendent of Crawford County Schools. By 1954, Dallas had moved to Wood County and was the Principal of Luckey Schools. Dallas became Superintendent of Luckey Schools beginning in 1958, and then Superintendent of Eastwood Schools. It was during his term of office that Luckey joined with Pemberville, Dowling and Webster to form Eastwood Schools. Dallas remained the Superintendent of Eastwood Schools, Wood County, OH until 1970 when he became the Superintendent of Wood County Schools and served until 1991.
Dallas has held many distinguishing titles including;
 – First President of Buckeye Assoc. Of School Administrators (BASA)
 – President of OH County Superintendents Assoc.
 – Member of the State Advisory Council on Special Ed.
 – Member of the Wood Co. Board of Mental Retardation and Developmental Disabilities
 – Member of the Owens Community College Board
Dallas always had a passion for golf. He also played and lettered in baseball, tennis and basketball at Ashland College. Throughout his life Dallas golfed as often as he could. He golfed in 47 states, most of the provinces of Canada and St. Andrews Scotland. He enjoyed passing his love of sports to his children and watching his children and grandchildren participate in sports. Dallas continued to be active in the Eastwood community; he was an active member of the Zion Methodist Church in Luckey and the football announcer for Eastwood Eagles until the end of the 2005 season. Dallas has certainly passed on his passion for sports and civil service to his children and grandchildren. His descendants have earned such titles as follows; teacher, counselor, coach, superintendent, OH state representative, and PGA Pro Golfer.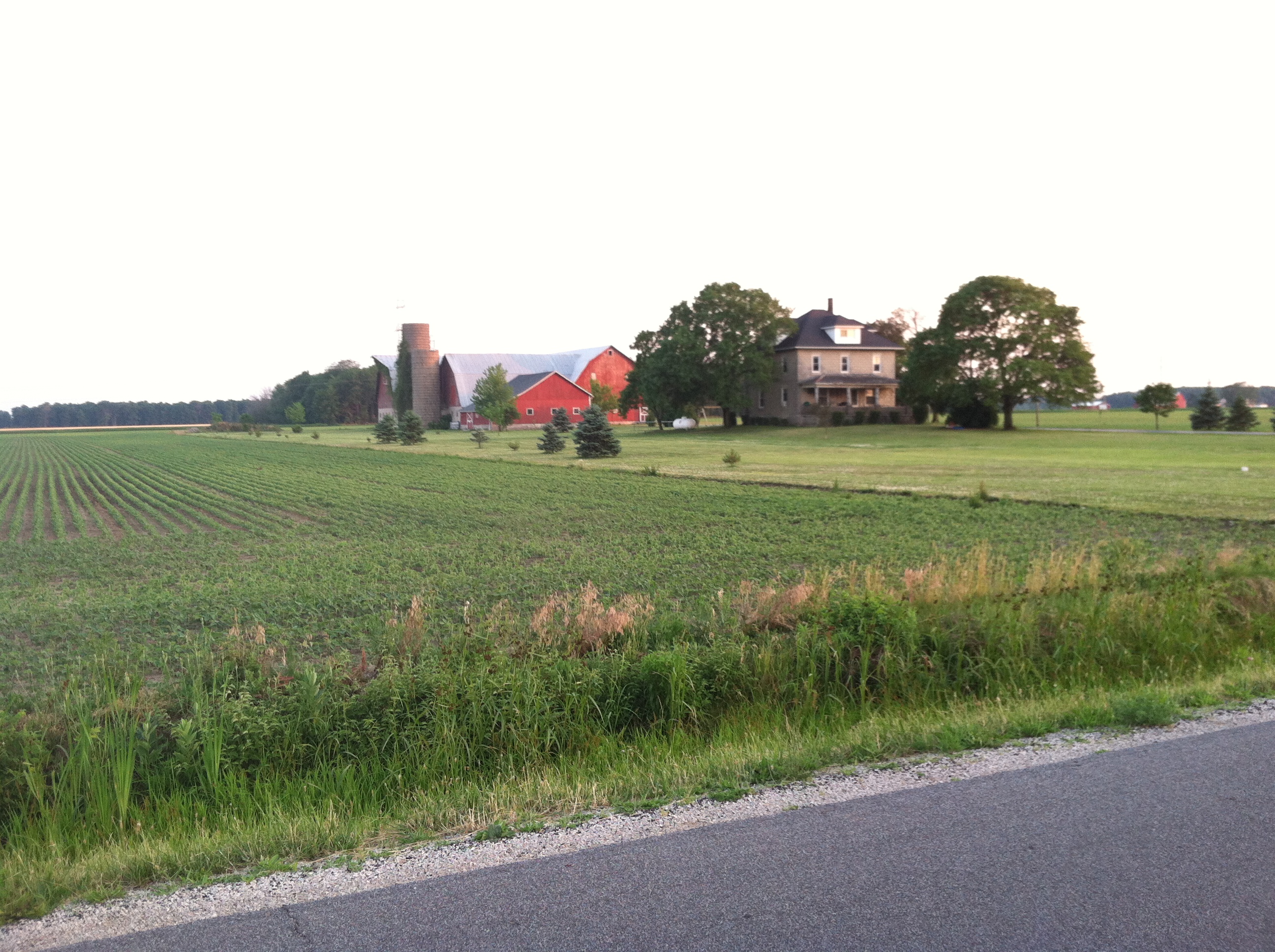 photo; The photo above is the property of S. Predmore. It was taken recently but shows the beautiful homestead of Fred Blecke.
Fred Blecke – business
Frederick Wlecke (1815 – 1893) and his wife Maria (1822 – 1855) are two of our Notable Persons as in Pearl V. (Stephens) Blecke (1888 – 1938). After some discussion at our meeting and an enlightening contribution from Lloyd Fahle, I believe that Pearl's husband should also be nominated as a Notable Person. Fred was the eldest son of Henry and Emma Blecke, Henry being the son of Frederick and Maria. Fred and wife Pearl lived on their farm on Dowling Road. Fred's home and wonderful barn still stand on Dowling Rd., just west of Luckey road. Photo above taken June 2012 Fred and Pearl are both buried in Troy Township Cemetery.
The following is a passage from "The Trail That Leads Back" by Frank Conrad Hazel
Sometimes a distant sound was heard by the children for it was that unforgettable sound of bells from a one-horse open sleigh! The gaiety exemplified by the shouts of joy and cheer of the children as they played in the snow was hushed when they heard this approaching vehicle known locally as a cutter. The driver of the sleigh was Fred Blecke, for he had the only one of this kind that passed the school now and then. It was the fastest traveling vehicle that passed during my earliest days attending school. A string of sleigh bells was strapped around the house, which produced a tinkling sound, and four bells, known as gong chimes, were attached to the sleigh shaft, which created a chiming sound. The two types of sounds harmonized and produced another song of winter!
The following narrative was contributed by Lloyd Fahle Jun 2012
Fred Blecke and my grandfather, Henry H. Fahle, were very close friends. Fred spent a lot of time visiting my grandfather at our home. Fred's wife Pearl was not able to leave the house, and my mother said she was in a wheelchair. They lived on Dowling Rd., between Luckey Rd. and Stony Ridge Rd. On the south side of the road still sits their stone house and large barn, the only farm buildings on this section of the road.
Fred went west and bought calves from the ranchers after they weaned them from their mothers. This was done in the fall. The calves were shipped to the Luckey stockyards by rail, and then trucked to Fred's barn. Fred owned a semi truck that could be used to haul cattle. It is show in the photo above. The cattle feeders (most were local farmers) would then go to his barn and pick out the calves to feed over the winter. [The local farmers bought them to "feed out". "Feed out" is a farm term meaning feed the animal until it is big enough to sell for butchering.] When the cattle were fattened and ready to sell, he would then haul the cattle to market. The market was the Cleveland stockyards in Cleveland, Ohio. This was where the buyers were located. This was Fred's main business.
Fred owned the farm, but I never saw him do any farming. I think his hired hand did all of the farming. Fred and Pearl had a hired hand that lived with them his entire life.  Lawrence Burkholder was his name. Fred willed the farm to Lawrence upon his passing. Lawrence lived for many years on the farm with his wife and children.
After the cattle business tapered off, Fred tried three different business adventures; first, he shipped in several mules, hoping to sell them to farmers. Second, he shipped in several wild horses to his farm and brought a cowboy with him to break them. He would then sell them. The third, he bought a racehorse and raced at Raceway Park in Toledo. He had to hire a jockey to ride his horse. A person who went to the races told me that the jockeys cheated Fred out of a lot of money.
Fred loved Raceway Park and his racehorse. Part of many a discussion between grandfather and himself was that of horse racing. Fred always seemed to have a bail of hay in the back of his truck that he would take to his horse in Toledo. My grandfather would be sitting outside after supper, and Fred would drive over in his Cadillac car to visit with him. Grandpa would ask him how his horse did that day. His answer would be "He didn't win, but he ran a hell-of-a race." We kids would sit with them and listen to their talk. Fred spent a lot of time at Raceway Park. At the time Raceway Park was new and full of activity. People around town thought that upon one occasion, Fred took his horse to the Kentucky Derby but he did not, he took the horse to Melbourne, FL to race.
After Pearl died in 1938, Fred met and married a woman that he had met on one such excursion out west. Rumor had it that Fred's new wife spent too much of Fred's money.
Fred's cattle business was in the late 1930's, the 1940's and early 1950's. I married in 1955 and left the area for about 6 years. My grandfather died during this time, and heard no more about Fred.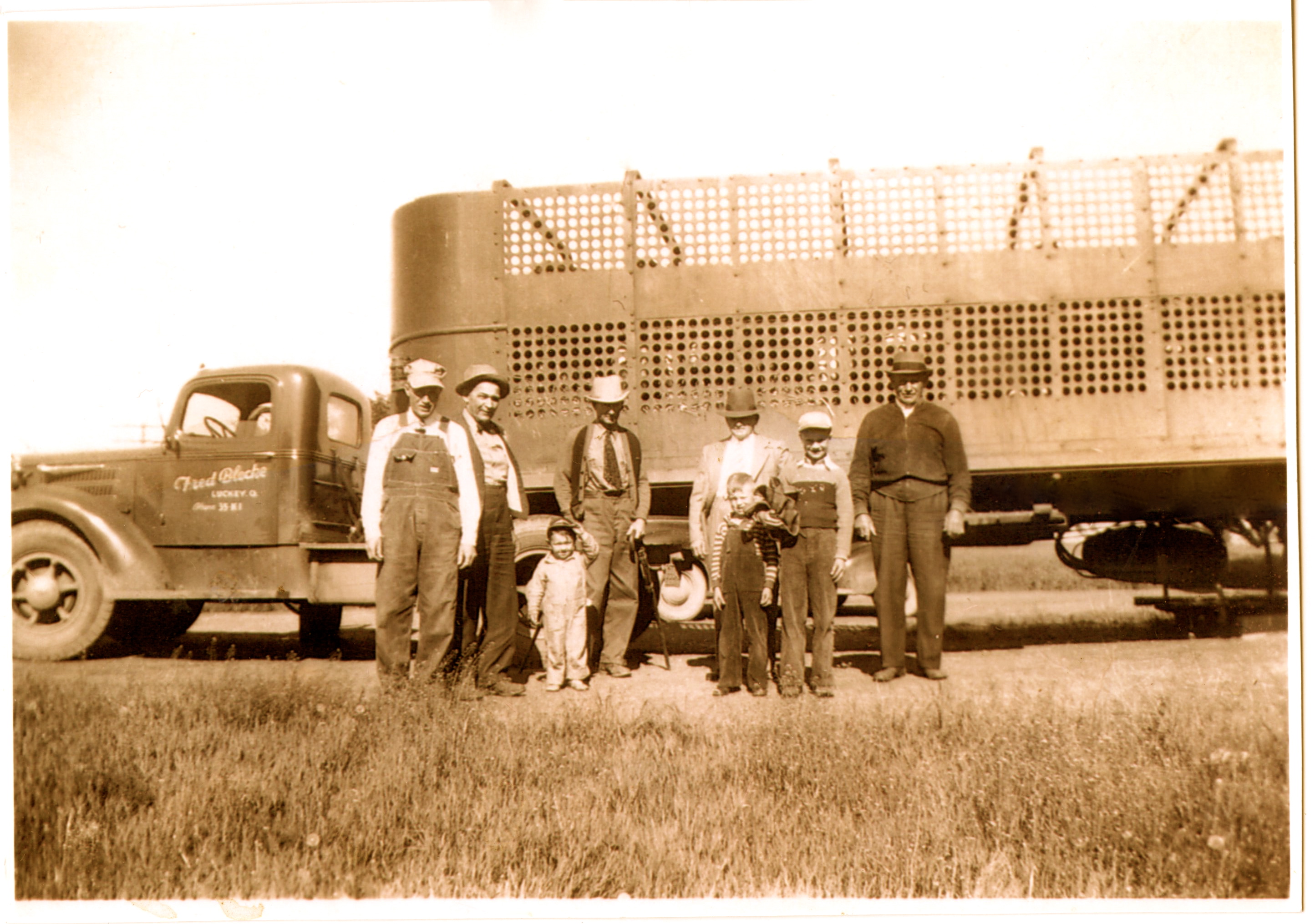 PHOTO: Property of Lloyd Fahle    Fred Blecke's truck that he used for hauling cattle. Note; name on truck "Fred Blecke, Luckey, OH, Phone 35-XI" The photo was taken Sunday afternoon (Earnest still has on his white church shirt under his overhauls) in the spring about 1942.
L to R; Earnest Fahle (Lloyd's father), Fred Blecke (truck owner), Charlotte Fahle (Lloyds' sister, about 3 yrs. old), Elmer Shute (cattle buyer), Harm H. Fahle (brother of Henry H. Fahle), Dale Fahle (Lloyd's brother, about 7 yrs. old), Lloyd Fahle (about 13 yrs. old), Henry H. Fahle (Lloyd's grandfather).
Photos above Howard and Helen Graover from the Luckey Centennial book.
Howard and Helen Grover – business
Another couple who had been nominated for our Notable Persons of Troy Township Cemetery are Helen and Howard (Red) Grover, owners of Grover Manufacturing of Luckey, OH. Their farm equipment was sold all over the Midwest, Canada and Brazil. Their business provided work for many local men.
Howard Grover was born June 15th, 1915 outside of Sugar Ridge, Ohio. Howard was known as "Red" by most who knew him; he acquired the nickname because of his red hair. Red attended school at Webster Public School. He only attended school through grade 9. Red married Helen Snyder, Sept. 26th, 1936. Helen and Red were married over 63 years at the time of Red's death. Helen and Red were the proud parents of three daughters, Arlene, Beverly and Alma Grace.
Howard or "Red" Grover was an inventor. He was responsible for improving the harrow. The first harrows were constructed of wood with large metal pegs that protruded through the wood to the other side. He made the harrow of sturdy metal with spikes that could easily be replaced if broken or damaged. He made it easier to transport the harrow from place to place. His harrow unlike others before had wheels and the ability to collapse for transport on highways. The Grover's never forgot the most important element of their business – the farmer. "There is a feeling that you get when you build something a farmer needs, a feeling of responsibility to do all you can to help, and that's what we tried to accomplish," was a statement made by Red Grover. In addition to building Harogator tools, he also continued to help farmers with their repair work until he retired
The Grover Legacy continues in the Luckey Area from many philanthropic benefits. Our local Friends of the Library group are especially appreciative of all of the help extended by the Grover family in establishing our own town library. The Grover's have donated funds for; fire department equipment, Troy Twp. EMS, town holiday decorations, playground equipment at the Luckey School, scholarship funds, stage curtains for the High School, Future Farmers of America, Eastwood Arts Council, supporting their home church, Faith United Methodist of Luckey and many more. Red and Helen Grover – a name and family to celebrate in Luckey's past present and future.
THE MAP BELOW
This map of Webster Township 1886 show three Rothenbuhler brothers' farms. For reference the horizontal road at the top of the map is State Rte. 582. The middle horizontal road is Devil's Hole Rd. The vertical road on the right side is Luckey Rd. The road running at a diagonal across the map bottom is Krotzer Ave. The path of Krotzer was later changed. As you see here it used to run right past the J. W. Rothenbuhler barn.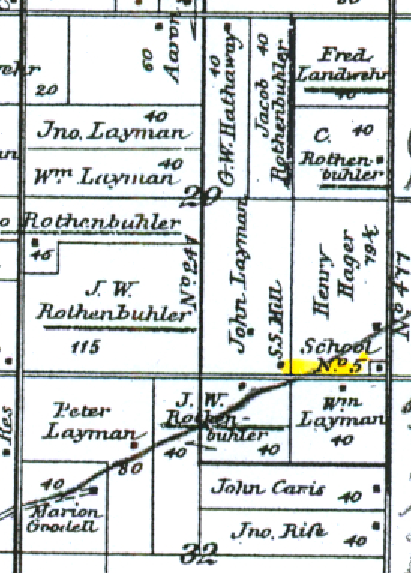 Rothenbuhler brothers – Pioneers
         The sons of Hans Ulrich Rothenbuhler and Elisabeth Willi were born in Roderswhyl on the Schwandi, Switzerland. The eldest, John William was born in 1823, Christian was born in 1824, Jacob was born in 1826 and the youngest Johann was born in 1832. Son – John William, Son – Jacob, Jacob's wife Anna and their children came to America from Switzerland on the ship Confederation. They arrived on April 23, 1855 after departing from Harve, France. Son – Christian came to America with his wife, Anne Marie. They arrived from Switzerland on May 19, 1857 on the ship Hemisphere. The fourth son, Johann is believed to remain in Switzerland but his son Frederick Jacob Rothenbuhler (B 28 Dec 1858) does eventually find his way to Luckey, OH. Frederick Jacob marries Sophia Christen and they bear children. The Rothenbuhlers were some of the areas earliest settlers and pioneers. John William and his wife Anna Marie, Christian and wife Mary A., and Jacob and wife Anna are all buried in Troy Township Cemetery.
John W. Rothenbuhler B 20 Mar 1829 – D 5 May 1912  [A1-001-014]
  (his wife)  Anna Barbara Rothenbuhler B 28 Jul 1826 – D 20 Feb 1906  [A1-001-014]
Christian Rothenbuhler B 24 Oct 1824 – D 24 Jun 1906  [A1-001-008]
  (his wife) Mary A. Rothenbuhler B 29 Oct 1834 – D 22 Feb 1908  [A1-001-008]
Jacob Rothenbuhler  B 20 Aug 1826 – D 25 Dec 1903  [A1-010-016]
  (his wife) Anna Rothenbuhler  B 26 Jul 1822 – D 26 Apr 1903  [A1-010-016] 
Next Issue; more on the following pioneer families; Bockbreder, Burkholder, Fark, Jacob, Lehman, Landwehr, Meyer, Rife, Sternaman. Do you know of any more pioneer families whose members are buried in Troy Township Cemetery? Do you have any information on the previously listed pioneer families (information that I don't already have). To be a pioneer family, I figure they should be living in the Luckey area before 1881 when Luckey officially became a town. I also have more information on Arthur A. Swartz that I will share with you next month.
Again – no July meeting – see you in August. Keep sending me those photos, information and Luckey history.