Presidents Letter August 2012
The weather today feels like fall, what a welcome feeling. This has been a summer that will go down in the history books. I love fall and the cool weather. The fall festival is not too far away. Let's hope that the heat leaves and we have a cool fall. Be thinking about what you would like to plan for the fall festival.  Our next meeting is Thursday August 16th, same time, same place.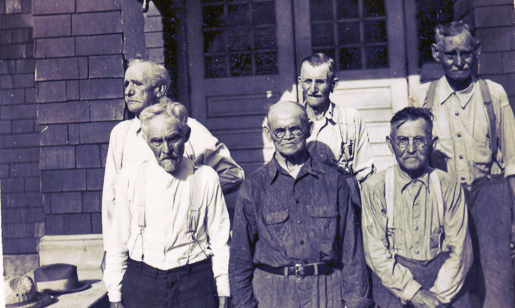 This picture appeared in the Fostoria Daily Times, "Luckey O. People all over 80 Years Old". Picture was taken Aug. 15, 1938. Front row: L. to R. Andrew Swartz, Frank Fahle, Emil Christen. Back row: L. To R. John Burkholder, Moritz Goetz, Eli Caris. Andrew Swartz is the father of our notable person.
Notable Person – Arthur J. Swartz (1881 – 1964)
Arthur Swartz was of German decent. Arthur's forefather, Johann Frederic, and his wife Miss Anna Katharina Metzger and children including John Frederick (Jr.) came to us from Hof, Wurttemberg, Germany. Johann worked as a farmer and weaver.  Johann was described in his immigration papers as being 5' 9" tall, stout, long-faced, with healthy complexion, dark brown hair, grey eyes, small mouth, straight legs, and rather poor teeth. Johann and his wife settled in an area of Medina County, OH along with many other families from the Wurttemberg area. In 1834 an epidemic swept through the Medina area killing Johann and his eldest daughter Katharina. After the death of Johann, the family fell on hard times. The eldest John Jr. and mother worked hard to keep the family and farm. The records show that some of the children had to be put in foster homes. Son, John Jr. was married March 1838 to Fredericka Dorothy Rappol and soon had a family of his own to support. In 1850 brothers John Frederick Jr. and John George moved to Wood County in hopes of finding more fertile soil. John George purchased 60 acres of land two miles south of the village of Stony Ridge on the Lower Sandusky Pike. Their farm was just miles from Woodville and Solomon Lutheran Church where it is believed John George met his wife Dorthea Karcher.
John Frederick Jr. and wife Fredericka had the following children;
*Frederick John Swartz (10 Jan 1841 – 1924) buried in Troy Township Cemetery, Civil War (Company K 111th Ohio
Volunteer Infantry of Sherman's 23rd Army) Frederick John Swartz is also a notable person of Troy
Township Cemetery qualifying for the honor as a Civil War veteran.
*John George Swartz  (10 Oct 1844 – )
*John Lucian Swartz (10 Sep 1846 – death in Perrysburg)
*Jacob Swartz Civil War casualty died in Kentucky (Company K 111th Ohio Volunteer Infantry of Sherman's 23rd Army)
*Andrew J. Swartz (24 Oct 1851 – 12 Apr 1947)  [Andrew J. Swartz is the father of our notable person Arthur August Swartz.]
Arthur August Swartz was born the 20th of July 1881 to Andrew (1851 – 1947) and Karoline (Lena) Graves (1852 – 1939) Swartz of Webster Twp., Wood Co., OH. His draft card describes him as average build with auburn hair and brown eyes. Although Arthur was born in Wood County, he lived in Toledo, OH most of his life and passed away in Toledo, OH on the 23rd of Jul 1964. He is buried in the mausoleum in Troy Township Cemetery in Luckey.  In the 1900 Census, Arthur is still living in Webster Twp. with his parents and siblings Henry C., Warren E. and Carl A. As a young man, Arthur taught school in Wood County. Arthur taught at Phillips Public School District No. 6 Webster Twp., Wood Co., Ohio located at the end of Caris Rd. & Devils Hole Rd. He taught for at least two years those being the school year 1903 – 1904 and 1904 – 1905. He attended Ohio Northern University and received his law degree from the University of Michigan in 1908. Arthur was married the 27th of Aug. 1908 to Emily E. Dent (1880 – 1919). To Arthur and Emily were born two children Barton (Arthur Barton) and Helen. His wife Emily died in 1919 when the children were young. Arthur hired women to help in the rearing of his children and by 1930 remarried. His second wife's name was Blanch N. Van Arsdale (1879 – 1958).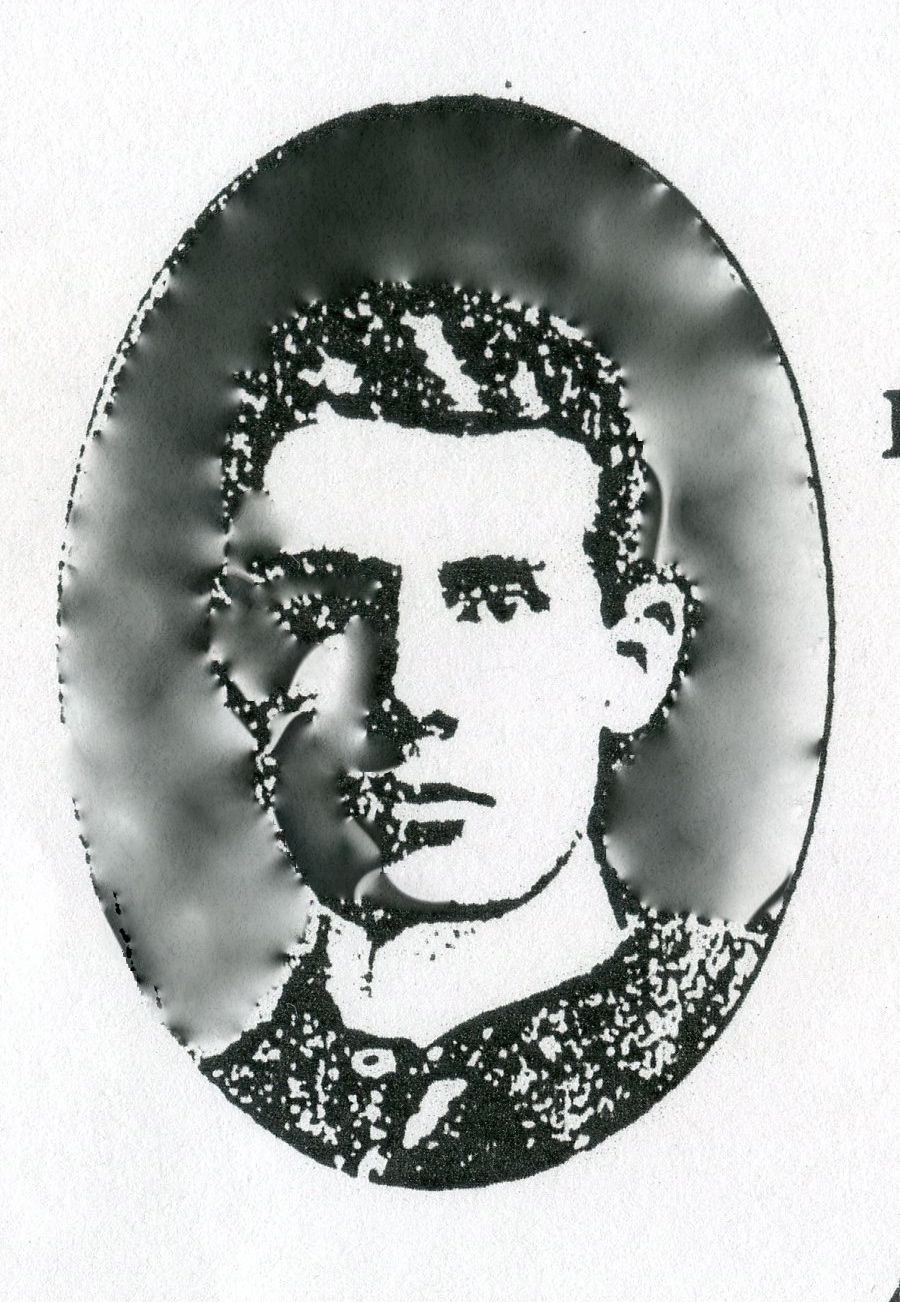 Photo above; Arthur Swartz 20 Jul 1881 – 23 Jul 1964
            Arthur was a leader in is field. He practiced law until his retirement in 1943 and was a member of the Toledo, Lucas County, Michigan, Ohio and American Bar Associations. He was secretary to the law department and an instructor in law at the University of Toledo eight years. Besides his importance in contributions to Law in Northwest OH and Michigan, Arthur was also a leader in The Boy Scouts of America, the Epworth Methodist Church, Rubicon Lodge and served as a Commissioner for the city of Toledo.
Notable Person – John Lehman (1839 – 1911)
            The Lehman family (Later Layman) came to us from Laupersville, Bern Switzerland. John Lehman born 18 Aug 1801 in Laupersville died 21 Mar 1872 in Webster Wood OH dying of consumption. John was married 23 Sep 1826 in his native land to Magdelna (Martha) Jacobs. Magdelna was born the 8th of August 1804 in Bern Switzerland and died on the 18th of August 1893 in Webster twp., Wood Co., OH. John, his wife Magdelna and their children immigrated to Wood County in 1849 and purchased eighty acres of unimproved land in Webster Township. Father, John was a man of great energy and practical ability, a Democrat in politics, and a consistent member of the Lutheran Church. He died in August 1872, and his wife survived him until August 13, 1893. Their children were as follows: (Anna) Barbara; Peter, a farmer in Webster township; Chris, William (Ulrich); John our subject; and Anne. Son, John Layman (our notable person) a pioneer agriculturist and lumberman of Webster township, was born November 1, 1839, in Berne, Switzerland.
Son, John Layman was ten years old when he came to America. He remembered well the scenes and experiences of pioneer times, when Indians, wolves and mosquitoes kept the settlers in constant dread and discomfort. The first home of the family was a little log cabin, and they nearly starved at times. Their wheat had to be carried thirty miles to mill. When he reached the age of twenty-two, John and his brother, Chris Layman enlisted in Company I, 111th O. V. I. (Capts. Yeager and Norris commanding). John took part in thirty-two hard fought engagements. He was discharged at Salisbury, N. C., June 27, 1865. Brother Upon returning home, John bought eighty acres of forestland near Luckey, and erected a sawmill which he operated for twenty years. "John Layman Jr. Chapter IV" of the Layman book states as follows; The Farm he purchased is located in Section 29 on the north side of Devil's Hole Road, and across the road from that purchased by his father in 1856. There was a sawmill on this farm which John operated, along with his brothers Peter and William and brother-in- law John Rothenbuhler. Their first home was a log cabin. It was replaced by a frame house that burned in 1889. Another house was built in 1891. His Army record states he was 5' 3 1/4" tall, had a dark complexion, black eyes and black hair. In 1873, he was married to Miss Mary Smith, also a native of Berne Switzerland. John Layman died a horrible death.
The following article from the Perrysburg Journal, 29 Sep 1911, tells of the horrible accident.
" DRANK LYE And Died in Terrible Agony Soon After"
John Layman, 72, wealthy farmer, residing near Le Moyne, died at 5 o'clock Tuesday morning after 18 hours of agony caused by drinking lye mistaken for water. Layman, upon returning home from a trip to town shortly before noon Monday, started to drive to a field where his sons were working to exchange teams with them. He had bought a jug of oil and when he started for the field put a jug of water on the wagon to take to his sons. He halted midway at another house on the farm and for some unaccountable reason picked up a jug containing lye and put it on the wagon. Stopping to open a gate leading into the field where his sons were at work, Layman, evidently thirsty, drank from the jug which contained the lye, and as the fiery liquid burned his throat, staggered about and fell to the ground. His sons, noticing his actions hastened to the gate and found their aged father clutching his throat and writhing upon the ground unable to speak. The jug with part of the lye spilled upon the ground told the story of what had happened. The sons hurried their father to the house and administered what relief they could until a physician could be secured. The lye had burned throat and stomach so badly however, that death ensued Tuesday morning.
Mr. Layman was born in Switzerland and came to Wood county with his parents when 10 years of age. They settled on a farm directly across the road from the one on which Mr. Layman died. The dead man is survived by a widow, three sons, Frank, Fred and Edward, residing at home, and a daughter, Mrs. (Mary) George Schudel, of Lemoyne. In politics, Mr. Layman was a Republican and was a member of Benedict Post G. A. R. of Pemberville. He and his wife were prominent members of the Evangelical Church at Luckey.
Father John and wife Magdelna were not nominated as pioneers for our Notable Person's list as I could not find them buried in our cemetery. I have found them and they should be nominated.
Hope to see you Thursday.   Over and out………