Presidents Letter Sep 2012
Dates to remember:
September 20, 2012 – monthly meeting at the library
September 28 (set up), 29 and 30, 2012 – Fall Festival at Basic Park
October 18, 2012 monthly meeting at the library
 October yearly dues are due. They are $20. Checks should be made payable to "Luckey Historical Society, Inc. and may be given to Ruth Rothenbuhler, Sally (me) or mailed to "Luckey Historical Society, 426 Krotzer Ave., Luckey, OH 43443"
Sad news. I cannot do the map portion of our Notable Persons of Troy Township Cemetery pamphlet. I am sorry to disappoint the group. I was counting on using the 1989 Troy Township Cemetery Book to find the majority of the burial sites. At our last meeting Donna Jacobs pointed out that her relative's burial location was incorrect on the map. The book has her relative in the middle of a section when in fact she is buried at the edge of the section. I went to the cemetery and tried to locate several more gravesites using the information that I had obtained from the book and I could not find them. When I get frustrated or anxious, I get physically ill. This project has been very frustrating. Anyway, I cannot do the map and don't know what we will do with the pamphlet. [note; I eventually figured this out, see future newsletters]
            Ruth Rothenbuhler found many errors in my information regarding the Rothenbuhlers, early pioneers listed among the Notable Persons of Troy Township Cemetery. Ruth has rewritten the information for us with appropriate corrections and it is found below. If you find errors please let me know so that I can correct it. Hopefully there are not this many errors on other information that I have passed along to you.
The Rothenbuhler Brothers – Pioneers
            The sons of Hans Ulrich Rothenbuhler and Elisabeth Willi were born in Ruderswhyl on the Schwandi, Switzerland. Son, John William, (the youngest, born in 1829), son Jacob (born 1826), Jacob's wife Anna Lehmann and their children came to America from Switzerland on the ship Confederation. They arrived on April 23, 1855 after departing from Harve, France. John William chose to spell his name with an extra "e" as in ROTHENBUEHLER but his brothers omitted the "e" as did other Rothenbuhlers. Son, Christian (born 1824) came to America with his wife, Anna Maria Rychiger. They arrived from Switzerland on May 19, 1857 on the ship Hemisphere. The fourth son, Johann, (the oldest born in 1822) is believed to have remained in Switzerland and died Oct. 15, 1900 in the Swiss village of Lauperswil.
The Rothenbuhlers were some of the earliest settlers and pioneers. John William and his wife Anna Barbara, Christian and wife Mary A. (aka Anna Maria) and Jacob and wife Anna are all buried in Troy Township Cemetery.
Jacob's son Frederick (Fred) was born Dec. 29, 1850/1851? in Switzerland. He married Sophia Christen, raised his family in Troy Twp. and also can be found in Troy Twp. Cemetery.
Our Troy Township Notable Persons therefore should be the following;
John William Rothenbuehler B 20 Mar 1829 D 5 May 1912
 Wife Anna Barbara B 28 Jul 1826 D 20 Feb 1906
 Christian Rothenbuhler B 24 Oct 1824  D 24 Jun 1906
 Wife Mary A. (AKA Anna Maria) Rychiger B 29 Oct 1834  D 22 Feb 1908
 Jacob Rothenbuhler B 20 Aug 1826 D 25 Dec 1903
 Wife Anna Lehman B 26 Jul 1822 – D 26 Apr 1903
 Son of Jacob and Anna– Frederick (Fred) Rothenbuhler B 29 Dec 1850 or 1851 D 16 Mar 1932
 Wife Sophia Christen
Looking for Margaret Christiansen
Evelyn Wilkens, now living in Bowling Green, graduated in 1940 from THS. She and a fellow classmate of hers were cheerleaders. Evelyn has been wondering about Margaret Christiansen lately and wondered if she is alive, married, living in the area, etc. Does anyone know anything about Margaret?
Lawrence Emmit – Creative Professional
            Lawrence Emmit was nominated several months ago but I haven't had a chance to share his information. To read a more complete accounting of his life, one should read "Searching for Lawrence Emmitt" by James Baker. There is a copy of the book in our Luckey Library.
Lawrence Emmit was of English ancestry being born 18 Jan 1880. Emmitt's family arrived in Wood County, OH in 1871. Prior to his building career, Mr. Emmit worked as an inspector for the Lake Shore & Michigan southern Railway Company. He was married in 1905 and following his marriage attended carpenter school in Toledo, OH. Lawrence was responsible for the construction of many of the homes in Luckey as well as other homes in the area and farm buildings. Mr. Emmit was responsible for building the first homes east of the T.F. & F. railroad line on the north side of Main St. [The T.F. & F. ran through town just east of what is now Kem's Carryout.] Mr. Emmit also built many of the homes on Adams St., Krotzer Ave. and Eddy St.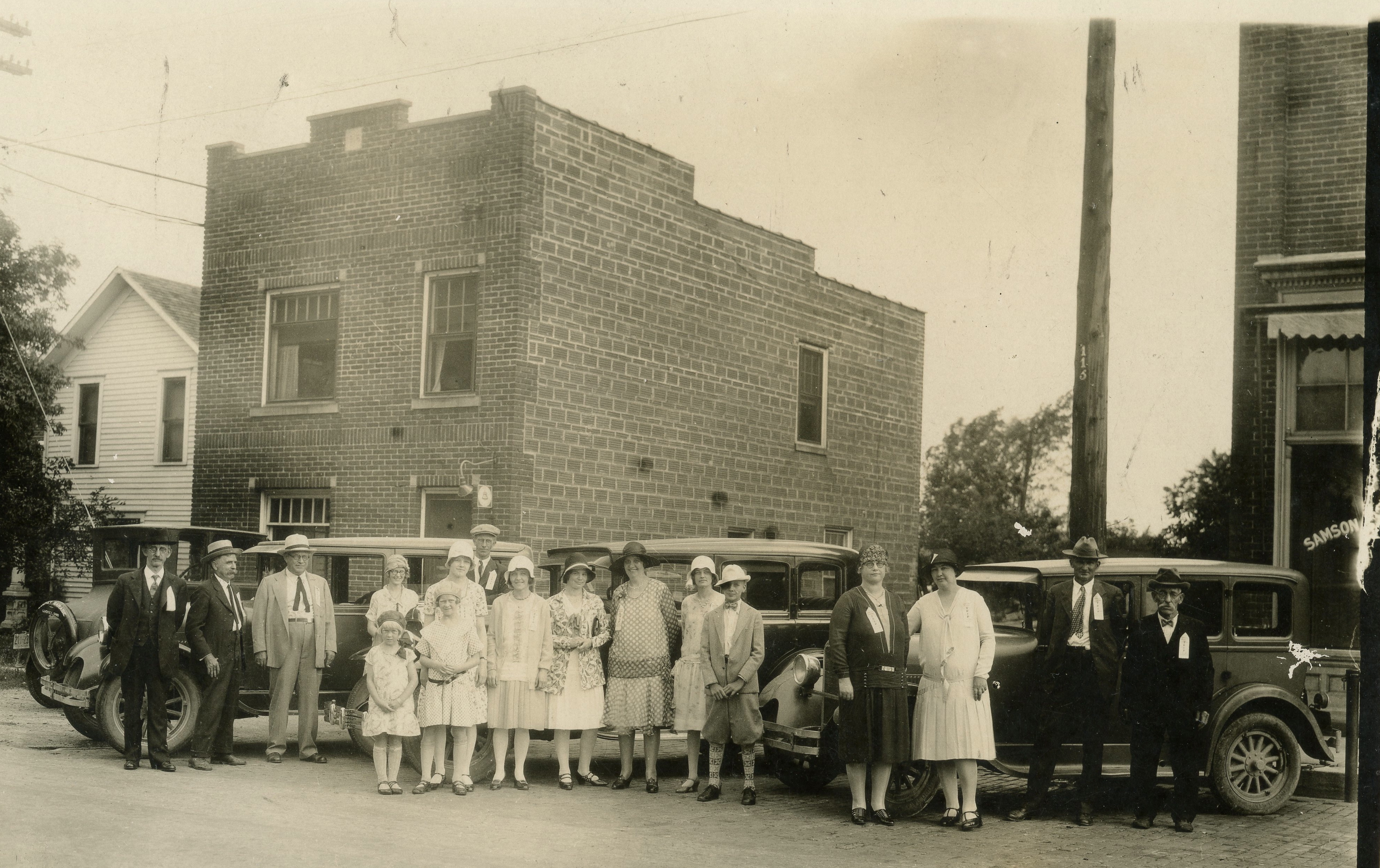 The photo above is the property of Grace (Jacob) Stinchcomb. The photo was taken in the early 20's in front of the old phone building. The old phone building still stands on Main St., Luckey. At the present there is also another old phone building in the vacant property in the photo. The building at the right is the current location of the Municipal Building.