Presidents Letter – March 2013
My spring bulbs are popping up. Soon the snow will be gone and our spring flowers will be in bloom. Next month (April) there will be no Presidents letter and no monthly meeting. My husband is having surgery and I will be unavailable.
This month we are peeking into the Swartz family. In the early 1900 a few more families had access to a camera and thus we have more photos to get a peek at how our ancestors and their homes appeared. If you have been fortunate enough to obtain copies or own originals of your ancestors, please copy them and share them with all of your relatives. As the generations pass and the number of descendents increase, these few photos can easily be lost. For example; my grandmother was one of eleven children. She was one of youngest siblings. Many of her older siblings and her parents migrated to the west coast. Along with her siblings went all of the old photographs. I have only recently been able to locate my relatives and obtain photos of my ancestors through Ancestory.com. I had no idea where my Grandmother's siblings went or that photos even existed. What fun it was to find photos of my grandmother and her extended family. Many of our Luckey natives are related to the Swartz, Jacob, Miller, Bockbrader, Rothenbuhler, etc. families. Grace Stinchcomb (nee Jacobs) has shared with us old photos of the Swartz family.
First Generation in America
John Swartz B 26 Feb 1836, born in Germany D 1 Mar 1898,  Wood Co. OH
Wife Dorathy (Dorathey) Karcher B 1 Mar 1833 in Germany  D 4 Feb 1904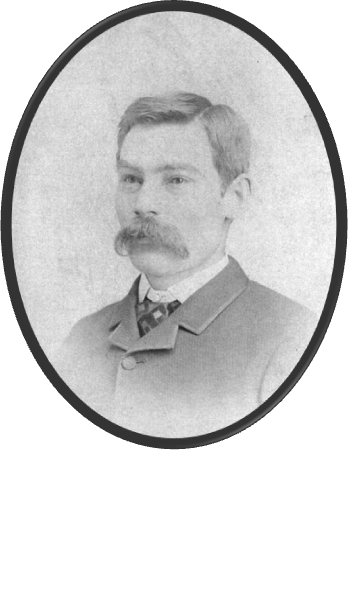 ABOVE PHOTO; FREDERICK SWARTZ 
Second Generation in America
2. the children of John and Dorathy
            A. Catharine Swartz B Dec 1853
B. Frederic Swartz B abt. 1858
C. *George Swartz B 2 Sep 1860 born in Webster Twp. D 16 Feb 1937
D. Franklin Swartz B 10 Jun 1864
E. Charles Swartz B abt 1866
F. William Swartz B 15 Mar 1871 born in Wood Co., OH
– – – – – – – – – – – – – – – – – – – – – – – – – – – – – – – – – – – – – – – –
C. *George Swartz 1860 – 1937
Wife Clara Elizabeth Oberdick B 1 May 1869 born in Hanover Germany D 27 Feb 1958 [daughter of Fred Oberdick and Clara Hamen]
Third Generation in America
3. the children of George and Clara
A. Dorothea Katherine Swartz B 25 Jul 1891
Married Martin Brinker
B. Walter Ernest John Swartz B 29 Oct 1893
Married Alma May Miller
C. Clarence Fredrick Swartz B 17 Sep 1895
Married Edna Gross
D.* Clara Anna Margaret Swartz  B 20 Oct 1899
Married Samuel Jacobs
E. John "Jack" George Swartz B 15 Sep 1905
Married Verna Elizabeth Christen 
The map included in this months issue is of main street Luckey. I am not certain of the date.
Enjoy                            Over and Out,                                  Sally
Clara and Samuel Jacobs are the parents of Grace Jacobs Stinchcomb. The family photos are of the George Swartz family. Photos are the property of Grace Stinchcomb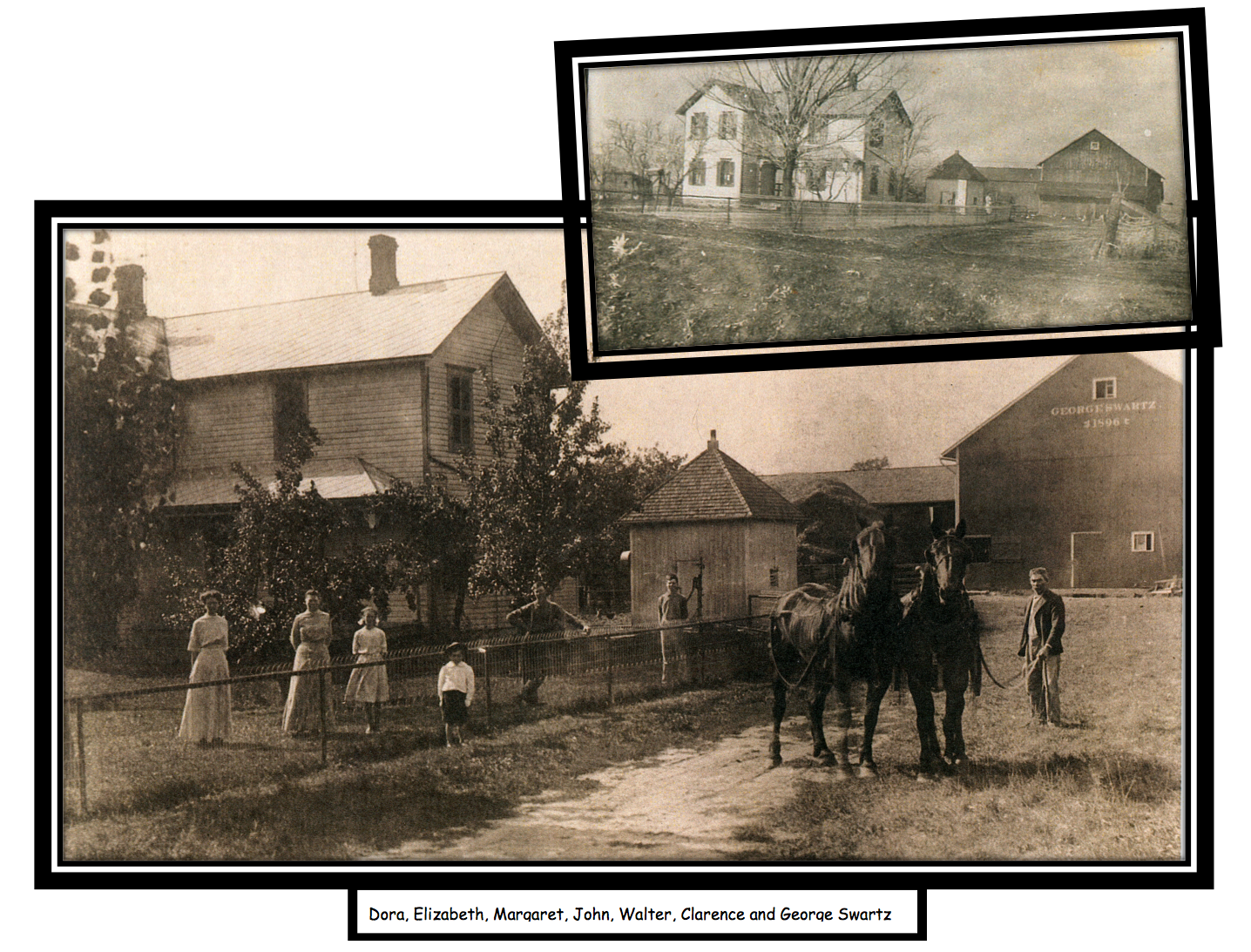 Below; Elizabeth with first grandchildren, Bob and Alice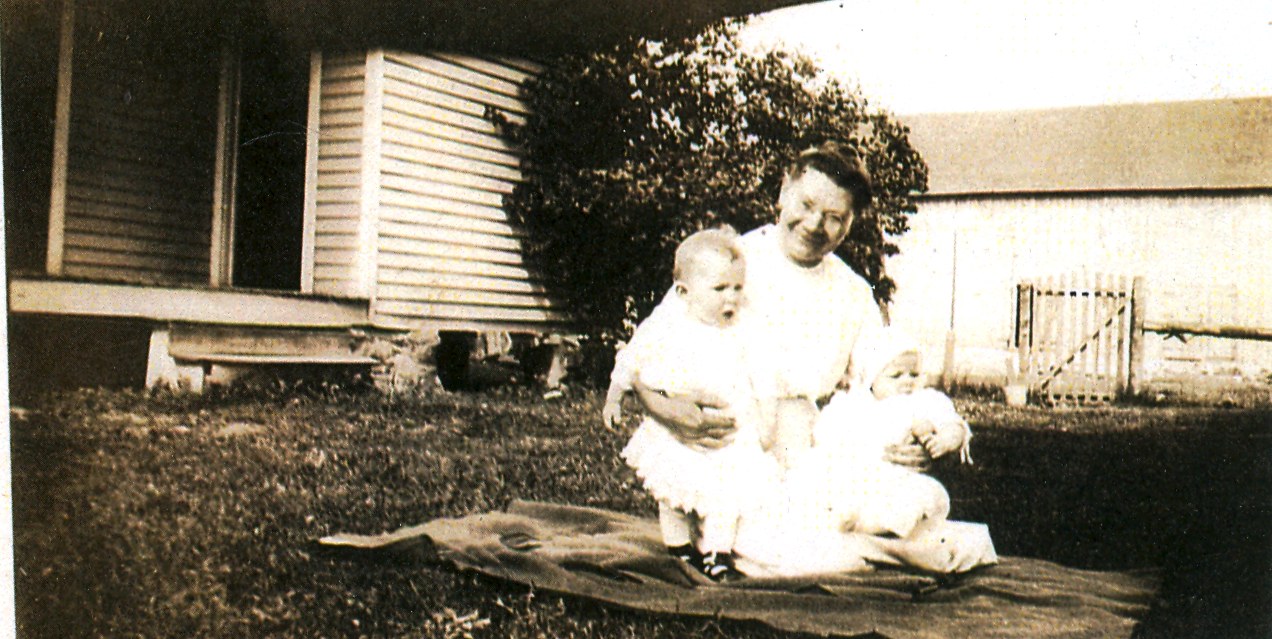 Below; Walter home from WWI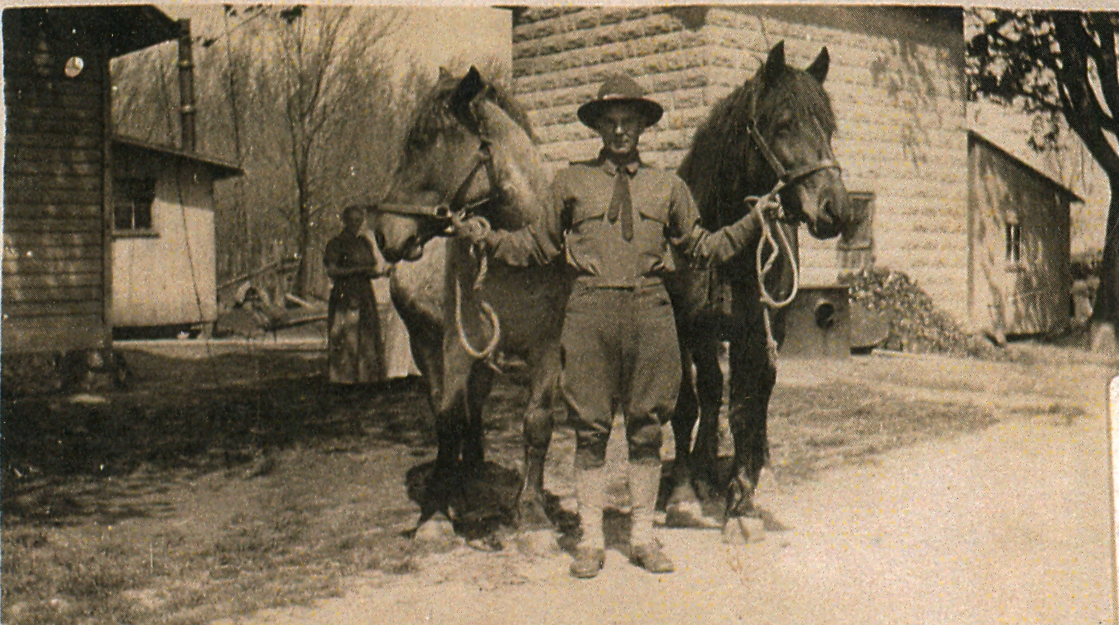 Below;  Shocking Corn, Elizabeth, Dora & George Swartz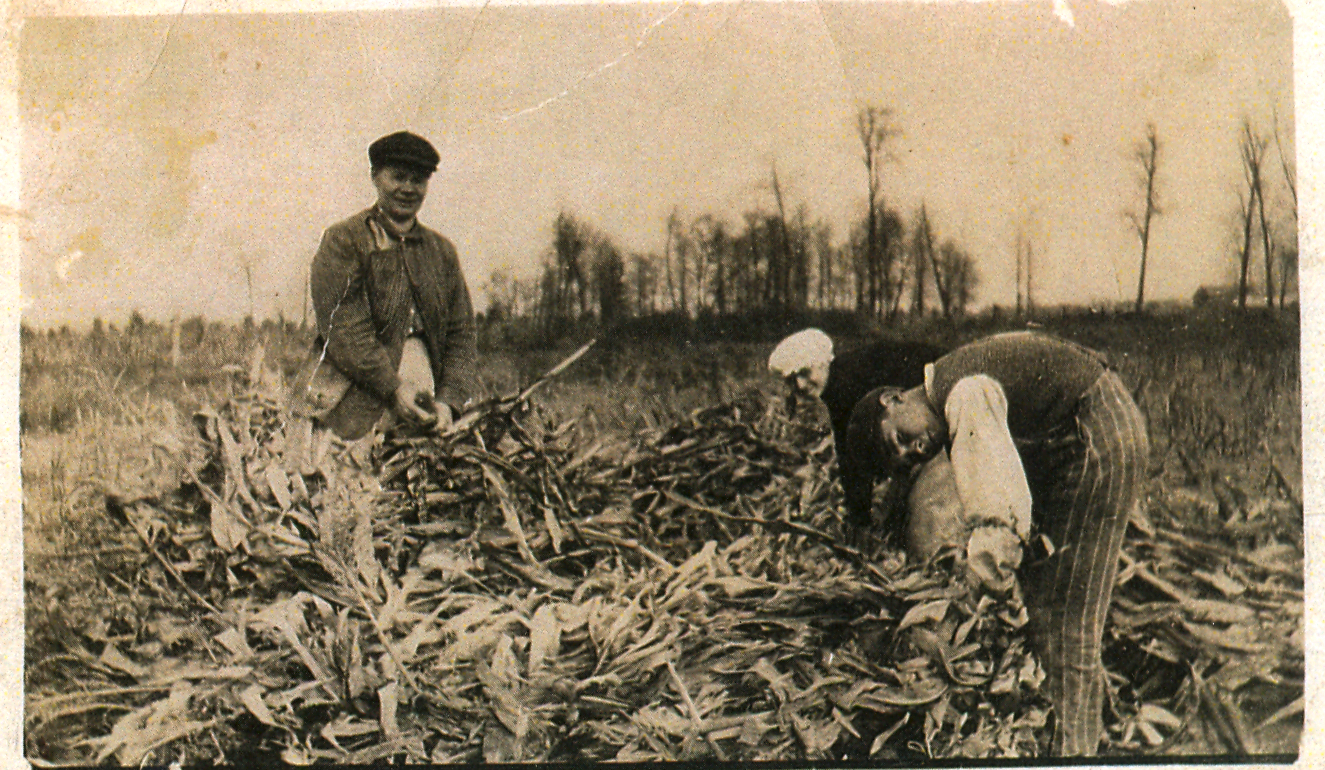 Below; Telephone Co. GAN 9 (Margaret Swartz second girl from the rt.)