President's Letter – July 2013
At our June meeting we shared comments concerning our Notable Persons of Troy Township Cemetery pamphlet. There were no errors found. Please let me know if you find any. While compiling the pamphlet and walking the cemetery I noted that there were some individuals that I may have missed and others that we may want to consider. One list that was not included was that of soldiers killed in the line of duty. If you know of any more people who are buried in the Troy Township Cemetery who lost their lives while in the line of duty, please let me know. The following persons we have identified and will be added to the pamphlet:
PFC Donald C. Brueggimeier Birth 1916, Death 14 Aug 1944 (fell in France WWII)
PVT Homer Garrett Puse   Birth 5 Oct 1925, Death 7 Jan 1945  (317th Inf. Regt. died at Luxembourg)
Herman E. Swartz Birth 1923, Death 26 Jan 1945 (WWII at Luzon)
PFC Leroy Franklin Minnix Birth 3 Jun 1946, Death 12 Oct 1965 (Vietnam)
PFC John R. Barr  a native of Swanton, OH, Birth 13 Nov 1984, Death 13 Oct 2008  (Iraq War)
Other persons whom we thought should also be included in our list of Notable Persons are as follows:
         Vincent C. Kahle  (26 Jun 1918 – 12 Mar 1993)
         Robert Johann (18 Sep 1915 – 18 Jun 1974)
         Dorthea (Dotty) Johanne (11 Oct 1918 – 2 Jan 2001)
         Albert Webb (24 Aug 1890 – 8 Aug 1974)
         Ron Webb (2 Dec 1935 – 5 Feb 2012)
         Doc (Harvey A.) Stuchell (26 Jul 1888 – 22 Jan 1967)
         Boyd Broka  (7 Jan 1923 – 14 Dec 1998)
         Henry Myers (4 Sep 1884 – 11 Sep 1954)
         Dr. A. A. (August Alexander) Babione ( 4 May 1872 – 13 Feb 1948)
         Anna Babione (31 Oct 1876 – 15 Feb 1966)
         Gordon Huss ( 1 Sep 1895 – 11 Jul 1987)
I am still looking for obituaries and information for Dr. & Mrs. Babione, I know I have some material on them and they are mentioned in our Centennial book. With vacations I haven't had much time to look.  I am also in need of information on Gordon Huss, I am hoping I find his obituary in the Donna Jacob's Obituary Collection at our library. I am also in need of more information regarding Dotty Johanne and Albert Webb. If you have any information concerning any of the above mentioned people, please make me copies. I will also need to locate each person on our cemetery map. If you know where anyone is buried please write it down for me.
Wow, it's July already. The fall festival is not so far away. We have two spots reserved again in the big tent. Hope to see you there and of course, would love to see you at our meeting, Thurs. July 18th at 6:30 in the library.
Over and out,                                                         Sally
OBITUARY – VINCENT C. KAHLE
Fostoria – Vincent C. Kahle, general manage of Luckey Farmers Inc. From 1949 – 1981, died Friday at Fostoria Community Hospital. Kahle, 74, resided at 903 Country Club Drive. He began his career with the former City Loan in Bowling Green. While president of the Ohio Grain and Feed Association in 1964, Kahle toured Russia and Europe with the People to People Goodwill Mission. From 1967 to 1983, he was on the board of directors of Elevator Mutual Insurance Co., Lima; and from 1979 to 1983, he was a board of trustees member at Owen's Technical College. Kahle also served on the board of directors of Mennel Milling Co., of Fostoria, and was a former director of Farmers Savings Bank, Northwood. He was an Army veteran, serving in England from 1941 to 1945. Kahle was a member of St. Wendelin Catholic Church, Fostoria; Fostoria Country Club, where he was a past director; Knights of Columbus in Fostoria and formerly in Genoa; and the Kiwanis Club in Fostoria and formerly Woodville. Kahle also was a member of the The Links of Lake Berndatte Country Club in Wesley Chapel, Florida; the University Club in Fostoria; and the American Legion Post in Woodville. He was born June 26, 1918, in Kalida to Joseph and Wilhelminia (Smith) Kahle. He married Lauretta Miller in Perrysburg on June 24, 1950, and she survives. Also surviving are two brothers, Harry, Largo, Florida and Arnold, Kalida; and a sister Mary Ley, Tiffin.  He was preceded in death by four brothers; Cyrilius, Robert, Frank and Joseph. Burial will be in Troy Township Cemetery, Luckey.
OBITUARY – BOYD BROKA
Boyd Broka was born 7 Jan 1923 in Luckey, OH and died 14 Dec 1998 in Bowling Green, OH. The funeral for Boyd C. Broka, 75, of Aspen Lane, Bowling Green, will be Thursday at noon at the Marsh Funeral Home in Luckey. He died Monday (Dec. 14, 1998) at his home. Mr. Broka was postmaster for 33 years in Luckey. He was also former dispatcher for the Troy Volunteer Fire Department and former village councilman in Luckey. An Army Air Corps veteran of World War II, he was a member of the Webster American Legion Post No. 240. Mr. Broka was a member of St. Aloysius Catholic Church, Bowling Green.  He was former president of the Luckey Kiwanis and Boy Scout scoutmaster.
  Born on Jan. 7, 1923 in Luckey to Harold J. And Mary (Thompson) Broka, he married Ethel C. Fonseca on Oct. 1, 1945 in Azores, Portugal. She survives.
  Also surviving are one daughter, Nina Lee Oberkirsch, Bowlling Green; one sister, Imogene Krift, Pemberville; and one granddaughter.
OBITUARY – ROBERT A. JOHANN
Robert A. Johann, 58, of 406 Oak St., died Tuesday in St. Charles Hospital, Oregon, after an illness of two weeks. Mr. Johann owned and operated Bobbie Ann's Flowers and Orchid Range, Luckey and also worked as a maintenance mechanic at the Ohio Highway Patrol Post in Walbrige. A World War II veteran, Mr. Johann was past commander of the American Legion Post in Luckey and a member of the Ohio State Highway Patrol Auxiliary, American Orchid Society and Michigan State Florist Assoc. He was also a Boy Scout troop leader. Born on Sep. 19, 1915 in Custar to Mr. And Mrs. Charles Johann (Loretta Wilhelm), he married Dorothea "Dottie" Cunningham on March 8, 1946 in Bowling Green. His mother, who lives in Custar and wife both survive.  Also surviving are one daughter, Mrs. Ronald (Bobbi Ann) Smith, Luckey; one brother, Edwin, Deshler; four sisters, Mrs. Ruth Bowers, Fort Wayne, Ind; Mrs. Mary Ferguson, Maumee; Mrs. Bernice Bursiek, Wayne and Mrs. Jean Romaker, Defiance, and two grandchildren.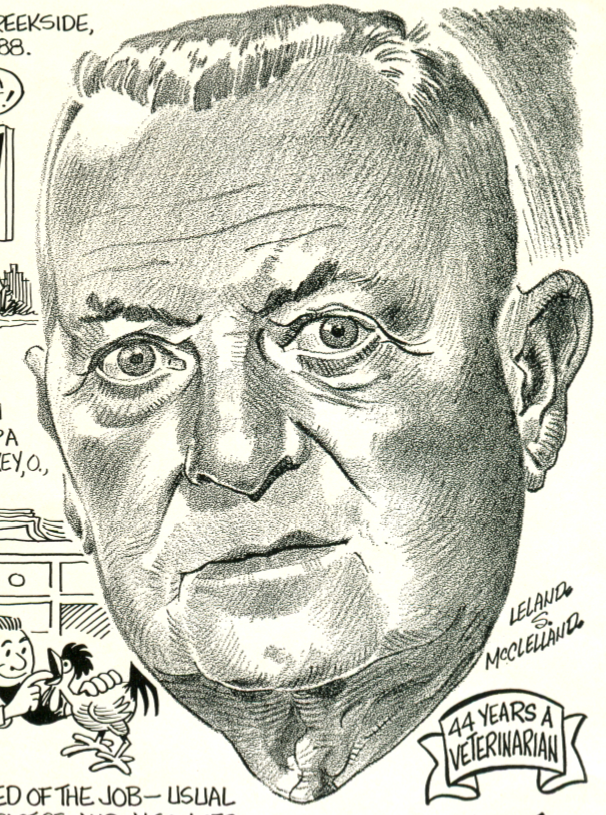 OBITUARY – DR. HARVEY STUCHELL (PHOTO ABOVE)
Dr. Harvey A. Stuchell, 78, of Luckey, died at 1:30 a.m. Sunday Jan. 22, 1967 in Wood county Hospital after an illness of one year.
  He had served as veterinarian in the Luckey area since 1910. He was born July 26, 1888 in Creekside, PA. To Mr. And Mrs. Joseph Stuchell (Anna Johnston).
  He was married Feb. 5, 1912 in Toledo and his wife, Katherine, survives, together with a nephew, reed Spence, Creekside, PA.
  He was a member of the Northwestern Ohio Veterinary Assoc.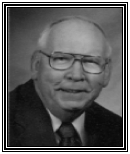 OBITUARY – RONALD D. WEBB (PHOTO ABOVE)
Ronald D. Webb, age 76, of Toledo, OH who was a long-time resident of Luckey, OH passed away peacefully on Sunday, February 5, 2012 at Mercy St. Vincent Medical Center surrounded by his loving family. He was born on December 2, 1935 to Albert and Esther (Thornton) Webb in Luckey, OH. He worked at Owens Illinois as a Head Manager in Glass Container Design and retired after 25 years. Ron was a member of Zion United Methodist Church, Luckey, OH. Throughout his life he accomplished many endeavors. Following the lead of his father, Albert, one of the first Mayor's of Luckey he proudly served the village of Luckey for two terms and was also a Head Councilman for the village. He was an experienced pilot and had a great admiration of flying planes. His other memberships included: the Toledo Weak Signals R/C Airplane Club, Sandusky County Sportsman's Club and a proud member of the N.R.A. Most importantly in his life were his compassion, love and devotion to his family and his faith in God. Surviving Ron are his wife: Melva Jean, daughters: Magdalene Thompson, Patricia Griswold , grandchildren: William Farmer, Charlene Bolen, Luke Thompson, Jenney Plotts, Michael Griswold, Crystal Griswold and several great grandchildren. He was preceded in death by his parents and 1st wife: Mary (Sue) Howell Webb in 1996.