President's Letter –Oct. 2013
What a busy fall. The time passes by so quickly and our meeting is early in this month.
The fall festival was wonderful, well at least until about noon on Sunday. Friday and Saturday the weather was beautiful and the festival and town was busy with activity and crowded with people. It started to rain on Sunday and vendors quickly packed up and the visitors diminished. Ottes did a great job again this year creating another "Whatsit" board, delivery, set up and manning our booth. Fred, Ruth and I also enjoyed manning the booth. As Ruth says, it is fun just to watch the people and answering questions. We did get several leads for information for out Notable Persons project. Hopefully the materials promised us won't be forgotten.
The photos loaned to us by Sue Mueller have been found and returned. Thank you to those who helped me figure out where they were. I actually had them the whole time. They were in the office. I took them in to scan them and then hid them in a safe place to wait until I could put them in storage. I just hid them too well.
Sad news. La Vada Graening passed away on October 4th. She was 97. La Vada was not a member of the LHS but visited us several times, shared with us Luckey history and enjoyed the monthly newsletter. La Vada was the daughter of John and Adelia (Meyer) Blecke and the sibling to Aldon Blecke and Doris (Blecke) Hansen. From her obituary;
La Vada lived her life in service to others. She attended Luckey Elementary School and was valedictorian at Pemberville High School in 1934. She delayed her planned career as a nurse of teacher to help her parents on the family farm and as a care-giver to her neighbors in need. In 1939 she began working as a nurse aide at the Luther Home of Mercy. In 1941 she studied cosmetology at Warner Beauty College, then worked four years as a beautician in Toledo. She met her husband Carleton while working at the Luther Home. They were married June 1945, and together operated the Graening's Grocery and Hardware Store in Trowbridge, OH for 26 years. She returned to the Luther Home and was chosen nurse aide of the year in 1983. After her retirement at age 70 she volunteered at the Home. La Vada was known for her kind and encouraging letters and notes to family and friends many drawn from recollections in the journals she kept from the 1930's through the rest of her life. She always had the words and ways to make each member of her family, each child, grandchild and great-grandchild know that they were special. She was an active member and matriarch of St. Peter Lutheran Church in Martin (Blackberry), where she was a teacher, pianist, quilter and member of the Sarah Circle.  La Vada was buried in the Elliston Cemetery, Graytown.
Notable Persons of Troy Township Cemetery News
            In September I researched pamphlet containers, found one for a reasonable price and ordered it. The container is just the right size for our pamphlets, has a self-closing lid, comes with mounting materials and is clear. On Weds. Oct. 9th I attended the Troy Township Council Meeting. At the meeting I presented our project to the council and asked permission to hang the pamphlet container in the cemetery on the gazebo (or whatever that thing is called). The council was interested in our project and gave us permission to hang our container. Also I was assured that the records that I requested months ago would be available to me within the next couple of weeks. At the meeting it was also brought to my attention that there is a colonel buried in our cemetery. Tom Ballad agreed to give me more details so that the colonel could be included in our pamphlet. The pamphlet box should not be difficult to install however I am hoping soon to have my husband help me with his cordless drill.
At the fall festival Ruth spoke with someone who is going to provide more information on the Albert and Ron Webb. Father and son Luckey mayors have been nominated but I am lacking information on them. I also realized that somehow I have missed Lawrence Emmit. I am certain that he was nominated but I can't find him on any of my lists. I believe that he should be included.
I would like to nominate Aldon and Wilma Blecke. It seems that their Toonerville Campground was enjoyed by many people in the area, not just Luckey. After reading the enclosed article pertaining to Luckey in 1973, it also looks like the campground had quite an impact on the town of Luckey as well. Be on the lookout for original photographs.
If you discover that I have left anyone else out or would like to nominate anyone, please let me know. For the festival I made up an information request form for nominations. If one of these forms would help you collect information, let me know. I will bring extras to the meeting.
Our next Historical Society meeting is Thursday October 17th at 6:30 in the Luckey Library. September was the month that Historical Society dues were due. The fee is $20 per person or household. If you have forgotten please send to Ruth Rothenbuhler, our treasurer, or myself. 
The summer of 1973 when the enclosed article was written, I had just finished my freshman year of college. I didn't even know that Luckey existed. I wish I would have. I think that I would have loved living here. There were so many great people that lived in Luckey during that time and I never had the chance to enjoy them. My how things have changed – sure wish I could turn the clock back for at least a visit.
Over and out Sally
August 4, 1973  "The Toledo Blade" "'Friendly 'Spirit' Attracts Many Visitors To Luckey" 
Residents Prefer Pace Of Small Town                                                                           By Jack Keith Blade Staff Writer
LUCKEY, O. – When it comes to luck, Luckey has both good and bad.
"You've never seen so many friendly people," Chief Earl McCoy, Luckey's only policeman, said of his town. That's good.
The Wood county community of only 1,000 residents attracts many visitors every summer, and Chief McCoy says it is because the town has "spirit."
The Luckey Quarry and the T. J. Campground are favorites of tourists and residents alike.
Robin Corell, 16 of Luckey, a part-time lifeguard at the 18 acre quarry, said it is especially crowded on weekends. The quarry offers swimming and diving area, and is stocked with blue gill and rock bass.
Campground Busy
Aldon and Wilma Blecke of Luckey, own and operate the campground just west of town. Generally almost full on weekends, it was jammed over the July 4th holiday.
One of Luckey's newest businesses, which sell campers, also is profiting by the vacation boom. Mr. and Mrs. Robert Everitt are the owners of Evco Sales and Service. "We can hardly keep up with the business," Mrs. Everitt said.
On the other hand, area farmers are feeling the pinch from "one of the worst planting seasons in the last 20 years," Vince Kahle, general manager of Luckey Farmers' Elevator, Inc., said. "Production will be reduced considerably," he added.
Building Practically Stopped
Mayor Harley Jacobs manager of Jacobs' Meat Market and Food Locker owned by his brother Elmer, said Luckey also is facing new problems with urbanization.
"Building has practically stopped" because of a sewage disposal problem, he said. Luckey does not have a unified system and state officials have restricted the number of private septic systems. Mayor Jacobs said the town probably will be forced to put in new sewers in the near future.
Luckey is governed by a six-man village council, with Mayor Jacobs presiding. The council recently voted to build tennis courts in the newest of the town's two parks. Chief McCoy said they should be completed before fall.
"It's a quiet town," Chief McCoy said. "We average about 15 traffic violations a month – just enough to keep us on the ball."
Fireman Not Busy
Luckey is served by a 30 man volunteer fire department. However, there have been no major firs in more than a year, Chief McCoy said.
The town has activities for all ages.
The Faith United Methodist Church, one of Luckey's four churches, has served a monthly dinner to help raise funds for over 15 years. The women of the church bring homemade food to serve the more than 150 people from the area who attend.
Luckey also has four garden clubs, and American Legion post, a Kiwanis Club, a local JayCees chapter, five boys' baseball teams and two girls' softball teams.
Luckey's biggest industry is a farm machinery manufacturing company which employs about 40 workers. Outside the corporate limits a Goodyear Tire Co. Plant, which makes foam rubber products for cars, employs nearly 600.
Most Work Elsewhere
Mayor Jacobs said most Luckey residents work outside of the community, in Toledo and Bowling Green.
Luckey citizens said they like the small town life they lead.
Mrs. Elvena Porter, of Luckey, said, "We're all friendly, I wouldn't move to the big city for the world."
Pace Not Frantic
Tom Bowen, a vegetable farmer in Luckey, said he liked the pace of the small town, noting that he had lived the frantic city life. Now, he said, he takes his time and enjoys life more.
Luckey will celebrate its centennial in 1981. Mayor Jacobs said it's a little too early to start making plans, but he hopes some kind of organized celebration will be held.
Among the town's other businesses are two restaurants, two food stores, a bar, a florist shop, a bank, a hardware store, as funeral home, a beauty parlor, a gas station, two insurance agencies, seven repair shops, a lumber company, a cabinet shop and a photographic studio.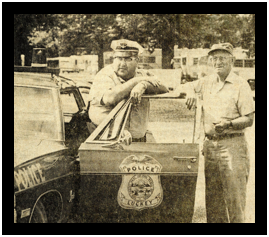 POLICE CHIEF KEEPS EYE OUT FOR LAWBREAKERS
Chief Earl McCoy, left and Arnold Hehl of Genoa watch area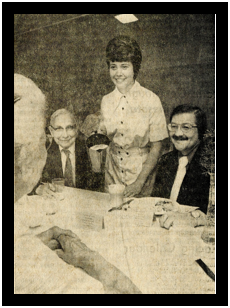 MONTHLY CHURCH DINNERS RAISE FUNDS
From left, Fred chambers; Mrs. Mary Lou Emans, village tax commissioner; Rev. Thomas Scoby; foreground, Mrs. Chambers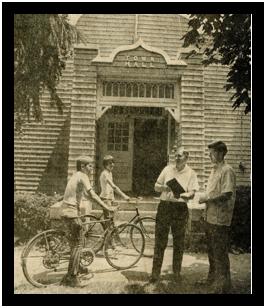 MAYOR AND TOWN'S ONLY BARBER CHECK LUCKEY'S HISTORY
From left, Tom Ballard, Jeff Doll, Mayor Harley Jacobs, Robert Emans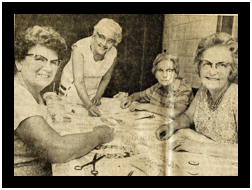 LOCAL WOMEN SPEND SPARE TIME COOPERATING ON QUILT
From left, Mrs. Harold Emmitt, Mrs. Frieda Dauer of Perryusburg, Mrs. Hannah Spahn and Mrs. Herbert Baker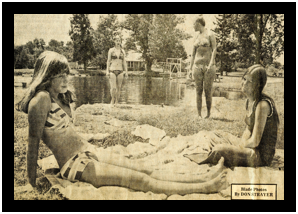 YOUTH SPEND AFTERNOON IN THE SUNSHINE AND WATER AT LUCKEY QUARRY
From left, Robin Correll, Pam Predmore, and Debbie Ford Jenny Robinson