Goetz Family Tree
I. Moritz J. Goetz  B 1853  BP Graemensdorf, Pomerinia, Germany IMM to US 1881, Elmore OH then Luckey OH  D 1941 bur TTC
+ Johanna H. Manzelmann  B 1855  BP Graemensdorf, Pomerinia, Germany         IMM to US 1881, Elmore, OH then Luckey OH   D 1935 bur TTC married 12 Nov 1876
Children of Moritz and Johanna
II. Ernest Fredrich Wilhelm Goetz   B 1 Feb 1879   BP Graemensdorf, Pomerinia, Germany, Conf. 26 May 1893, IMM to US 1881, Elmore OH then Luckey OH  D 9 Dec 1947, Bur Troy Township Cemetery Luckey, OH  Rev J. G. Johanssen of Grace Lutheran Church officiated
+ Josephine (Josie) Caroline Christine Meier or Meyer  (Josie's mother was Wilhemine Elise Meyer)  mar 15 Jun 1904 in Woodville OH  B 10 Dec 1878         Conf. 15 Apr 1892 bur TTC D 1964
Children of Ernest and Josephen
III. Thelma Goetz  (SS# 290-09-3512) (unwed, no known children)  B 22 Dec 1907  BP Wood Troy OH    Conf. 4 Jun 1922   D 17 Oct 2007   DP Wood Troy OH bur TTC
II. Dorthy Goetz  (unwed, no known children) B 1889  (census 1910 living in Lucas Co. w/ Joseph and Nellie Thum)
II. William Goetz B 1890
II. Fredrick H. Goetz (census 1910 living with John and Anna Sielschott in Wood Co. 'Gaetz')  B 1892 D 1964 (1930 & 1940 Census, living in Toleodo, OH with wife Hazel and his two daughters, working as bus driver)
+ Hazel unknown B 1893 D 1987
Children of Fredrick and Hazel (from 1930 & 1940 Census)
III. Katherine Goetz B 1921
III. Carolyn Goetz B 1927
II. Daisy Goetz (Margaret) B 1894 (believed to marry an unknonwn Heltebrake)
II. Clarence Alfred Goetz B 30 Mar 1897   [U.S. Military and Naval Forces for 1920 census 1910 'Gaitz' living w/ Moretz and Johanna in Wood Co.] unwed
More on the Goetz Family
Thelma Johanna (after her grandmother) Goetz was an only child born of German immigrants. Her father, Ernest Fredrich Wilhelm Goetz immigrated to the United States in 1881 with his father and mother Moritz and Johanna Goetz from Graemensdorf, Pomerinia, Germany. Ernest was born in Graemensdorf on February 1, 1879 and immigrated in 1881 with his parents at the age of 2. Ernest's parents lived in Elmore, Ohio a short time before moving to Luckey. Ernest had five siblings. Ernest was the only sibling born in Germany. The other siblings were born here in Ohio as follows; Dorthy born in 1889, William born in 1890, Fred born in 1892 and Daisy birth date unknown. In 1904 Ernest took over the local drugstore in Luckey. The drug store was located in the Commercial Block downtown. The drug store was located in the last section to the east. Also in 1904, on June 15, he married Josephine Meier from Woodville, OH. Josephine or Josie as she was more fondly named, was confirmed Josephine Caroline Christine Meier on April 15, 1892 at the Salomonde (as spelled on her certificate) Church in Woodville, OH. Josie's parents were from Woodville and belonged to the German speaking congregation of Salomonde Lutheran in Woodville.
Thelma was born on December 22, 1907. Thelma enjoyed the company of many cousins and family in the area. Gross Nana (Grandma) Goetz and Gross Papa (Grandpa) Goetz lived with Uncle Clarence here in Wood County. Aunt Dorthy never married and lived in Toledo. Aunt Daisy married a Mr. Heltebrake and lived in Toledo as well as Uncle Fred with his wife Hazel and Uncle Willie. Thelma also enjoyed the company of her cousin Evelyn Meyers.
In 1951 Thelma was employed as a secretary at the Marshall Melhorn Law Offices located in the Nicholas Building on the corner of Madison and Huron streets in downtown Toledo. Thelma worked for Marshall Melhorn for 20 years. Following her employment at Marshal Melhorn, Thelma worked as a secretary for Harley Davidson Motorcycle on Ashland Ave in Toledo for 14 years.
From an early age Thelma enjoyed living in the small town of Luckey. When she was small Thelma, her father Ernest and her mother Jossie lived above the Drug store. In Thelma's photo collection can be found pictures of Thelma with her prize chicken, enjoying a ride on a log wagon moving through town, playing with her dolls, hanging around in the front of her father's store and many others. Thelma did not restrict her enjoyment of the world to just Luckey, OH. Thelma has been known in Luckey for many years as a world traveler. In Thelma's photo albums we find pictures of Thelma in Germany, China, Switzerland and all over the United States. In a collection of her photos are pictures of Thelma at Schoenbrun Village, OH, Mackinac Island, Michigan, Wisconsin Dells, Wisconsin, Grant's Farm, St. Louis, Missouri, Jamestown, Virginia, Salt Lake City, Utah, Knott's Berry Farm, California, Mt. Vernon, Maryland, Wilmington, Delaware, and swimming in the Atlantic Ocean. Thelma was very fortunate to have traveled so many places. Not many people of Luckey were able to afford such a luxury. She visited missionaries in China and would share pictures and stories of her adventures abroad with the people of Luckey. She enjoyed sharing her vast slide collection with many gatherings of people. After her passing many a treasure was found in her home. Over the years she had gathered many souvenirs from her many travels.
Thelma attended school in Luckey and is present in many of the class photos that have been saved over the years. Thelma was an active participant in the Grace Lutheran Church here in Luckey. She played violin in the church orchestra and was often accompanied by her friend Lavada Graeding. She also played the cello and sang in the church choir for many years. Thelma was a member of the Lutheran League Guild and prepared programs for Sunday School. She taught Sunday School and directed Junior choir for many years. Thelma played the organ for church services for fifty years.
Thelma was of quiet nature but in any discussion she would hesitantly give a response that proved to be helpful and wise. Although Thelma enjoyed sharing her travel adventures with people and was a regular music performer, she was reluctant to have visitors in her home. Even her close acquaintances were seldom welcome in her home and could be seen sitting on the large porch of her home. The people of her neighborhood along the boullivard (Adams Street) were regularly privy to the music of Thelma, Reverend Johansen and others filling the air during summer practice sessions.
Thelma was very kind to other girls living in Luckey. When she worked in Toledo she would take the area young women to Toledo to work. She was very willing to drive out of her way to pick these people up. In 1951 she would drive west on Route 582 two miles to Caris Road, then to Tracy Road, and take Route 20 to Oregon Road where she would drive to the Fassett Street Bridge and cross the river. She then would proceed on Broadway to the business district of Toledo. When snow was deep and no traffic moving in the country one could look out the window and see Thelma driving down the road ready to deliver her female companions to work in Toledo. In the summer of 1951 Thelma had seven girls with her in the automobile. There were three sitting in the front and four sitting in the back. Even in those times one was not permitted to charge for transportation but the girls would give Thelma money for gasoline. Two of Thelma's passengers were Lavada Graening and Ruth Rothenbuhler. Thelma made it possible for many girls who would otherwise have no transportation to make a living working or go to school in Toledo.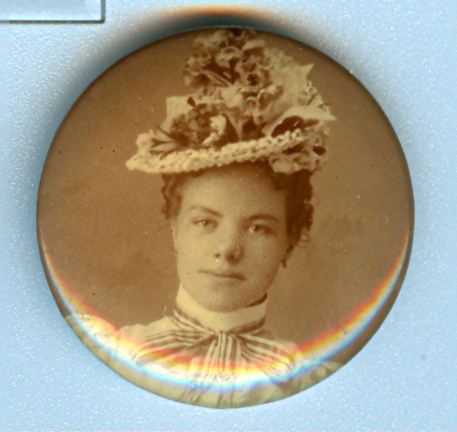 Above; Josie Goetz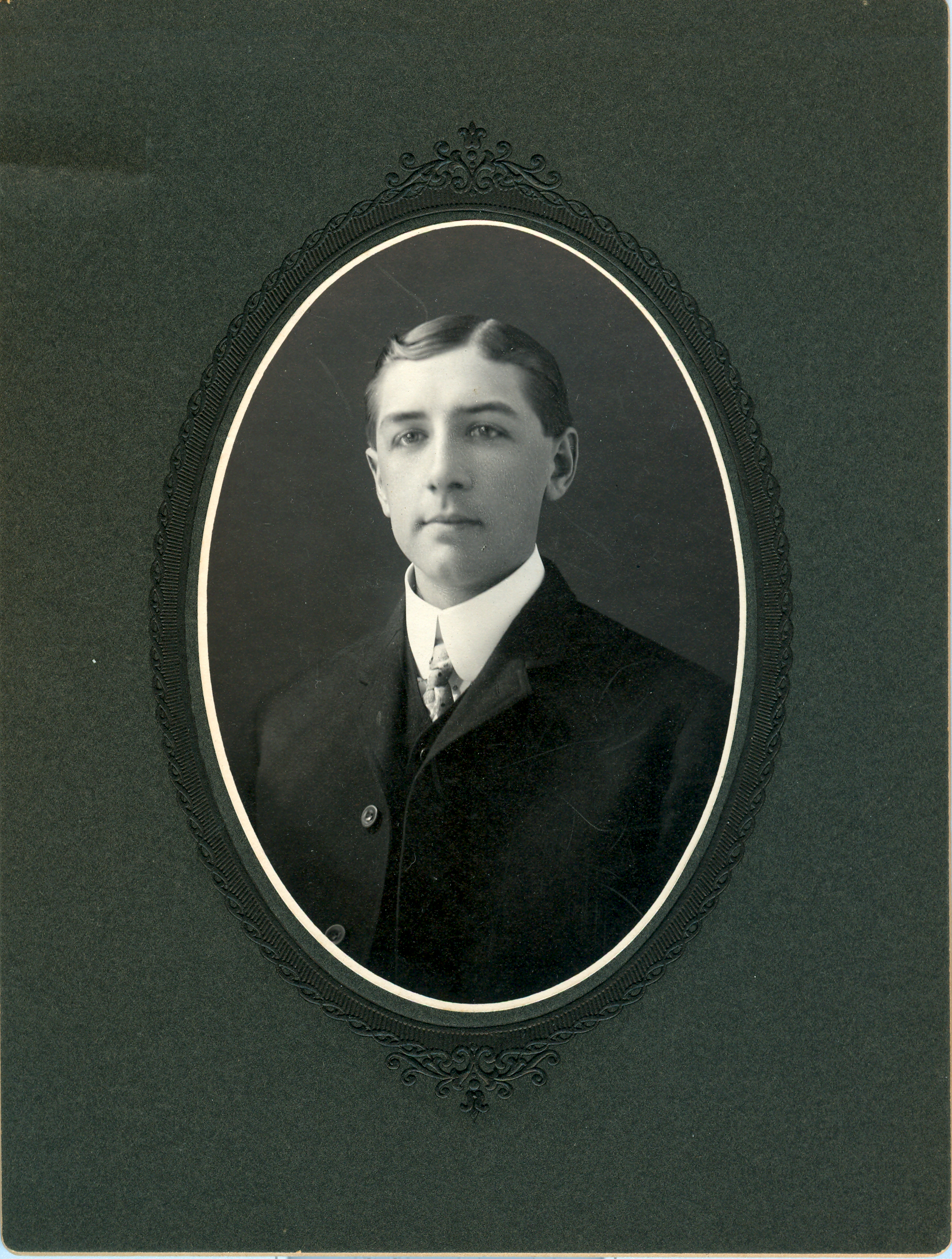 Above; Ernest Goetz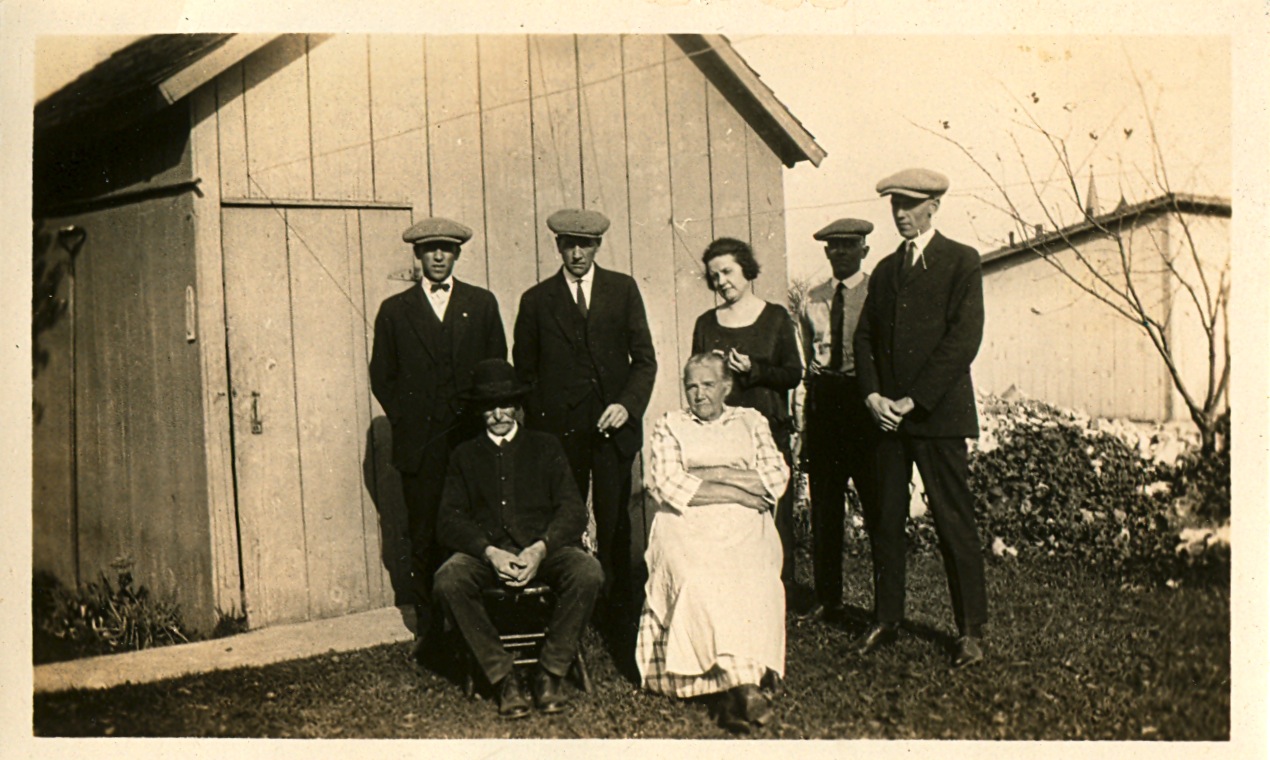 Above; Gross PaPa Moritz, Gross NaNa Johanna, Fred, Ernest, Dorthy,  Will and Clarence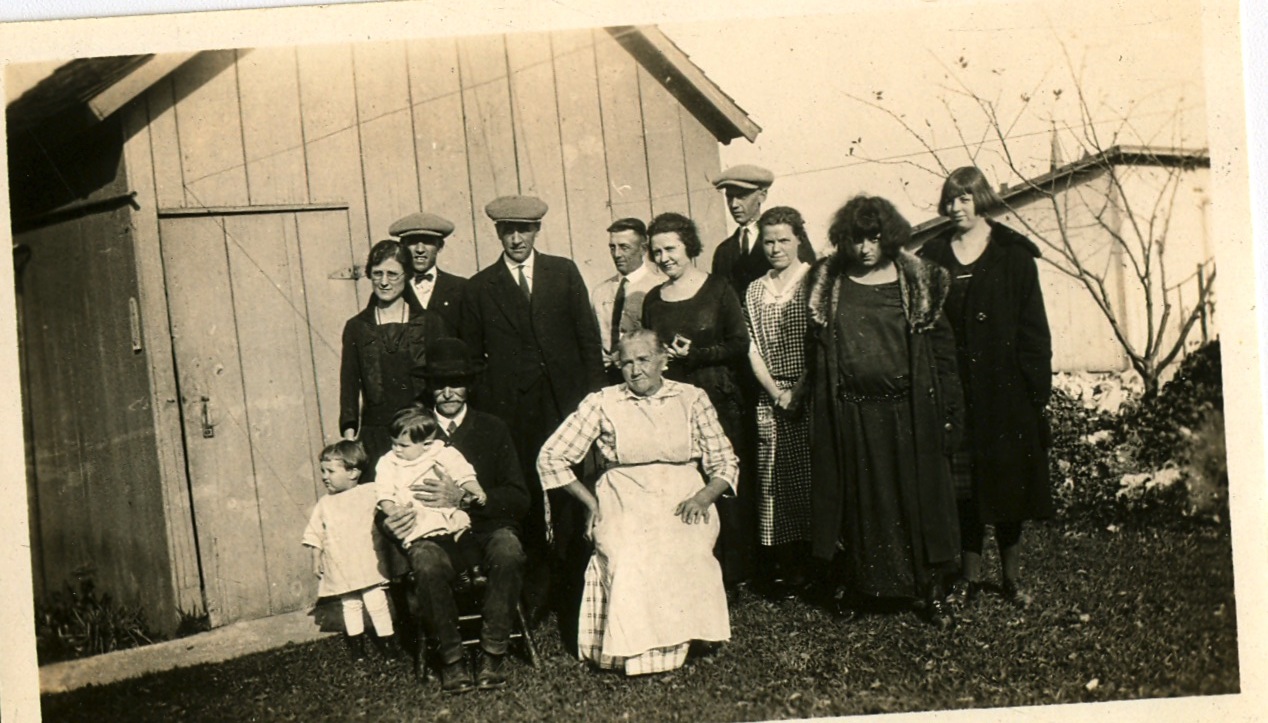 Standing L t R Hazel (wife of Fred), Fred Goetz, Ernest Goetz, Will Goetz, Dorthy Goetz (later married a Hiltebrake), Clarence Goetz, Joise Goetz (wife of Ernest, Lornetta Goetz (relationship unknown) and Thelma Goetz (daughter of Ernest and Josie)
Sitting L to R children unknown, Gross PaPa and Gross NaNa (Moritz and Johanna)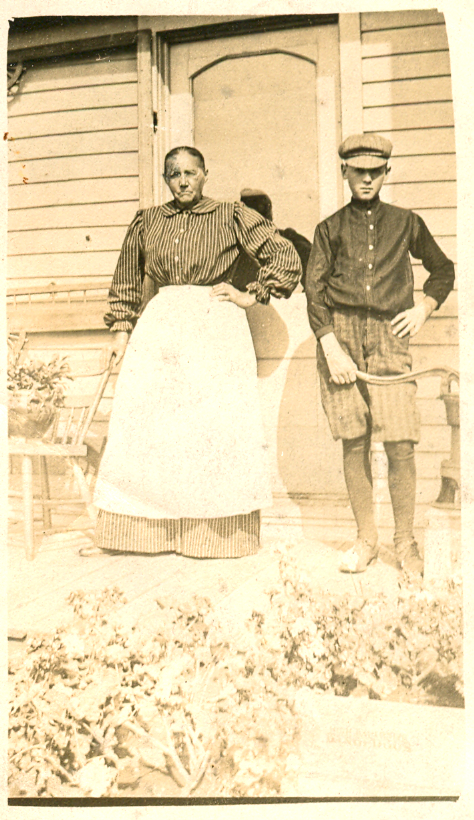 Above; Johanna & Ernest Goetz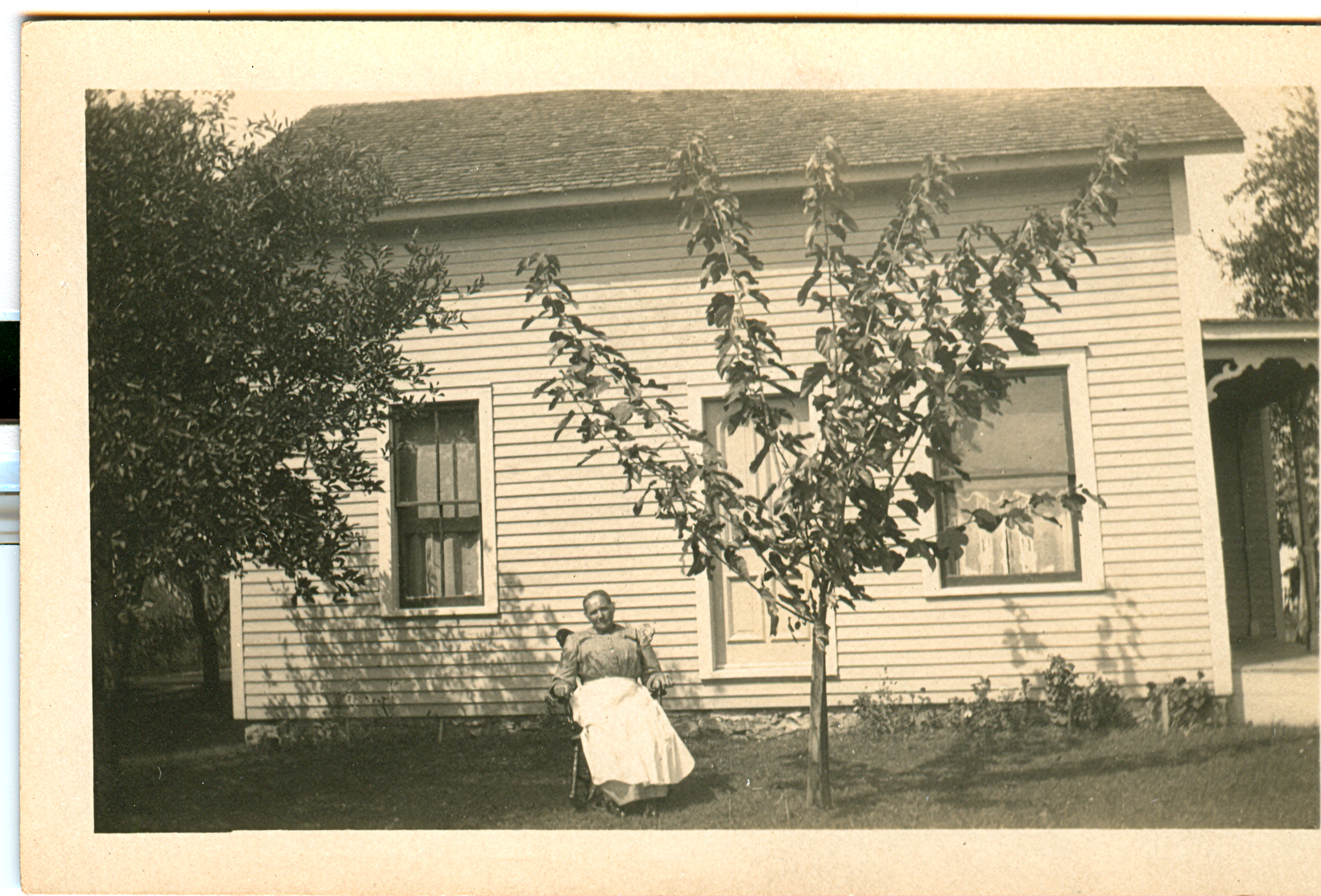 Above; Johanna Goetz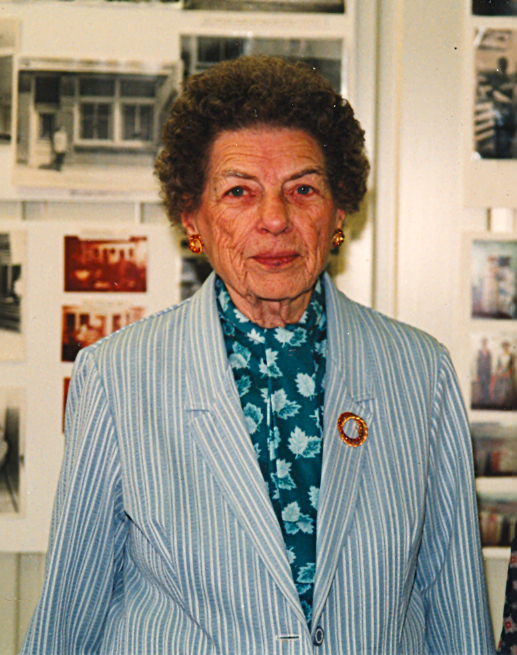 Above; Thelma Goetz