Ortha Wight Biography 
       Ortha Wight was born the 6th of May 1890 to parents Charles William (Charlie) Wight and Alice Permelia (Millie) Loomis. Ortha spent most of her young life in the community of Scotch Ridge, OH, rich in family and religious ties.
        Ortha's fraternal grandparents, John Wight and Christiana Thom were born in Scotland, John born May 29th, 1929 and Christiana born July 1830. John, his parents Alex and Mary (Harvey) Wight and his siblings, Jean, Alexander, George and William all immigrated to the Ohio area. His sister, Jean married Gordon Duncan, his brother Alexander married Jesse Thom. His brother William W. married Jesse Troup from Indiana and settled in the Pemberville area. His brother Alexander came to the Scotch Ridge area and shared ownership in a sawmill with John. John and Christiana married in 1859 and came to Scotch Ridge in 1864. Christiana's brother paid for her passage to America and she came to America when she was 24 years old. For a time she worked in Cleveland as a maid and then moved to Oberland, OH where she had a millinery and dress shop. While Christiana was living in Oberland, her sister Jesse came to America and studied music at Oberland College. After graduating Jesse moved to Savanna, Ashland Co., lived with their sister Ann and taught music. Eventually Jesse married Alexander (sisters married brothers). John and Christiana had four children as follows; John Frank Wight born Oct 1862, Charles William Wight (Ortha's father) born 4 Jul 1865, Edith Mary Wight born Oct 1868 and Mary B. Wight born 13 Nov 1875. The descendants of John Wight and Christiana Thom (Ortha's fraternal grandparents) lived in the Scotch Ridge area. The brother of Ortha's Grandfather, Alexander Wight and wife Jesse Thom and most of their descendants also lived in the Scotch Ridge community.
       Ortha's maternal grandparents, George Washington Loomis and Rachael Permelia (Sneeden) Loomis were of Scottish decent but were neither born in Scotland nor Webster Township. George W. was born March 12th, 1823 in Medina Co., OH and Rachel P. was born in Binghamton, N.Y. George and Rachael had nine children as follows; Pruda Philinda born Jan 19th, 1849, Alma L. born Jun 6th, 1850, George W. born Feb. 18th, 1852, Benjamin Levi born Mar 11th, 1854, Edwin Lorin born Jun 6, 1856, Laura Eliza born Apr. 1st, 1858, Mary Ellla born May 7th 1863, Alice Permelia (Millie) born Mar 15th 1865 (Ortha's mother), and David Herman born Dec. 5th, 1867. George Washington Loomis was the son of Levi R. Loomis. Levi was the first white settler on Scotch Ridge. (This isn't quite true however as Levi's mother was an Indian Maiden.) Levi and his wife Prudence Parker (Stedman) Loomis had four children and twenty-eight grandchildren, most of whom lived in and around Scotch Ridge.
Levi Loomis, Ortha's Great Grandfather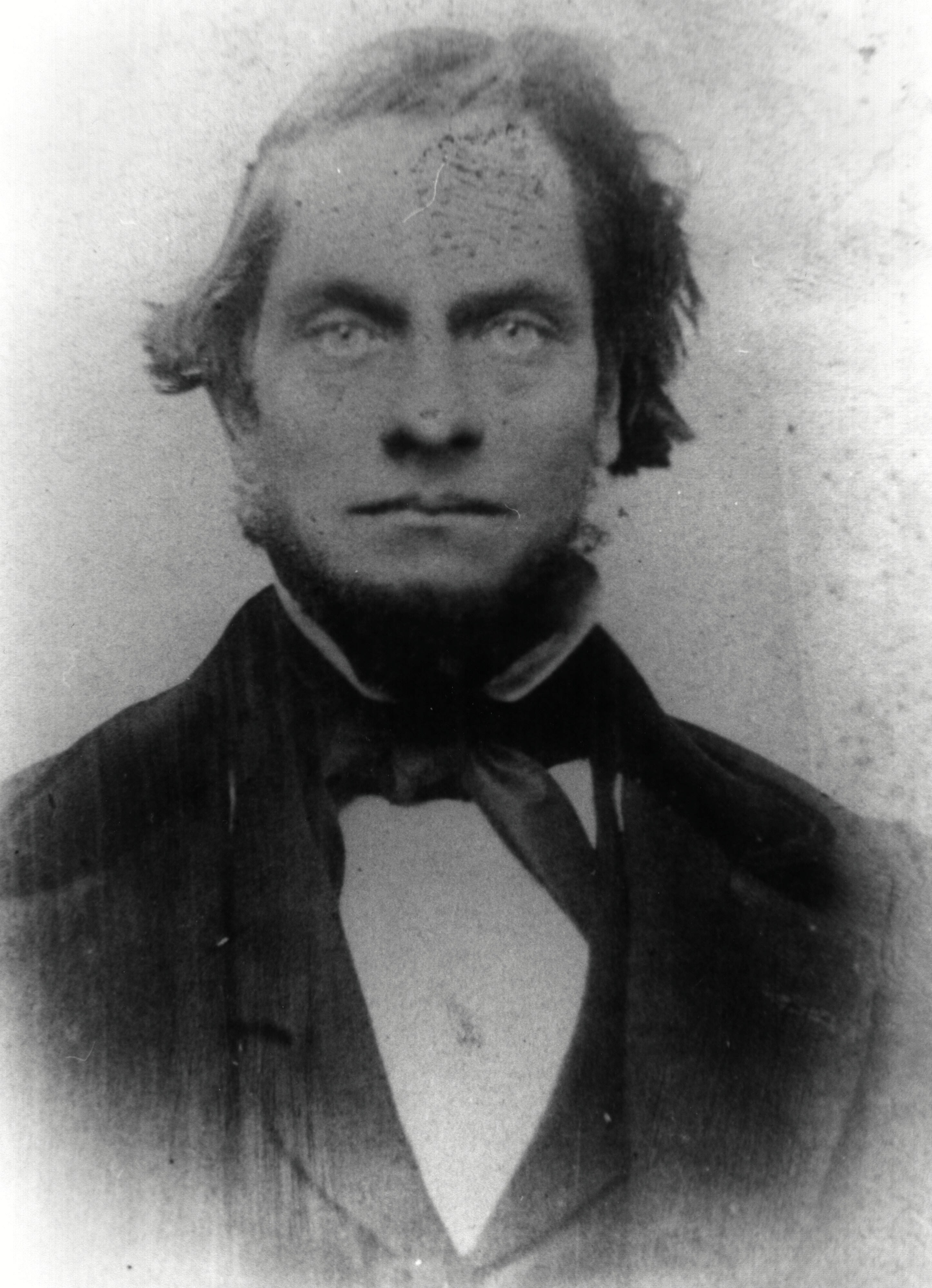 With eleven aunts and uncles, great aunts, great uncles, cousins and second cousins,­­­­­­­­­­­­­­­ Ortha was surrounded by family. In this small community the lives and families were greatly interwoven.
       Ortha attended Scotch Ridge School and the Presbyterian Church in Scotch Ridge. She attended one year of college as well. She married Delbert Corell Meyer who was born Aug 6th, 1890 in Cleveland, OH. Delbert attended four years of college and while living in New Jersey was a "Tel engineer" (per 1940 census).  Delbert died at the early age of 52 in 1943. Together they had three children; Joseph Wight Meyer born 1916, Jean Meyer born 1920, and Mary Louise Meyer born 1922. In 1930 and 1940 Ortha, Delbert and their children were living in East Orange, Essex, New Jersey. Following the death of her first husband, Ortha married Edgar Raymond Cooke Dec 29, 1951.
P.S. If you enjoy Ortha's letter you will certainly enjoy "The Scotch of Scotch Ridge" by Charolotte Dunipace Shaw. Due to her enormous contributions in the writing of this book, it is dedicated to Ortha. 
This is a Long Letter
by Ortha Wight 
PHOTOGRAPHS INCLUDED WITH THE LETTER BELOW;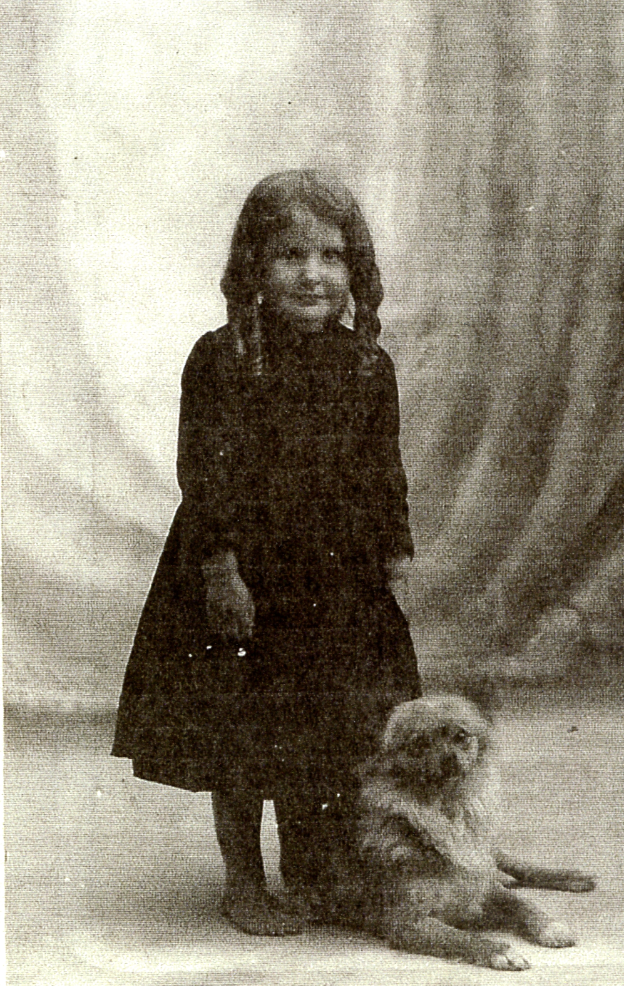 Ortha and Prince 1894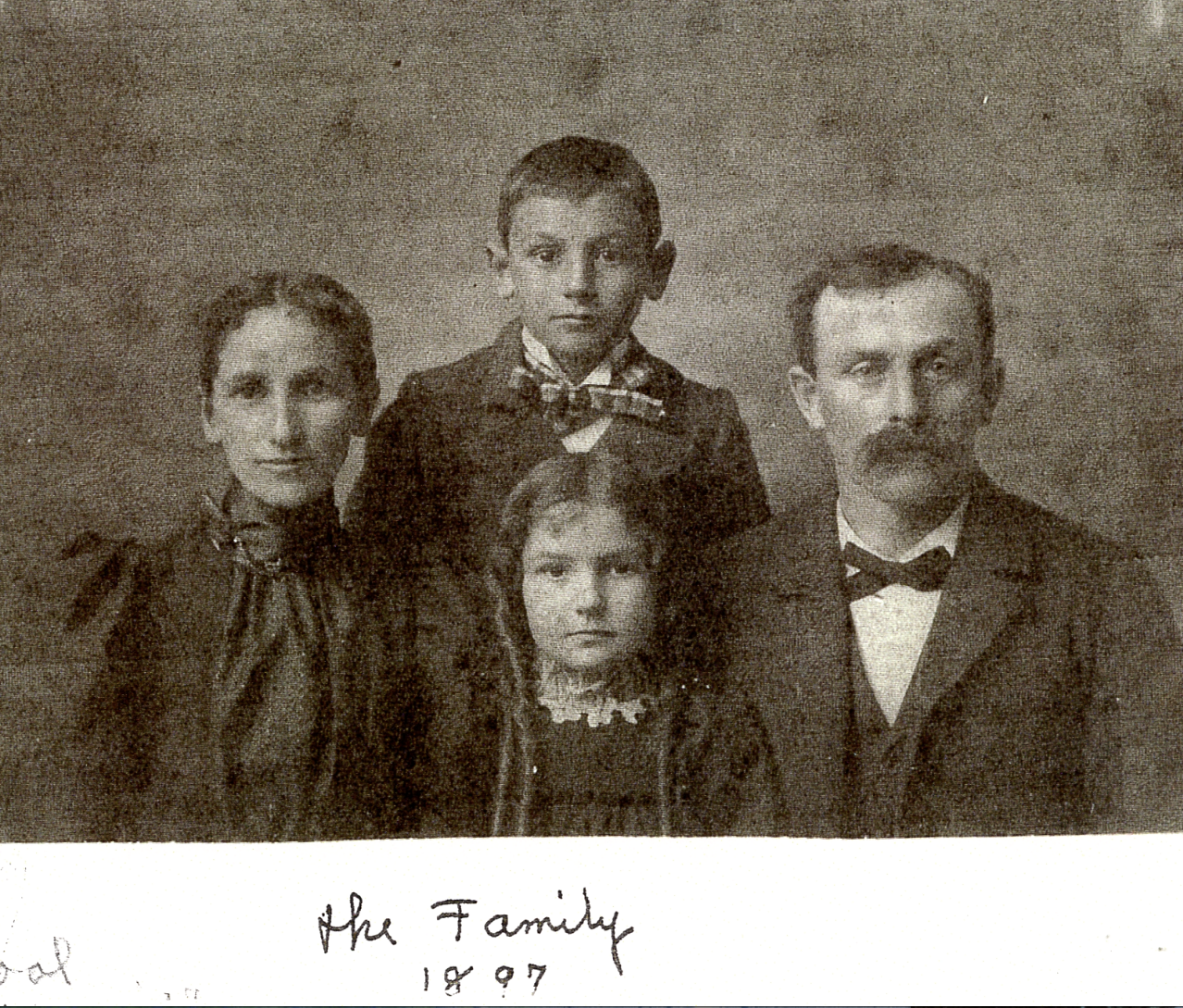 Ortha (1890 – 1980 )and Evan (1887 – 1965) with their parents Alice Permelia "Millie" [nee Loomis] Wight (1865 – 1925) and Charles William Wight (1865 – 1945)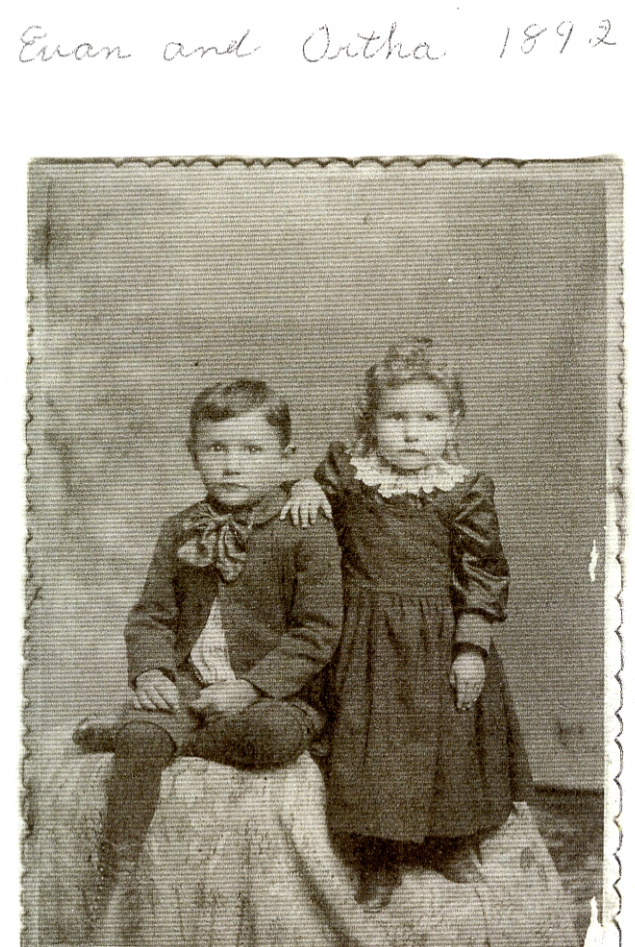 Ortha and Evan taken 1892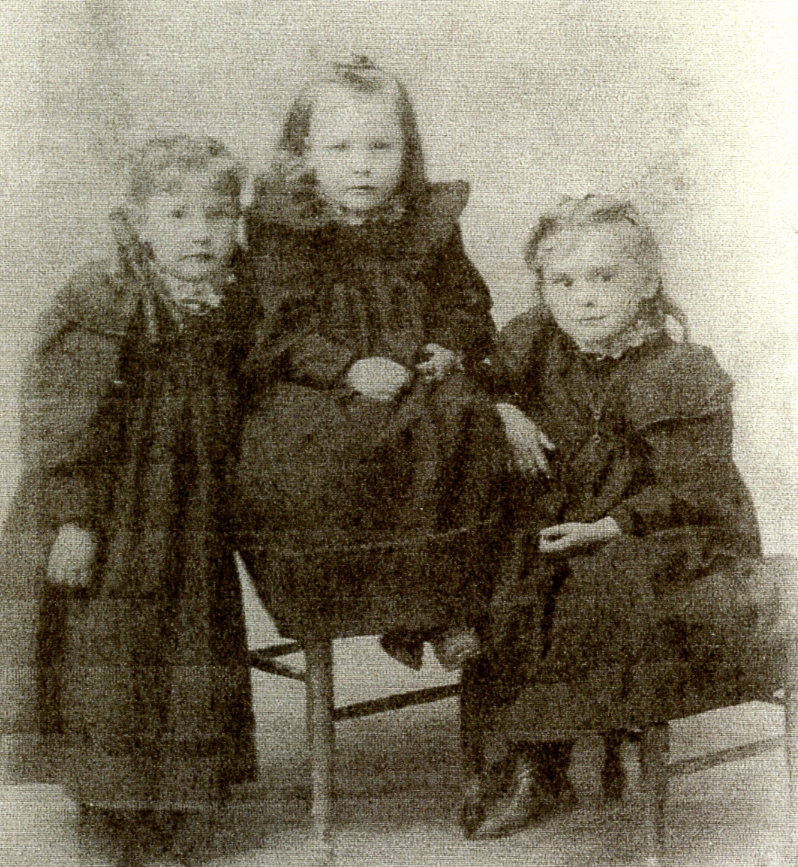 Ortha Delia & Rachael 1893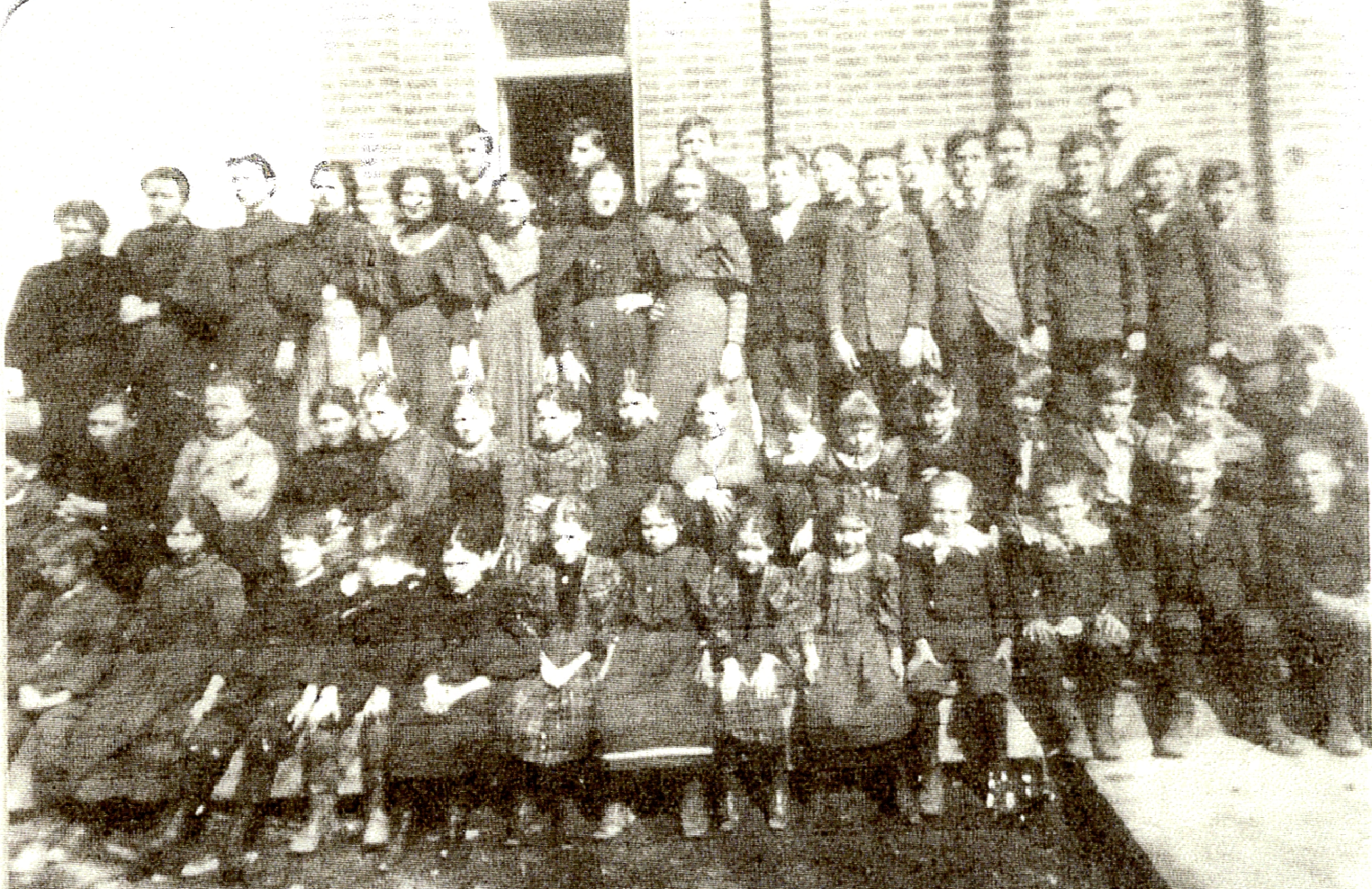 Scotch Ridge School photo date about 1896 as Ortha is five from the right in the front road and appears to be about 6 years old.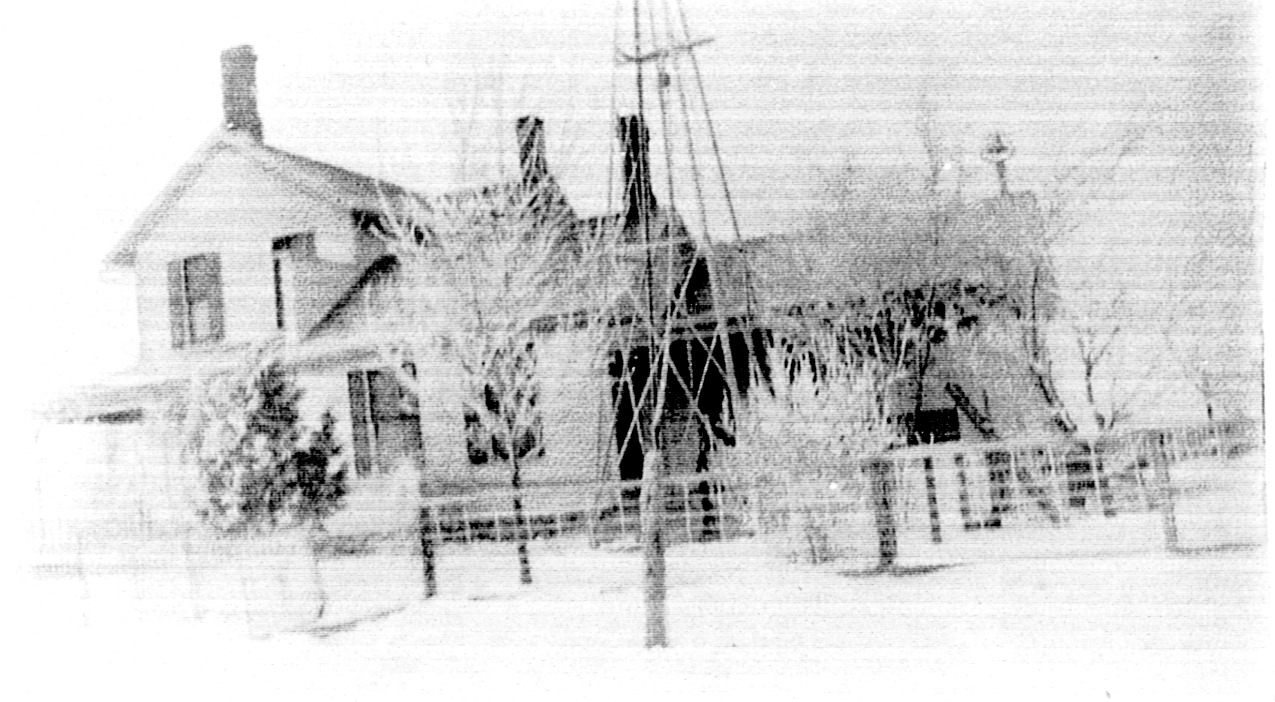 The old homestead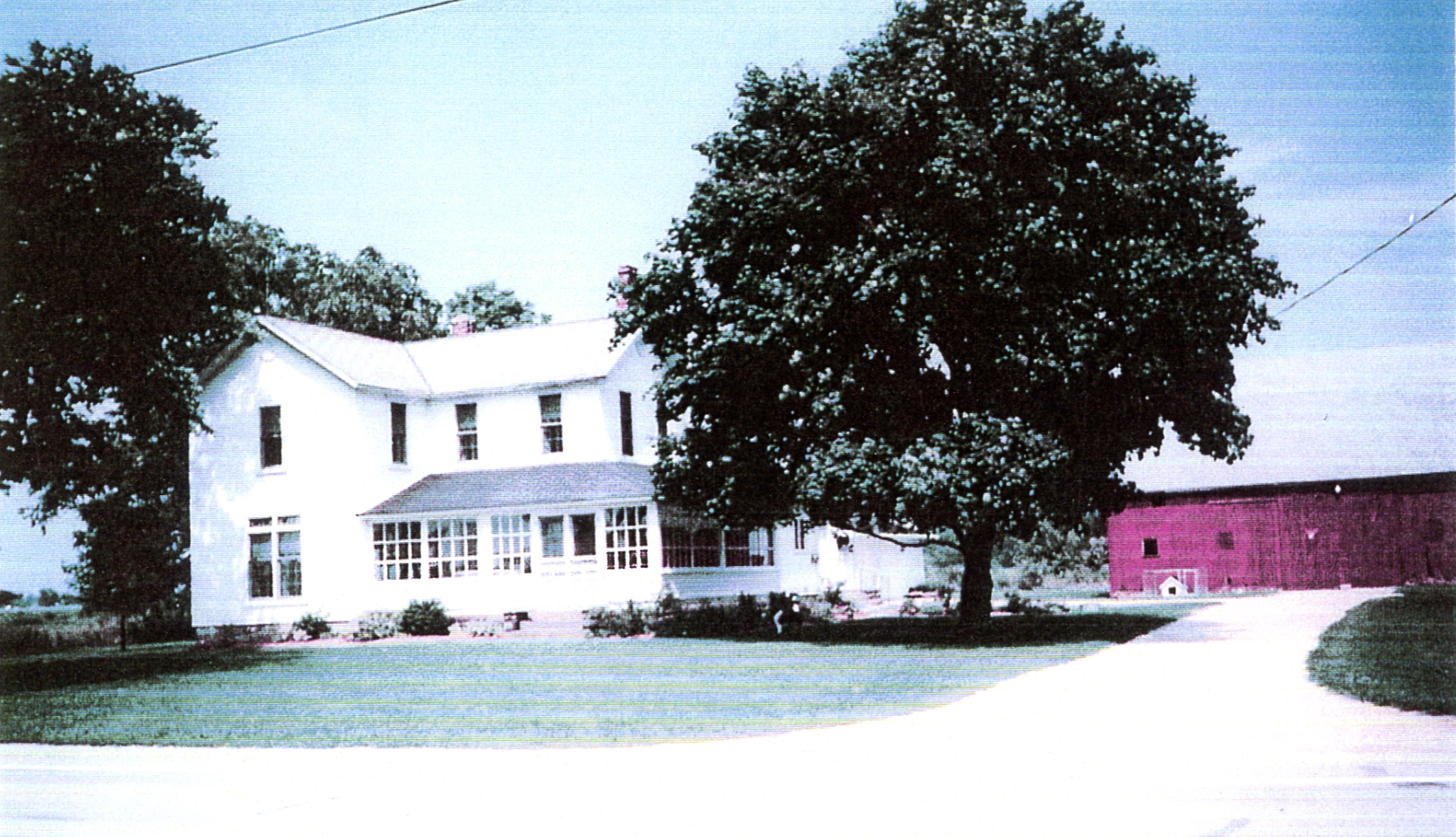 May 1973
Dear Family of Mine –
"For lo the winter is past, the rain is over and gone
the flowers appear on the earth;
the time of the singing of birds is come,
and the voice of the turtle is on our land."
                                                Song of Soloman 2:11
It is the sixth of May, 1890
That was my day. Heaven gave it to me eighty-three years ago and to this day it is mine. It used to be just the sixth, but now I claim the whole month as mine.
My arrival was during the early morning hours, aided by the horse and buggy Doctor who was my great uncle. He had driven four miles after he had been wakened by one of my uncles whose hurried trip and loss of sleep could have left him nothing but an unhappy mood.
My eyes opened to firelight from the big old fireplace; gentle hands wrapped me in warm blankets and carried me to my young mother's side. She was twenty-five and already the mother of my three year old brother Evan.
Before long the roosters crowed, the sun came up and the fog lifted and the busy day was calling.
Across the road, at Granny's place, masons were coming to lay the foundation for our new house. Granny's house, with its two rooms and a lean-to, had been moved back so far that its well and pump were now at the front of the house instead of near the kitchen door. The new house was to have the site where Granny's house had grown into the yard for many years.
But now granny was gone and the house was old. Eventually it would be attached to the new house by a wide porch. Its three rooms would serve as Summer Kitchen, woodshed and ice house.
If you drove through our part of Ohio, in 1890, you could be sure that every new farm house had an old one somewhere near. Old buildings were not torn down; they were only demoted. They took root again in another part of the yard and lived happily ever after as toolshed, workshop, wash house or summer house.
Granny's house may have watched with its two front windows, that morning of My sixth, as the McConnels built with stone and mortar a beautiful foundation. A brick cellar came later, its floor resting on the solid rock of the ridge beneath it.
When grandfather bought his land from the Government ( $1.25 per acre) he had selected the Divide, which was a rocky ridge, along with lower lying land. The Ridge held all our buildings and the Cemetery. The rock lay three feet beneath.
No one ever thought of relaxing in May. Everything came alive in May – it was the time for Doing. It was time for plowing and harrowing; time for building and painting; for garden making and fence repairing. The women cleaned house. Tacks came out of carpets, carpets went out on a clothes line, windows were washed, trash was burned, bedding aired, bedticking filled with fresh straw, feather ticks fluffed and sired in the sunshine.
Curtains were washed and starched until they could stand alone, floors and woodwork were scrubbed – dust disappeared from every crack and cranny. Every clothes line in the county held a flapping thing. All Nature seemed turned upside down. It was Spring housecleaning time.
It was also time to take off your long underwear and to have a new hat. From now on we had only three layers of clothes instead of four, and if you have never known the freedom from long underwear, you have never known real liberation. We felt as if we could almost fly.
And it was time, in May, to go barefoot; to feel the thick grass under your feet and to shuffle in the dust of the road, although that activity was soon discouraged when my mother's eye caught sight of a sudden dust storm. She was never too happy about our going barefoot so early in the Season, because of the colds we would surely have.
When we had them, she made an herb tea of some kind, sweetened well with sugar, which we drank and loved.
Honey and Red pepper healed our scratchy throats and a mustard plaster on our chests took all the joy out of being a privileged invalid. Back into shoes we went – to wait for June.
May brought the orchards into bloom – pear, cherry and peach trees paved the way for the huge apple blossoms. From our windows we saw flowering trees all around us – our country walked in beauty.
Granny's rose bush and lilacs lived forever – and her grape vine was entwined in a maple tree for many years. Two Catalpa trees bloomed in May and a shrub of Bridal Wreath fought for existence near the picket fence.
Our new house fell heir to Granny's plantings and fences. A tansy bed and a sassafras tree were on hand for certain teas when the new house would be finished. Birds came back to sing in the maple trees and drink at Granny's wooden pump.
Granny was gone, but her memory lingered on. Her loom stood behind the door, in her house; her old stove and her cupboard were still there.
She had been Granny Kellogg – Pruda Loomis who had remarried after her husband Levi's death. She went to Oregon in 1849 in a covered wagon with her husband George Kellogg – a man who had "read medicine" but thought mining gold would be more profitable.
Pruda, a woman of courage and strength, had reared her six children alone. In 1849 all were grown and married, and Pruda was free to follow the long trail to the land of gold. We have no story of their going, but we do have the story of her return.
After some time in Oregon, she became homesick. Her husband supplied her with the fare home and gold nuggets were quilted into her petticoat.
By ship she went to the Isthmus of Panama, by mule back she crossed the Isthmus, then by ship returned to New York. From there she crossed via Erie Canal to Buffalo – Lake boat to a Northern Ohio port, and eventually reached home. She never saw her husband again, but lived to be seventy in her little house that was built on the Loomis land. Her son George lived on the old farm and had added many acres to it. Another son, Dudley, lived on a farm across the River and Loren was a Doctor of Medicine. The girls Malinda, Betsey and Almira were all married and living in the vicinity. That all happened long ago – before May sixth, 1890.
The village, known to us as "The Corners" later became Scotch Ridge. It bordered our farm and Grandfather's so our view at the South was always of a row of white houses punctuated with trees. Most of the houses turned their backs on us which gave us a view of back yards, small barns and clothes lines.
Many a morning at the breakfast table, on Mondays, my father would look down toward the Corners and say "Well, Amelia's got her washing on the line!" Amelia was always the earliest to hang the snow white sheets out to dry. Before noon the village yards were a-flutter and we saw it all.
Leaves came out in May on all the trees, hiding our view a little, but giving the houses a cooler look when the heat of Summer poured down on them.
Where we lived everyone knew everyone's business and minded it. There were signs to be interpreted. When the Roper's yard bloomed white with diapers, Beth was home with the children. When Dr. Smith took Daisy for an afternoon ride, he was not about to make house calls; when the storekeeper gave away peanut brittle to the school children, he had a bad batch. We learned early in life to read the signs.
Social life was never known as such. It consisted of Church on Sundays – the Scotch called it Sabbath – an occasional visit with friends and relatives, and Funerals.
You might say we were in the center of Society. The Church was slightly down the road on Grandfather's farm – and the Cemetery was over on his hill. It was a long time before I knew that the Cemetery did not belong to us.
The Church was ours. Built by our Scotch ancestors, it naturally came down to us. When my father taught the Old Ladies Sunday School class he had enrolled his grandmother, his mother, three aunts, a cousin and his wife.
We love the Lord. At least we tried to please him by memorizing the catechism and all the Golden Texts that come from the Bible and were put on our Sunday School Cards. Nobody thought of explaining anything to us – we just memorized and never bothered to ask what "the chief End of Man" meant.
I loved to go to Church in our beautiful May. Mr. Johnson would take the morning chill out of the Church with a little fire in the old box stoves. A mouse or two under the pews would probably scamper toward the warmth, so we didn't have to be afraid one would come out of the organ when Daisy began to play it.
Church was a delightful place to go when your long underwear was off and your long black stockings had no bunching in them. A new hat from Mable's little hat shop down at the Corners could be seen for quite a while on its way up the long aisle to the pews beside the organ where we sat in Sunday School.
Watching the Spring hats arriving sort of held our attention and the story of the Good Samaritan made very little impression. I suppose there were sometimes new coats and dresses, but my mind ran on hats. Flowers and velvet ribbon, satin and feathers, bows and streamers – anything on hats was beautiful.
Our chief event in May came at the end: Decoration Day. That brought in the Summer. Civil War Veterans were still around in the 90's – showing up on occasion in their blue uniforms and brass buttons. Decoration Day belonged to them.
There was always a celebration held at the Schoolhouse. The day before, everyone's yard was invaded for flowers – peonies, iris, snowballs, lilacs, syringa, bridal wreath, every flowering thing was made into bouquets. The day itself was a solemn one – After listening to a long patriotic speech by some supposedly intelligent speaker brought to our world from the Outside, we assembled for the march to the Cemetery.
First the Spirit of 76 – although we were honoring mostly Civil War Veterans. The Spirit of 76 consisted of Frank Stevens and Charley McDonald playing fife and drum and a Veteran's son carrying the flag.  They led the way, followed by the few old Veterans in their blue suits.
Behind them marched the sons of Veterans, dressed in their Sunday suits, and following the sons came every little girl in the country in a white dress, if possible, and carrying all the flowers she could carry.
Bringing up the rear were horses and buggies stirring up the dust.
The long march to the Cemetery was the crowning point of a little girl's existence. Passing between long lines of Veterans' sons with crossed flags – as we reached our destination – was nothing less than Queen Victoria entering the House of Lords, or whatever it was she entered. Royalty was in our blood on Decoration Day.
Assembled at the Mound, we listened again to a short speech, we sang "My Country 'Tis of Thee" and repeated a prayer, and the ceremony was ended.
Flowers were distributed to every grave that bore a G. A. R. Marker.
Going home was always a let-down for the Royal and Loyal person I have become. I gloried in such a burst of Patriotism and was sorry to have it come only once a year.
May in the 90's meant unpaved roads, plain dirt, dust or mud, with grass grown edges – soft to the horses feet and easy to ride over. May meant cool fresh air, blue skies, starry nights, fresh green fields, pastures with cows or sheep, gorgeous sunsets – always over Johnny Meikle's barn. Clear sounds carried far: the bark of a dog, Aunt Mary calling the boys, the children at the Corners playing Run Sheep Run, Gertie at the piano rendering "the Robin's Return", Mr. Black's clear whistle as he walked home from work, or Mrs. Shank's supper bell. Such nice country sounds from all around us.
Fields drain to the ditches in May, and ditches become brooks flowing to the rising River – our whole world on the move.
Sometimes Earl and I followed in the furrow freshly turned and sometimes were startled by the whir and quick thrust into the sky of a meadow lark.
Wild flowers were a temptation in the woods, but my fear of snakes kept me from picking any flower that grew in long grass.
May had a way of hurrying by – it never took time to rest, and before we knew it, the calendar turned to June. May's shadows had lengthened, her Evening had come, her busy world was hushed, and her work was done. Time was now in the hands of June.
June
COME ONE – COME ALL
To the Strawberry Festival
Alex Wight's lawn
Thursday evening June 10, 1896
Ice Cream, Strawberries and Cake
25 cents
Moonlight and Roses Free
When June arrived there was very little for her to do but to be herself. April and May had finished with all their preparations – washing, airing, brushing, dusting, seeding, and getting everything settled for June.
A thunderstorm with wind and lightening might liven things up now and then, but on the whole June was gentle, sweet and filled with sunshine. She came with gifts: strawberries ripened on the vines by June sixth for Uncle Ed's birthday. For two or three weeks they ran wild – we could hardly keep up with them. Quarts of them were carefully picked and carried to the cool cellar. Very soon they were turned into strawberry jam, covered with wax and put away in what was considered a cool closet. Cool and Dark. Well, at least it was dark!
For every meal there were dishes of berries – sugared and creamed and eaten with cookies or cake or what was my favorite of all, wide slabs of home made bread buttered with home made butter.
That butter was made in our Summer kitchen from heavy cream churned in a box-like churn turned by the arm of two strong children. Each took 100 turns, then rested. After about nine hundred turns, the butter had "come" and began to plop plop. When Mother opened the lid, there was butter in little yellow chunks swimming around in a white sea of buttermilk.
By that time our work was finished and we were never denied our more than share of thick bread and butter.
Later in June there were things in the garden. Rows of green vines – some with peas, some with green beans, wax beans and later peas. Green onions and radishes shot up from no-where, and down in the round attached to some bushy plants were new potatoes.
They were small at first and could be cooked in their thin coats of skin. Sometimes we ate them just that way, skins and all, but the favorite way with early potatoes was to cook them with new peas and serve them in a rich cream sauce.
By the time garden things were ready to eat, the whole country-side was scented with clover fields and new-mown had – and wild roses bloomed in the corners of Uncle Dave's split rail fence.  Walking to the Corners you were almost intoxicated by the heavy perfumed air, and often startled by the sudden flight of a meadowlark and her clear shrill song that always sounded as if she were startled too, and scolding about it.
I wish that sometime you could see a clover field in bloom. Clover is the aristocrat of hays. Timothy belongs to the working class hay that fills the barns for ordinary everyday horse-fare. Clover is for company and special feasts.
Along the roadside grew the wild flowers, and sweet clover as fragrant as something expensive. The little flowers were weeds and not too much appreciated by farmers, but they never knew it, and held their little heads as high as if they had been planted in my mother's flower bed, with stones around the edge.
Bouncing Bet and Buttercups, Daisies and Sweet William came out of fence corners and thick grass, contented in their own place and never envying the huge Peonies in Miss Hunter's yard – nor the Hollyhocks tall enough to look into her windows.
June in 1890 had not seen ME yet, but later ones knew me well, for by that time I was out in the open over in the yard of our new house. When I could pick Granny's red roses, Romance came to flower in my soul.
I was four years old – and carpenters were building a barn for us.
When mealtime came, they ate at our table; there were three or four of them, but I fell in love with only one. His name was Gus Siple, pronounce Siply and his eyes were blue. A reddish beard finished off his beauty.
One day as the men were at the table, I picked a rose, sidled in along the wall, squeezed in between another man and Gus and gave the rose to Gus. That was my first humiliation. The men haw-hawed, Gus was embarrassed, and my love had been in vain. Those thoughtless men never knew how hurt I was, but as I remember it Gus was still my friend.
June was such a generous month, spreading her beauty for all to see. The grass grew tall in our new yard and had to be mowed down with a cythe [scythe]. When we were rich enough to own a commercial lawn mower with two wheels, whirling blades and a handle for pushing, Evan came into his own. Having his picture taken with it was only the beginning.
As the years went by he opened up more and more mowing territory until we had lawns in all directions. We began to look a little less hay-seedy and a little more like people in town. Town people might still consider us hayseeds, but we could not care less.
In the Summer we needed more men in the fields and that meant more meals and all that went with them. Therefore our family increased by a Leap. An extra man or two and a hired girl made the table longer by a board or two. From my place on the corner, between Mother and Dad, I watched other people eat and heard conversation that was over my head.
I was accustomed to my father's eating style – one that Emily Post never heard of – but new people brought in new ways. Did you ever try drinking your coffee with a spoon in the cup? Some people were experts at that with a little finger hooked around the spoon. But it was handy if they used a lot of sugar. First they stirred real lively-like, then had themselves a quick drink. It had its merits.
A hired girl was paid two dollars a week, called for by horse and buggy on a late Sunday afternoon and returned to her home on Saturday afternoon. If she had a beau it was a little more convenient for us; he did the transporting.
Sometimes a hired girl would sing while she did the ironing, and that was my introduction to worldly music.
Until our first singing hired girl came, I had heard only the Church Psalms or an occasional hymn like "Beulah Land Sweet Beulah Land". They sang that in the United Brethren Church, but in the United Presbyterian Church we sang only Psalms. The old Scotch Church wouldn't have been caught dead with a hymn written by anyone later than David of the Bible.
But the hired girl may not have gone to Church for she sang "Only a Bird in a Gilded Cage" and "After the Ball Was Over".
Of course the tunes were pretty, and I could understand about birds in cages for I had seen a canary in one. I figured a little about "After the Ball Was Over" – but the next line was "after the break of Morn", so I knew about morn breaking over there beyond Pemberville. Our days all began at Pemberville and came across the fields to us.
In those days the hired girl came from a home that had several girls, so one or two could be spared to go out and earn two dollars a week. Men in the fields earned a great deal more – a dollar or two a day which was a lot of money for us to pay out. They should have paid it all back to my mother for those good meals. In 1890 women were not liberated. They couldn't even vote for goodness sake!
One hired girl was a beauty. She had a purple parasol and tuberculosis. The tuberculosis sent her to an early grave and I never knew what became of the purple parasol. She was the most beautiful person in our Album – her name was Bertha Augustine and I wonder why she ever had to have tuberculosis.
In our part of Ohio many people had that disease. Sometimes whole families died of it. The Indians may have had it before our time; but let us not blame them.
In the village at the end of our farm there had been an Indian Cemetery. Old Mrs. Householder owned the land and as long as she lived no plow was allowed in that field. Until after the turn of the century those Indians slept in Peace. Their arrow heads were often turned up in our fields by the plow. They had hunted on that land long before it belonged to my people. Today there is a Roadside Park where they had their camp. A little stream called the Tussant still flows through and may even bear the name they gave it.
June roads were usually dry and people began to travel on them – driving to the Corner Store or the Creamery. Aunt Eliza Muir would stop by for a chat with my mother or grandmother. They lived a mile away, so we did not see them often in the Winter. I loved Aunt Eliza. She was really my mother's cousin, the daughter of old Uncle Dud, whose farm was across the River. She was pretty and she laughed a lot – she was much gayer than we were.
We were sadder people. Living with the cemetery practically in my grandmother's back yard was not conducive to hilarious living. My grandfather died a year before I was born – and grief was not pushed aside in a hurry. We held on to grief and nourished it, at least until a newer fresher one arrived. I was conceived in its shadow and carried from grave to grave along with the geraniums and petunias. My grandmother was sad, my mother was sad, my aunts were sad, and I must have been born sad. How could I escape!
W did not go around weeping, or anything like that, but we were just not so full of gay laughter as Aunt Eliza coming home from the Creamery!
A Summer afternoon could be ruined for me by the sight of a red shawl coming or going on the road. It was worn by Old Ann Austin, supposedly an Indian. She was the widow of a Civil War soldier whose pension came at the owner of the Corners Store. She lived several miles away, but when nice weather came it brought Old Ann to the store. She was old and wrinkled, with tangled and dirty gray hair and she always wore the old red shawl. What she wore under it I never knew – nor cared – for I was terrified enough just to recognize that shawl on the road.
Every child I knew was afraid of old Ann Austin, and now I wonder why. She was never known to hurt anyone – all she did was walk by – going or coming. We were nowhere to be seen when she was on the road – hiding where she could not see us, but where we could watch her. In her home she had a son named Bud, but none of us had ever seen him. She was our only Mystery.
The gypsies were something of a mystery, but they never came as early as June. Many years later I learned why. Their children attended Toledo schools and schools were not over till the end of June. In the kindergarten where I taught were some of their children – clean and well dressed like everyone else! That almost took the glamour out of our visitors "the Broadway Gypsies".
Summer evenings were long and lovely – warm and quiet and sounds carrying long distances. Uncle Dud's peacocks or the United Brethren church bell could be heard for two miles – or a long rain passing through Pemberville four miles away. Mournful sounds carry far. Evan's echo "hello" came back clear and loud from Uncle Dave's barns across the road. Hoot owls always seemed to call from the Cemetery – Aunt Mary's "yoo hoo" came over clearer than ever, from the hill beyond the Cemetery.
Evening was a sweet time. We sat on the porch steps and looked for the man in the moon. If lightening shot out of the sky eight miles away, we hoped it would say there.
Lightening was the Enemy – wind and hail were far from friends, but lightening hated us. It blasted out of the sky and you never knew whether it was threatening you or whether it would stay away. A barn filled with hay was always a good target and lightening is a sure shot. Wham and it was finished and a barn was left in flames.
Our road was name "the McCutchenonville Road". It began at the Maumee River in Perrysburg and may have ended in McCutchenville somewhere South of us, but none of us ever saw it.
The familiar part of our road was its first fifteen miles. It ran at an angle bisecting Wood County – separating East from West. It had its beginning in the early 1830's when my great grandfather did the surveying and when our Scotch Pioneers cleared off trees and underbrush until an opening through the forest had the appearance of a road.
Ditches for drainage were dug at either side, the soil from them thrown on the road. County poll taxes were levied, but every man had the privelege [as written] of making his payments by working a certain number of days on the road.
In 1890 the road was well established. It ran between farms, sun baked in summer, shaded here and there by woods; a sea of mud when frost came out of the ground in Spring; and a perfect track for sleighing during the winter.
It passed our house on the ridge, followed Grandfather's rail fence to the Corners, crossed the River road there, and went on over the River bridge to New Rochester and the South branch of the Portage River. There it made a jog and was lost to us. Our world's edges were Perrysburg and New Rochester. Our ridge and a sand hill just before it came to New Rochester, were the road's only high places. Wood County were we lived was flat and at one time swampy.
On our ridge my great grandfather used some foresight. Between his lane and our side of the road had been left an enormous oak tree in the very middle of the road. Another one of about the same size was left between our place and the Church. The track skirted both trees on the West side – leaving the East side a grassy plot for resting in the shade.
Those trees were our land marks and we loved them. Ours on the Ridge had been used for target practice by my grandfather and neighboring Indian boys. The one between our house and the church was the stopping point of a "Piece". When Rachel and I played together, we stayed until four o'clock, then took one another a "piece", which was always to the old tree. We called that one the Big tree. Going a piece to the Big tree was our finest privelege [as written] Rachel lived just beyond the Church on our side of the road.
"The McCutcheonville" became a traveled road – between the Maumee River and points South. Someone built a small wayside Inn, called the Ten Mile House. Travelers could spend the night there, and my ears caught wind of "goings on" there, such as a Saturday night dance with a little liquid refreshment.
In later years a larger Inn was built at the Corners, large and square, painted white, with wide porches facing both Roads and a Cupola high on its roof with windows and shutters. It could have been a lookout for fires or for the stranger coming from afar, but as far as I know it remained only an ornament.
The Householder family built the Hotel (we called it) and lived in it. Their barn had horses and a carriage that were for hire. Their cows pastured along the River and Furnished milk for the Hotel and another family or two.
By June fifteenth we were deep in Summer. In order to have the corn knee high by the Fourth of July, it was necessary to swelter those last two weeks of June. "Whew", everybody said. The men began to lie in the shade awhile at noon the horses were allowed more time for their lunch and a rest in their stalls. Women cleaned up the kitchen, chased out the flies and dropped exhausted for an afternoon nap. Summer was what we wanted, but we had to have time to get used to heat.
When the sun finally sank over beyond Johnny's barn, not a leaf would be stirring. No wind fanned through our upstairs windows. The birds out in the maple trees complained among themselves, and Dad coming in from the well with a tin cup of water said "Whew – you can hear the corn grow tonight".
July
"Hear the boom of the cannon
and the roll of the drum
On Fourth of July in the morning
Hear the march of the soldiers
As onward they come
On Fourth of July in the morning.
Hail – Hail – Fourth of July
Hail – Hail – Fourth of July
Welcome this Holiday
Hail to this jolly-day
Glorious Fourth of July."
It was my father's Birthday and was celebrated by all America.
The 1890 celebration was put off till a later date when the House would be finished. The frame was up, the siding on, the floors in place. Everything called for its special kind of wood. Dad had cut it from the woods, hauled it to the saw mill, [as written]  had it dressed and seasoned. Oak for one part, elm, ash, walnut, cherry – one for window frames, doors, woodwork. Cherry for the mantle shelf. He knew every board and every board went into its place. There was no warping nor squeaking of stairs.
Windows rolled up and stayed there. There were grooves and ropes and window sash irons – no more fitting of little pegs into holes to make a window stay in its place; but they were not so perfect after all. They rattled in the wind that whistled around them and into the house, and the grooves for ropes and sashes were the solution to the flies' problem of where to spend the winter.
The first warm days of Spring brought out the flies by the dozens. My mother's swatter was bent on murder. Flies crawling out of the woodwork were an insult to her new house. However, that came later. This was July just before the house was ready; the flies were elsewhere.
Bees zinged around and challenged a man working high on a ladder – sometimes he had to make a quick descent in sudden battle, his straw hat flapping wildly to fight off the attack.
Gardens in July go over board. They have something to do so they overdo it. Early in July the green beans are ready, the wax beans are ready, the peas run wild, and so does everything else.
Those garden things are such a treat when they first come out, but by two weeks later you are ready for a change. Beans can stick out of your ears by the end of July and they never took too well to canning. Nothing could spoil more thoroughly than a can of green beans, so it was better just to keep on eating them while they were fresh. Every day my poor mother brought in the beans – her apron half filled with them.
One of the nicest things about July was the Sunday School picnic on the fourth, held in somebody's woods, and fireworks afterward at the Corners.
The other nicest thing was raspberries. We called them RAHSberries. It was more than twenty years afterward that I heard them called RAZZberries. But whatever they were called, they tasted like something from Heaven. For every meal we had berries, and many of them, handled gently, went into glass jars to be eaten next winter.
The brick cellar, resting on the Rocks, was waiting to bulge with food for winter. The new house would be finished by Fall and Life would begin there.
It was in July that the Gypsies came. Their camping place was across the fields on the old curved road – near Grandfather's sugar camp. Grass was deep there, and tethered horses did a good mowing job. Wagons were parked near the fence, and camp fires were fed by pilfered dead wood from the Sugar Camp.
In our childhood days, Gypsies brought the thrill of our lives. I could see them better from the top of the rail fence across on the other side of the road. There I sat watching and listening.
Children played, dogs barked, camp fires smoked. Women in their bright calico dresses walked to the store by twos or threes. They were said to scatter in that many directions when in the store, and not to be above a little theft here and there.
But Mr. Davidson made them welcome and theft or no theft, he was their good friend.
They were horse-traders – the famous Broadway Gypsies who owned nice homes in Toledo and lived there during the winter. After a week or so in our vicinity, they would break camp, put out the fires, gather up the children into those quaint little wagons, and move on. I watched them sadly – it would be lonely without them.
After my parents moved over into our house, my Uncle Dave married my Aunt Mollie and lived across the road at Grandma's.
By the time I was three years old there was a new little cousin over there. My earliest memory is of her. What I encountered before then, I'll never know – but suddenly my memory comes alive. It is of a January day. I am dressed in my Sunday best, we leave our house from the back door and walk across to Uncle Dave's.
In the parlor there is a long white box and when I am lifted up to see, there lies little Linda in a white bed with a long white dress. There are green leaves along the bed. Little Linda had died.
Out in the fireplace room people were sitting – Aunt Mollie in a small rocking chair by the fire. There my memory closes the door.
Later other little cousins came and we all grew up together. In the 90's we knew nothing but play and happiness.
There was sunshine and there was shade. Uncle Dave made a great wonderful swing from a high branch in the Walnut tree. We played in bare feet and calico dresses, walking ankle deep in the sand lane that led to the cemetery lane. We called it the "Gravy yard lane", for the cemetery in those days was the Grave yard. "Gravy" to us!
Once going there to play, Ruby, Bessie and I came upon a casket on the ground! It had been removed by workmen who were in the process of moving it. They were somewhere else digging the new grave, so our curiosity had to be satisfied. We peeked in! When Ruby saw a foot, we had seen enough and ran back to Aunt Mollie's as fast as six bare feet could carry us.
The cemetery was a favorite place to play on a Summer afternoon. We knew the tombstones and visited the special ones often: the little lambs, clasped hands, doves and flowers. We memorized the verses – such as:
"As you are now, so once was I
As I am now, so you will be.
Prepare for death and follow me."
An open grave would send us home in a hurry but nothing ever frightened us enough to keep us away.
Our graves were at the top of the hill. Grandfather Loomis reserved a large area near the graves of his father, mother and baby brother. When his father and baby brother were buried there, the whole place was still his farm. That part of the Ridge and some distance West the rock had been covered with a deep layer of sand – not so good for farmland, but perfect for a grave yard.
Uncle Dave's orchard stood on the same hill between the cemetery and the house. In July the summer apples were ripe, and that meant apple pies and apple sauce. Harvest apples – ready long before the winter apples.
Grandmother's kitchen had been a place of action long before my arrival at that house on the hill. My mother and eight brothers and sisters had grown up in it since its beginning forty years before.
When Grandfather built, he chose the highest part of the Ridge for all his buildings. A long lane connected them with the McCutcheonville Road.
Built around a large square area for a garden, they were grouped as a compound. House first, in the best location. At its rear stood the wood shed, the Colvin house, a chicken house and the granary. Turning right was a long building for cattle or sheep. Another right turn was the horse barn with mows for hay above the stables. Next the cow barn for cows, and hay above them. Between cowbarn and the lane stood a wagon shed and a buggy shed and tool house. Next to that, the barn yard for the cows, the huge scales for weighing wagons, a windmill, and an ice house.
The house was New England Colonial in style, painted white and built for eternity. Four rooms and the Buttery on the first floor, hall and open staircase to three rooms and large hall on the second floor.
The mahogany stair banister was kept polished by three generations of children taking the quick way down stairs. A huge wide door with narrow windows on either side led on to a portico, with latticed sides and wooden benches for cool resting on a hot summer day.
The butt'ry was the place for children to gather. There were ten gallon crocks and five gallon crocks filled with cookies or doughnuts, tins of home made bread, bins of flour, bins of sugar, tables for pies – deep dishes of fresh butter, apple butter, honey and the like.
Freshly picked fruits were there in Season. A creamery with ice held the galvanized tins of milk and cream. All the food for the long kitchen table was in the butt'ry – hot in summer – freezing in winter.
Wheat ripened in July. It stood tall and yellow by day and sparkled with trillions of fire flies by night. Cutting and threshing were July's chief work, and a good crop was money in the bank for farmers.
At threshing time the machinery came in the evening – the engine steaming and puffing like a monster alive, and hauling behind it the Separator. The Separator was another monster, red and hungry. It devoured a bundle of wheat, separated grain from the straw and deposited them in separate places. Wheat grains went into clean bins in the granary. Straw blew from a huge blower and formed a stack – or went through some other process that turned it into bales.
All day the engine snorted and chugged and all day wagons from the field brought grain for the great maw of the Separator. Neighbors came with wagons and teams to help – women cooked a huge dinner – everybody worked and everybody was fed – even children who came to watch the "thrashing machine". It was a Social day, and one we always enjoyed.
One compliment a farmer's wife coveted was "She sets a good table" and women went really all out to set a good table for all the good neighbors who were there to help.
Aunt Mollie always came to help in the kitchen and my mother went to help when Aunt Mollie fed the "thrashers". Children lived in a state of ecstacy [as written] – with noise everywhere, people everywhere, wheat bins to climb into, and the most food you ever saw.
When the threshing was over, a great lonely lull fell on the countryside – life was hardly worth living in all that peace and quiet.
Grandmother Wight's birthday was on July 26th – that meant a little evening ride to her house. She and Grandfather lived on the other side of the River, in a white house with an array of buildings for accompaniment. The lawn sloped down toward the River, a garden sloping with it. A foot bridge crossed a deep gully that led to the River, and a white picket fence surrounded the whole yard. A hammock hung between the willow and a white birch. It was a beautiful yard for swinging and rolling down toward the River. Loose boards in the River Bridge made a nice clatter as horses trotted across.
Grandma and Grandpa were Scotch and usually had an elderly relative living there. Grandma Thom and Auntie Young were on Grandma's side of the family and Grandma Wight was on the other side. The old people were hardy and lived well into the nineties. They had come from Scotland when they were young and had earned a nice life in this home of their children.
They asked for very little and earned their board and keep by their eternal sewing of carpet rags. Every old worn out garment was cut into strips and sewed to bright strips of new material. Wound into balls, they eventually went to the carpet weaver's. Grandpa's sister, Aunt Jane, had married a weaver and they lived in a little brown house up the River.
Grandma's birthday just about finished July and oh dear, Summer was almost over!  As we rattled across the bridge, the water was low and there was the sweet scent of growing corn in the evening air. Before long the oats would be ready to cut and before you knew it Fall would be there.
The katydids and the bull frogs serenaded each evening – singing "Six weeks till frost". If we needed rain, there would be a dusty layer over the roadside grass and the horses hooves kicked up a cloud that settled all over us riding behind them. Whew such a dust – we should have rain soon!
But rain brought thunder and lightening again, aiming and firing and threatening to kill us – and if it missed us, we lived to walk barefoot in deep mud from the Oak Tree to the Big tree. If you work at it for awhile, [as written] you can become expert at squeezing flat mud squares high above our toes. Mud pies dried on the flat top of the door yard fence.
Sun tan in the 90's was considered ugly; thus the wide brimmed hats, and for every day a sunbonnet. Hats, for Sunday, were beautiful, but sunbonnets were not for me! When I left the house I was properly hidden from the blazing sun, but in no time the ghastly thing was hanging down my back – the strings tied firmly under my chin. The sun and wind felt good on my face – even it I ended up later with a layer of tansy in sour cream spread all over it. Nobody wanted a tanned up kid.
The next thing we knew it was August.
August
If anyone ever liked August
And wrote a poem,
I never knew it and
I did not know-em.
The Augusts we knew, in our part of Ohio, were growing a little tired. Now I know it was vacation time, but before the turn of the Century we had no knowledge of Vacations. We were still in the throes of work. The oats were almost ready; sweet corn, tomatoes and early peaches were ready – everything that made more work was ready, but the days had a laziness about them. Bustling May had nothing to say to Lazy August.
It was a good time to get up a Family Reunion for some Sunday afternoon. It was time for fried chicken and deviled eggs and early cabbage cole slaw. Potato salad from freshly dug potatoes with a sprinkling of chopped green onion never heard of calories – sweet corn was into boiling before it ever saw daylight and always made you glad you had teeth.
If grownups had a reunion, they had it as near August sixth as possible, as that was Grandma Loomis' birthday. Grandma was the Queen of the Loomis family
Sometimes her relatives came from as far away as Michigan – 'way out beyond the end of our world.
Little kids were not very prominent members of the family – we knew from the first that we ate at the "last table": and accepted it, but mothers were great and saw to it that we were filled to the brim before it was time for us to go home. There were cousins almost by the dozens and playing together was a wild delight.
Sundays in August tried your Religion. Mr. Johnson opened the Church windows for air, but other things came in also. The flies took turns pestering the kicking, tail switching, whinnying horses tied outside, and came through to light on the preacher's nose, the Sunday hats and the bald heads.
We sat in Church swatting and fanning and listening to the stamping of the horses' feet outside. Every now and then there would be a little kicking whinnying fight, and one of the men would go to the rescue.
Nothing made a sermon any shorter. Old men snored in the Amen corner, mothers retreated to the vestibule with a squalling baby, little kids rustled Sunday School papers, talked out loud or wet on the floor. The preacher droned on.
A few parents of a pew full of children actually seemed to be listening – or may have just been setting an example. Older people who had set their example long ago felt free to doze through the "Secondly" and "Thirdly" – having listened attentively to the "Firstly".
When the organ sounded the chord for the last Psalm, the Church came alive. Everyone stood up, the air circulated a little, the bees and flies went out the windows, and music filled the air. We could be enthusiastic about the song, for we knew the long sermon had finally ended.
The next thing was to get home and take off these Sunday clothes and walk in the shade with bare feet.
We were born to the Land – to the country with its earth under our feet and the sky above. The wind and the rain, sunshine and moving clouds – it all belonged to us. We lived by the weather and the Seasons and whatever God saw fit to give us. He was always there – just above and watching everything we did. There was no doubt about it, He loved us.
These black acres of rich land were ours to live by. Dad knew just what to do with them. He knew to rotate his crops and how to plant them.
Corn was in rows from East to West planted straight as a die. One year, far enough away not to obstruct our view of the Corners – the next year coming right up to the barn yard and shutting us away from the world for half the Summer. Knee high by the Fourth of July, it had to be and in August tall and fragrant – tasseling out.
Evan's work was to keep it clean; up and down the rows he went in the hot sunshine, hoeing his little life away. There was no time for getting into mischief, and some of the village women, whose boys had very little to do, thought Evan worked too hard.
I never heard him complain, and he grew up with our father's love of the land. His last years were spent there on the farm and he often said he would ask no more of Heaven than that.
The woods was beyond the Pasture. It was not my favorite place, because of my fear of snakes, but sometimes I went there with Dad to look at the trees. He knew them all, and watched their growth through the years. The "timber' had been cut for Grandfather's house and ours, and these were the younger trees growing into timber. Very young ones were sometimes cut for fence posts, but the growing timber ones were never touched.
In the Spring the woods was filled with wild flowers and ferns, but the thought of snakes took all the joy out of Johnny Jump Ups and Jack in the Pulpits. Going for wild flowers with our teacher took the joy out of my life, but no one knew the terror in my innards, for I was too proud to show that I was on the verge of dying.
August's gardens were much more comfortable than woods in Springtime. Bright flowers filled the round flower beds now and tall Cannas planted with bright red salvia were magnificent, if a little gaudy. We liked gaudiness – it made a little splash on our wide green world.
August retired in gaudiness, and September came in looking important to us because of school!
September
My first school year was 1896. But once when I was four years old I had visited Evan's school and had gone up on the "rostrum" to speak a piece. My mind can still return to that moment of terror.
I have reached the spot where I am to stand and have been turned to face a room full of grinning people. There is a stove in the middle of the room, there are coats hanging on the wall at my right, and I am up there alone, supposed to speak my piece!
Suddenly I hear my voice and watch the grins grow wider. Holding a doll in my arms, I SAY it:
"It's time doll Rosy had a bath
And she'll be good, I hope.
She likes the water well enough
But doesn't like the soap."
September meant many things. For instance, grapes. Granny's maple tree had a vine with sweet dark bunches hanging from limb to limb – and the garden had rows of huge blue Concords.
September had everything at its height, coming toward its harvest.
The air was soft and mild and filled with fragrance.
"It's a long, long time from May to December
And the days grow SHORT when you reach September."
Shorter days and sweeter – clinging to Summer but anticipating Fall.
The flowers are out-doing themselves defying frost. The fields have given up their yield. Wheat, oats, and hay are in the barn – corn is ready for cutting, potato vines are bulging with their contribution, cabbage heads sit grandly among huge leaves holding them high from the ground. The last tomatoes are as sweet as the late peaches. Apples are on their way to October.
The first bell rang at 8:30 and School "took up" at 9:00, and I was six in May.
The frightening teacher was Mr. Hughes. He had come to our house to stay – to sleep in the front bedroom upstairs and to eat at our table, sitting at the end of the table, He had fierce black eyes and a black moustache and he limped when he walked. One shoe had a thick sole and high heel, and he made a loud noise when he walked on the schoolhouse floor.
Terrified, I sat like a mouse at one of the smaller desks, listening to children going to the Rosturm to recite, where He sat like God at the Judgement Day.
How I ever learned C A T and the 88 pages that followed, I'll never know. But learn it I did. All about a certain cat, a rat, a girl with a fan in her hand and a hen who laid eggs, and a dog. In the end, the rat got the eggs and Dash, the dog, chased the rat."
"Did Dash get the rat?
No; the rat ran into the back shed.
Ann! Ann! Get the rat-trap, and let me set it in the shed.
Now we can catch the rat."
Having learned how to catch the RAT – we advanced to Lesson XVI, all about Frank and Fred having a red sled with black letter on it.
The School House was in the East end of the village known as the Corners. A long walk for little fat six year old legs, but delightful and very necessary. Being old enough to go to school was what I had been living for.
My hair was long and heavy and filled with snarls every morning. If it hadn't been for my hair, going to school would have been a simple natural thing to do – but hair had to be combed first, snarls removed and long curls brushed around my mother's finger. Afraid that I'd be late for school, I squirmed and complained until I felt a sharp rap on the head with the comb. That settled me for the time being, and at the sound of the 8:30 bell I was off.
Evan usually walked with me as far as the Householder house at the end of our farm. There we met their children, and I had Leah to walk with. However, when I was six, Leah had still not come there to live – so our land mark was great grandfather's log cabin across the road from the Householder place.
The cabin was old and falling apart and no one had lived there for many years. The Corners was next, and there we met children who lived across the River. The South end of the school district had more children than we had in the North end.
Arriving at school before 9:00, we had a little time for play and to become acquainted with strange children.
The school yard trees were set in rows, just right for Pussy Wants a Corner; the bridge over the creek near Fenton's was a nice place for girls' games, when boys were monopolizing the school yard.
Water for the school room was carried from old Mr. Greiner's pump, and we drank from a long-handled dipper left in the pail. If you were good – or teacher's pet – you could choose a partner and go to bring a pail of water. Always during school hours.
My first school year was spent in a large room with forty-nine others. Later a new room was added and was known as the Big Room.
Mr. Hughes went on his way to higher things after he acquired a wife, and the ogre was gone out of school. Teachers from that time on were a delight – my favorite being the beautiful blond Pearl Black who liked to sing, and taught us hymns. "Down in a tent where a gypsy boy lay, Dying alone at the close of the day' was one we loved. It broke our hearts.
Civil war songs got us ready for patriotic celebrations and we were patriotic to the core. Our eyes had seen the glory and we had tented tonight and kept it up with Yankee Doodle till the rafters rang. We loved to sing, and Pearly Black gave us the chance.
Walking home from school on a soft September afternoon was sheer joy. Going Home was something I loved. Back into Security where our mother was. Sometimes the smell of fresh ironing made it seem like home – sometimes meat cooking on the stove was the promise of something good for supper – but our chores were waiting for us. Somewhere in my six years I had become Evan's partner in the chores. We were the wood carriers. His job was to carry the fireplace chunks while mine was the kitchen stove wood. Before we played or I went over to Grandma's, the wood had to be in.
What Evan did following that I do not know, but I often ran up the lane to see Grandma and to play with Ruby and Bessie. Their home was my second one, for hadn't I been born there?
Grandma lived in two rooms set aside for her and spent the last twenty years of her life there. Her room was cozy, with flowered carpet, a stove, a huge Secretary that held books, dishes and papers, a drop leaf table for magazines, an old fashioned steel safe in one corner, and a narrow bed that her front door opened back to. Her chair was a platform rocker – upholstered in a red velvety plush with red and gold braid finishing off the corners and arms. Some fringe thrown in for good measure finally made it the most elegant chair in the country. For her visitors, other chairs were near by.
Her visitors were many and she welcomed all. She was a note-book record keeper, a clipper of poems and articles, and hidden away in the safe were precious things from the Past.
She was the daughter of Pioneers – one side English, one Holland Dutch. When she was ten years old, she had gone with her parents grandparents and others from Binghamton, N. Y. To Lorain County, Ohio. A few years later they emigrated to Wood County and settled on a farm beside the South Branch of the Portage River. That Fall, stricken by disease five of the family died, including her mother and brother.
After a year or so of teaching school, she was married to George W. Loomis from Householder's Corners; her father moved on to Michigan taking with him the remnant of the Binghamton Pioneers.
George built the white house on the highest point of his land, and there the nine Loomis children were born and reared to adulthood. My mother was next to the youngest. Her sisters were Linda, Villa, Laura, and Mary – her brothers George, Ben, Ed, and Dave.
Uncles, Aunts and cousins were always welcome at our house. My mother loved her own people and never said a word against them I never heard her quarrel – but if anyone dared to criticize a Loomis, she was there on the defense.
September was like a guest who is about to depart – still there, but the suitcase is packed. You liked to feel that she was not going, but you knew she was. One night the frost is heavier than usual – you look out at the flowers anxiously but they are still bright. A week later some of them are gone and a few leaves have turned red.
Now when Dad came in from the barn, with the evening chores done, he would sit down by the kitchen door to remove his shoes and say, "There's a little nip in the air. I think we'll get frost tonight."
He was our weather reporter – "There are clouds in the West" – "The geese are going South" – "There's a feel o snow in the air" – There's a smell of rain" – "The Northern light should be showing tonight". The one I liked best was – "There'll be a foot of snow before morning." O believed every word he said, and at school we bragged about how much our gathers' knew.
Playing on the bridge, one little girl would say, "My father is going to buy me a harp", and we looked at her in awe, believing. I had nothing to tell THAT sensational, but had my moment of glory when one day MY father knocked at the schoolhouse door, on his way home from Pemberville, and brought me a box of crayons!
With everyone to see me, I walked back to my desk in a glow, the world at my feet. (To his dying day, that Father never let me down.)
He was also the only father who met us at school with horse and buggy if it rained.
He and Mother were sometimes members of the School Board – and when he was President, we kept the new chalk at our house. It came in wooden boxes and when the teacher needed a fresh supply, I had the honor of bringing her a new box.
Honors came to me occasionally in these very small ways – never did I have the slightest one for great achievement. I stumbled upon them – I was never one to stand out in a crowd. I never even won a potato race at a Fourth of July picnic.
September's end saw the last of the grapes. After a frost they were not the same. The dew-sprinkled webs were gone and leaves fell off the vines – bunches of grapes were left exposed to rain or frost and our school dinner buckets held only the stragglers. The bees had drunk their full and September's thirty days were gone.
I forgot to write in my September song at this month's beginning, so I shall end the moth with it.
The golden-rod is yellow
The corn is turning brown
The trees in apple orchards
With fruit are bending down.
In dusty pods the milkweed
Her hidden silk has spun.
With all these lovely tokens
September days have come.
(We taught this to kindergarten children in 1908 in the Erie Street Kindergarten , Toledo, Ohio)
October
Ohio shows off in October. It is like the last wild burst of fireworks on the Fourth of July. Everything flaunts its colors and fills the air with fragrance for the last time before the killing frost. The ear is proud of its accomplishments – it is holding its own Festival and exhibiting its success. Its abundance will feed us until the next year's work is done. Standing in the cornfield there is row after row of corn in shocks resembling an Indian camp of teepees.
Each shock will yield bushels of yellow ears of corn that will be 'husked' and taken from the shocks before winter. It will feed the animals in the barn – horses, cows, pigs and sheep. Among the shocks are vines with huge yellow pumpkins. They will feed US with pumpkin pies.
The apple orchard is filled with trees bending down with fruit – all kinds of apples we like best. They are picked carefully and stored over winter in the cellar – sometimes a few buried deep in its in the garden – sometimes buried in a bin of grain in the barn.
Pears ripen late, and are left on the trees until late in the Fall. Peaches were picked and canned in glass jars back in July and August; grapes made into jam, jelly and juice in September; plums ripened with peaches and were already in the cellar. Cabbages were buried in the garden – too deep for frost to reach them.
Potatoes came from the ground in clusters of several sizes and stored in wooden crates stacked one above the other. They lined the cellar wall till Spring – and every day of our lives we ate potatoes.
October sun was warm and skies were blue and clear, but there was a chill in the air. When the sun went down the cold came on stronger and we knew its sign. "Heavy frost tonight!" Suppers were extra good these chilly evenings. Usually they were made of left-overs from the 12:00 dinner. Daytime's boiled potatoes became supper's fried ones – rich with butter – much better than boiled. Home cured bacon, a platter of fried eggs tripled the calories, but since we had never heard of calories, they never hurt us. What we didn't know didn't hurt us. With all those fats and calories was added something made of sugar – cake, pies, cookies or canned fruit; topped off with a glass of milk, our supper was ended.
Hickory nuts and walnuts were ready to be gathered in October. With the frost they fell from the trees. Hickory nuts came in shells, but were easily removed; walnuts were encased in a thick green shell that held a brown stain – an impossible stain!
Evan was the chief gatherer of black walnuts and the inventive processer. First they were dried on the icehouse roof, then later hammered through a small hole in a board, and dried again. His work was cut out for him for the rest of the year. His hands were stained till Spring.
If you wanted to eat black walnuts or hickory nuts, you knew you had to work for them. Nature made them difficult. The shells were hard, and hard to crack open – once open the meats were tucked away in little smooth caverns and had to be dug out. They were delicious to eat, but you earned every bite.
Nevertheless we ate them, cracking, picking out and eating until we had our fill. Our favorite place for walnut cracking was on the Colvin house steps in the shade. The Colvin house, at one time, stood down near the Church and was occupied by Grandfather's sister Betsey and her family.
After they left it, someone moved it through the field to a place behind Grandfather's house. There it was used as a storage house. Wall paper was still on the walls, and old fashioned spool beds stood propped against the wall. Walnuts were in bags for children and squirrels. There was an old musty smell in the Colvin house; the only way it spoke of the Past. It was a little spooky when we went in for walnuts!
November
                                                "No shade, no shine, no butterflies, no bees,
No fruits, no flowers, no birds, no leaves
NO   VEMBER"
Our house, in November stood bare to the world. Nothing hid our view. The horizon dropped like a curtain and ended our round world. At night, in the North, the lights of Toledo lit the sky like some lesser Borealis; East of us bare winter woods etched the sky, and in the distance Peaceful Pemberville clustered on either side of the River was our nearest town.
South of us, at the edge of our Wight and Loomis farms, was our own Scotch Ridge built along its street that followed the River. Our road cut across the River Road, dividing the village into two parts. The East side began with the Robert Davidson house – its barn across the road. Next, the two-room schoolhouse, and across the road old Mr. and Mrs. Greiner lived. His old blacksmith shop near by. A brook ran between the schoolhouse and the Fenton property with its quaint white house, red tiled roof and a latticed portico.
West of this house were two barns, then the Lon Black house, built close to the road under a huge old Oak tree. Across the road was the Hansen house, built on the bank of low land leading to the River. Mr. Hansen was a carpenter, Mr. Black a mason. The Black property joined Mrs. Black's mother's house. This was the Corner. Granny's house faced our road. Across from her on the South was the old white schoolhouse – now used as a Meeting Hall for the Band boys, Church socials and entertainments. Next to it on the Corner stood the old Store – now a barbershop and the barber's home.
The West end of the village began with the large country store on the corner – next to it on our side of the village Mr. Rogers had his house and a small office where he sold wall paper and paint. For awhile [as written] he furnished its front room for his daughter's little millinery shop.
Across the River Road on the south west corner on the roads stood the large square Inn owned by the Householder Family. West of it a large barn served as a livery stable. Travelers were accommodated in the Inn, and young Dr. Smith had an office there.
West of the store was the Grandfather Davidson's house – and west of that the home of Old Squire Davidson.
Across the road, just where the River came near the road, stood a Creamery.
West of the old Squire's was the Greiner house. Mr. Greiner, son of the former blacksmith, now had is own shop close to the road between his own house and Old Squire's.
West of the Greiners lived an old couple in one of Scotch Ridge's first houses. Named Bingle; I think when I was small, that he was retired. West of the Bingles lay the church land, on which had been built a small neat house.
Beyond that was a farm.
From our windows we saw the village from end to end. Hidden somewhat, in Summer, by trees – but now in November it stood bare.
We knew when people were up in the morning by the smoke in their chimneys and whose washing was the first on the clothes line.
That was all South of us.
West of us was the sunset over a vast winter landscape. Uncle Dave's buildings stood black against such breath-taking beauty. We loved the sunsets – they seemed even more beautiful above the bleakness below than in Summer when the earth was beautiful.
November was a time for Indoors, so we moved in, physically and mentally. At home and at school we stayed inside.
Evan and I had winter chores. Our responsibility was the firewood. Great piles of wood, cut from the woods, had been stacked along the fence in the back yard. Some was left in short logs for the fireplace – some was spit for the kitchen stove.
Evan carried all the fireplace wood while I filled the kitchen wood box with split wood. All this had to be done every day from early Fall to late Spring. The only way to be excused was to be sick. Sickness was a luxury we might have enjoyed more if it had not been for some of the medicine we had to take.
No cold was allowed to "take its time" while we languished in bed. It was treated from the start with onion syrup and poultices, mustard plasters and Uncle Pete's un-sugar-coated pills. It was better to get well soon.
On Wednesdays our parents went to town. By four-thirty when we arrived home from school, the house was tomb cold. With the skill of a grown-up, Evan laid the fires, dousing them with kerosene from an open can and setting them off to a roar, with the quick toss of a match. My heart would stand still, because I grew up on the fear of fire.
By five o'clock when our folks came home, the house was on its way to being comfortable. Comfort as we knew it was never the comfort of central heating. Houses sheltered us from the elements, but their responsibility ended there. If we cared to be warm, we worked for it. The fireplace did its best, and within a few feet of it we could be warm on whichever side we turned to the fire. Eight feet away there was a decided chill in the air, and upon opening the stair door we felt a blast from the arctic.
If we had a game of marbles against the portiers on the far side of the room, we were warned to stop when we began to shiver.
Bedtime came early – it saved wood. That suited us. We changed to our night clothes, close to the fireplace – absorbed as much heat as a flannel nightgown would hold, and measuring the distance to the stair door with a practiced eye, we shot into the frigid upstairs and leaped between the covers of a cold scornful unfriendly bed. Covered to the ears, we listened to the night sounds out there in that vast darkness. Sometimes it was a wind moaning around the corners and rattling the shutters, but on the coldest nights it was the "Wires".
A telegraph line with many wires strung on high poles bordered our road. On winter nights the wires were taut and humming. Angels strummed their harp stirrings!
Morning called us just as we thought we had gone to sleep – but we were always ready for a new day. Boo, it was cold! Slipping from the covers we tore downstairs to the crackling fire in the fireplace to dress to the aroma of pancakes and sausage. We could just die eating pancakes and sausage, but any other breakfast was not worth the time it took.
The school bell rang at 8:30 – and again at 9:00. Between bells we were on our way.
November belonged to school. Sheltered from the cold we sat in rows, dressed in our several layers of clothes. On the blackboard was the program for our day. Every fifteen minutes there seemed to be something else to do. Reading: 9:00 to 9:15. Spelling, arithmetic and the like all parceled out to its allotted time.
One of our first lessons was "concentration" – there were no quiet moments as some class was always reciting. We learned to shut our ears to what did not belong to us.
An old stove heated our schoolroom in its own temperamental way. Quick wood fires flared hot, then died down. Coal sent its fumes to mingle with the pungent aroma of woolen clothes over bodies bathed on Saturday nights only. Fresh air remained out doors except for the few quick dashes someone made through the open door. We had plenty of fresh air outside in our small world and really enjoyed the fragrance of coal and wood smoke, chalk dust and unwashed kids. It smelled like school.
Teachers wore their second best clothes to school – nothing too nice, for they tended the fire and did the other janitor work.
Little girls looked entranced at bright satin yokes and braid, with a gold watch anchored bosom-wise by a gold pin, or better still fastened to a long gold chain and tucked somewhere out of sight in the area of the belt buckle.
For all our knowledge of the Pilgrims feasting with the Indians on Thanksgiving Day, we took that great day lightly. It was treated as another "Sunday – Church service first followed by a Sunday type dinner. The dessert may have been traditional – pumpkin pie, mince meat pie or one of Grandma Wight's suet puddings. Pumpkin from the field was steamed and mashed for the pie – the mince meat was made from chopped beef, apples, boiled cider, suet, raisins, spices, currants, sugar, peach pickle juice, etc. all cooked together and packed into cans or crocks. The pudding was steamed fluffy and golden brown, and we ate it swimming in a sweet hot sauce. That put the finishing touches on Thanksgiving Day.
From now on we could look for snow and December.
December
                                                " I heard a bird sing in the dark of December
A beautiful thing and sweet to remember
It is nearer to Spring than it was in September."
But I loved December – Spring could wait.
I waited for that first evening when my father would come in from the barn, and as he sat near the stove removing is boots, he would say, "Looks as if we'll get some snow tonight." That was the beginning of Winter! Snow Tonight!! Hurry to bed so you can wake up early and see the snow. The sled was waiting to coast down hill behind Uncle Dave's barn, and the kids at school would all be screaming and happy.
The school room would be gay now – Christmas bells cut from red paper and wreaths of green would hang festooned on blackboard and windows. Santa Claus and candy canes would appear from nowhere and we lived in a world of excitement and festivity.
Every day we could practice for the Christmas program. No one dreamed we were so talented until the evening of the Entertainment when our performances were superb! A few of the more gifted ones could perform alone. "Now we shall have a recitation by Clara Greiner", and Clara in her new plaid woolen dress with velvet trimming would never miss a word of "Curfew shall not ring tonight" or "Twas the night before Christmas".
Evan was an orator whose lines were not always so well remembered, but he never let that faze him. He could touch every heart with his rendition of "Farmer Gray's little dog under the wagon".
Iva and Grace were the best of singers, but most of us qualified for dialogue only – or bunched together in group singing. My one talent was a gift – I could carry a tune! No one bothered about it however, as my own fright at hearing my voice out in the open reduced the volume to that of a mouse's.
The school Christmas entertainment known as "Exercises" could not compare in importance with the Church Christmas Eve Entertainment. Grownups came and did the decorating – a huge tree was trimmed with home-made ornaments. Great strings of popcorn and cranberries hung in loops of beauty and candy canes hung from branches. Under a great golden star stood a manger for the Christ Child. Real hay gave a touch of reality and there was some discussion about the sacrilege of having anything to represent the Christ Child.
One time when I was four years old, a throne was built for Santa Claus, and after all the religious part of the program was over, we turned to the secular. Santa sat enthroned and little Orethy Wight climbed up on a stool and placed the golden crown on Santa's head. It was a solemn moment, but the congregation laughed and the little four year old ran back to her place on the front church pew – overcome with fright and confusion.
Gifts were passed out to every child and Christmas was upon us. We walked home under a Bethlehem sky – waiting for the angels to sing. Christmas was the high light of the year.
Back home, Evan and I pushed two kitchen chairs in front of the fireplace and hung a clean pair of stockings, pinned together, over the back of the chair. Santa would come down the chimney before morning.
Once I left a dime for him on the mantle shelf, but he was a kind man; he didn't take it.
The gifts we received would make children today feel underprivileged. A book, a toy, some mittens, a new bonnet, some nuts, hard candy and an orange. Sometimes my dolls appeared in new dresses. There wasn't much, but the joy was the same. We were in a state of ecstacy [as written]  – running upstairs to show our parents what Santa brought – then down again to see if we had missed anything. Our enthusiasm registered 100%. Skates for Christmas was the greatest gift of all.
Back on the River when Christmas vacation was over, there was many a flash of shining new Christmas skates. It was January when we went back to school.
January
"January drives a man in upon himself and test his mettle. It is the coldest month, the darkest and sometimes the snowiest. Now begins that long slow haul up cold slope toward Spring and April"
Hal Borland
In January we walked a cold road to school. With heavy overshoes we tackled the ice and frozen ruts, facing a cold wind that turned our cheeks apple red. Our toes were cold and or finger tingled, but we seldom complained of being cold. We loved Winter – but most of all we loved snow. Now in January we would have it.
When the real storms came, we loved the wind-driven drifting snow. It raced across our wide fields and caught itself in the slit rail fence corner. There it froze and waited over the tunnels we made in it.
When the snow was deep we had the thrill of going to school by flat sled. At 8:30 my father would drive to the end of our walk with his team of horses hitched to his huge flat sled. After we were on board he collected my little cousin and all the village children and delivered us all at once at the schoolhouse. At 4:00 P.M. he was waiting outside to take us home.
When there was less snow, there was skating on the River until someone decided the ice was thick enough for harvesting. Then great blocks of it would be cut and taken home to fill the ice houses. Sawdust from the saw mill would be used to cover the huge chunks of ice, and they would last until Summer.
Our ice house was in Granny Kellog's old kitchen, and in summer it was fun to go bare foot and walk on the ice. Usually we were forbidden to go in there, for that ice was precious. It cooled the milk and butter that were kept in a small kind of ice box called a creamery.
At school we seemed to settle down to serious learning in January. There was little to distract us.
The program for the day, written on the blackboard, was followed to the letter. We studied, we memorized and we recited. If we forgot we were filled with humiliation. Some of the kids were smart and set a kind of standard for the rest of us.
I was not endowed with brightness, but I was willing to work – that is, enough to allow me to keep up with the others. It was never my ambition to excel. I was satisfied to be one of the herd, going along un-noticed.
Arithmetic and I were never on friendly terms, but Poetry and History belonged to me. The New England poets were our friends from the third grade on. How I loved the stories in our books and the poems we memorized. There were poems for every season, from "The Melancholy Days" to "The Barefoot Boy". I loved them all – sad or happy.
"Which is the wind that brings the cold?
The North Wind, Freddy, and all the snow;
And the sheep will scamper into the fold
When the North begins to blow.
Which is the wind that brings the heat?
The South Wind, Katy; and corn will grow
And peaches redden for you to eat
When the South begins to blow.
Which is the wind that brings the rain?
The East Wind, Arty, and farmers know
That cows come shivering up the lane
When the East begins to blow.
Which is the wind that brings the flowers?
The West Wind, Bessy; and soft and low
The birdies sing in the Summer hours
When the West begins to blow.
ANONYMOUS
There was little to celebrate in January.
No half days off, no prominent people having birthdays, just School day after day. If we had snow, we made a huge circle in the field behind the schoolhouse, for a Fox and Goose game. If we had clear ice on the River we skated at noon when we had an hour for play.
Many of the older boys and girls were excellent skaters and among them there would always be a few who would help us little kids.
The Scotch Ridge young people spent much more time on the ice than we did – who lived farther from the River – but sometimes we could go back for awhile after school hours, and that was sheer joy. Skating gives you freedom to cut the air fast and clean – wings could improve it very little!
What fun it was to belong to that gay fast-moving crowd, bright colors flying – laughing banter and flashing skates – up the River and down!
Winter sun set much too early.
February
Henry W. Longfellow was one of our favorite poets. He lived in Concord, Mass. And wrote of New England winters, and we could comprehend. We understood when we memorized "Afternoon in February".
The day is ending
The night is descending
The marsh is frozen
The River dead.
Through clouds like ashes
The red sun flashes
On village windows
That glimmer red"
When February came up on the calendar, our hopes, like sap in the maples, began to rise. Three days out of the twenty-eight were days for celebration. President Lincoln's Birthday came first and we took longer looks at his enlarged picture on the schoolhouse wall. We sang some Civil War songs, "Mine eyes have seen the glory" and "Tramp, tramp, tramp, the boys are marching". John Brown's body was left mouldering in the grave giving us a little thrill of horror. "Mouldering" did not present a pretty picture.
However, we spoke our pieces memorized for the occasion and gave much honor to our dear President Lincoln.
Valentine's Day was entirely different. We MADE our valentines, or bought the cheap penny comic ones from the store. These were horrible looking people with insulting verses beneath, which the older kids seemed to like to GIVE but not GET.
When you are under ten, you have not learned to say nor understand such insulting things. To us "Oh you kid" and "I love you" accompanying a poorly drawn heart made the perfect valentine.
When I was ten, my heart's beloved moved away – far away to Henry County. I missed his round freckled face and his loving jerk on my long hair or his offering his block of wood for sliding down hill. I never saw him again, but one rainy day in Spring there came a besmeared envelope addressed in pencil to me! It was a love letter. "Dear Ortha are you still my girl? There ain't nobody here as perty as you. I don't like it here." There was more, but I have remembered the important part. He was nine years old.
A year and a half later, my mother met me at the train, after I had visited some friends in Milan, Michigan. As we drove along toward home, on the old Poe Road, my mother said casually, "Word has come from Henry County that Clarence Rook was killed in an accident." "Clarence Rook?"  "Yes." I could no longer be his girl – a cold wind seemed to blow upon my heart. The soft summer day faded before my eyes.
When farmers moved, they were usually tenants and on March 1st they were on the move. In February their children were still in school and everything was as it should be – then suddenly came a day when their desks were empty and the children gone.
Washington's Birthday stirred up the winter. That was a day for flags and festooned bunting – for washing the fly specks from George Washington's large picture and showing our patriotism. It was time for Entertainment, and parents were invited. The Civil War songs were given priority, while flags were waved and voices were in "full throat"! Someone repeated the story of the cherry tree and all of us felt in awe of George Washington who couldn't tell a lie. Iva and Grace sang about the fox who went out one moonlight night and begged for the moon to give him a light, for he had many miles to go that night before he reached his Den-O.
His real mission on that moonlight night was to visit the farmer's hen house where he might pick up a nice fat hen. Naturally he ran into trouble when Old Mrs. Slepper  jumped out of bed, and out the window stuck her head, crying "John John John the gray goose is gone – and the fox is off to his Den-O". Luckily he was swift of foot and Farmer John's shotgun missed him. He arrived home safely and there was a feast in the fox hole – the grownups enjoying the old gray goose meat while the little ones picked the bones-O, "while the little ones picked the bones-O."
Dialogues such as; "George, my boy, I have this morn, found the cherry tree cut down.: – "The Cherry tree, father? How could that be?" "I know not, my son, but it looks as if it could have been chopped with a hatchet."
"Oh Father, Father (crying) I cannot tell a lie – I did it with my little hatchet."
"I shall miss the tree, but I shall ever be reminded that I have an honest son."
Curtain – (a calico one on a wire)
Applause, applause
Talent was appreciated in 1898.
February was a quiet month except for an occasional noisy wind and the singing telephone wires.
The roads and fields were quiet with snow, and Jack Frost painted the window panes with Jungle vegetation. Great palms and ferns straight from the tropics – how could our Jack Frost know about the tropics?
When I was four years old, it was below zero on the 14th of February, and it was Aunt Mattie's wedding day. She lived at my grandmother's home across the River and two miles away.
Sleighing was at its peak, so half smothered in clothes and heavy horse hide robes, we went by borrowed "cutter" to the wedding. Sleigh bells rang as we flew over the snowy roads, and boards rattled as we crossed the Bridge, and then turned into Grandfather's large barn yard where other horses and sleighs were standing. Uncles, Aunts, and cousins were arriving and lights from the windows shone out on the cold winter night.
Indoors, the house was warm and smelled of good food waiting in the butt'ry.
The sitting room stove was doing its best to heat the parlor and two seldom heated bedrooms. The parlor curtains were starched as if frozen, and the bay window awaited in white lace stiffness as if it recognized its importance. At the appointed time, the bride and groom with their attendents [as written] took their places at the Bay window and in no time at all Mattie Wight became Mrs. William Fish – and I had not only an Aunt Mattie but an Uncle Will with a crossed eye and a fierce black moustache.
When I learned to know him, I found him to be a charmer with rosy cheeks, a gay smile and what was known in our day as "full of fun".
The wedding was a great success and they lived happily ever after.
After feasting at the wedding, we jungle-jangled home under the heavy robes, with stars in the sky and the thermometer registering four below zero.
Sometimes we had rain that froze as it fell and every tree stood gleaming with ice in the morning sun of the next day. My Dad, coming in from a look at the fields and woods said, "We have acres of diamonds today".
A day like this should have been a day for closing school, but I doubt if ours was ever closed on account of weather! Horses were well shod down at Cye Greiner's blacksmith shop, and their steel shoes could cut the ice as they trotted to school with us slipping and sliding on the flat sled behind them. Sometimes the sled would take a forward lurch and hit the horses heels, affecting them as a little step on the gas affects a car today.
Our flat sled would suddenly swing into wild action, and we hung on for dear life. My reserved spot was beside my father, where I could hold on to one of his well braced legs. He gloried in a wild ride, and I believe the horses did too.
Every day my mother went to see Grandma Loomis. We called it "up to Grandma's", for the old Loomis house was built on the highest part of the Ridge we lived on. A lane led to its yards from the McCutcheonville Road.
In order to go "up to Grandma's", we walked out our driveway to the Road – then a few yards south on the Road till we reached the Lane. Walking the lane with Grandma was something I loved to do.
By this time Grandma had retired. Uncle Dave had married, and Aunt Mollie had taken over the household work. Grandma's part of the house were two rooms – the parlor downstairs and a bedroom above it.
A latticed portico sheltered the doorway that led to the hall and open stairway. The door was an enormous one with a window at either side. The small panes of old wavy glass gave outdoor light to the long dark hall. A large chest of drawers stood behind the door when the door was opened.
In the top drawer of the chest, there were picture cards for a child to play with. Manufacturers and merchants used cards for advertising their wares. A washing machine was one. The picture showed the washing all done before 9:00 A.M. and the lady of the house, dressed in shirtwaist and long skirt, was ready to leave for a game of tennis with a very gay looking young man in striped jacket and knickers. The ribbon from his monocle dangled to a pin on his lapel.
Everything was advertized. Lion Coffee, Pears Soap, Singer Sewing Machines, manure spreaders, fancy buggies, hay rakes, kitchen stoves – everything.
Grandma Loomis was a lovely lady, with a keen mind and an interesting background. She was the child of New Englanders who followed the woods to the Western Reserve in Ohio.
After leaving their home in Vermont, her grandparents had settled along the Susquehanna River at Binghamton, New York. There her father and mother were married, and there she was born in 1823. She entertained me with stories of her childhood, the great River, the hills where she went berrying, making a dress for herself when ten years old.
In 1833 she left Binghamton with her parents, brothers, grandparents, uncles and aunts for a new home in Ohio. Leaving Binghamton by stagecoach, they reached Rome, New York when they boarded a canal boat for Buffalo. After a long rugged trip, they arrived in Buffalo. From there they crossed Lake Erie by boat, landing East of Cleveland.
She attended school until she was old enough to take a Teacher's examination. A yellowed paper proves her success:
"This certifies that Miss Rachel P. Sneden is qualified to teach orthography, reading, writing, arithmetic, geography and grammar, and also possesses a good moral character."
To be valid one year.
Given under my hand at this date.
Montgomery May 17, 1847
P. Fay, Examining Committee
One Summer afternoons as we sat in the shade of the house and pine tree, Grandma liked to remember the Past, and I liked to hear anything she wanted to tell.
In her room was a large Secretary with many books, a stove to keep the room warm, a table piled with magazines, a big steel Safe, some chairs and her single bed. There she spent most of her last twenty years. We saw her nearly every day, and it was always my privelege [as written] to carry her a piece of custard pie or some other bit of dessert she might like.
Now back to February in the 90's where the deep cold is changing to the not quite so cold March.
March
The world began to wake up when March came,
"The cock is crowing
the stream is flowing
the small birds twitter
the lake doth glitter
the green field sleeps in the sun;
The oldest and the youngest
are at work with the stringest;
the cattle are grazing
their heads never raising
There are forty feeding like one."
William Wordsworth
Walking out doors on a clear March morning, we felt the living breathing world. The air was crisp and cold, but it smelled of the earth and the sky. The wind brought the dampness from the woods and the River, and before long the wild geese would fly over on their way to Canada. "I seen 'em this morning goin' North" was almost unbelievable when some wide-eyed kid brought the new to school. The geese were the best news we could hear this time of year.
Some desks would be empty now – where a good friend sat last week. March First had been Moving Day, and suddenly a house stood empty, and from our windows we watched the heart and soul of a home going by on wagons. The cookstove had a prominent place, as it was the first thing to be unloaded and set up in the new home.
Lying snug in my familiar surroundings at bedtime I wondered if the moving children had beds to sleep in. It seemed like and exciting thing to do – moving – a strange house and strange neighbors must make moving people wonder what would happen next.
Before the roads were paved, the March sun turned them to great strips of deep mud. Horses feet went in deep and came out with a plop; mud rolled up on the wheels and the going was slow.
When we could no longer walk on the road, we walked on the ditch bank, where a misstep would submerge a foot over the top of an overshoe. Or a little misplaced confidence in the thickness of the ice could cause a disaster. Wet overshoes sat in a row at the schoolhouse, and runny noses were everywhere. But colds went with winter – everyone knew that. Nobody stayed home from school on account of a cold. Sore throats were passed around and earache went to school with the runny noses. We never heard of pneumonia nor sinus infection.
The only thing that stopped us were mumps or measles, and I managed a little invalidism each winter or early spring with a case of croup. It never bothered me as much as it did my mother.
Toward evening it would come on out of a clear sky. Suddenly I was under a plaster of hot onions – or worse still, one made from Uncle Dave's chewing tobacco. With that and a spoonful of sugar dosed with perfectly awful Lobelia syrup, I was made sick enough to die. The croup was not half as bad as the cure.
I enjoyed being an invalid for a little while. I could spend the day in a first floor bed where I could watch what was going on. Once the minister came to call and made a rag doll that could be danced with a string over the hanging lamp hook in the ceiling. And once in the Spring, my father brought wild flowers from the woods. It was really quite nice to be an invalid, but when I heard the school bell ring, I was ready to go back.
Nature did its Spring cleaning in March. The wind swept through to trim the orchard, and rains washed the fields into the ditches and on to the River.
Coming home from school on a sunny afternoon, we smelled smoke in the orchard. A huge bonfire, burning the fallen limbs gave off an aroma that I still love – pollution or no.
Cold rains came in March – poured for a day – then froze at night, warmed again another day. March had trouble making up its mind. It tried a little winter with some deep snow – suddenly the snow was running into the River and the road was hub deep in mud. My mother disliked the wind, and used to say she was like the old woman who had always observed that if she lived through the month of March, she lived the rest of the year.
Walking to school along the ditch bank, we began to notice the tufts of grass were turning green and the water ran free as in Summer. Little sticks would float like ships on the wide Maumee River. There were other rivers in the Geography, but the only one we knew was the Maumee twelve miles away. Our own River was a branch of the Portage. It began somewhere and wandered through the country till it reached the Lake.
It bordered Grandpa Wight's farm before it reached Scotch Ridge. His house was just beyond the bridge that spanned the Silverwood Road crossing. The yard sloped down to the River, and every child who came there raced down the slope to the River's edge. We never swam in it because my father had almost drowned there, and forever after the River was considered dangerous. Trees grew at will along the banks and except at flood time, the water ran quietly – we knew all about "green pastures and still waters".
Nearly every farm had a number of acres of woods left from the days when that whole area was wooded. Their locations were such that one farm's woods joined another's – sometimes two others, and together they served as a wind break. Men with wisdom and foresight planned those farms.
Our woods was not really ours, but joined our farm on the East. It belonged to my grandmother as long as she lived and then became ours. However, it supplied the winter wood for our house and for Grandma's room. My father was its guardian and kept its fallen branches and dead trees cut and piled in great piles of fire wood – leaving them in the woods. As we needed it, enough would be taken up to our woodpile in the back yard.
Men who wanted winter work were often hired to work in the woods. One winter my father noticed that wood kept disappearing. There was only one place it could have gone, but he waited for the next snow before he did anything about it.
Sure enough, one morning there were sled tracks which were easily followed to a sad looking little house where a large family lived.
The wood was in plain sight, and the man of the house was embarrassed almost as much as my father was. There had been a desperate need for wood, which could be understood, "But from now on," said Dad, "don't steal it. Come and tell me when you need it and you may cut all you need."
Every home had its woodshed. Ours was in one room of Granny Kellogg's house across the porch from our kitchen. In winter it was filled with wood, in Summer there was room for me to have a playhouse in one corner.
The coalshed was not part of Granny's house, but had been built on at a later date. Even it was cleaned a Summer or two and used as a playhouse – with strips of old carpet on the floor and curtains at the wide window. My playmates wee cousins: Rachel from the farm next to us, and Ruby and Bessie from across the road.
Woodsheds seem to have gone the way of all flesh.
A wide awake March morning waiting outside the kitchen door for us soon filled us with an urgency to get wherever we were going at top speed.
The school house was a half mile or more away, and the time for covering that distance varied. It could take a half hour if you were good at dawdling on a warm day, but March morning with a northwind at our backs, we could make it before the pancake smell had a chance to be blown from our heavy coats.
My mother believed in bundling us up in more clothes than we needed, but there were certain times when we had everything buttoned up to the last button; a cold wind could do that to us!
Under my heavy coat were layers of other things. First of all, long underwear tucked into black wool stockings (home knitted). A white pantywaist with dripping two-eyed buttons held up a white pair of muslin pants and a flannel petticoat. Over that went a second petticoat of cotton, with its own supporting waist. Next came a second best winter dress – made of soft woolen material and trimmed generously with insets and flapping things of velvet. Last winter it was the Sunday Best. To supplement that, a plain wool dress with a minimum of adornment was not so happily worn.
Over the dress was a calico apron of red or blue, and on special occasions the colored one was replaced by a white one.
Once I visited my cousin's school in Bowling Green, dutifully wearing my white apron – only to be humiliated. Not a girl in school wore an apron!
With all those layers of clothes, I had no trouble keeping warm in unheated or partly heated schoolrooms, and outdoors there was the addition of wool crocheted bonnet, heavy woolen coat, home knit wool mittens and heavy overshoes with buckles. To my soul's humiliation, in wet snowy weather I had to wear some horrible light blue knit wool leggings with fat ribbing that made my legs worse looking than usual, and the usual was fat enough!
My introduction to envy was when I saw Iva and Grace in long black leggings buttoned from foot to knee with shiny black buttons!
Baths were out of the questions except on Saturday nights, but in the kitchen sink there was a gray enamel washbasin, and a mirror hung over it with a brush and comb. Behind the door hung an unbleached heavy linen towel, and a few feet away was the kitchen stove with a reservoir of hot rain water. A faucet at the sink brought in ice cold water from a deep artesian well.
Every morning we were washed wherever any skin showed and dried on the scratchy towel. My hair was long and heavy and I stood impatiently while my mother combed out tangles and brushed long curls over her finger. She finished me off with a bow on the crown of my head. That hair business was an ordeal, both to my mother and me.
The school bell would ring and I went on wings out into the March wind and far away. Winter birds sitting on the telephone poles would suddenly leave in great flocks, rabbit tracks were along the ditches, chimney smoke flared from the Scotch Ridge houses, but there was only the sound of the wind. Even the wires seemed quiet in the daytime.
Our world in Winter was a hushed world Nothing happened that made a noise. We lived in a vacuum. The sky came down around us maybe four miles away on every side. Scotch Ridge was the center of the world.
We loved with God. He was up there in the lower part of the sky, and He decided when we should have snow. He gave us such gorgeous sunsets it looked as if the world was on fire, and at night He lit the great black night with a million stars and the moon. He kept His eye upon us night and day and gave us everything we had.
On Sundays we dressed up in our best clothes, brushed our teeth with Dr. Lyon's tooth powder, learned the Golden Text and the catechism and went down the road to Church.
We lived on the Ridge, so everything was DOWN except Grandma's and the cemetery. They were UP. Aunt Mary's was OVER, and Johnny Meikle's was OVER.
We walked to Church, but most people came in buggies. One family had one with three seats and every seat was filled. Upon arrival at Church, the riding people hurried to one of the two old long stoves. Pairs of warm overshoes were lined up under the seats, and blankets were left nearby to keep them warm for the journey home.
Ladies' hats were tied on carefully, with ribbons and bows and feathers left intact; nun's veiling was tied over hat and ears, then removed upon arrival.
Men's overcoats, over on the North side near the stove, wee stacked one on another, and fur caps with earflaps were on the seats along with huge mittens. After moustaches and beards were free from ice crystals, the older men gathered in the Old Men's Class in a cold corner some ditance from the stove.
Young men assembled in another cold corner near the North entrances; women and children sat in the warmer places.
One of the Davidson girls played the organ, and we sang the Psalms as if we understood them. Some of the tunes were pretty with solo parts for the Sopranos, while the other parts waited to jump into the Harmony before the song was finished.
Prayers came from the Old Men in the corner, and Miss Jennie Shanks reported the attendance and the collection. Sunday School came first – then we settled down for the Church Service.
We were Protestants, of course, but it was many years before I knew the meaning of the word. We were United Presbyterians. Two miles away the church was United Brethren. Up at Center Church was another United Brethren; in the towns were Methodists that we only heard of – but never saw.
The difference between us was the songs! We sang only Psalms – they sang Hymns.
I often wondered why we never sang about Jesus as the United Brethren did. And they had Protracted Meetings every winter to save Souls. We didn't.
Uncle Doc and Aunt Laura were U.B.s so we felt akin to that church, and on a cold winter night we went to the Protracted Meeting. It was beautiful. We sang a lot – "Sweeping thru the Gates to the New Jerusalem" – "almost Persuaded" broke your heart when you thought of those unsaved men in the back seats who were almost but not quite persuaded.
The saved would leave their seats during a soulful rendition of "Almost Persuaded" and would try to help with the persuasion. If any brave soul decided to go forward and kneel before the Evangelist, we watched to see what would happen next. Our Church was mostly for Sundays!
I never saw a Catholic church till I was fifteen years old, and I was stunned by its beauty. The beautiful statues, the lighted candles, the Altar, the Cross – thrilled me beyond any place I had ever seen.
At one side was a Grotto with a statue of the Virgin Mary that was almost more than I could take. I have never forgotten that great feeling of holiness in that beautiful church.
It would have been wonderful to be a Catholic!
But when I was ten yours old, I was united with the Presbyterian Church. Everything was just as it had always been except that now I could "take Communion" at the long table set in the front of the Church.
Its snowy tablecloth held the silver plates of BREAD and the silver pitcher of wine. Two silver cups were later passed.
The Bread when I was young was made by my grandmother. It was a great slab made of delicious cookie dough cut into long strips. When it was passed, each person broke off a piece. Thus the broken bread.
The "wine" was grape juice, also made by my grandmother.
On Communion Day Grandpa Wight came to Church carrying a basket with the bread and wine. After Church a child could go quietly to Grandpa's basket where the leftover bread was being folded away in the snowy linen napkins, and Grandpa never failed to give out a generous strip of bread.
After all – maybe it was no longer consecrated! I adored that Communion bread – and my little white-whiskered grandfather!
When Evan was twelve years old he could handle a horse, or a team of horses, as well as many men could. I remember one winter night when my parents let him have his friends come for a party, and even allowed him to call for them at their homes, with bobsled and horses.
They arrived at our house early and were soon playing games in the living room, where my mother's clean coal oil lamps and a glowing fire in the fireplace added warmth and brightness.
Out in the kitchen I watched my father pop huge kettles of popcorn while Mother polished a great pan of apples. Those were to be the refreshments.
After a couple of hours of games and eating, the party was over. I begged to go with Evan to take the kids home and was allowed to go. Before we reached home again, it had begun to snow and I was intoxicated with delight. Out in the dark with snow falling was something I was not used to. The horses were headed home and eager to be in their warm dry stables, so we skimmed over the snow with real speed.
One of our horses, named Tom, doubled in brass. He could be a strong member of the Team, pulling an enormous load – or he could be a lady's man hitched to the buggy.
He and Evan were great friends, and in a spell of ingenuity, Evan once rigged up the stone boat as a sled and hitched old Tom to it. A stone boat was a small flat sled and had a use of its own, but it could also be a toy for us.
Evan fastened the wagon seat to it, so we could ride in style, and covered with blankets we could have gone to the Arctic.
We drove to the Corners to show off for the Corners kids – and one winter afternoon we drove down to Aunt Laura's about two miles away. The sunset was early, and as we drove home a full moon lighted our way. Tom's behavior was perfect until the sled suddenly hit his heels, then he took off for home and was almost more than Evan could handle.
Such fun as we had! We usually had the road all to ourselves in late after noon. Everyone was at home doing chores or getting supper – it was no hour for galavanting. There was nothing to fear in our quiet world unless we deliberately tried to find something – like Old Ann Austin and snakes in the Summer.
In March the cattle were sold. Cattle were not cows, they were Range creatures brought from the West and sold in Chicago and other markets for feeding.
Many of our farmers were "cattle men". They went to Chicago in the Fall and came back with as many cattle as they could feed. All winter the barnyards were filled with these strange beasts, confined and fed quantities of grain and hay to fatten them. The fatter they became, the more money they would bring on next Spring's market.
When my father, returning from Chicago, described the great City to us, I doubted his word for the first time. He told of trains on elevated tracks passing people's UPSTAIRS windows! Now how could that ever be? Chicago held no charms for me – great stock yards filled with Western cattle all over the place!
By March the barnyard at home would be filled with sleek fat cattle forever eating from their racks.
There were no radios to give the market report, and no daily papers, so every man used his own judgement as to when the cattle should go.
One rich farmer often proved the Bible quotation "To him that hath, shall be given". He seemed to feel it in his bones when the market would be high, and would sell right then. My Dad, coming home from the store where local news was dispensed, would say, "Well, Tom Shanks has done it again." He was one of our richest men and had made a great deal by feeding cattle. He was a true cattleman.
My grandfather had been one too, as well as some of my uncles.
I heard about them, but was too close to my father to know whether he was considered one or not. All I know is that we never went hungry.
Once the cattle were gone, the barnyard litter was removed to the fields in great odiferous loads. There it was scattered and later plowed under.
Those Texas steers had contributed the valuable fertilizer that nourished next year's corn and grains, to be fed later to other Texas cattle.
Our minister once said, "The farmer grows the corn to feed the horse that plows the land to grow the corn to feed the horse, etc." We lived in cycles.
My mother's birthday was March 15th and after that came Spring! Farmers were itching to get into the fields to do the Spring plowing. The world was waking up all around us.
Little lambs arrived over night, bleating and trying out their stiff legs. Sometimes a twin or an orphaned one would be brought to the house, where we warmed and fed it with a bottle.
I inherited the unfortunate lambs and took care of them with delight. I loved them and named them  and was sad when they were returned to the flock.
Taking care of the lambs was a lesson in responsibility and I loved it, but gathering eggs was not for me.
In the first place, I had no use for hens. They picked you with those ugly bills, made holes in the back yard when they "dusted" their wings. Eggs were O.K. on a platter nicely fried, but I could do without them before that.
Fortunately, Mother respected my dislike for all things relating to chickens, so relieved me by doing all that unsavory work herself. She worked with them as if she enjoyed it, but I can't believe that she ever did. She sold the eggs at the store. It was spoken of as trading.
"Where do you trade?" one woman would ask another.
The grocer would count all the eggs brought to him, making a note of the number. If eggs were 20 cents a dozen, five dozen would be worth a dollar. It would be marked on brown wrapping paper.
My mother would then select from the grocer's stock as many items as the dollar would buy. That was tradin' at the country store. A nickle's worth of French creams was a gift from the Gods. They would be lined up on the window sill for their sheer beauty – and eaten one a day with great selection, the prettiest saved for the last day.
We seldom had candy. Not because it was bad for us, but because it cost a nickel. That was a lot of money to be spending carelessly. We had plenty of sweets at home: pies of all kinds, cakes piled high with frosting, puddings and cookies by the dozen. Every meal we ever ate ended with a sweet dessert.
April
Lutheran children, we were told, were given a holiday from school on Good Friday, but United Presbyterians, for some reason, ignored any observance of Good Friday and Easter. We passed over it, as if it never occurred. All but Evan.
Somewhere he had heard of hiding eggs for Easter. (He was an avid reader of "Youth's Companion.")
One year he began to save an egg or two each day – well hidden in the manger of an empty stall – until he had a beautiful collection.
Before Easter came, we had April Fool's Day, and John Tuke decided to play an April Fool's joke on Evan. In some way John – who was Evan's best friend – heard of or found Evan's nest of eggs and transferred them to another manger. Before Evan had a chance to miss them, Old Tom wandered into that stall, found the eggs in the manger and devoured or scrambled the whole lot.
The grownups laughed and considered it a great joke, but John felt sorry and so did I. Evan's nice surprise for my mother on Easter was ruined, and my heart ached for Evan.
He teased me often, but usually he was a good brother. He had great imagination and thought up fantastic things to do. He built a ladder swing suspended by great hay ropes from beams in the barn. Once you got it in motion, it sailed thru the wide barn door and back again, like something alive.
Evan being the inventor, always sat in front in the best position for sailing thru the open door. I sat in the rear as a matter of course.
As we swung high and wide, we sang with the swing's rhythm. "Then blow, ye winds, Heigh-Ho, asailing we will go; we'll stay no more on England's shore, so let the music play – a – a. We're off on the bounding main, to ne'er return again: etc., etc., etc.,
For passengers on our voyage we sometimes took on board one or two of Uncle Dave's children.
"The geese went over! A great big flock of them went right over our woods a squawkin'."
The sun shone and the rains rained, the ditches ran into the brooks, the brooks hurried to the River and all of it ended in Lake Erie. When our land was a part of the great Ohio forest, it was black and swampy, not at all fit for farming. But in the late 1890's the trees were cut from the field and deep beneath the ground huge ties had been laid, row after row. When rain came it soaked the fields, and the surplus was carried away by the tiles. The soil was a grayish black, and rich for growing the crops.
My father gave his life to that farm and loved every foot of it. April found him up early in the morning, eager to get into the fields. Frost was out of the ground and the plow turned up long straight furrows. Over the furrows went the huge horse drawn Roller, crushing everything it touched.
Now the field was harrowed with another piece of machinery that had a huge set of long sharp curved teeth. After it had given the land a thorough going over, the field lay flat and crumbly – all ready for planting.
Spring had a sense of urgency that kept every farmer on the move. "Dave Shanks has got his plowin' all done!" or "Better finish that field today; them clouds could bring rain by tomorrow". It was a sad day when a field had to be replanted because the bad weather had ruined it.
We seemed to live from weather to weather. It is the farmer's Master. It dictated his activity for the day and took control of the fields from Season to Season. Warm sunshine could coax the tiny seeds to come thru the ground and urge the little leaves to grow; then without an apology the weather could lay them flat with a driving Spring rain.
Nature was both friend and enemy. She had no special love for plants that grew food, but gave her some attention to weeds. In fact she often seemed to favor the weeds. A little tender grain of corn, carefully planted could come up with a lot of wild weeds that would take over if they were not immediately torn out by the roots when another piece of machinery came along.
That was the cultivater [as written] pulled by a horse. Late when the corn was higher, only a hoe could keep it from being choked by weeds. The hoe was hand wielded by Evan or another boy hired by the day.
A field of green corn is a beautiful sight. Yellow grain will one day stand on either side – but this is April! This is the planting time, and the bare earth stands waiting for the work it will have to do.
Looking out into an April morning from our back porch, it caught your breath. Flocks of birds were now in the air – weaving this way and that with a knowledge we did not have. They traveled and had felt the South and knew where they were going now. Sometimes birds would come in pairs and settle themselves for the Summer. Nests would be built in the maple trees, and before long they would be our friends. Orioles, robins, mourning doves, red birds, blue girds and when the trumpet vine was in bloom we had humming birds!
Birds came back gradually. Robins among the earliest furnished us with our favorite April Fool joke; "Oh, see the Robin!". "April Fool!" "YOU told a lie!" "No I didn't. I only said 'SEE the robin.'" Would be our annual April Fool's Day spat. You never won!
There is a new fragrance in the air when April comes. It comes from the ground and the water running to the River. The wind picks it up and carries it to us, as we walk down the road to school. The woods makes its pungent contribution, where wet leaves lie deep among old wood, rotting where it fell. And underneath it all wild flowers lie in waiting for just a little more warm weather. The fragrance of the woods is like nothing else. The freshness of new sap rising and old mold under fallen wood and decaying stumps. Fields were busy and did things out in the open with busy men urging them on, but woods had a life of their own – a very quiet unbusy one, content to be left just as they were. They lived in a slovenly way, their tree roots deep in years of fallen twigs and leaves. Last year's grass was still there hiding insects and other unfriendly things.
Its children were the little wild animals who knew no discipline; rabbits and squirrels who neither toiled nor spun, but lived in luxury upon the bounty of the surroundings. Usually they lived from danger, but one dreadful month of Fall they had to learn to hide from hunters.
My father did not hunt, although there was always a long gun standing in the kitchen closet. It was for an emergency only.
Up around the house we gathered fallen branches in the Spring and made them into a brushpile back near the orchard. March was a good tree trimmer, and the trimmed-out branches made a huge brush fire on a day when the wind was still.
The garden was plowed early, and my mother charted its course. Next to the raspberries would be a row of beans – here the green ones, there the yellow ones.
Radishes and onions shared a row with the lettuce – peas were given a special row and plenty of space. Making garden was the subject of conversation at the country store. "Got your garden made yet?" was a sure opening for your neighbor's greeting.
Cabbage and potatoes were relegated to the far side – and strawberries graduated to the North field. Mother planned it and did more than her share of the work, but the rest of us had our work too.
We cut up horrible sprouted potatoes an eye or two to every hunk, and Dad planted them in what we called hills. There the piece of potato with its "eye" would later become an ugly plant with its roots all covered with potatoes – a whole lot of them.
By June we could dig a hill and feast on new potatoes.
When April came, my mother got out the old sunbonnets or made new ones. Women at the store talked about the new Tea Straw fashion – supposedly cooler to wear.
My mother never left the house without something on her head, and now it was her sunbonnet. And I had mine! I hated it. It was hot and it shot off your vision like a horses blinder. I liked to see whatever there was to see.
Long distances lay on all sides of us, broken here and there by the woods.
Sounds were in the air now. Cows were in the pastures mooing occasionally, men working in the fields shouted to the horses, far beyond the Cemetery a dog barked, and at noon the dinner bell rang. "Idy Shanks must be goin' to town – she was early with the dinner bell."
Ours rang at 12:00 sharp, and if the men knew what was good for them they would manage to be at the nearest end of the Row when it rang.
Holding dinner over for dawdling bunch of men was just what my mother had no intention of doing. She was always ready on time, now let them be on time!
Dinner was at noon. By April we were well into the hams that had been "cured" a few months earlier.
Being in school at noon, we missed that dinner five days a week, but it came to us for Supper in a different form. I liked Supper better. The potatoes, plain boiled at noon, back to the table at night warmed up in slices, sometimes with bread in them. We called them fried potatoes, but my grandmother Wight said they were not. Fried potatoes, said she, were made with raw sliced potatoes.
Anyway ours were delicious along with left-over ham and a platter of eggs. Home made bread was always there with plenty of butter and grape preserves and we never missed having a dessert.
If Mr. Young's bees had made their honey, we would have several slabs of honey in the comb laid away for a treat.
Grandmother living across the road put us in the center of the Loomis world. Her family was large, and not far away, so she had many visitors. Aunt Mollie usually gave them their meals, but often they came to our house.
When winter was over, the relatives came, like the birds, and Grandma saw her family. Aunt Mary and Uncle Frank lived on the hill beyond the Cemetery, Uncle Dave and Aunt Mollie lived on the homestead. We lived across the road from the old  home, Uncle Ed and Aunt Jennie's farm joined ours on the North, Uncle Ben and Aunt Dora's farm lay across the road from Uncle Ed's; Uncle George and Aunt Ellen joined Uncle Ben's on the North, and Aunt Laura and Uncle Doc lived across the road North of Uncle George's.
The U. B. Church was on one corner of Aunt Laura's and Uncle Doc's; the U. P. Church on one corner of the Loomis homestead.
We lived in a world of cousins, Aunts and Uncles.
We also had Wight relatives who lived farther away. Grandpa and Grandma were West of us and across the River, and Aunt Edith and Uncle Orrin were miles away on the stone road leading to Bowling Green. Next to them lived Aunt Mattie and Uncle Will, whose wedding I have described.
Before I was ten, there were many cousins in both the Wight and Loomis families.
Ruby, Bessie, Rachel and Earl lived nearest, so were often my playmates.
When I was nine a new one arrived over at Aunt Mary's. A tiny round-faced beautiful little girl. Until then there were only little boys at Aunt Mary's and Uncle Frank's; George, Earl and little Forrest whose little white coffin had carried him to the cemetery on a cold January day.
He was a few months over two years old, and his death caused great heartache.
Now on April 4th a few years later, a new baby girl had come to Aunt Mary's arms, almost too beautiful to be real.
They named her Mildred Josephine, and she was my double cousin – almost a sister.
When she was a few days old, my friend Edna Greiner came to stay over night and to go with me to see the baby. We hurried home from school, then climbing fences we crossed Uncle Dave's fields, climbed the stile at the corner of the Cemetery and come into Uncle Frank's lane near the barn.
The baby was a wee fragile thing with a face like a doll. Little hands were covered with soft warm blankets, and there was a sweet baby fragrance about her. Edna and I stood in awe. So that was Mildred Josephine!
Hurrying back across the fields and over the stile, we avoided as much as possible of the lonely Cemetery where hoot owls lived, and were glad to be home before the dark got us.
My playmate for several years was a little yellow long haired dog name Prince. He had fleas, so my mother was not too keen about having him in the house, but sometimes on a winter evening he was allowed to sleep by the fire for a while.
All Summer we romped free as the air, and he was always with me when I went to Uncle Dave's to play.
There were cats by the dozen, and a little kitten was often dressed in my doll clothes – but cats were not considered pets. They were a part of the barn life and were tolerated and fed table scraps for the rat and mouse service they were expected to render.
Sometimes they fraternized with the cats over at Uncle Dave's, and a mother cat would be torn between loyalty to them or to us. She spent much of her time moving her kittens from their place to ours and vice versa.
Once a dog of Evan's had puppies and we were delighted with the fat cuddly little things. We loved pets, but when Evan caught a red squirrel and put it into a cage we soon learned to keep our hands away from his sharp teeth. Evan made a wheel in the cage for the squirrel to run on; in fact it had many little cage facilities, but the day it was released I am sure it went back to Johnny Meikle's and surprised its mother. It was a free and educated red squirrel.
Miss Hunter lived at Johnny Meikle's, his aunt and she grew beautiful flowers. A board walk led from the picket fence gate to the low front porch. In April she was raking her yard getting ready for her perennials to come up. Her lawn was never mowed. The flowers and the long grass grew together. Everything grew tall behind that white picket fence, and everyone knew Miss Hunter would give flowers for any special occasion.
She was a dear old lady with a Scotch accent and a cracked voice. When she laughed it was like a cackle, but we loved her. She kept peppermint candy in a box from Scotland and fat sugar cookies in a crock in her cellar.
Her hearing was a little impaired and when she didn't understand, she would shout at you with a sharp "Eh?"
Hollyhocks looked in at her windows, and on the fireplace mantel shelf was a beautiful brass figure of a man plowing with a handsome horse. In her table was a paper weight from Edinburgh that snowed when you lifted it.
I loved Miss Hunter and prayed every night that she would not die.
When I was eight my mother taught me to play chords on the organ, then decided to ask Sarah Dunipace to give me lessons.
The lessons cost fifty cents a week and Sarah came faithfully with her horse and buggy.
Our organ was a small Estey that was easy for me to reach, and I was pumping and playing before I was nine.
Then Sarah decided to give recital. I had learned to play a song entitled "What would you take", a sentimental little composition about a little girl asking her father what he would take for her. Since it had words, Sarah decided that was just the thing for my Recital piece. I would not only play; I would also sing!
The great Recital Night came, and I found myself seated in the Dunipace parlor with a dozen other little budding musicians.
Grace and Iva, who excelled at everything, were there, all dressed up and waiting to make their debut! In one corner of the room stood a huge organ, reading almost to the ceiling – against another wall was an elegant piano. Iva and Grace would play the piano, and I could see it come – I would have to play on that horrible organ with a high stool.
"Ladies and Gentlemen – welcome to our Recital. You will notice our program is lengthy, so I think we should proceed."
I was down on the list, for enough to have time to drop dead several times.
Little pretty Iva, in her plaid dress with the velvet cuffs, delighted the audience with a little tinkly rendition on the piano. She was small for her age and very pretty and her performance was superb.
Later came Gracie May also to the piano, where she gave an absolutely perfect performance playing "To a Wild Rose." She was three years older than I  – and talented.
Then my name came up. This was IT. With no confidence whatever, I walked up to that huge organ, feeling Grace's and Iva's eyes on my back. They would laugh!
After announcing that I was to do a special number on the organ, Sarah adjusted the stool for me and departed.
My legs were short, and Sarah had left the stool a little high for me, but I sank into its puffy upholstery and reached for the pedals. Then I took off on –
"What would you take – what would you take
Papa, dear Papa, what would you take."
Evan said it sounded like "What would you ta-ya-yake".
Two verses and two choruses were quite a strain on my mouse's voice, and to add to my agony the stool began to slide. The more I pumped, the more it slid, and I fully expected to finish the whole thing flat on the floor. The applause was no doubt mostly from relief – I had made it. The kids were giggling, and I was not the hit of the evening. I think my papa would have taken very little for me about that time.
Later I recorded that same thing on a cylinder record for John Tuke's marvelous gramaphone.
Evan played a violin solo, and both of our records were doomed to oblivion. He played EAW – EAW – E_EE, and it was worse than "What would you ta-yo-yake."
John Tuke was from England, a nephew of one of our Church families – the Ropers. He came to America when he was a boy and stayed at Uncle Dave's. He and Evan became great friends.
For an entertainment of some kind, they decided to put on an act. My mother made clown suits for them, and they practiced tumbling and hunted up old jokes to wow the audience. But one joke got them into trouble, and the clown act died a sudden death.
A pretty girl in our village was named Mable, and John Tuke admired her from a distance. A long one!
When they stopped their tumbling, for a few jokes, Evan said to John, "I hear you kissed Mable on the piazza last night." "No," said John, "I kissed her on the lips." The audience guffawed, and Mable was furious. She didn't even like John in the first place. She was so enraged that even my poor innocent mother had to apologize for her rotten kid!
The clown suits lay in a chest in Evan's closet for, I suppose, fifty years.
One wonderful thing about April was wearing fewer clothes. A layer could be discarded, if warm weather came early; even the despised long underwear might go. Without that we walked light as air, and cotton stockings on slimmer legs removed the embarrassment of those fat woolen legs of winter.
Freedom was in the air now. Very soon freedom from school would come. Summer began when school closed and lasted till school opened in September. It had nothing to do with the calendar, in those days.
This letter will end with my birthday May 6, 1900. The Century had turned and I am ten years old. In our living room sits a new rocking chair, all my own. I have outgrown my little red rocker, and it will be put away in the attic.
Rachel will come to spend the day, and if it is warm enough we may go barefoot! I love being ten years old. I could run forever in the orchard where the peach trees are in bloom – my feet are swift when they are bare, and my heart is filled with singing. I know how birds feel when they sing in the tree tops. I love my world!
This is a long letter and you may never finish reading it, but I'll never care, for the pleasure had been in writing to you and in remembering.
With much love to all
From your Nanny
Ortha Wight.
1890 to 1900