News from your Luckey Historical Society President May 3, 2008
       At our April 17th, 2008 meeting, we had two new members, Betty Meyer, former owner of Meyer Electric and Fred Witzler, friend and neighbor of David Derr.
Old Business. Sally Predmore talked to Randy Gardner's in regards to the availability of grant funds. Neither is there money available at this time, nor is the availability expected to change any time soon. Due to the poor economy and government cut backs, even the Ohio Historical Society's budget has been cut millions. They are looking at reducing staff and hours they are opening. In any event, the first step in obtaining money for the Ben Stone home would be to get written permission from the owner and a written estimate for removal and restoration. Ruth Rothenbuehler, treasurer, reported $117 deposit from our bake sale and a $10 donation from Betty Blevens. The bake sale not only helped our bank account but also helped us make many contacts with people in the community.
New Business. Lloyd Fahle and Sally Predmore adventured to Michigan to visit Bruce Baker. The chat about old times was recorded for future reference. Volunteers were taken to help with the window displays at Otte's Plumbing. No one objected to having another bake sale the first Saturday in June at the bank. However, the bank already has an event scheduled for that Saturday. The first Saturday in July is 4th of July weekend. I have the first Saturday in August held, we can discuss at our next meeting to see if we are still interested. No one objected to asking Otte Plumbing if we could use a part of their store for the historical society. Members were reminded to think about obtaining objects or services to raffle at the next Luckey Fall Festival. Luckey Farmers donated pictures of the Luckey Grain Elevator, Luckey Lumber and Luckey Farmers meetings held in the Troy Luckey High School. Members were asked to identify people in the photos.
Update. Our Scanning day on April 19th was a huge success. People had to be turned away as we ran out of time. A large picture of the quarry was donated to LHS. I have had several calls regarding the new display of pictures and tools at Otte Plumbing. Otte Plumbing has given us permission to have our "home" at the front of their store. We have a glass case, room divider and are in the process of obtaining a desk. I am so excited!! I am hoping we can be open every Weds. afternoon, once we get it ready.
Wood County Historical Society is looking for someone to portray Ben Stone at the August memorial celebration. Anyone interested?
Our next meeting will be May 15th at 6:30 (in the Luckey Library as usual) and our next scanning day will be May 17th from 9 to 12 (NOT in the Luckey Library as usual, I am expecting to be ready to scan in our new "home".)
HOPE TO SEE YOU SOON.
OVER AND OUT,
SALLY
DATES TO REMEMBER
NEXT MEETING – Thursday May 15th at 6:30 in the Luckey Library
NEXT SCANNING DATE – Saturday May 17th from 9 to 12 in Otte's Plumbing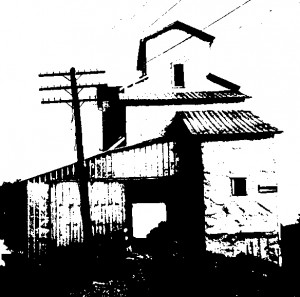 Luckey Grain Elevator