Fred Blecke (1884 -1969)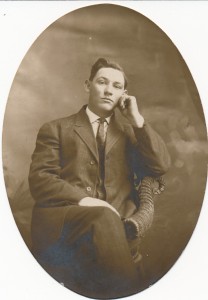 Henry Frederick "Fred" Blecke was born April 10th, 1884 and died July 4th, 1969. He was the son of Henry F. Blecke (1854 – 1940) and Emma "Zelda" (Cable) Blecke (1855 – 1930). He was the grandson of Frederick Wlecke (1815 – 1893) and Maria (Carsedres) Wlecke ( 1822 – 1855). His grandparents both came from Germany, died here in Troy Township and are both buried in Troy Township Cemetery.  Fred married Pearl Stephens, they had no children. Frederick Wlecke (1815 – 1893) and his wife Maria (1822 – 1855) are two of our Notable Persons as is Pearl V. (Stephens) Blecke (1888 – 1938), Fred's wife.  After some discussion at our meeting and an enlightening contribution from Lloyd Fahle, I believe that Pearl's husband should also be nominated as a Notable Person. Fred was the eldest son of Henry and Emma Blecke, Henry being the son of Frederick and Maria. Fred and wife Pearl lived on their farm on Dowling Road. Fred's home and wonderful barn still stand on Dowling Rd., just west of Luckey road. Photo following was taken June 2012. Fred and Pearl are buried in Troy Township Cemetery.
The following is a passage from "The Trail That Leads Back" by Frank Conrad Hazel
 Sometimes a distant sound was heard by the children for it was that unforgettable sound of bells from a one-hors open sleigh! The gaiety exemplified by the shouts of joy and cheer of the children as they played in the snow was hushed when they heard this approaching vehicle known locally as a cutter. The driver of the sleigh was Fred Blecke, for he had the only one of this kind that passed the school now and then. It was the fastest traveling vehicle that passed during my earlier days attending school. A string of sleigh bells was strapped around the horse, which produced a tinkling sound, and for bells, known as gong chimes, were attached to the sleigh shaft, which created a chiming sound. The two types of sound harmonized and produced another song of winter!
 The following narrative was contributed by Lloyd Fahle Jun 2012
     "Fred Blecke and my grandfather, Henry H. Fahle, were very close friends. Fred spent a lot of time visiting my grandfather at our home. Fred's wife Pearl was not able to leave the house, and my mother said she was in a wheelchair. They lived on between Luckey Rd. and Stony Ridge Rd. On the south side of the road still sits their stone house and large barn, the only farm buildings on this section of the road.
Fred went west and bought calves from the ranchers after they weaned them from their mothers. This was done in the fall. The calves were shipped to the Luckey stockyards by rail, and then trucked to Fred's barn. Fred owned a semi truck that could be used to haul cattle. It is show in the photo above. The cattle feeders (most were local farmers) would then go to his barn and pick out the calves to feed over the winter. [The local farmers bought them to "feed out"."Feed out" is a farm term meaning feed the animal until it is big enough to sell for butchering.] When the cattle were fattened and ready to sell, he would then haul the cattle to market. The market was the Cleveland stockyards in Cleveland, Ohio. This was where the buyers were located. This was Fred's main business. Fred owned the farm, but I never saw him do any farming. I think his hired hand did all of the farming. Fred and Pearl had a hired hand that lived with them his entire life.  Lawrence Burkholder was his name. Fred willed the farm to Lawrence upon his passing. Lawrence lived for many years on the farm with his wife and children. After the cattle business tapered off, Fred tried three different business adventures; first, he shipped in several mules, hoping to sell them to farmers. Second, he shipped in several wild horses to his farm and brought a cowboy with him to break them. He would then sell them. The third, he bought a racehorse and raced at Raceway Park in Toledo. He had to hire a jockey to ride his horse. A person who went to the races told me that the jockeys cheated Fred out of a lot of money. Fred loved Raceway Park and his racehorse. Part of many a discussion between grandfather and himself was that of horse racing. Fred always seemed to have a bail of hay in the back of his truck that he would take to his horse in Toledo. My grandfather would be sitting outside after supper, and Fred would drive over in his Cadillac car to visit with him. Grandpa would ask him how his horse did that day. His answer would be "He didn't win, but he ran a hell-of-a race." We kids would sit with them and listen to their talk. Fred spent a lot of time at Raceway Park. At the time Raceway Park was new and full of activity. People around town thought that upon one occasion, Fred took his horse to the Kentucky Derby but he did not, hetook the horse to Melbourne, FL to race.
After Pearl died in 1938, Fred met and married a woman that he had met on one such excursion out west. Rumor had it that Fred's new wife spent too much of Fred's money. Fred's cattle business was in the late 1930's, the 1940's and early 1950's. I married in 1955 and left the area for about 6 years. My grandfather died during this time, and we heard no more about Fred."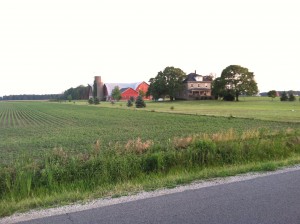 The photo above is the property of Sally Predmore
Fred Blecke's home and beautiful barn still stand west of Luckey Rd. on Dowling Rd. In the day, this barn was the location of many social gatherings.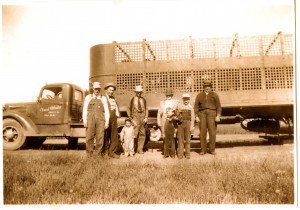 The photo above is the property of Lloyd Fahle.
Fred Blecke's truck that he used for hauling cattle. Note; name on truck "Fred Blecke, Luckey, OH, Phone 35-XI" The photo was taken Sunday afternoon (Earnest still has on his white church shirt under his overhauls) in the spring about 1942.
L to R; Earnest Fahle (Lloyd's father), Fred Blecke (truck owner), Charlotte Fahle (Lloyds' sister, about 3 yrs. old), Elmer Shute (cattle buyer), Harm H. Fahle (brother of Henry H. Fahle), Dale Fahle (Lloyd's brother, about 7 yrs. old), Lloyd Fahle (about 13 yrs. old), Henry H. Fahle (Lloyd's grandfather).