Garret Frederick (Fred) Claus (1859 – 1953)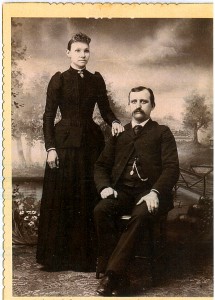 Photo of G. Fred Claus and his wife Julia (Landwehr) Claus
    G. F. CLAUS, whose name was familiar to many people in this county, was engaged in the boot and shoe business in Luckey beginning in 1881, and built up a fine trade. His first store in Luckey was conducted in a building near the depot, later used as a dwelling-house, where he carried on operations for seven years. At the end of that time he traded that property for a frame building, which was destroyed by fire on July 12, 1893; but, in the fall of that year, he erected a one-story double-brick block, where he carried a large line of boots, shoes, harness, etc. In 1888 he had added harness to his stock and, in both lines of trade, secured a liberal patronage.
Mr. Claus came from the far-away Fatherland of Germany his birth having occurred in Hanover, in 1859. He was the son of Frank and Mary (Roehl) Claus, natives of the same kingdom, where the mother died, in 1864. In 1879 the father crossed the Atlantic and located in Pemberville, but his last days were spent near Perrysburg, where he passed away in 1888. In his family were four children, namely: Mrs. Mary Kahlenbrink, of Perrysburg; Ernest, who came to Ohio in 1874, and makes his home in Pemberville; G.F., of this review; and Henry, who died in Chicago in 1882. Our subject received a very fair education in his boyhood days in the school of Hanover, where he remained until 1878, when he determined to try his fortune on this side of the Atlantic. In his native land he had learned the trade of a shoemaker, at which he worked for three years, and, on coming to America, in 1878 was employed at that occupation in Pemberville, Ohio, until his removal to Luckey, in 1881. The marriage of Mr. Claus with Miss Julia Landwehr took place in 1884. The lady of his choice was born in Troy Township, and was a daughter of Frederick Landwehr. One son was been born of this union- Frank. Son, Frank H. Claus was born April 6, 1885 in Luckey.
Son Frank spent his entire life in the Luckey area.  He received his elementary education in Luckey schools and was graduated from Ada Normal College. Following his graduation, he taught school for a couple of years and then went into the shoe and harness business with his father. This business remained his life's work. He was united in marriage with Miss Mamie Schwan. Frank and wife Mamie bore three children, Raymond born Jan 1911, Elizabeth born December 1911 and Ruth born 1914 (grandchildren to Fred). Frank was a member of Zion Lutheran Church and president of the Exchange Bank. For many years he served as clerk and member of the Troy twp. School Board.
Mr. Fred Claus voted the straight Democratic ticket, and, in February, 1895, was appointed postmaster of Luckey, which office was established in 1881. In religious affairs he was identified with the Lutheran Church, and his fair dealing and systematic methods of doing business won for him the confidence and respect of all with whom he had any transactions.  G. Fred Claus was born 13 Oct 1859 and died 1 Feb 1953. He built the house at 119 Eddy St.  which was completed the summer 1923. The house was purchased by Lloyd and Irma Meyer in 1954.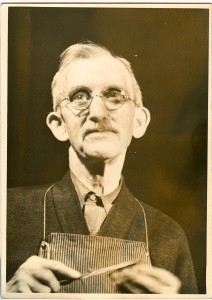 Photo property of Irma Meyer
                                              "Wood county Ohio, Chicago: J. H. Beers & Co., 1897"
Sentinel Tribune, Bowling Green, OH obituaries