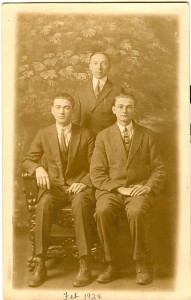 Left to right; Clarence Rothenbuhler, Harvey Helm & Ernest Rothenbuhler
Harvey Helm was born Aug. 15, 1900 in Luckey, OH to Johan and Emma (Rothenbuhler) Helm. He married Luella Christen in Luckey on March 4, 1929. Harvey and Luella had four children: Mrs. John (Mary) Metzger of Maumee, OH; Mrs. Malcolm (Elaine) McClenaghan, Kenosha, Wis,; James Helm, Pemberville and Joseph Helm, Chelsea, MI. Harvey died January 13, 1993 while living at Otterbein-Portage Valley Retirement Village, Pemberville.
Mr. Helm was the mayor of Luckey, OH for two terms from 1963 until 1972 when Harley Jacobs took over the office. He was also the owner and operator of Helm Insurance Agency located in downtown Luckey for 50 years, retiring in 1979. Helm was born and raised in Luckey and hardly had a sick day in his life.
He was a member of the Zion United Methodist Church, Luckey and was a former choir member. He was a charter member and past president of the Luckey Kiwanis Club. He also held memberships in the Pemberville Masonic Lodge 516, the Bowling Green Masonic Chapter and Council , Toledo Valley of the Scottish Rite and the Toledo Choral. 
   It is not often a person be honored for being in a business for 50 years. "The biggest change in the insurance business over the 50 years has been in car insurance", Helm reflected. "When he first started out in the business, he remembered the rates and could easily quote prices to customers wherever he was. Over the years however, the industry became so large, that too many additional classifications were included, making memorization of the rates virtually impossible." Originally, he wanted one of his sons to take over the business upon his retirement, but there were many "pretty tough times in the insurance business," he said, and his sons decided to get into a more stable business.
  Never in his life has he regretted being in the business. "That is one reason I am not anxious to retire. Working with people has been my entire life and I have no desire to give that up", he said. ["Helm honored for 50 yrs. as Luckey insurance man" by Julie Hilyard, Sentinel-Tribune Editor]