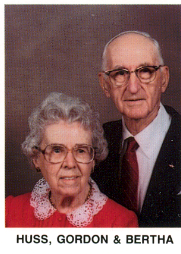 Gordon Huss was born Sept. 1, 1895, in Jerusalem Township to Mr. And Mrs. Herman Huss (Della Brough). He married Bertha Davis (born Jul. 31, 1887) on April 9, 1919 in Millbury. He died July 11, 1987. Bertha lived to be over 100 years old and passed away on Aug 17, 1997. Gordon and his wife Bertha had two children. Joanne Rae Huss was born Aug. 30, 1926 in Toledo, OH. On Aug. 26, 1950 Joanne married Peter L. Moran. At the writing of this text, Mrs. Moran was still living. Their second child was Roland Irwin Huss born May 12, 1929 in Luckey, OH. At the writing of this text, Mr. Rolland Huss was still living.
Bertha and Gordon lived briefly in Genoa, OH when they were first married and then came to Wood Co. where Gordon ran a meat market in Luckey. The couple lived above the meat market until they built a home on Adams Boulevard in Luckey in 1931. Gordon was also a retired farmer. Gordon held the position of bank president of the Luckey Exchange bank for 41 years. He began his bank service in 1937 and retired Feb. 1, 1977. He was an emeritus member of the bank's board of directors. Gordon also served on the Wood County Planning Commission for many years.
Huss, formerly of Adams Street, Luckey was a member and past church council president of Grace Lutheran Church, Luckey.
He was a member of the Wood County Planning Commission, 65-year member of Pemberville Masonic Lodge 516 and a member of Ancient and Accepted Scottish Right, Toledo, OH.
Huss also was a 50-year member of the Bowling Green Crystal Chapter, 50-year member of BG Lodge Council and 50-year member of Eastern Star.