Photo below is the Weddell home built in 1835, first located at the NW corner of the intersection of Sugar Ridge Rd. and Luckey Rd.  The home was moved and restored by Frank Hasel in 1958 and now sits farther north on Luckey Rd. on the former Frank Hasel Nursery site. The photo was taken by Andrew Predmore, all rights reserved.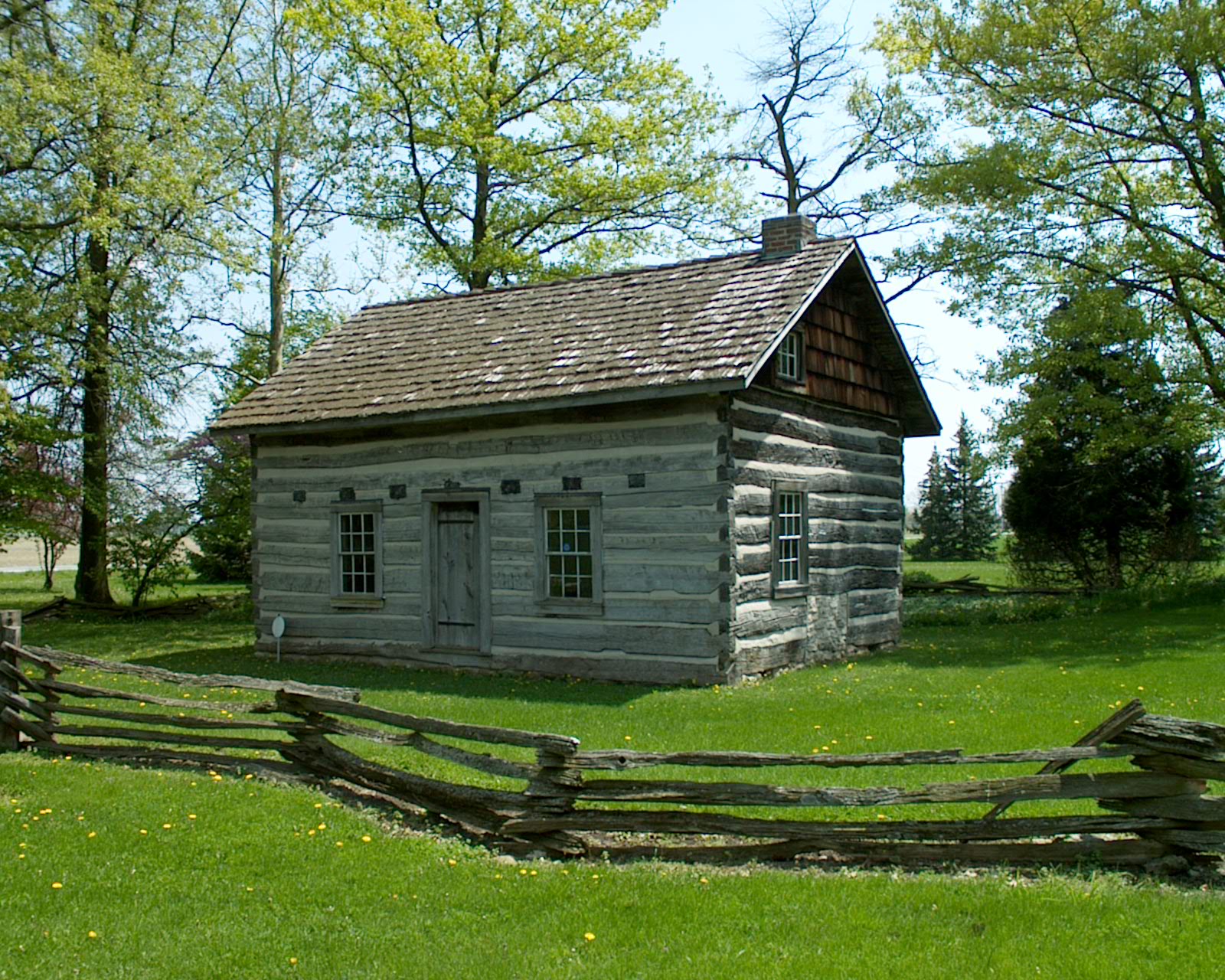 The story of the Weddell family begins in Whitburg Parish, Scotland. The family immigrated to the United States in 1834. The young bachelor, William Weddell sailed on the "Cruikston Castle" and landed in Perrysburg, OH in that summer of 1834. The "Cruikston Castle" was one of at least three ships sailing from Scotland with passengers bound for pioneer living in Scotch Ridge, OH. Along with William traveled his sisters, Margaret and Janet (Mrs. Peter Shanks) and William's widowed mother, Catherine, Peter Shanks and his brother James Shanks. Also in the summer of 1834, on the ship, the "Peace" the Dunipace family left Scotland and headed for Perrysburg and then on to Scotch Ridge. William Dunipace brought with him his children including his daughter Margaret Dunipace, born 1816. (Shaw)
William Weddell (birth date unknown) married Margaret Dunipace. Together they had three children, George born 1837, William born 1839, and Margaret (Maggie), born 1842. William (B unknown) was a carpenter and was working on the construction of the Wood County Courthouse when he fell off some scaffolding and died in 1843. This left Margaret to raise the children on her own. After the funeral Margaret left Perrysburg, where she had been living, she and her children walked to Scotch Ridge. There in Scotch Ridge, Margaret and her children moved in with William Dunipace, Margaret's unwed brother. Eventually, Margaret and William's other sister, Isabella, also moved in with " Uncle Billy". (Shaw 60) The rich stories of the Scotch families of Scotch Ridge are told in the book "The Scotch of Scotch Ridge" by Charlotte Dunipace Shaw, this includes stories of (Uncle Billy) William Dunipace and Margaret Dunipace Weddell.
William Weddell (B1839) left his home with Uncle Billy on Scotch Ridge road for a time to serve in the Civil War. He served with Company K, 21st, Ohio Volunteer Infantry in 1861. He was medically discharged Jan. 8, 1862. Letters written to William (B1839) are now preserved in the BGSU Archives under the title "Weddell Family Papers". The letters are from area notables such as George Hathaway, the Shanks brothers (both killed at Chickamauga), George Weddell (William's older brother), John Dunipace and John D. Muir. The letters remind us of the hardships of war, the strong ties of the Scotch Ridge people and the many tragedies of war even in a small
community. [Shaw]
After his discharge from the service, William Weddell (B1839) married Isabelle Zimmerman (B July 22, 1846) on Dec. 29, 1864. William and Isabelle had four children as follows: Minnie born 1866, Sarah born 1870, William L born 1871 and Isabelle born 1875.
I. William Weddell BP Scotland D Abt 1850 DP Wood OH imm to America 1834 from Whitburg
Parish, Scotland
+ Margaret Dunipace B abt 1816 [US Census 1880 Webster Wood OH shows Mary age 64, widowed, keeping house, living with her brother William Dunipace]
Children of William and Margaret
II. George Weddell B abt. 1837 BP Wood OH D bef 1897 DP Wood OH [1880 Census
Perrysburg Wood OH occupation; Foreman of a Bowl factory]
+ "Maggie" Weddell B abt. 1843
Children of George and Maggie
III. "Maggie" Weddell B abt 1869
II. William Weddell B 20 Mar 1839 D bet 1880 and 1910 mar 29 Dec 1864
+ Isabelle Zimmerman B 22 Jul 1846 BP OH D Aft 1910
Children of William and Isabelle
III. Minnie Weddell B 10 Nov 1865 [Minnie was educated in the Pemberville High School, the Normal School at Ada OH and Valparaiso Indiana, was a successful teacher in Wood Co. OH Beers] D 30 Oct 1911 bur Scotch Ridge Wood OH never married
III. Margaret "Maggie" Weddell B 2 Feb 1867 D 17 Jan 1945 DP Webster twp Wood OH bur Webster Cem. Scotch Ridge OH [Margaret was also a school teacher.]
+ Stanley Ewen Wight B 23 Jan 1871 BP Center Wood OH D 3 Sep 1920 bur Scotch Ridge Cem. Wood OH
Children of Margaret and Stanley
IV. Neil Merill Wight B 14 Sep 1900 BP Wood OH D Dec 1979 DP Pemberville Freedom Wood OH
IV. William Alexander "Alex" Wight B 9 May 1903 BP Wood OH D 6 Oct 1975 DP Pemberville Freedom Wood OH
+ Frances W. Main B 13 May 1906 BP Webster Wood OH
III. Sarah Jane Weddell B 1870 BP Wood OH D 17 Nov 1933 DP Bellevue OH
+ John George Hurr B 8 Jan 1862 BP Whetstone Crawford OH D 20 Jan 1946 DP Bellevue OH
Children of Sarah and John
IV. Max W. Hurr B 1891 BP Bellevue OH D 21 Dec 1950 DP Sandusky Erie OH
IV. George William Hurr B Jan 1896 BP Bellevue OH D 20 Jun 1896 DP Bellevue OH
IV. Infant Daughter Hurr BP Bellevue OH D Bet 1890 and 1897 DP Bellevue OH
photo above; William L. Weddell   photo above; Cora (Rife) Weddell   photo; Isabelle and Cora (Rife)                                                                                                                                 Weddell taken 1956
III. William L Weddell B 12 Jul 1872 BP Wood OH D 11 Dec 1942 DP Cincinnati OH bur TTC
+ Cora Rife B 24 Jun 1875 BP Troy Wood OH D 10 May 1963 DP Perrysburg Wood OH
Children of William and Cora
IV. Robert W. Weddell B 24 Mar 1908 BP Wood OH D 15 Oct 1975 DP Fremont Sandusky OH
+ Margaret Mary Leemaster B 30 Aug 1918 D 21 Nov 1996
Children of Robert and Margaret
V. Living Weddell
+ Harold D Miller B 9 Dec 1939 D 21 Oct 2000
V. Living Weddell
+ Living Smith
V. James W Weddell B 3 Mar 1950 D 5 Feb 2006
IV. George W Weddell B 8 May 1909 D 25 Jul 1978
+ Florence R Hansen B 11 Aug 1918 D 24 Jan 2008
Children of George and Florence
V. Living Weddell
+ Delbert E Base B 12 Feb 1936 D 30 May 2004
Children of unknown and Delbert
VI. Jeffrey A. Base B aft 1957 D bef 2004
V. Living Weddell
+ Living Buhro
IV. Mary E. Weddell B 1912 D aft 1930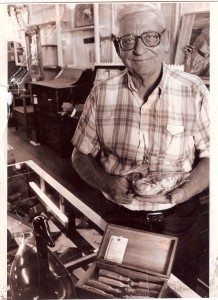 photo; Lloyd Weddell family photo NOTE; Lloyd Weddell is a Notable Person of Troy Township Cemetery and his biography is located in the TTC Notable Persons Biography section of this web site. 

IV. Lloyd Anthony Weddell B 28 Mar 1916 D 16 Sep 1991 mar 28 Jun 1941 bur TTC
+ Ardith Emily Paul (daughter of Arthur Paul and Carrie Anna Mary Tille) B 15 Feb 1920 D 16 Jul 2005 bur TTC
Children of Lloyd and Ardith
V. Janette Faye Weddell B 10 May 1943 mar 21 Apr 1963
+ Robert Henry Willman B 25 Sep 1939
Children of Janette and Robert
VI. Eric Robert Willman B 30 Mar 1965
VI. Ann Janette Willman B 20 Feb 1968
V. Phyllis Ann Weddell B 25 Sep 1946 BP Fremont OH mar 15 Jan 1966 at Zion Lutheran Church Gibsonburg
+ James Clark (son of Edgar Clark and Mary Hoodlebrink) B 17 Sep 1943
Children of Phyllis and James
VI. Brian James Clark B 6 Jan 1968
VI. Renee Ann Clark B 30 Aug 1969
V. Diane Kay Weddell B 12 Dec 1952 D 12 Dec 1952
V. Marilyn Esther Weddell B 15 Aug 1953 BP Fremont OH mar 14 Sep 1973 at Zion Lutheran Gibsonburg OH
+ Keith Welling (son of Dalton and Leora Welling) B 24 Apr 1953
Children of Marilyn and Keith
VI. David Matthew Welling
VI. Michael Welling
III. Isabelle Weddell B abt 1875 BP Wood OH D aft 1956
II. Margaret "Maggie" Weddell B abt 1845 D bef 1897