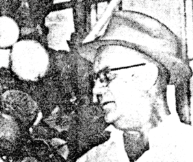 Robert A. Johann was born on Sep. 19, 1915 in Custar to Charles Joseph Johann and wife Loretta E. Wilhelm. He married Dorothea "Dottie" Cunningham on March 8, 1946 in Bowling Green, OH. Dorthea Mae was born Oct. 11, 1918 to Eugene and Emma Cunningham. She was married and widowed twice, first to Frank Kohn and then Robert. Dottie and Robert had one child, Bobbi Ann (Johann) Pratt, of Scottsdale AZ.
The first building built with cement blocks from the Luckey Block and Tile Company was the home of Robert and Dottie Johann at 406 Oak Street, along the T & O C railroad tracks. The year was 1946 and at that time, the Johanns owned and operated Luckey Bar, located across from our current maintenance building north of the commercial block in downtown Luckey. Their bar that was later Eileens and eventually torn down. In 1952 the Johanns decided to go into the flower business so they built their first greenhouse and remodeled their home to accommodate the shop. The flower shop was well received in Luckey and the business grew quickly. A plot of land was purchased on Layman Road to grow plants in the field and they operated a fruit stand on Route 20, in addition to handling weddings, funerals, proms and all other occasions where flowers were required.  They built two more greenhouses, making three in all. In 1966 they became interested in the growing of exotic plants and started their orchid business. Eventually they converted all of their greenhouses to grow all exotic plants. After Bob's death in 1974, Dottie continued to run the business. Their business was associated with two wire services, were a member of the orchid society and several other floral organizations.
Mr. Johann died at the early age of 58 on Jun. 18, 1974. At the time of his death he was living at 406 Oak St., Luckey, OH. A World War II veteran, Mr. Johann was past commander of the American Legion Post in Luckey and a member of the Ohio State Highway Patrol Auxiliary, American Orchid Society and Michigan State Florist Assoc. He was also a Boy Scout troop leader. He also worked as a maintenance mechanic at the Ohio Highway patrol Post in Walbridge, OH.
Dottie died Jan. 2, 2001 in Scottsdale AR while living with her daughter, Bobbie Ann Pratt.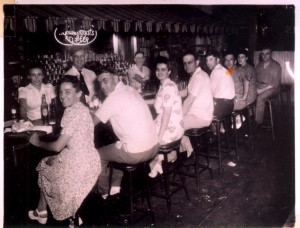 photo property of Shirley Davis
L. to R. Dottie Johann, Thurse Meyers, Bob Johann, Reynold Meyers, Ernie Miller , Lillian Rife, Norman Rife, Ralph Eilert, Bill Rife, Velma Rife, Bill Welling, Sr.1943 or 1944