Greetings from Your L.H.S. President SEPT. 12, 2008
The Fall Festival is weeks away (Sept. 25 – 29th). At our Aug. meeting we decided to go for the more expensive booth in the Commercial tent rather than the cheaper area out with the flea market. After discussion we decided that the Commercial Tent would offer more exposure. We drafted a check and sent in the $65 fee. I enclosed a note requesting that they wave our fee. We received a $100 donation from the Luckey Fall Festival Assoc. I believe that this is a one time donation. Further discussion of Festival Plans will occur at our next meeting.
The calendar is at the printers and I am anxiously awaiting a proof copy. We are hoping to have them printed before the fall festival.
Joanne Colby has donated several books. If you are working on Genealogy or would like to read "The Trail Leads Back", stop into the office on Weds. afternoon and you may borrow them. We also have received a 16 mm movie taken by Fred Chambers of Luckey many years ago. Thank you all for your time and help. Each donation whether it be time or material is a help.
Thanks again and keep those donations coming!
The first Annual picnic occurred August 24th at 5:00. Many members attended the Wood
County Living History Day at the Oak Grove Cemetery (BGSU) prior to attending the picnic. A big thanks to Harley Jacobs for cooking the chicken. Hope you all had a good time.
Membership cards were delivered to those members paying their dues. If you have not paid your dues, please do so.
Dave Derr has accepted the position of Project Manager for the Ben Stone House Project. At our August meeting Dave reported on his progress. Dave has been in contact with people from the Penta County Career Center. Several of the departments are interested in working the project. Prior to approval from Penta, we had to obtain written permission for removal and a place to move and rebuild the house. The approval papers are in the works and Luckey Town Council voted to permit the house to be moved to Basic Park. The location approved is on the south end of the park to the east of the park sign. Fred Witzler is working on obtaining non profit status. Everything takes time, but I believe that we are making much progress. If you have an employer, rich relative, or know of businesses or institutions that donate money, start making a list. Our next big endeavor will be to solicit funds.
Two more publications have been finished. "Polio in Troy Township" by Lloyd Fahle and Sally Predmore and "TROY TOWNSHIP,WOOD COUNTY,OHIO; ITS PAST AND PRESENT", CHICAGO: J. H. BEERS & CO.,1897. The "TROY TOWNSHIP, WOOD COUNTY, etc." is a collection of biographies of selected individuals from Troy township prior to 1897 and a brief history of Troy township. Most of the selections are from the "WOOD COUNTY,OHIO; ITS PAST AND PRESENT", CHICAGO: J. H. BEERS & CO.,1897. However, I have pulled the materials that apply to Troy township, modified and added to their history. Both publications will
be available soon. I have already given copies of the polio book to the library.
NEXT MEETING; Sept. 18th, at 6:30 (in the library as usual) LUCKEY FALL FESTIVAL; SEPT. 25 – 29th
over and out Sally
[The picture below is from the T. Goetz collection, around 1910.]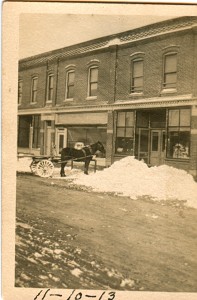 Photo property of LHS